If you're new to using a smoker or are looking for a simple weeknight meal these tender, juicy smoked pork chops (pork chop marinated and made with a homemade brine and rub) are the perfect fuss-free dinner.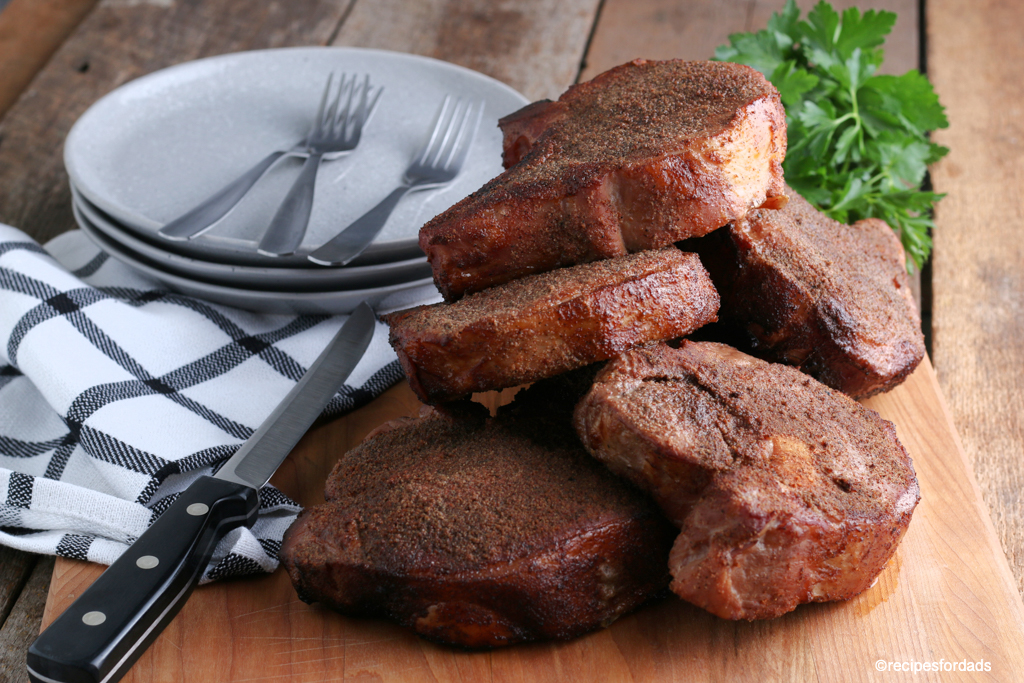 The wonderful thing about smoked pork chops — and pork chops in general — is that they don't require a lot of "fluff", all they need is a good brine, a few seasonings, and when cooked properly, they provide tons of flavor.
For the best flavor and texture, use bone-in pork chops that are 1 ½ inch thick — any thinner and you'll risk a dry, tough, pork chop. I also recommend using apple or pecan wood chunks for smoking pork chops.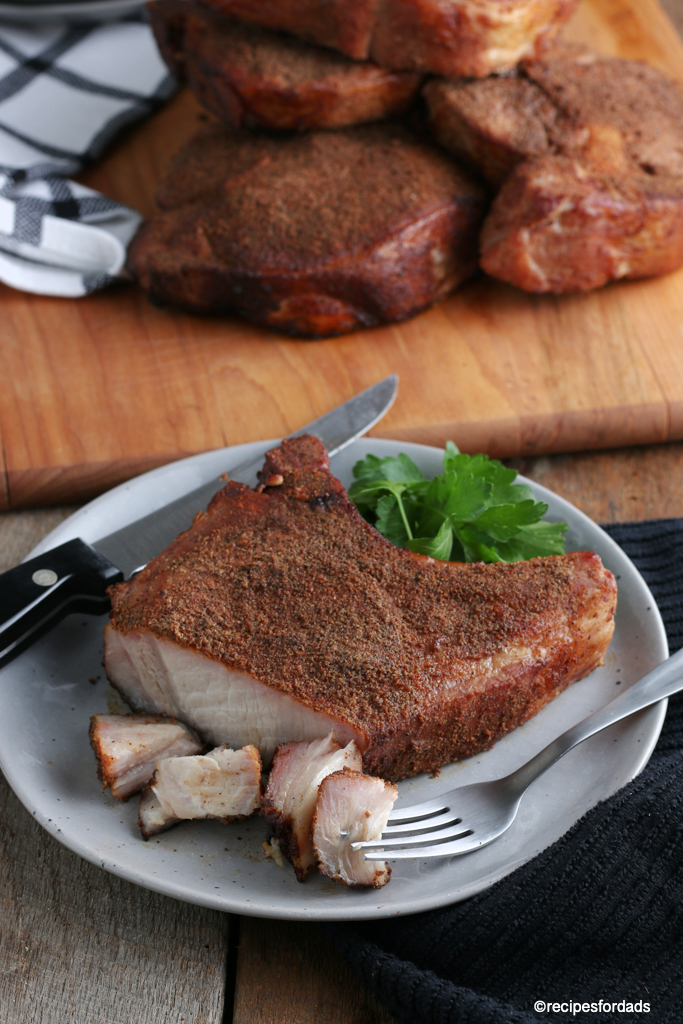 Bone-in or Bone-out Pork Chops?
Both bone-in and bone-out pork chops come from the same part of the pig. The only real difference between the two is the flavor.
Bone-in pork chops tend to have a fuller flavor due to the bone and extra fat on the cut.
Bone-in pork chops are available as:
Loin chops
Sirlion chops, and
Cut loin chops.
When making smoked pork chops, rib chops and loin chops provide the most flavor.
How To Make Smoked Pork Chops
For the best flavor, you're going to place your pork chops in a brine mixture of water, dark brown sugar, and apple juice in the refrigerator for at least four hours — or up to overight.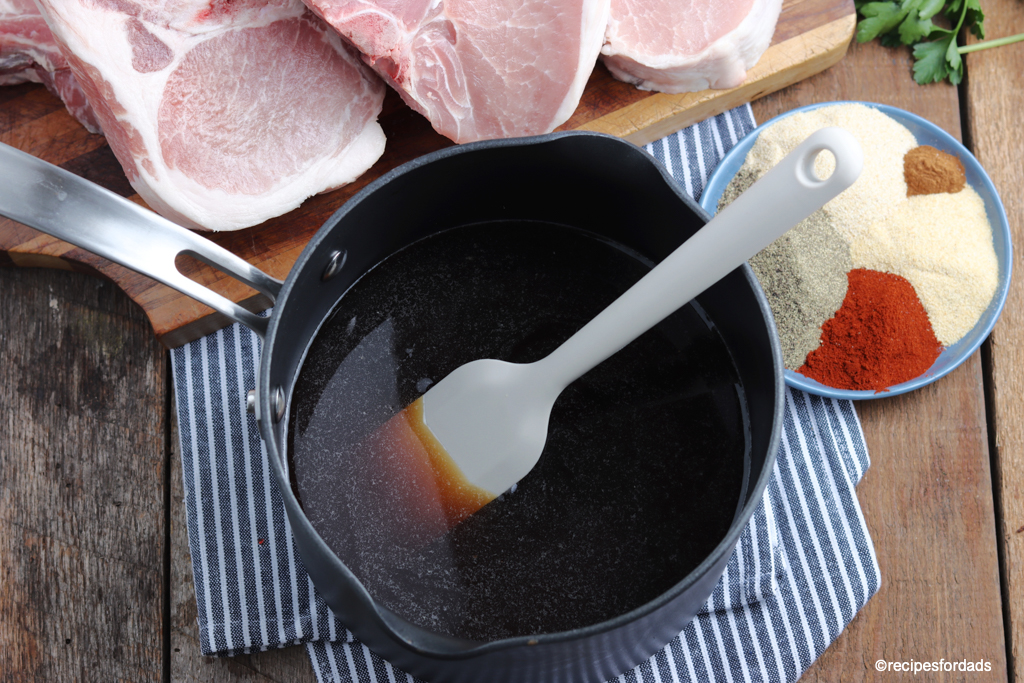 This brine is going to help your pork chops retain moisture during smoking and add to the flavor of the meat.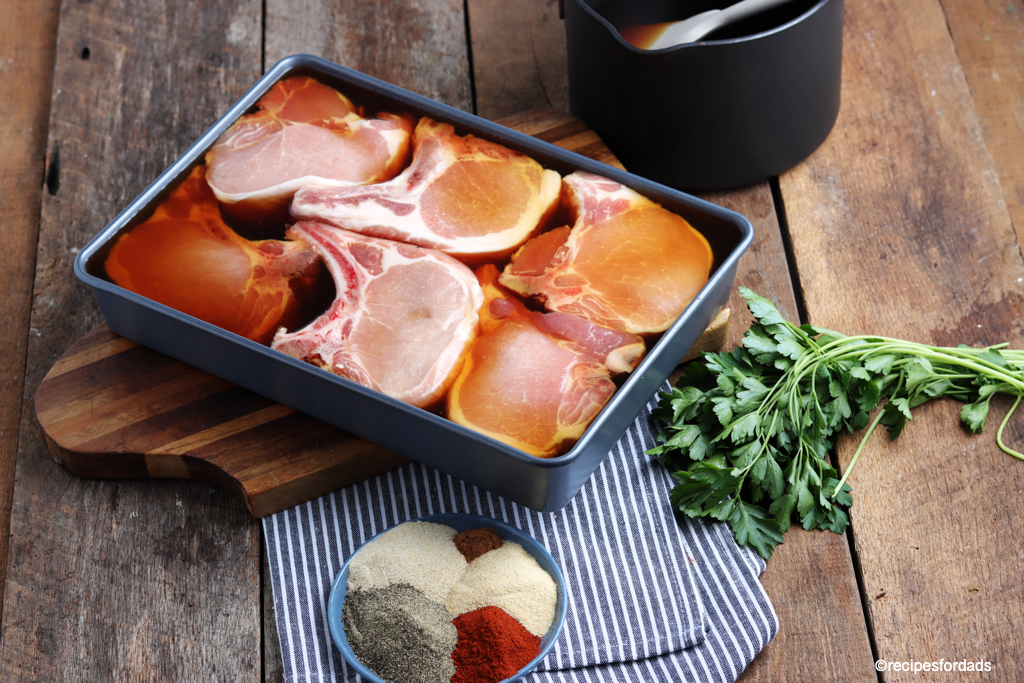 Once you're ready to smoke the pork chops, preheat the smoker to 225°F. While the smoker preheats, cover the pork chops in a savory rub. For this rub you'll need:
Ground black pepper
Paprika
Onion powder
Garlic powder
Ground cinnamon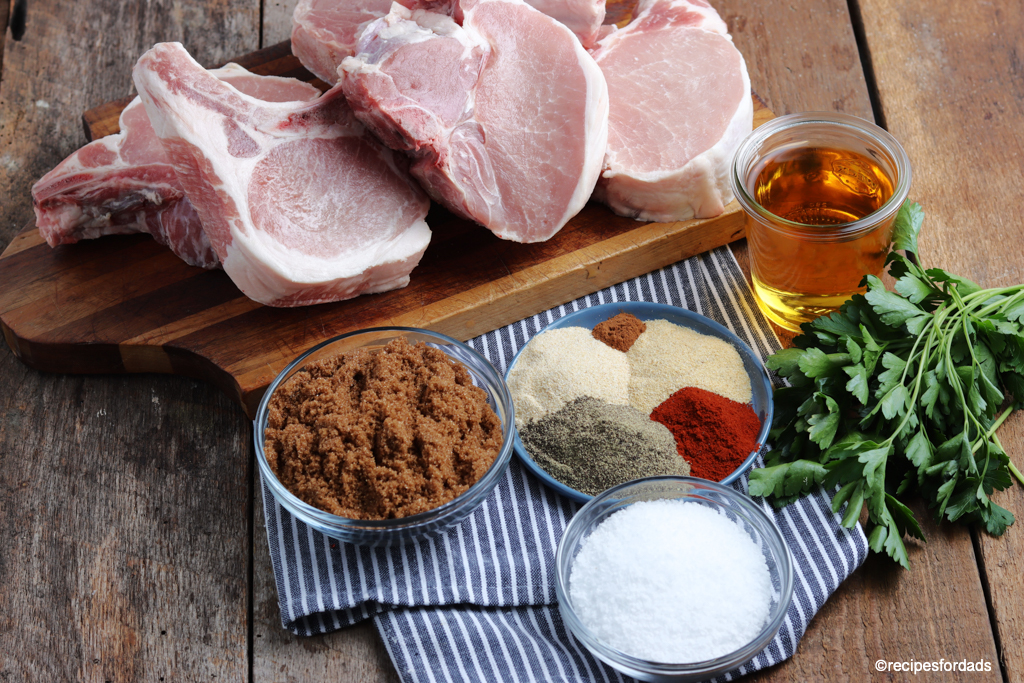 Be sure to thoroughly coat all sides of the pork chops.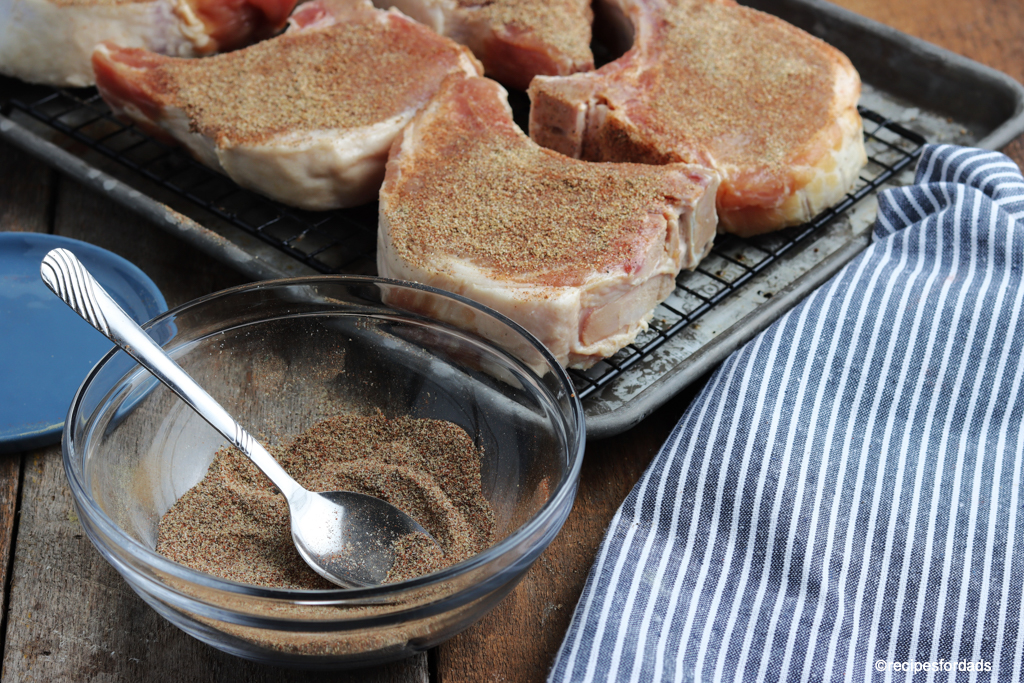 Once your smoker is preheated, add both the wood chunks and the chops to the smoker.
Smoke the pork chops until they reach an internal temperature of 140°F.
Smoking times may vary based on the thickness of your pork chops, the smoker you are using, and how well your smoker retains heat; but smoked pork chops typically only take about 1 ½ to 2 hours to smoke.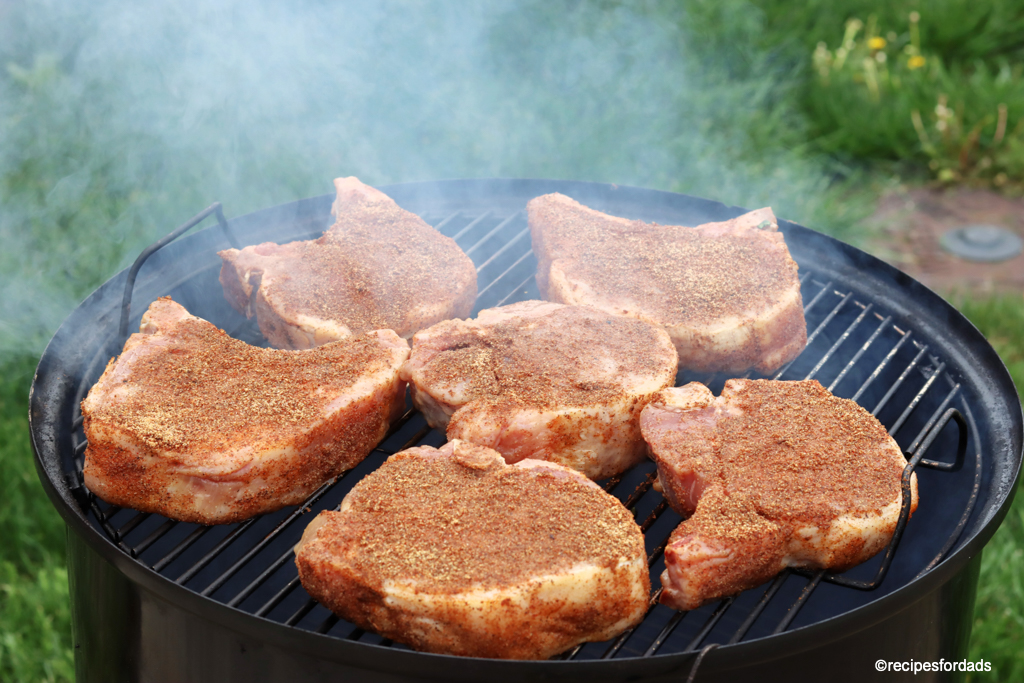 Once the pork chops reach optimal temperature, remove them from the smoker, wrap them in foil and let them rest for up to 15 minutes.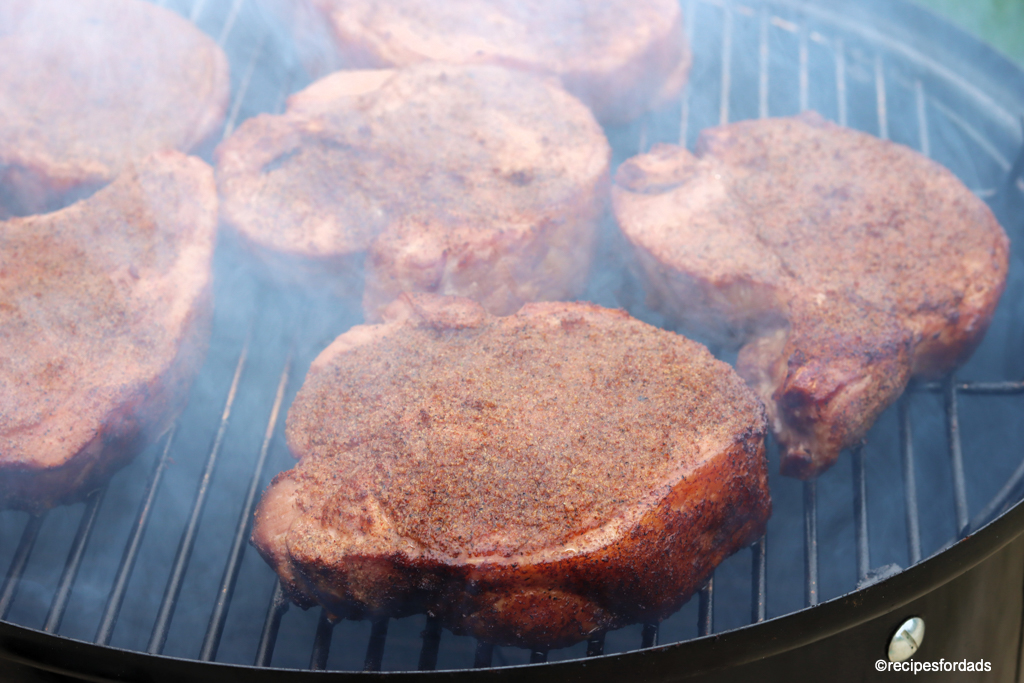 These smoked pork chops are a delicious dinner option that's packed with juicy flavors! You can serve them with just about any grilled vegetable or side salad, but some of our family's favorite side dishes are this coleslaw recipe, grilled potato wedges, smoked baked potatoes, grilled asparagus, or Instant Pot BBQ Baked Beans.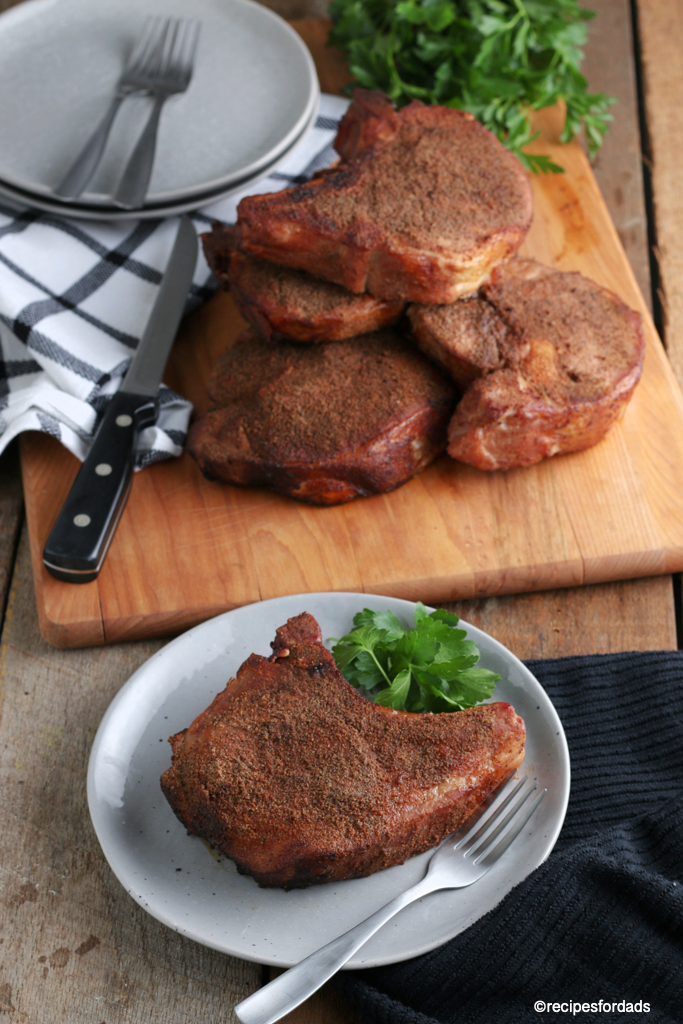 Looking for More Pork Recipes? 
If you love these smoked pork chops, you'll likely enjoy my smoked pork tenderloin that has a sweet and spicy kick or my smoked pork shoulder — it's a crowd pleaser!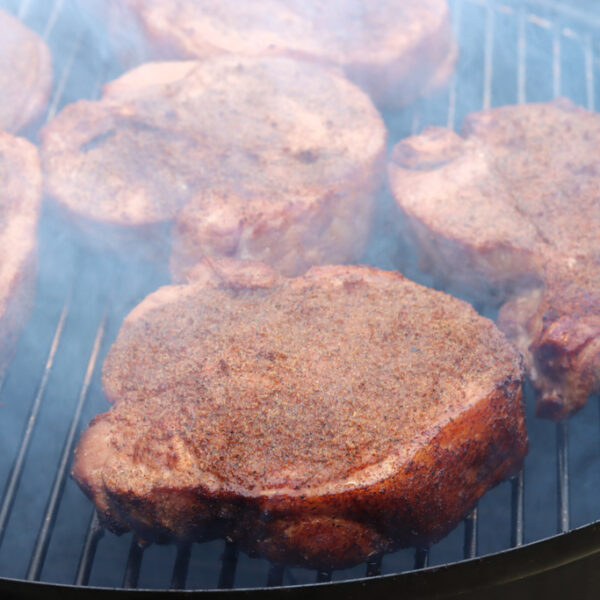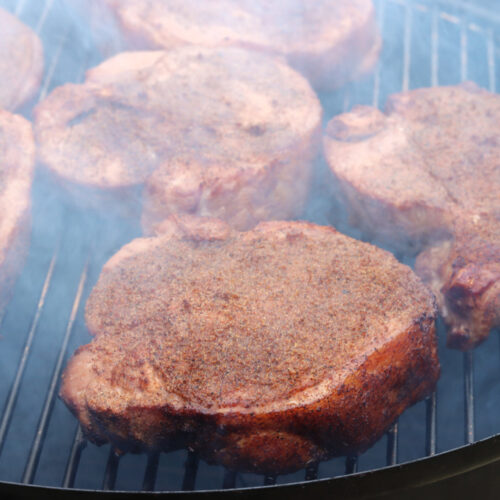 Smoked Pork Chops Recipe
If you're new to using a smoker or are looking for a simple weeknight meal these tender, juicy smoked pork chops are the perfect fuss-free dinner. 
Print
Pin
Rate
Servings: 4 people
Calories: 697kcal
Equipment
Weber Smokey Mountain Smoker
Ingredients
6 Bone-in Pork Chops 1 ½ inch thick
Brine
½ cup Kosher Salt
1 cup packed dark brown sugar
1 cup Apple Juice
Seasoning Rub
2 tablespoons Ground Black Pepper
1 tablespoon Paprika
2 tablespoons Onion Powder
1 tablespoon Garlic Powder
½ teaspoon Ground Cinnamon
Instructions
Start your brine by heating 1 quart of water in a saucepan. Let the water come to a simmer, add the brine ingredients (kosher salt, dark brown sugar, and apple juice). Stir until dissolved then add 1 quart of ice water to the mixture. Add pork chops and brine mixture to a container large enough to hold the pork chops submerged, refrigerate for at least 4 hours, and up to overnight.

Preheat smoker to 225 F

Remove the pork chops from the brine solution and discard the used solution. Pat dry the pork chops with paper towels.

Combine the Rub seasoning in a small bowl, coat all sides of the pork chops.

Add the chops and wood chunks to the smoker and smoke until internal temperature reaches 140 F. Usually take 1 ½ to 2 hours.

Remove from smoker and wrap in aluminum foil and allow to rest for 10-15 minutes before serving.
Notes
Wood: Apple or Pecan
Nutrition
Calories: 697kcal | Carbohydrates: 67g | Protein: 54g | Fat: 23g | Saturated Fat: 8g | Polyunsaturated Fat: 3g | Monounsaturated Fat: 9g | Trans Fat: 1g | Cholesterol: 175mg | Sodium: 14309mg | Potassium: 1115mg | Fiber: 2g | Sugar: 60g | Vitamin A: 106IU | Vitamin C: 4mg | Calcium: 139mg | Iron: 3mg