This post contains Affiliate Links. Read my full disclosure for more info.
If you love the flavors that come out of smoking meats and vegetables, and you're a fan of all things potatoes, you'll love this smoked baked potato recipe. It's easy to make and perfect to pair with your favorite main dish in your favorite smoker.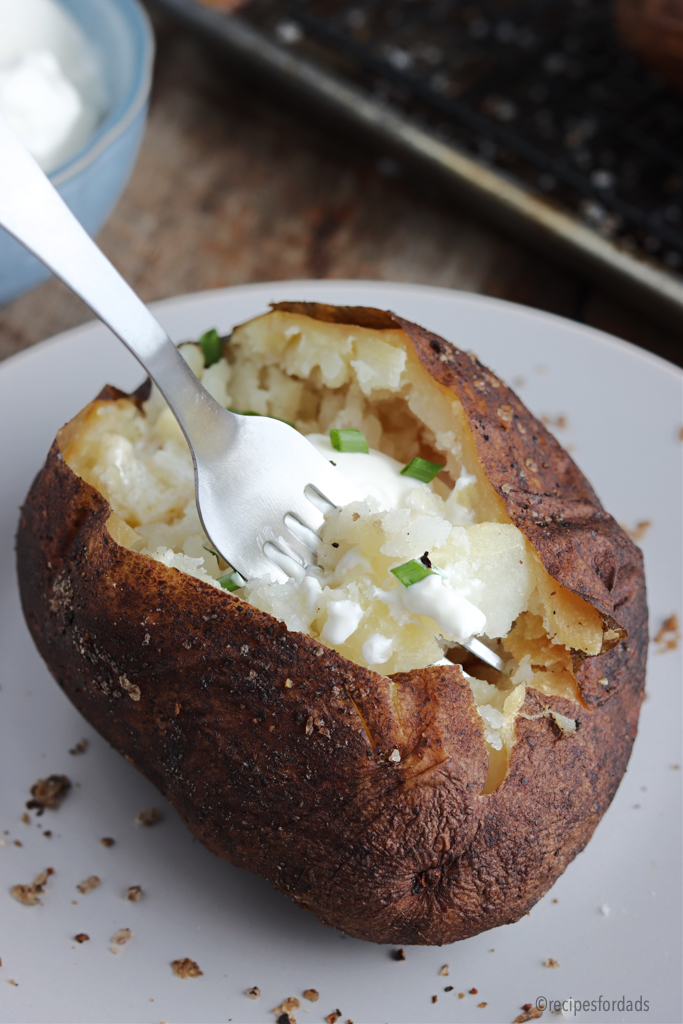 How to Smoke Baked Potatoes
Whether you're into having backed potatoes as your main course — spud bars are one of our favorite traditions — or you're looking for a delicious, easy, side dish, you can't go wrong with these smoked baked potatoes.
All you need for this smoked baked potato recipe is:
Your favorite woodchips
Potatoes
Olive oil
Kosher salt; and
Cracked black pepper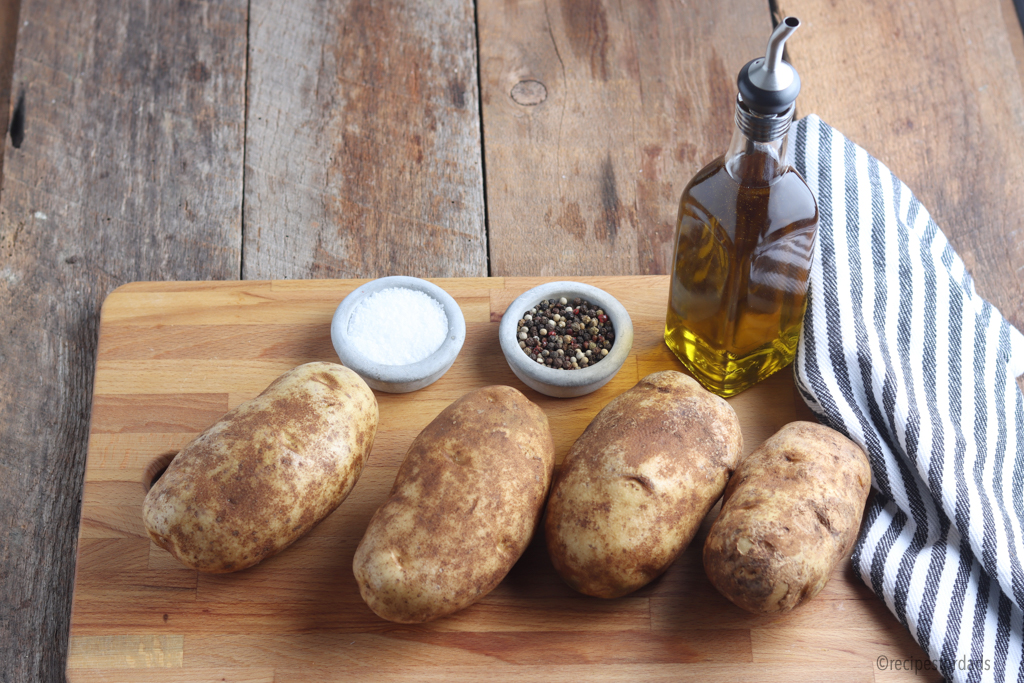 How to choose the right potatoes
Russet potatoes are ideal for this recipe (and for baking potatoes in general) because of their thick skin — this provides the perfect bit of crispiness — and fluffy insides.
Red potatoes are also a pretty popular option in our house when we're smoking potatoes, especially if we're having them as a side with sausage or chicken.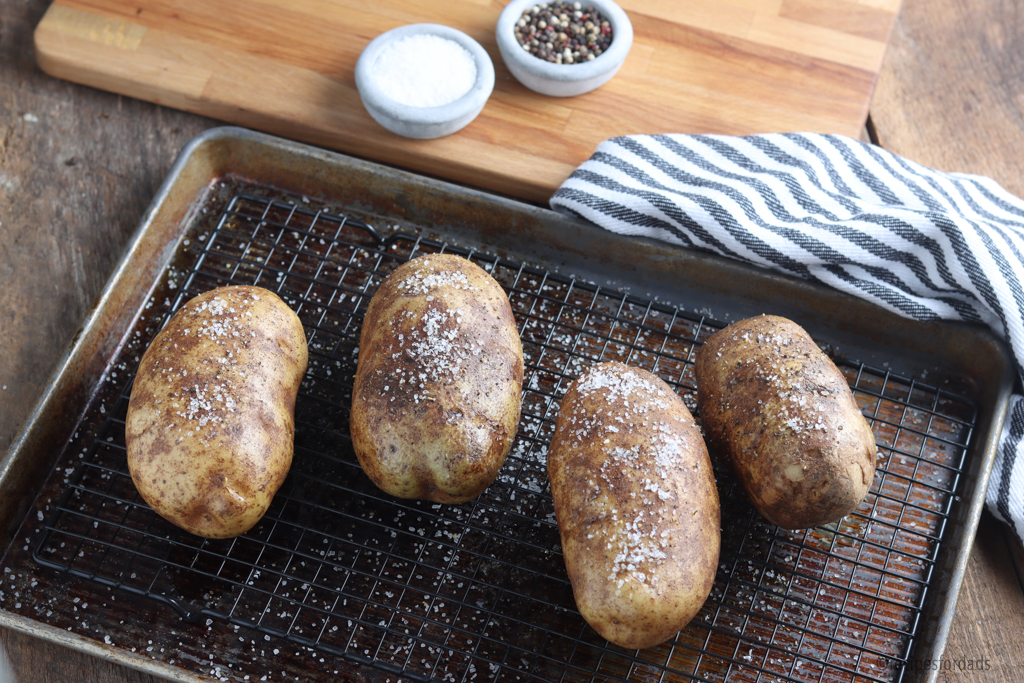 The important thing is that you buy potatoes that are uniform in size so that they all cook evenly in the smoker and be done at the same time.
What Kind of Wood to Use for Smoking Baked Potatoes
The magical thing about making smoked baked potatoes is that you can experiment a bit. Any type of woodchips will do for potatoes, so don't be afraid to try different flavors of chips — or base the flavor you choose off of the best chips for your main course.
The fun of experimenting with different types of woodchips with potatoes is that it gives you a chance to experience the different flavors each wood flavor offers.
How to Smoke Baked Potatoes
Making smoked baked potatoes is one of the easiest recipes you can make, it's ideal for people just getting started with smoking foods or for the experts — smoked potatoes are that good.
Preheat your smoker to 225°F. While the smoker preheats, prep your potatoes. After you've washed and dried the potatoes, drizzle olive oil over the potatoes and rub it all over the skin.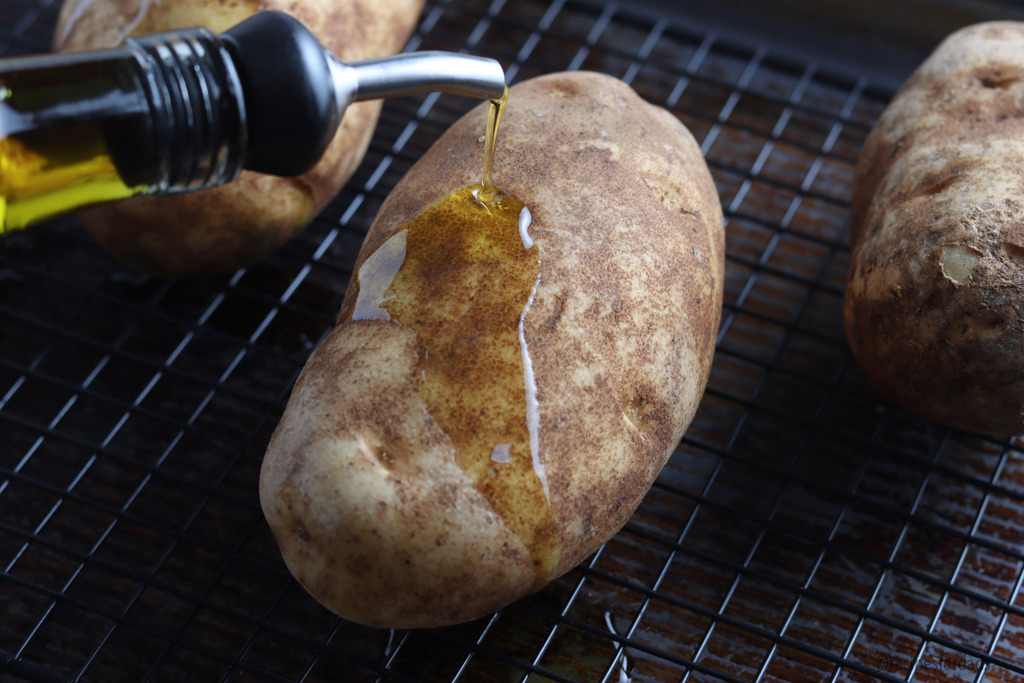 Season the potatoes with salt and pepper.
Once the smoker reaches 225°F, place the potatoes directly on the grates of the smoker, close the lid, and allow them to cook for two to three hours — you'll know the potatoes are ready when you can easily pierce the skin with a fork. 
What is the best thing to put on baked potatoes?
Smoked baked potatoes are extremely versatile. Although these baked potatoes are perfect with a little bit of butter, it's fun to switch things up with the toppings. When you're ready to serve them, gather your favorite toppings or consider using some of our family favorites, like: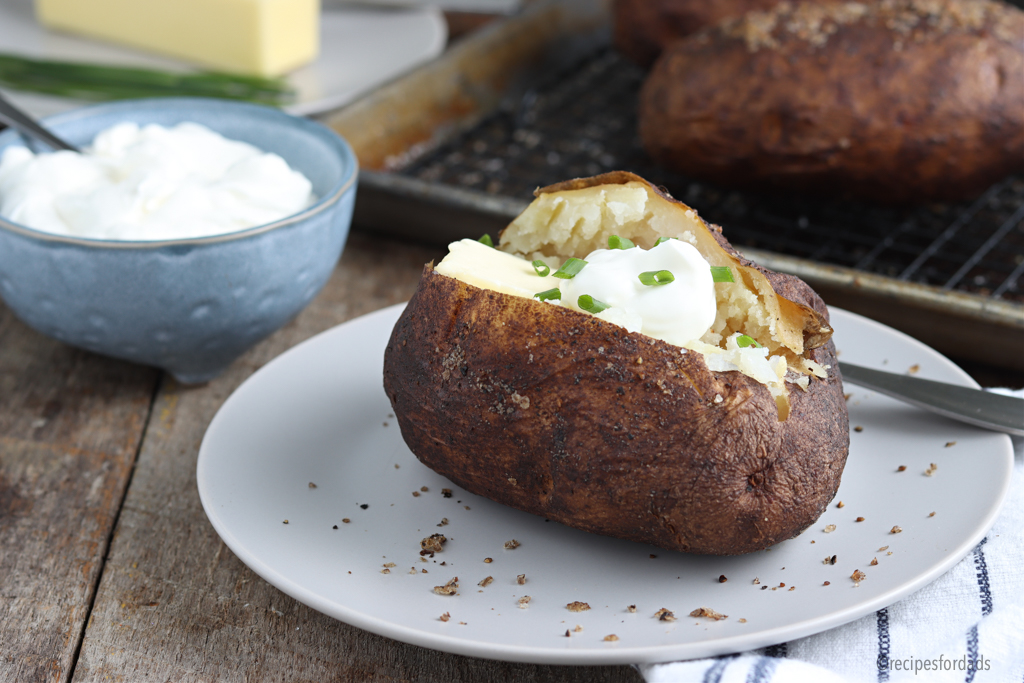 You can even smoke baked potatoes alongside your favorite smoked meats, like Smoked Beef Ribs, Smoked Brisket, or Smoked Whole Chicken. Smoked baked potatoes make a great side addition to any type of meal or BBQ. After all, meat and potatoes are a perfect pair. 
Don't forget to check out my grilled potato wedges, one of my next favorite ways to cook potatoes on the grill or smoker.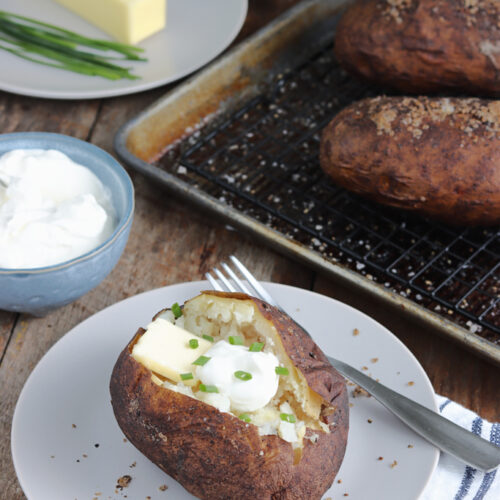 Smoked Baked Potatoes
If you're a fan of all things potatoes, you'll love this smoked baked potato recipe. It's pairs well with any favorite dish in your smoker. 
Print
Pin
Ingredients
4

large Russet Potatoes

Olive oil

Kosher salt

Cracked black pepper
Instructions
Preheat your smoker to 225 degrees F. Any wood works well with baked potatoes. Use this as an opportunity to experiment to see which is your favorite.

Wash and dry your baked potatoes. Drizzle with olive oil and rub all over the skin of the baked potatoes. Season each with salt and pepper.

Place the potatoes on the smoker at 225 degrees F. Close the lid and smoke for 2 -3 hours or until the potatoes pierce easily with a fork.

Serve with your favorite toppings
Nutrition
Calories:
168
kcal
|
Carbohydrates:
38
g
|
Protein:
5
g
|
Fat:
1
g
|
Saturated Fat:
1
g
|
Polyunsaturated Fat:
1
g
|
Monounsaturated Fat:
1
g
|
Sodium:
11
mg
|
Potassium:
888
mg
|
Fiber:
3
g
|
Sugar:
1
g
|
Vitamin A:
2
IU
|
Vitamin C:
12
mg
|
Calcium:
28
mg
|
Iron:
2
mg