This post contains Affiliate Links. Read my full disclosure for more info.
This smoked whole chicken recipe is life-changing — moist and full of flavor. Tough, dry, over-cooked chicken is a thing of the past. You'll never look at a rotisserie chicken the same way again.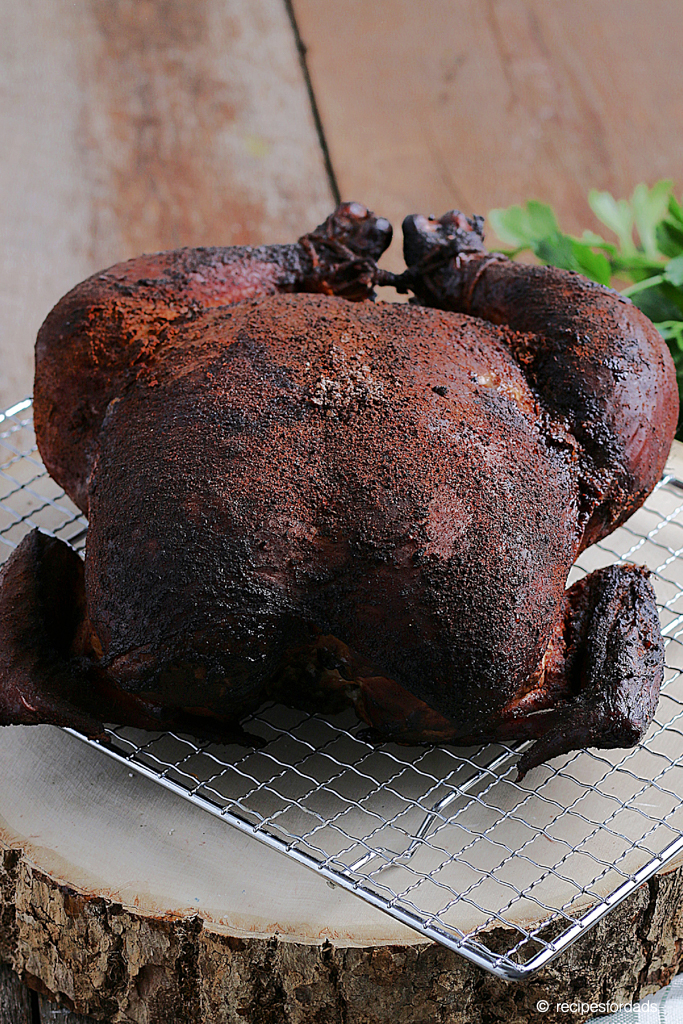 Picking the Best Chicken to Smoke
Have you ever looked at the prices of a full chicken vs the prices of chicken breasts? Ever wonder how to make a whole chicken instead of wasting money on just PART of the chicken? Me too. That's when I started experimenting with making whole smoked chickens.
For the success of your recipe, pick a chicken that is four to five pounds in weight, that doesn't contain any added solutions — you want a tasty bird.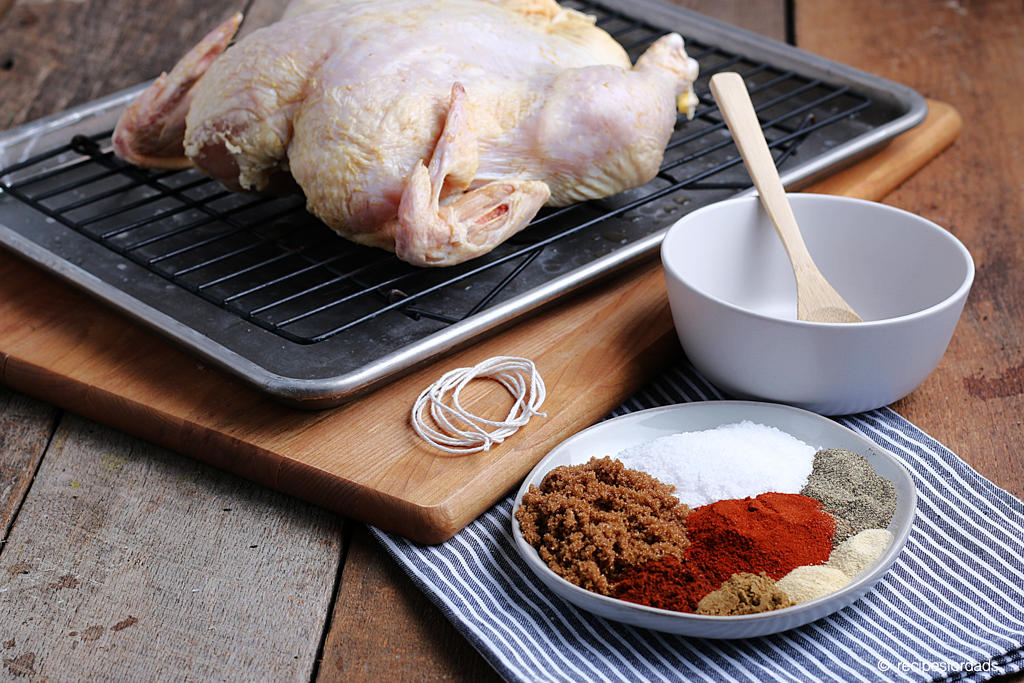 Smoked Whole Chicken: Preparation
To get started, here's what you'll need:
A whole chicken (or multiple if you're aiming to please a crowd — which you will.)
For the smoked whole chicken brine:
Water
Kosher salt
Dark brown sugar
The point of a brine is to help keep the meat moist, even after smoking. For a whole smoked chicken, you'll want to let it sit in a brine for at least six to eight hours, even overnight if possible.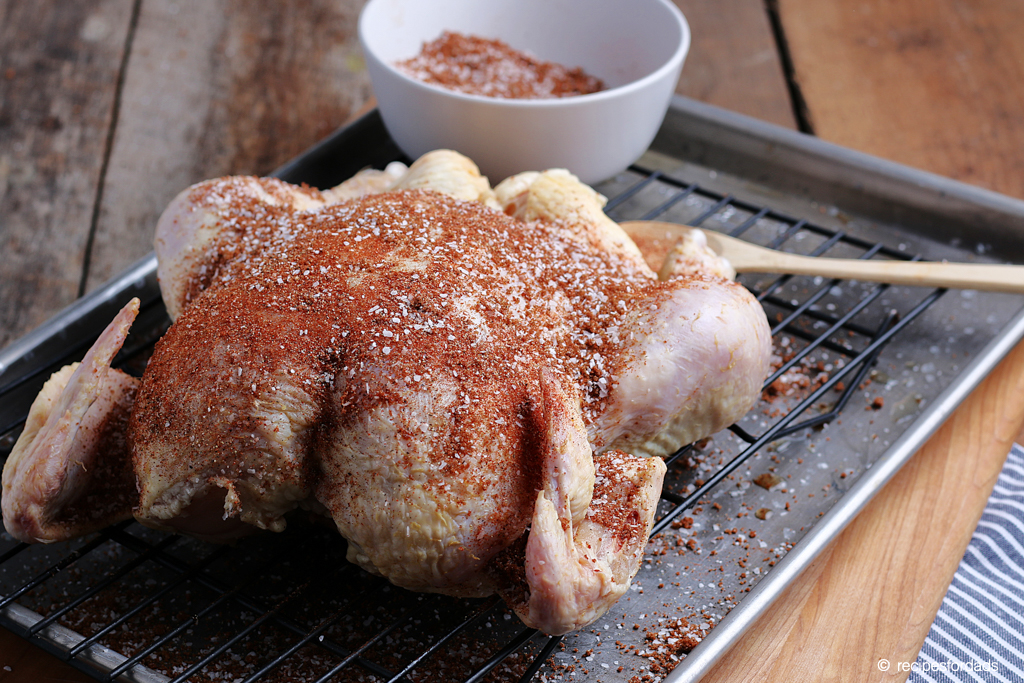 For the poultry rub:
Paprika
Black pepper
Chili powder
Cumin
Garlic Powder
Onion Powder
A good poultry rub will add a ton of flavor to your chicken and give a nice skin to bite into after it's been smoked.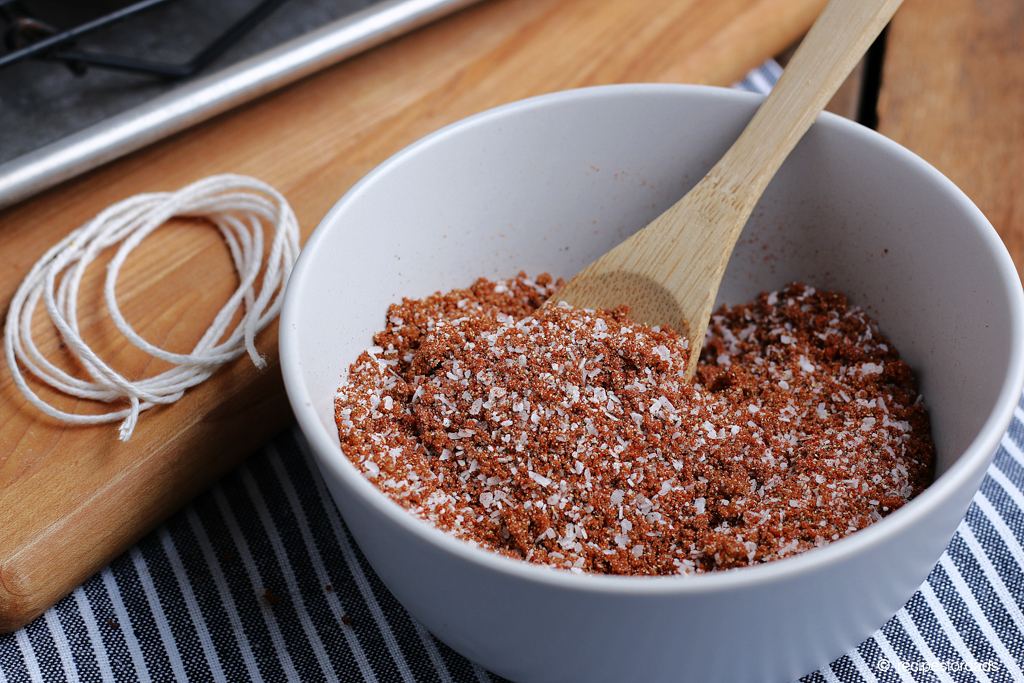 How Long Should I Leave the Smoked Whole Chicken On the Smoker?
Smoking a whole chicken takes 3½ to 4 hours at 225°F. The internal temperature of the chicken breasts should be at least 165°F and the thighs should reach an internal temperature of 175°F when you remove the chicken from the smoker.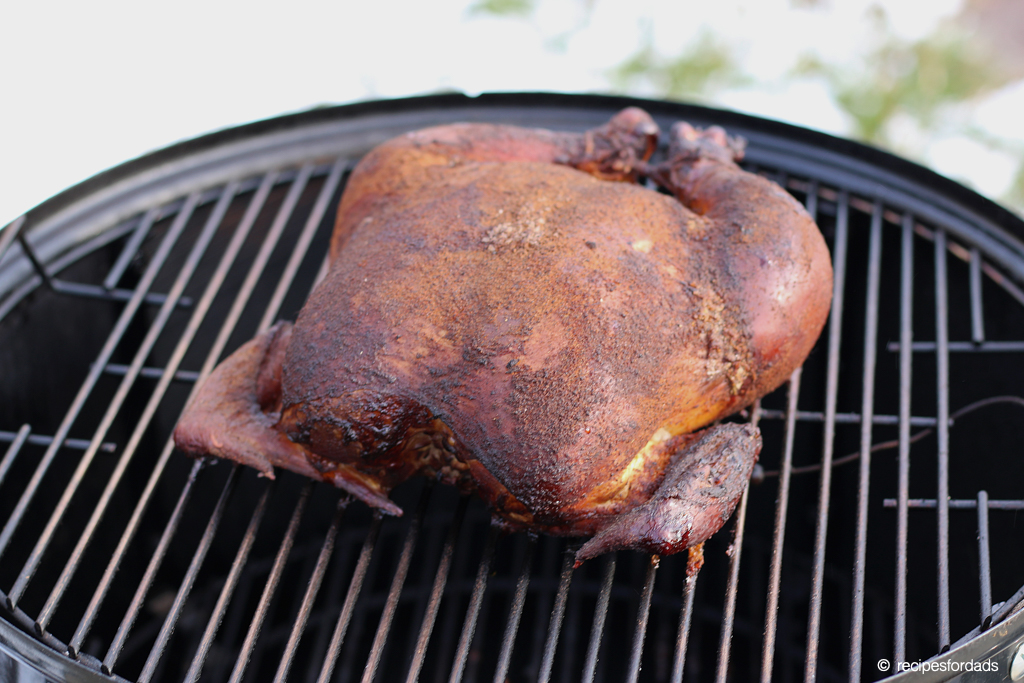 Once you've removed the glorious bird from the Weber smoker, let it rest for at least 10-15 minutes before serving — it needs time to reabsorb all the juices and flavors.
How many hours does it take to smoke a whole chicken?
This will ultimately depend on the size of the bird but it's a safe bet to plan on 3-5 hours to get the bird smoked and ready to eat.
Do you flip whole chicken when smoking?
You don't have to but if your smoke comes with the option to rotate the chicken or have it rotisserie style, it's a great way to cook it evenly. Some smokers have an option to rotate the chicken the whole time which can be a pretty cool feature to have.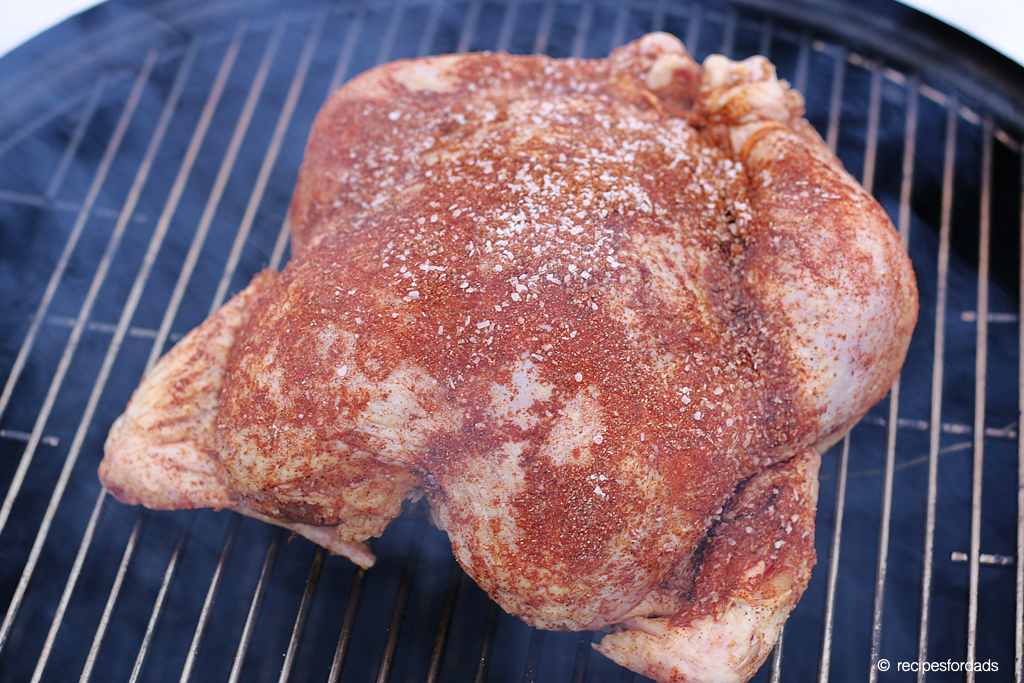 How do I get the skin crispy on smoked chicken?
Smoking the chicken at a higher temperature can give crispy skin. Another option would be to put the whole chicken in the oven under the broiler for a few moments once it's done.
Just be certain that you only do this for a few minutes as you don't want to overcook and burn the chicken after all the time that you've spent cooking it slowly in the smoker.
Can you overcook chicken in a smoker?
Yes, you can. The good news is that even if you overcook it, it will still taste great. However, the downside of overcooking the chicken in the smoker is that it's going to be dried out.
How do you keep chicken moist when smoking?
Low and slow is the key. Also having a water pan in your smoker is one of the best ways to keep the moisture, too.
Besides that, make certain that you let the chicken rest for at least 15 minutes before cutting into it so that the moisture is released into the bird and stays there. You'll notice some moisture coming out as you slice it but letting it rest is key to keeping it moist.
What is the best wood to smoke chicken?
Everyone might have their own personal preference but the majority feel that using hickory wood to smoke your chicken offers the best flavor and taste. Feel free to try out different types of wood and flavors and see what you prefer.
You'll get a different flavor combination every time as well as it pairs up with the rub.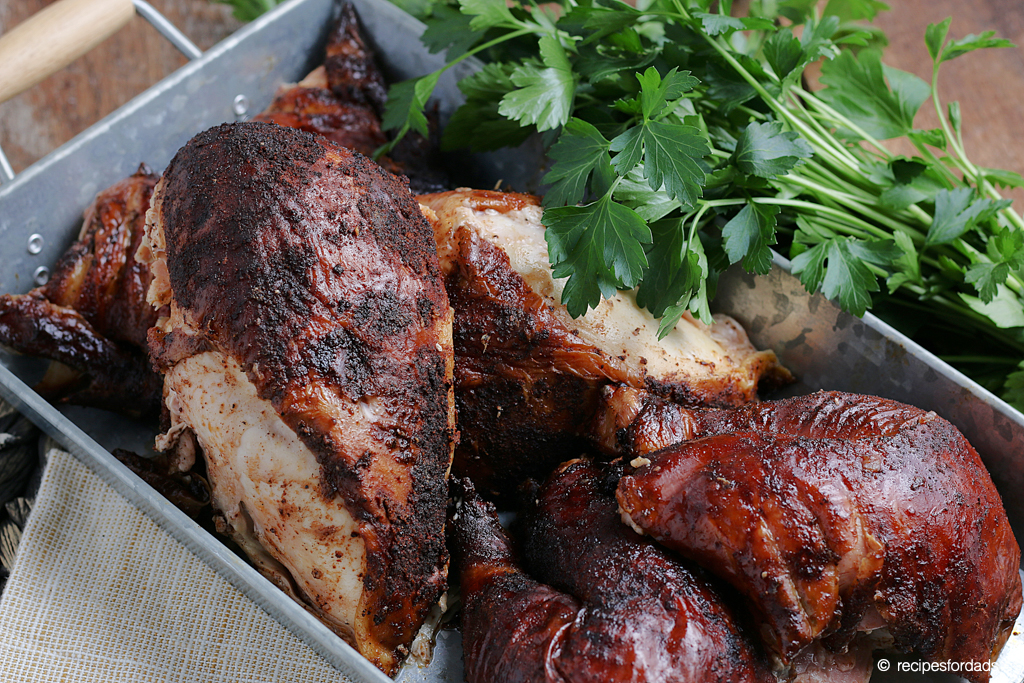 Sides to Serve With Smoked Whole Chicken
No BBQ is complete without macaroni and cheese, am I right? Take your BBQ to the next level with this brag-worthy smoked mac-n-cheese recipe.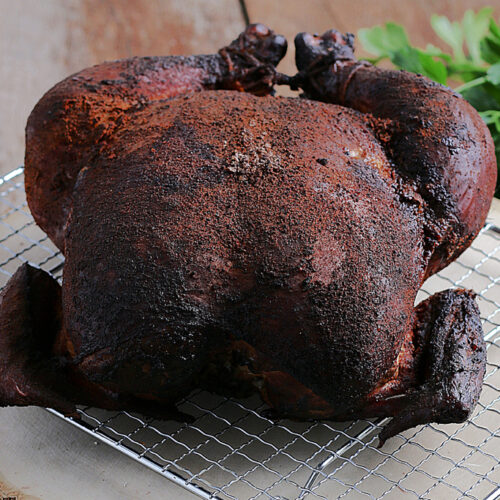 Smoked Whole Chicken Recipe
Tough, dry, over-cooked chicken is a thing of the past. This smoked whole chicken recipe is life changing — moist and full of flavor — you'll never look at a rotisserie chicken the same way again. 
Print
Pin
Rate
Ingredients
1

whole chicken

Basic Brine

4

quarts

water

½

cup

kosher salt

½

cup

dark brown sugar

Poultry Rub

¼

cup

dark brown sugar

packed

¼

cup

kosher salt

2

tablespoons

paprika

1

tablespoon

black pepper

1

teaspoon

chili powder

1

teaspoon

ground cumin

½

teaspoon

garlic powder

½

teaspoon

onion powder
Instructions
Brining

Add the water to a container large enough to hold the chicken. Whisk the salt and brown sugar into the water until dissolved.

Add the whole chicken to the brine, make sure it is completely covered. Refrigerate for 6-8 hours or overnight.

Smoking

Preheat the smoker to 225F degrees. Fill a drip pan with water and place under where the chicken will be cooked.

While the smoker is stabilizing remove the chicken from the brining solution and rinse thoroughly.

Mix together all the ingredients for the poultry rub and sprinkle about 3 tablespoons all over the skin.

Transfer the chicken to the smoker and cook for 3-4 hours, until the internal temperature of the breast is 165F and thighs are 175F.

Remove from the smoker and allow to rest for 10-15 minutes before serving/
Notes
Your cook time depends on the size of the bird.
Nutrition
Serving:
1
g
|
Calories:
338
kcal
|
Carbohydrates:
25
g
|
Protein:
28
g
|
Fat:
14
g
|
Saturated Fat:
4
g
|
Polyunsaturated Fat:
9
g
|
Cholesterol:
88
mg
|
Sodium:
14275
mg
|
Fiber:
1
g
|
Sugar:
22
g
All you pitmaster dads need to check out my other recipes: