This post contains Affiliate Links. Read my full disclosure for more info.
Growing tired of the same recipe every year for the holidays? Maybe you're in the mood for some turkey, but an entire turkey is far too much for your family. This simple smoked turkey breast recipe is extremely versatile and will hit the spot, every time.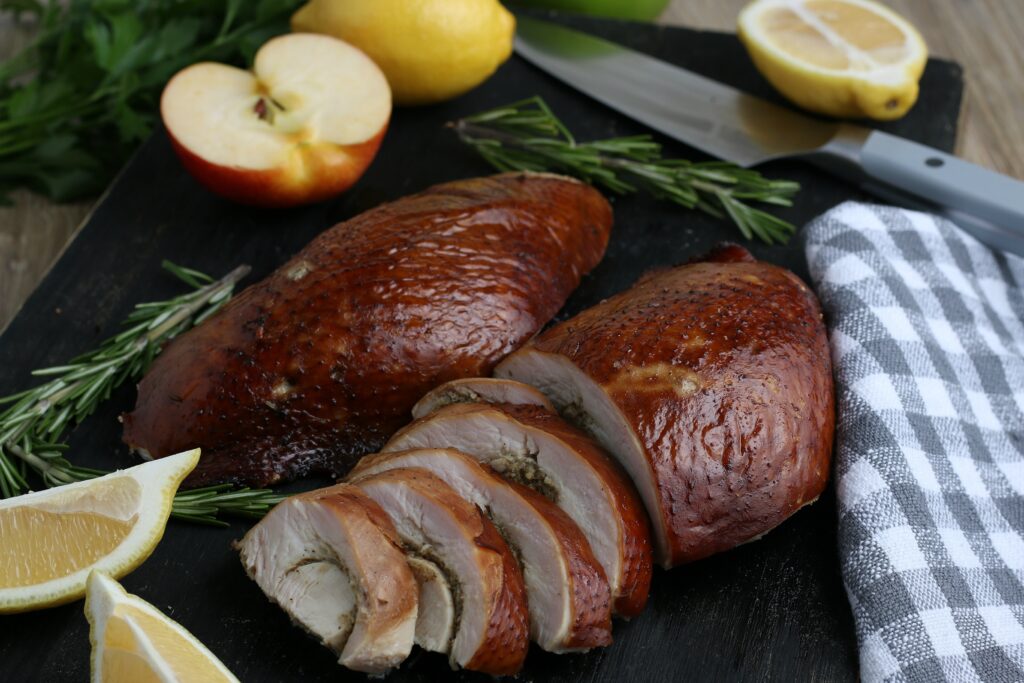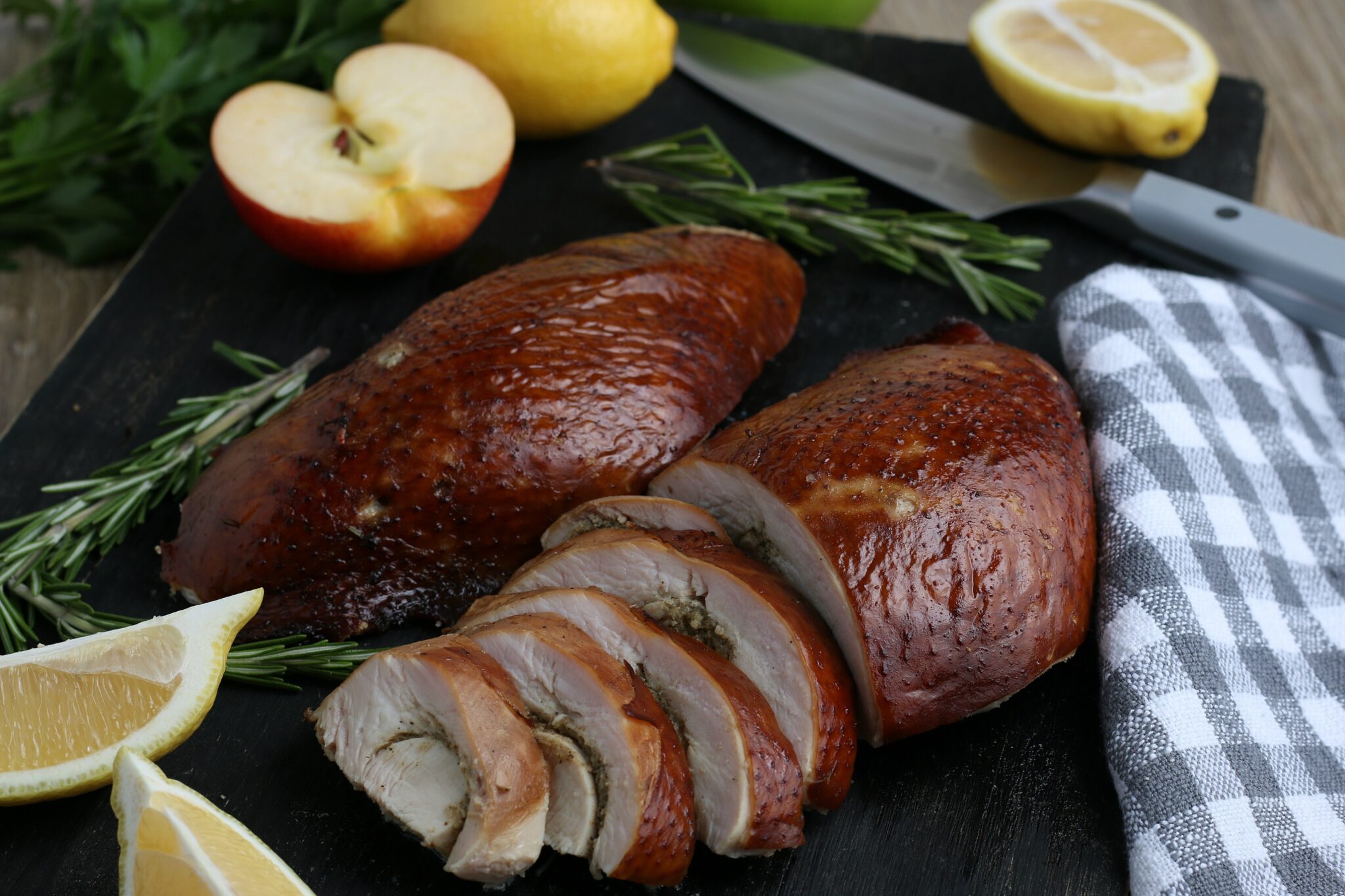 How long does it take to smoke a turkey?
Smoked Turkey takes roughly 30 minutes per pound to smoke. If you're doing a large 20-pound turkey, it will take around 10 hours. However, a turkey breast takes only 3 hours for a 6-pound bone-in breast.
If you're doing a large turkey, you'll want to get started early in the morning or risk having Thanksgiving dinner at midnight.
How do you keep a turkey moist when smoking?
A brine can keep your turkey moist while it smokes. The brine adds moisture to the turkey. You will need to get started early and brine your turkey ahead of time.
It won't take as long for a turkey breast, but a large turkey will take several hours to brine. However, this step is well worth the extra time and effort. You'll not only be keeping your turkey moist, but you'll also be adding great flavor.
What can you do to add flavor to turkey before smoking it?
There are two easy things you can do to add flavor to your turkey before smoking it. The first is to brine your turkey. This is when you soak the turkey in a mixture of water, salt, herbs, and spices.
This not only adds flavor but keeps turkey moist. The other thing you can do is inject the turkey. A turkey injection adds great flavor directly into the meat of the turkey rather than just the outside.
Tips for Smoking a Turkey
Smokey turkey is a preferred taste, one that we love—but if smoked incorrectly, it can be treacherous on the tastebuds.
It is vital that you get the temperature and the timing just right. Here are some of our top tips for smoked turkey breast:
Bring your smoker to an internal temperature anywhere between 200°F – 250°F

. Before putting in any wood chips or your turkey into the smoker, make sure it maintains the temperature for at least 15 minutes.

Flavored wood chips, like apple or hickory flavored, can really kick up the flavor of your smoked turkey breast. Place these on top of the hot coals before placing your turkey breast in the smoker.

Your turkey breast will need to be in the smoker for

three to four hours,

but

when the thickest part of the turkey breast reaches 165°F,

it's ready to be removed from the smoker.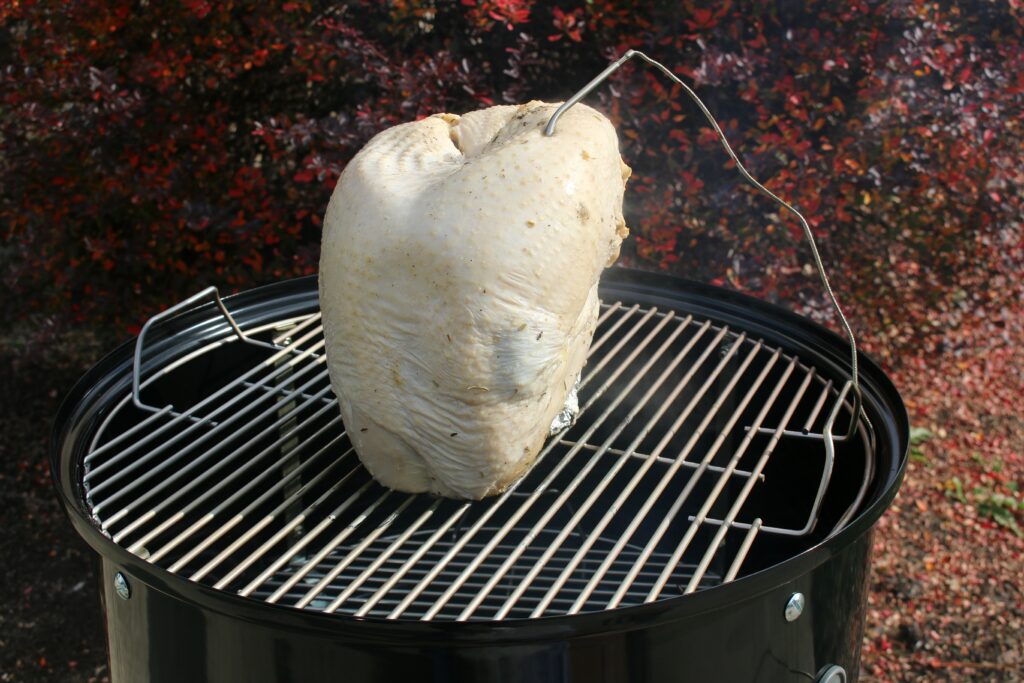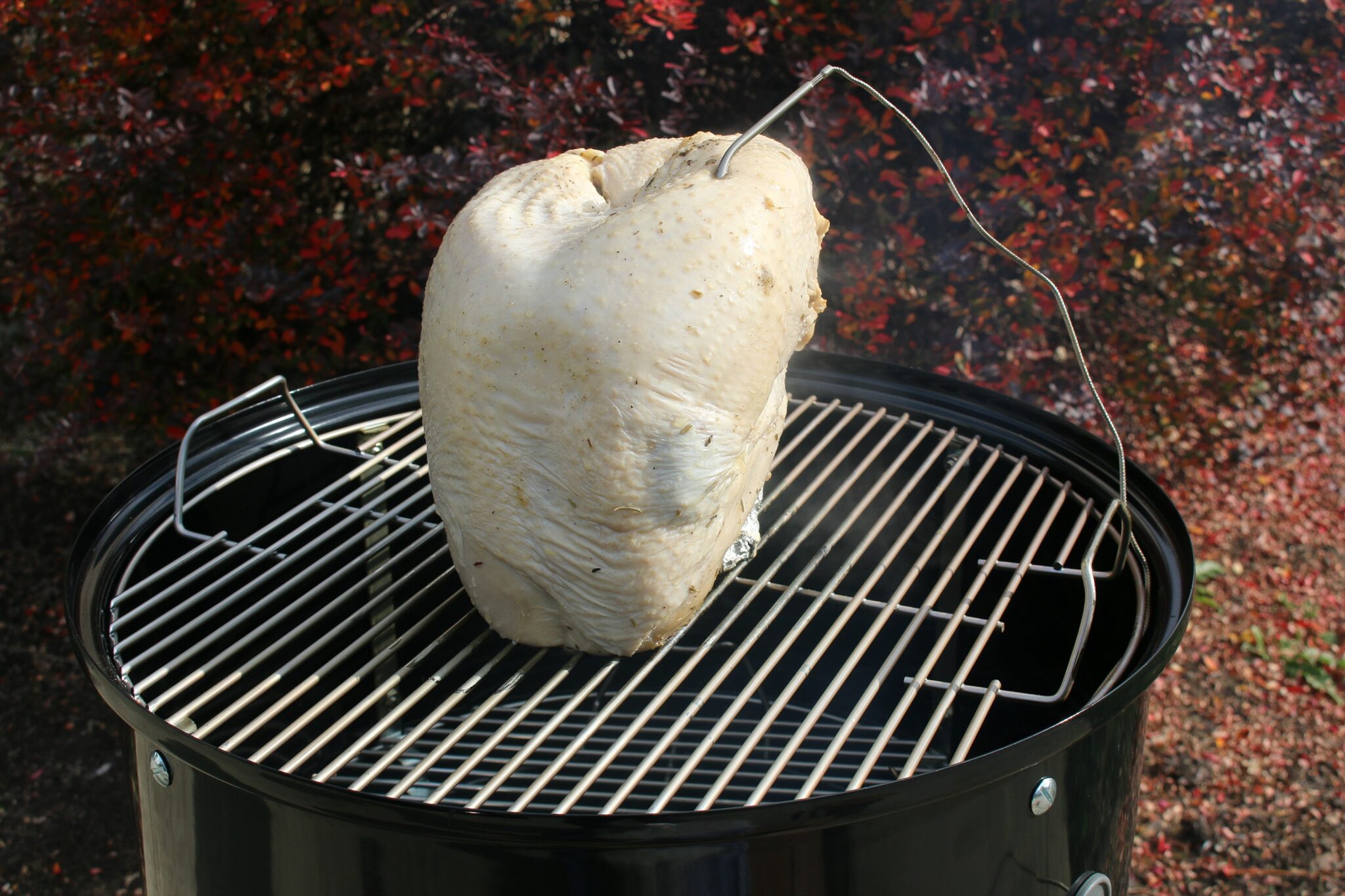 Do

not

overcook your turkey breast. You want the inside to remain tender and moist—not dry and tough.

That's why a good meat thermometer is the key to your smoked turkey success.

Let your smoked turkey breast rest for 15-20 minutes before cutting into it. Let the meat reabsorb all the juices and flavors.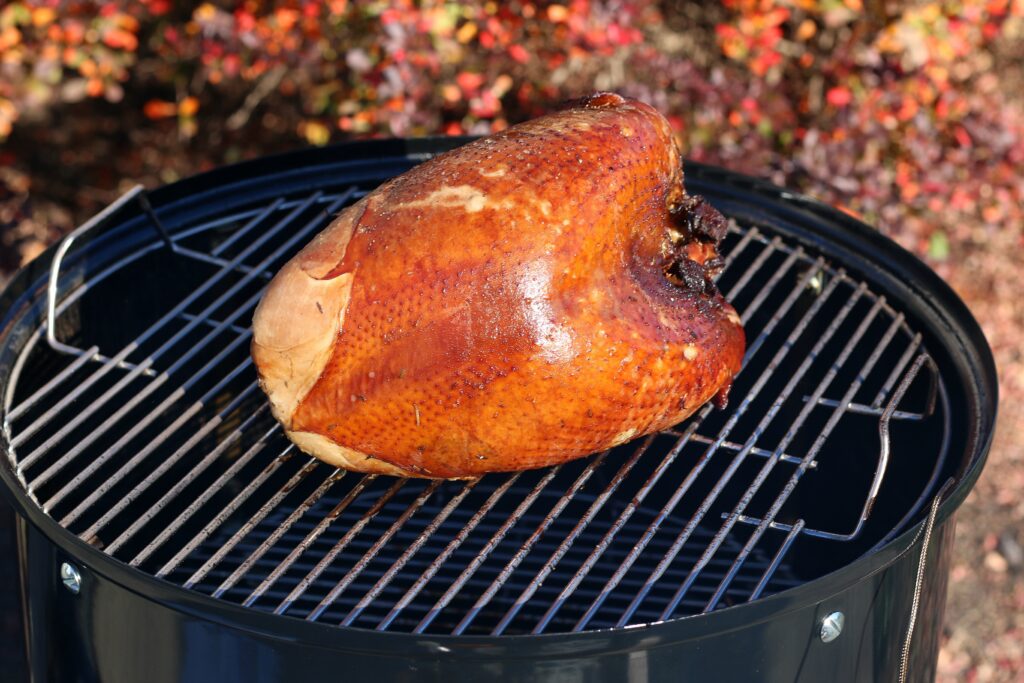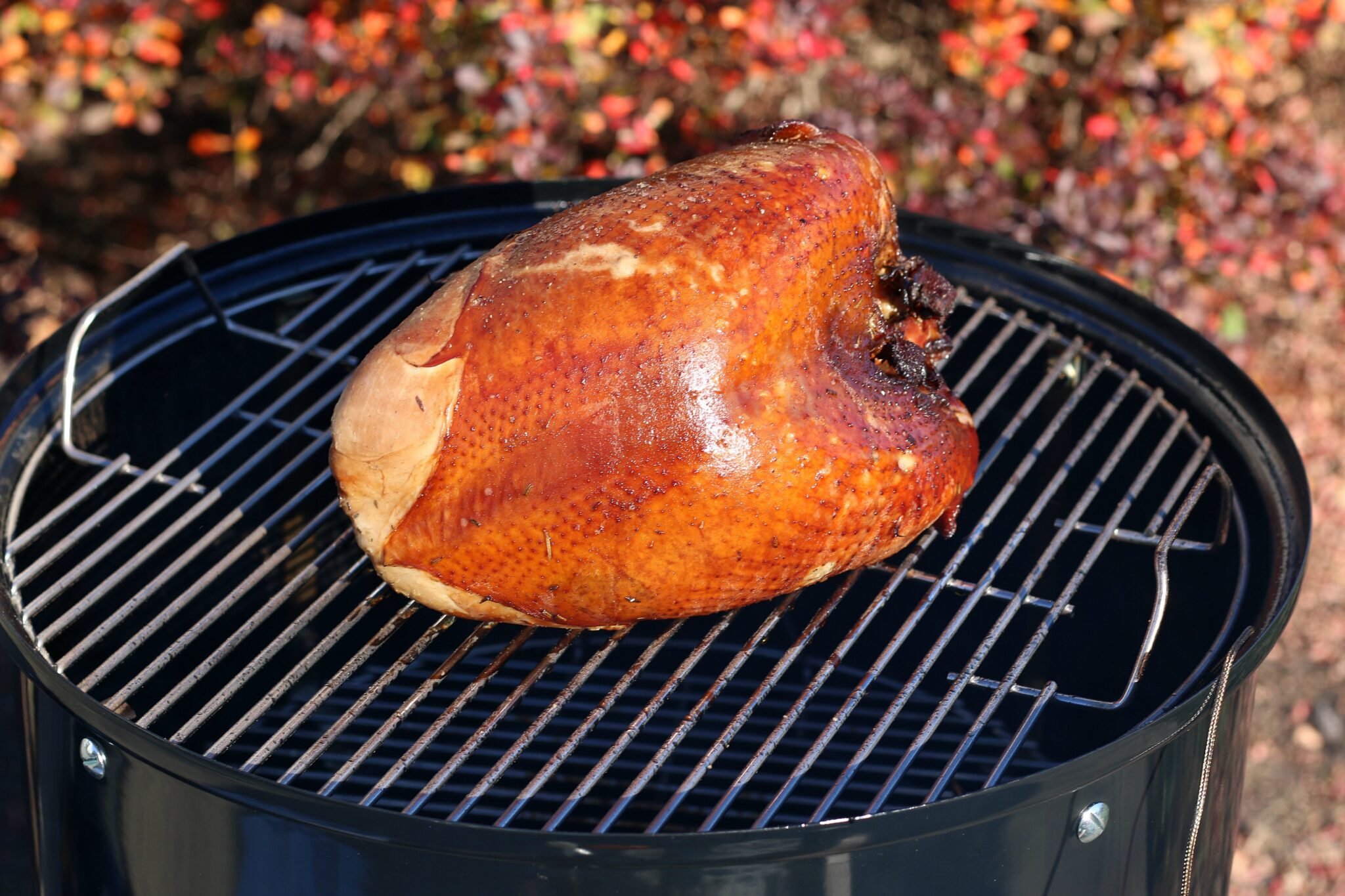 Smoked Turkey Breast Recipes
Want to add additional flavor to your turkey? Check out my Easy Turkey Brine and Turkey Injection recipes.
Smoked turkey breast recipes come in all varieties. You can use a dry rub or a brine to enhance the turkey's flavor. The most common seasonings used in smoked turkey breast recipes include:
Garlic

Paprika

Thyme

Rosemary

Salt

Pepper
To really spruce things up, consider adding some extra flavors to your brine, things like:
Lemon peels

Apples

Apple cider vinegar

Soy sauce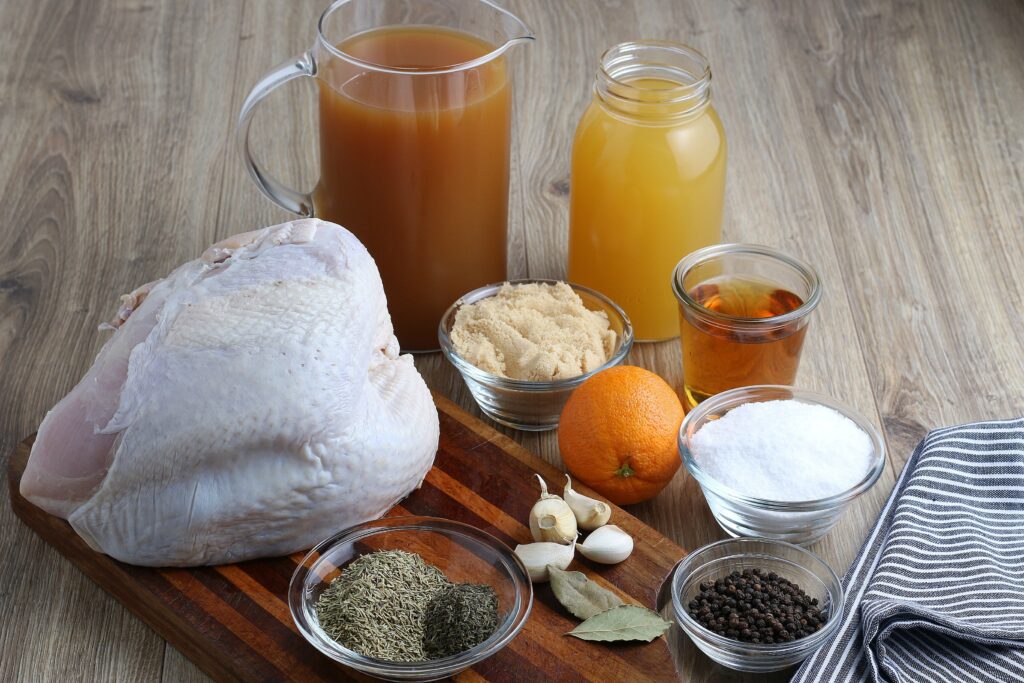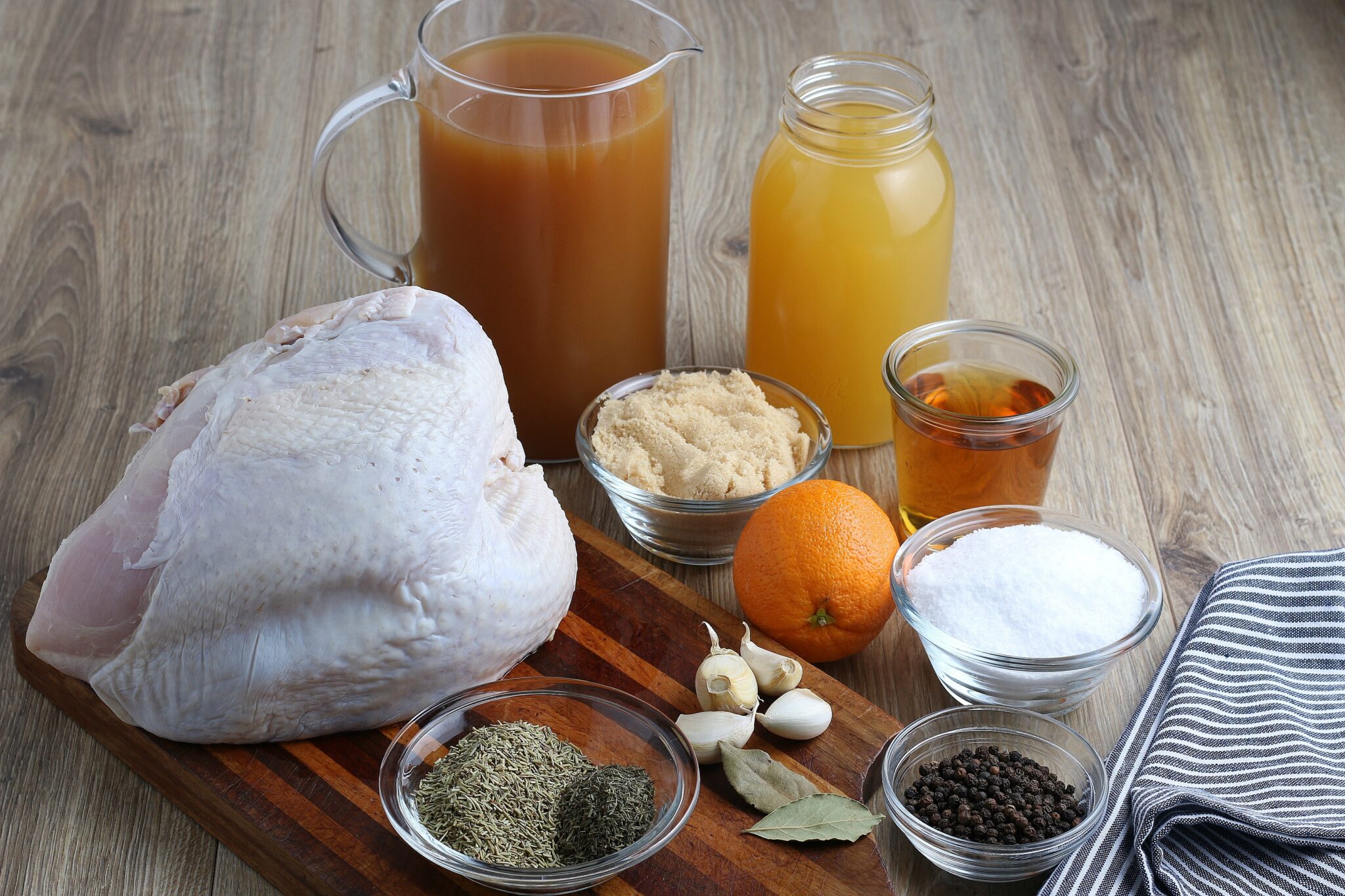 The options are endless.
Maybe you aren't a fan of experimenting? No worries. We've got you covered.
Looking for Even More Flavor in your Smoked Turkey? 
Here's a chef's secret—try the reverse sear method.
This method is commonly used on steaks and chicken breasts but can be used on turkey breasts as well.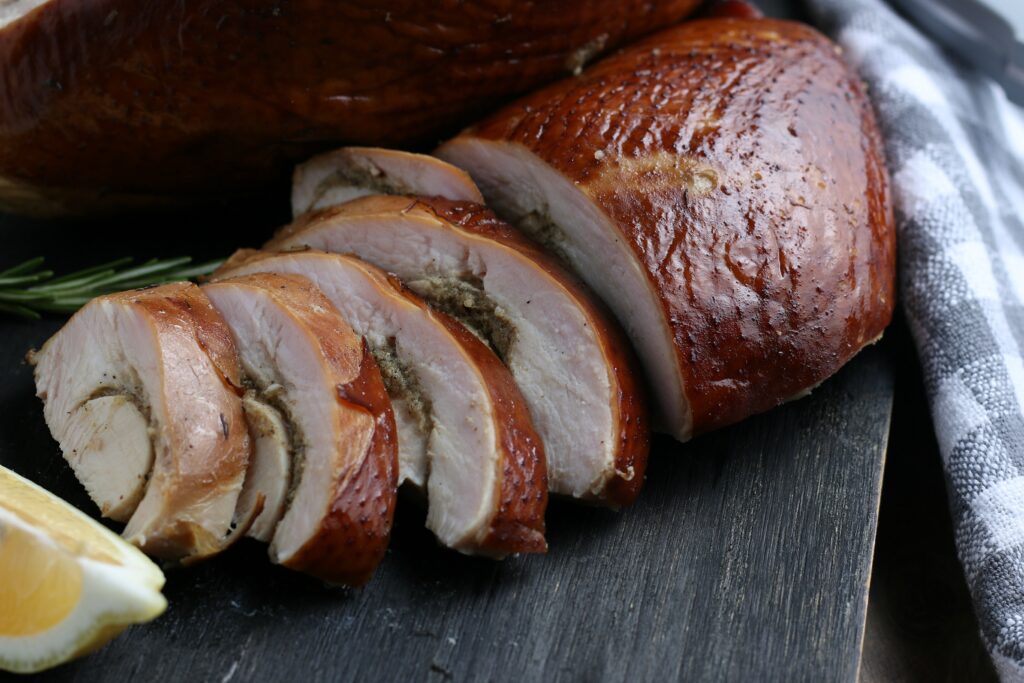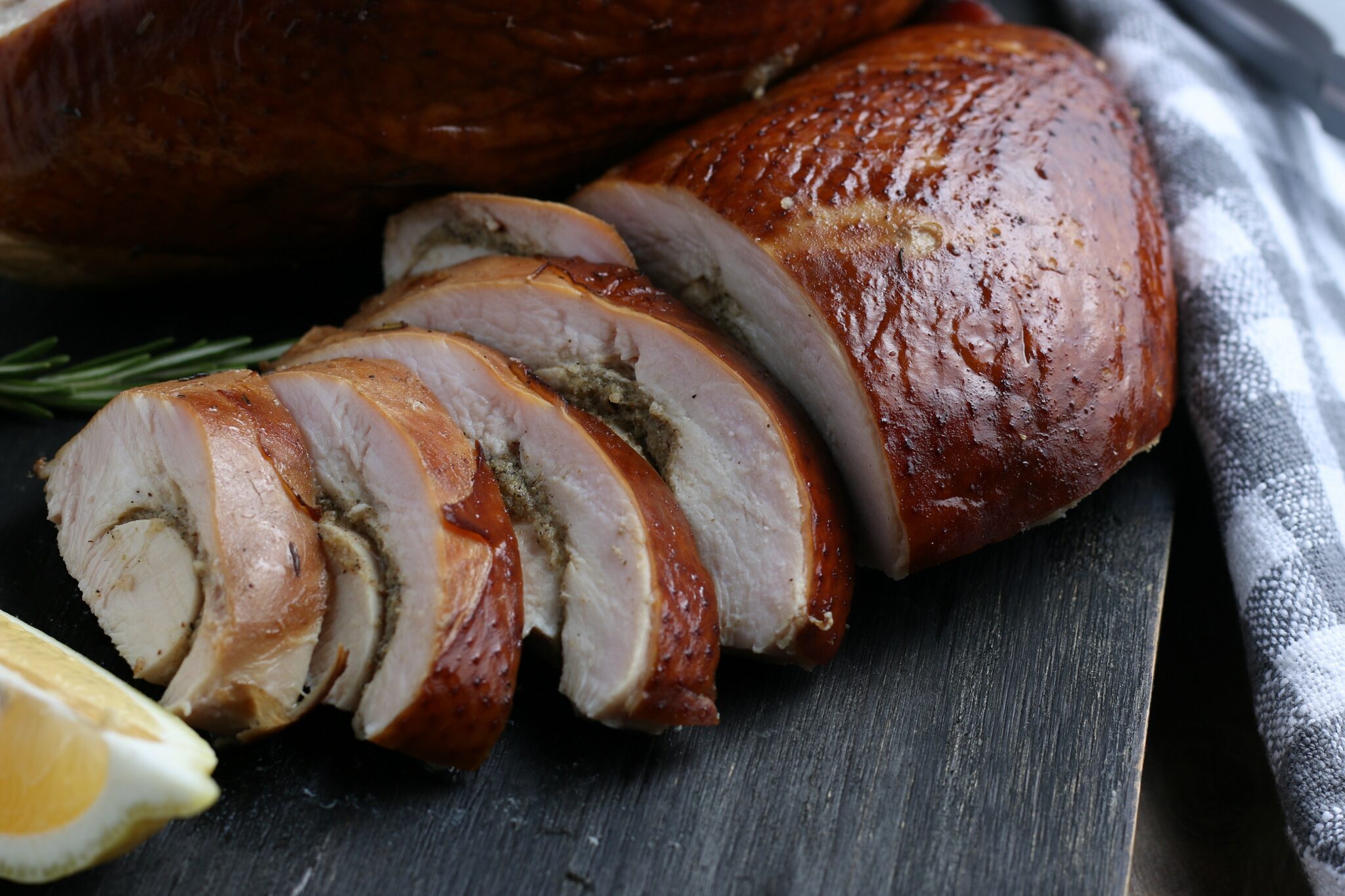 For this method, you want to pull the turkey breast from the smoker when it hits about 130°F.
Crank the heat up on your smoker to 475 – 500°F.
Place the turkey breast in the smoker until the skin is a nice mahogany color and the internal temperature is 165°F.  The end result? A beautifully smoked turkey breast with a crisp outside, with a tender juicy inside.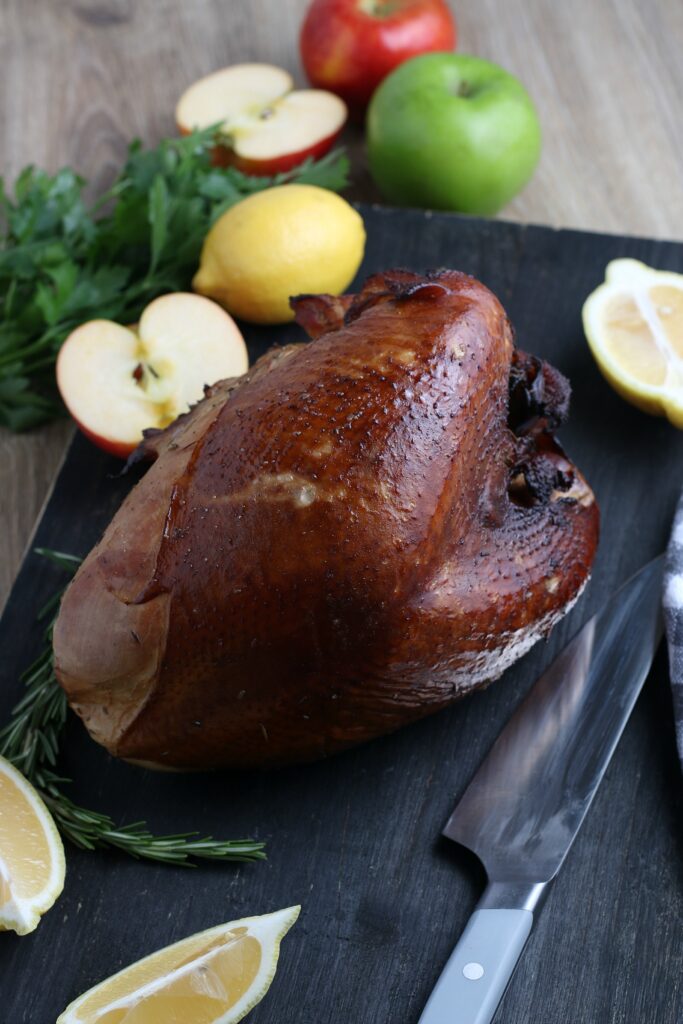 Don't forget to also check out my Smoked Turkey Legs. They will remind you of your favorite theme park in Disney World.
Looking for ideas to make with leftover Thanksgiving Turkey? You can never go wrong with a delicious Turkey Sandwich with Cranberry Sauce.
Recipes That Pair Well With Smoked Turkey for your next Thanksgiving Meal: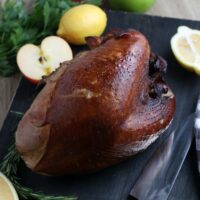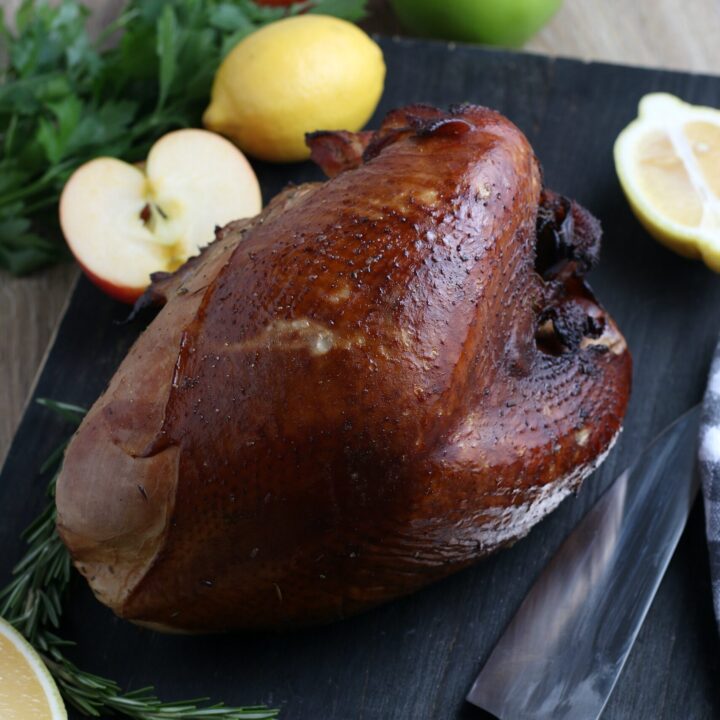 Smoked Turkey Breast Recipe
This simple smoked turkey breast recipe is extremely versatile and will hit the spot, every time. 
Print
Pin
Rate
Ingredients
5-6

lbs

Bone-in, skin-on Turkey Breast
Turkey (Butter Based) Injection
1

stick of butter

2

cups

of chicken broth

1/4

lemon juice

2

tsp

garlic powder

2

tsp

onion powder

2

tsp

ground pepper

1

tsp

thyme

1

tsp

ground sage

1/4 to 1

cup

of Cayenne Pepper

1 to 1-1/2

tsp

Tabasco
Instructions
Melt the butter, add injection ingredients, mix well, and let cool.

Remove turkey breast from the refrigerator and coat with olive oil and cracked black pepper.

Inject the turkey with the injection mixture

Bring your smoker to 225F. Add 3-4 chunks of cherry wood (OR your preference of smoking wood) once your temperature has stabilized.

Place the turkey breast directly on the smoker grates, breast side up and smoke 3-4 hours, until the internal temperature reaches 160F in the thickest part of the breast.

You may want to spritz with apple juice every half hour after the first 2 hours of smoking. (Helps to keep the skin from becoming rubbery and keeps the breast from drying out.

When done remove the breast from the smoker and rest for 10 minutes.

Cut breast from the bone and cut into ½ inch thick medallions and serve immediately.
Nutrition
Serving:
6
people
|
Calories:
224
kcal
|
Carbohydrates:
4
g
|
Protein:
1
g
|
Fat:
23
g
|
Saturated Fat:
5
g
|
Polyunsaturated Fat:
6
g
|
Monounsaturated Fat:
11
g
|
Sodium:
715
mg
|
Potassium:
167
mg
|
Fiber:
1
g
|
Sugar:
1
g
|
Vitamin A:
1045
IU
|
Vitamin C:
16
mg
|
Calcium:
28
mg
|
Iron:
1
mg