This post contains Affiliate Links. Read my full disclosure for more info.
Looking for an easy yet versatile side dish for your meal, but also in the mood to throw something on the smoker? Look no further. These smoked vegetables are easy to make and delicious.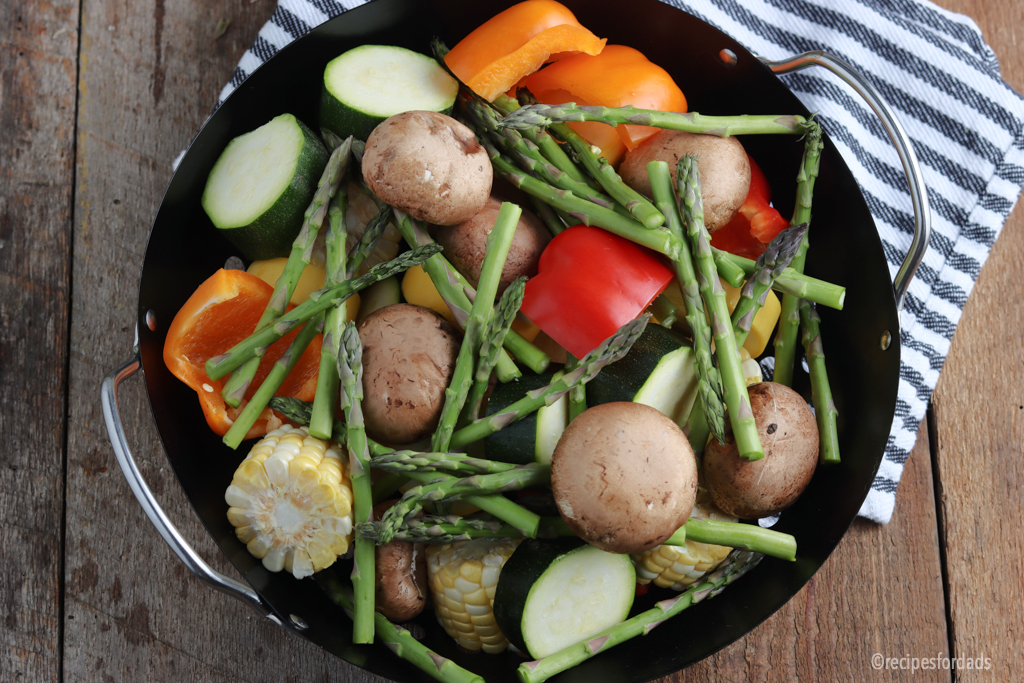 Can You Cook Vegetables in a Smoker?
Absolutely! And while I'll be honest and admit that I'm not always about "healthy" choices, these smoked vegetables are a fantastic healthy side dish.
Other reasons I enjoy making smoked vegetables include:
It gives us variety — eventually, my kids get sick of salads and casseroles.
You can smoke them right alongside your choice of favorite smoked meat. No need to make extra dishes or spend unnecessary time in the kitchen.
Little prep time. Cut the veggies up, toss them in the seasonings, and you're good to get started.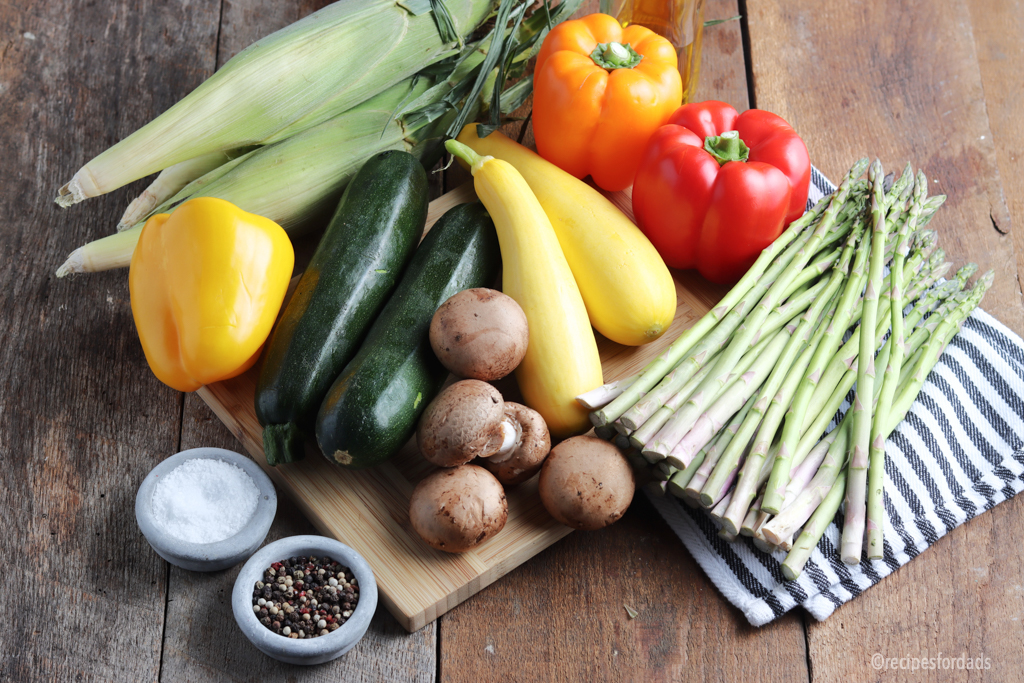 What Are the Best Vegetables to Cook in a Smoker?
The options are endless when it comes to smoking vegetables, I've learned through trial and error that my favorite blend of vegetables to throw in the smoker are:
How to Make Smoked Vegetables
This recipe is one of the easiest smoker recipes I have made — so if you're new to smoking, this is the perfect opportunity to get your feet wet!
To get started, heat your smoker to 225°F. While your smoker is preheating, you can:
Snip the ends off of your asparagus
Clean and halve your peppers
Husk and cut your corn into 3-inch sections (this helps them cook faster)
Cut your zucchini and squash into 2-inch chunks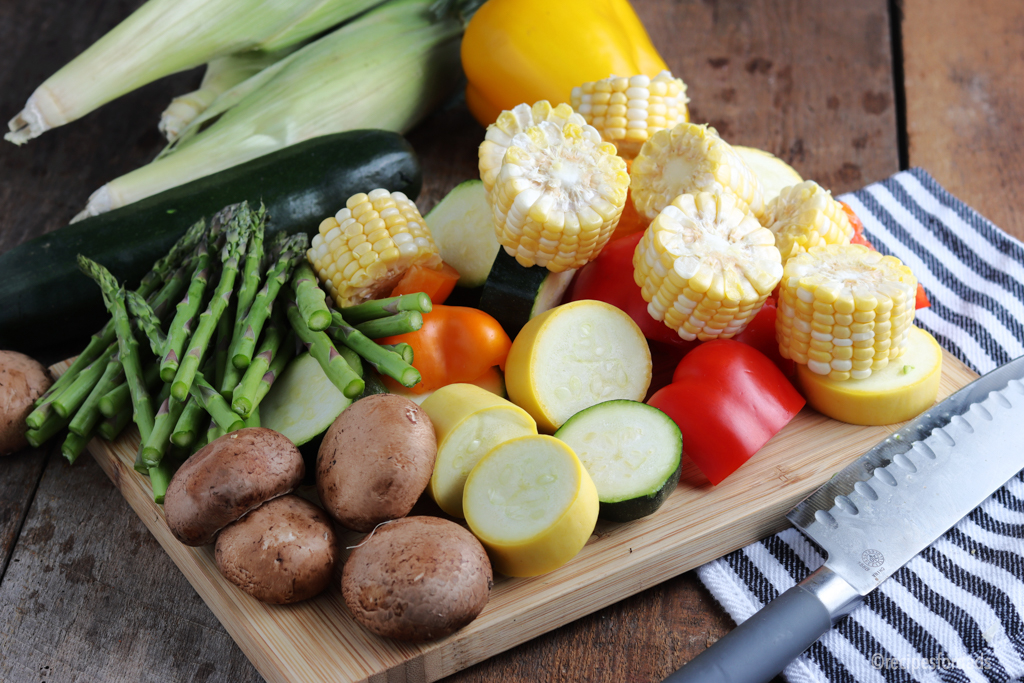 Once all your ingredients have been washed and cut, transfer the vegetables into a 9×13 pan.
Once the smoker is up to temperature, place your pan on the grates, as well as a handful of cherry wood chips — you only need a small amount if all you are smoking is the vegetables.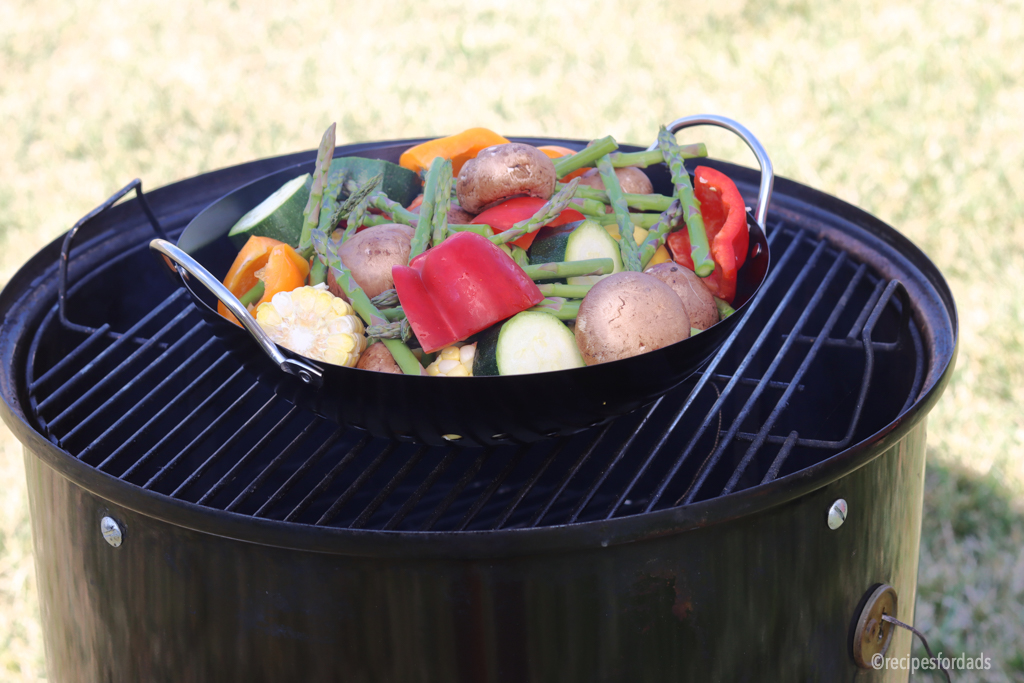 Allow the vegetables to cook for 5-10 minutes.
Now, you'll want to open your smoker, and drizzle the vegetables with olive oil and sprinkle on the salt and pepper.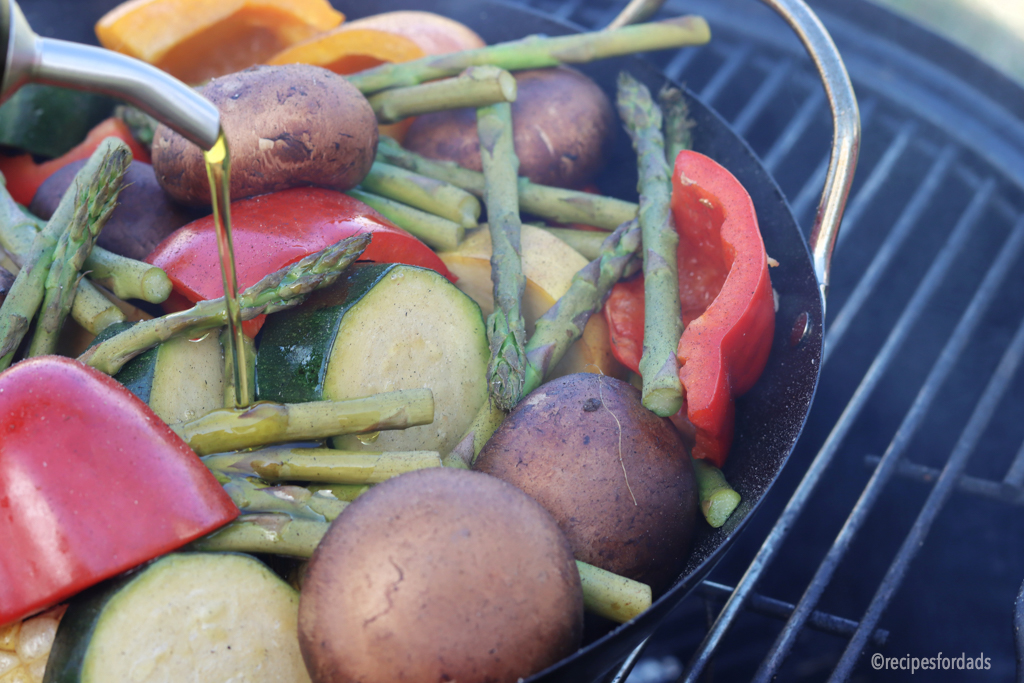 Cover the pan with aluminum foil and cook until the vegetables are tender — this generally takes about 30-40 minutes, but cooking times vary.
What to Serve With Smoked Vegetables
Aside from how simple this recipe is, I love making it on a weekend where I'm already firing up the smoker. Whether you're making …
… almost all good smoked meats need to rest before you serve them — meaning you can throw in these vegetables while the meat rests. No extra steps, no wasted time.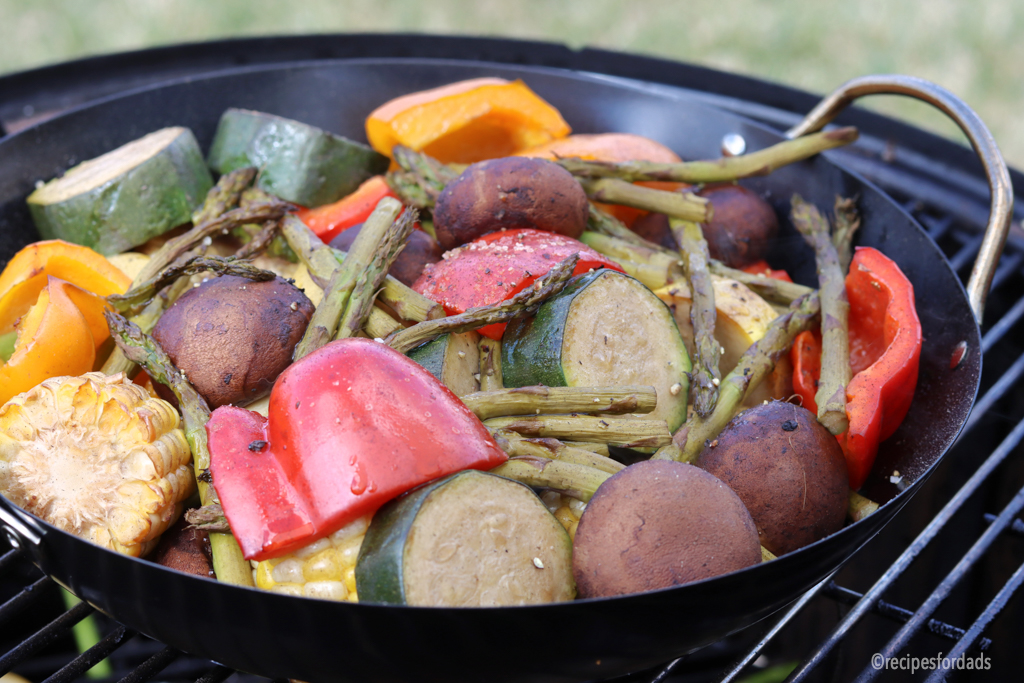 How to Reheat Smoked Vegetables
Word to the wise — please do not reheat your smoked vegetables in a microwave. This will turn these delicious vegetables straight to mush, which, if you're a new dad, might be ideal for a little one experimenting with solids, but I still don't recommend it.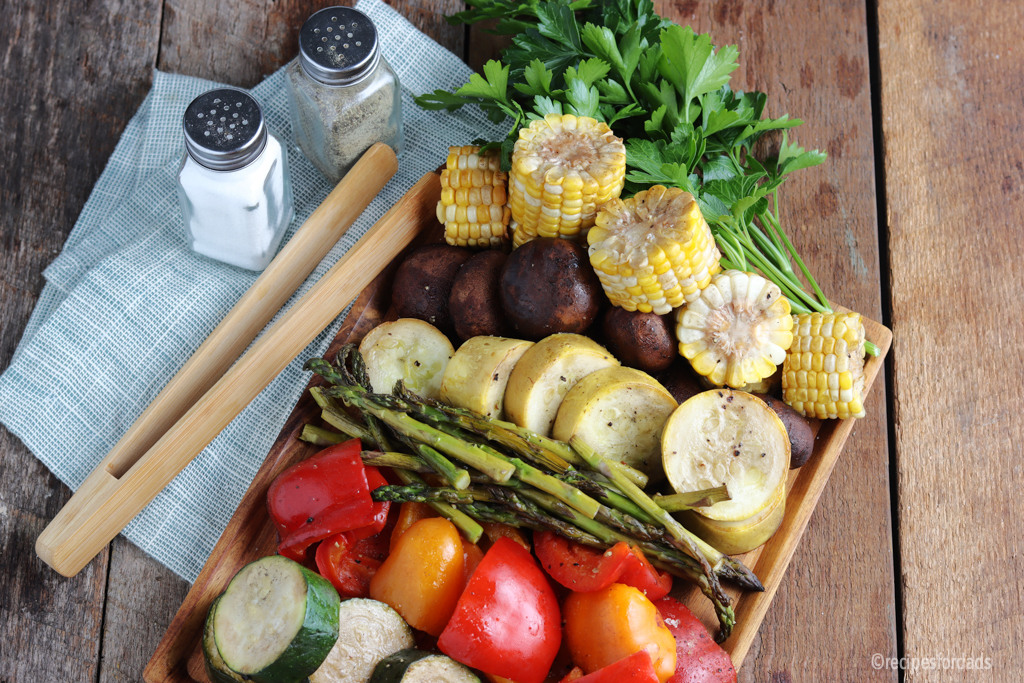 Instead, heat the smoked vegetables in an already preheated oven. This keeps them crisp and firm.
Preheat the oven to 450°F. Once preheated, add a small drizzle of olive oil to the vegetables and bake for four to five minutes until warm.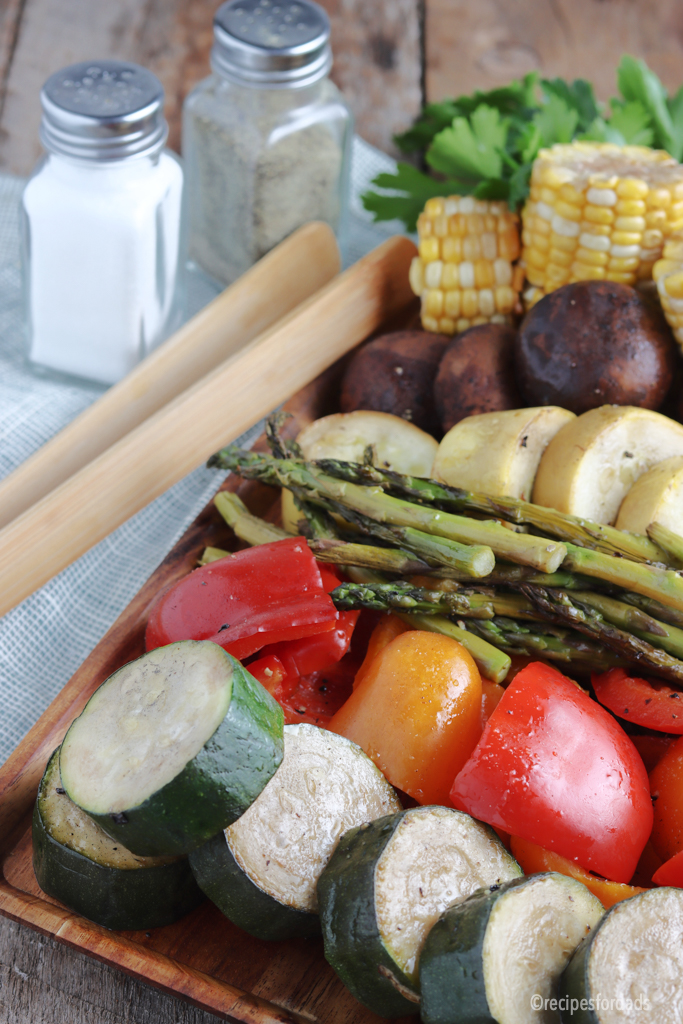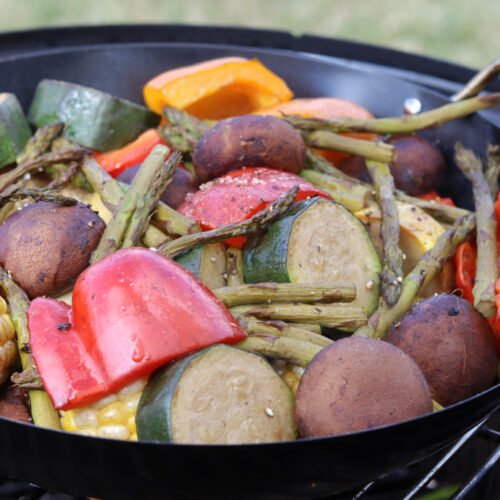 Smoked Vegetables
Looking for an easy yet versatile side dish for your meal, but also in the mood to throw something on the smoker? Look no further. These smoked vegetables are easy to make and delicious. 
Print
Pin
Ingredients
Asparagus

ends snipped

Bell Peppers

cleaned and quartered

Sweet Corn

cut into 2-inch sections

Mushrooms

baby Portobello caps whole

Zucchini and Squash

2-inch chunks

Salt & Pepper to taste

Olive oil for drizzling
Instructions
Preheat smoker to 225 degrees F.

Prepare your vegetables according to the ingredient list and add them to a 9"x13" grill pan.

Place pan into your preheated smoker and add a handful of Cherry wood chips, enough to smoke for 5-10 minutes.

Open up the smoker and drizzle vegetables with olive oil and season with salt and pepper to taste. Cover pan with aluminum foil.

Continue cooking until vegetables are tender.
Nutrition
Calories:
69
kcal
|
Carbohydrates:
5
g
|
Protein:
2
g
|
Fat:
5
g
|
Saturated Fat:
1
g
|
Polyunsaturated Fat:
1
g
|
Monounsaturated Fat:
3
g
|
Sodium:
8
mg
|
Potassium:
314
mg
|
Fiber:
2
g
|
Sugar:
4
g
|
Vitamin A:
1394
IU
|
Vitamin C:
63
mg
|
Calcium:
14
mg
|
Iron:
1
mg