This post contains Affiliate Links. Read my full disclosure for more info.
Smoked pork tenderloin is a go-to recipe in my house. It's easy to make and is a "scroll-stopper" as I like to call it. My kids drop their electronics and are pumped to join me for dinner when they see a pork tenderloin marinating in the fridge.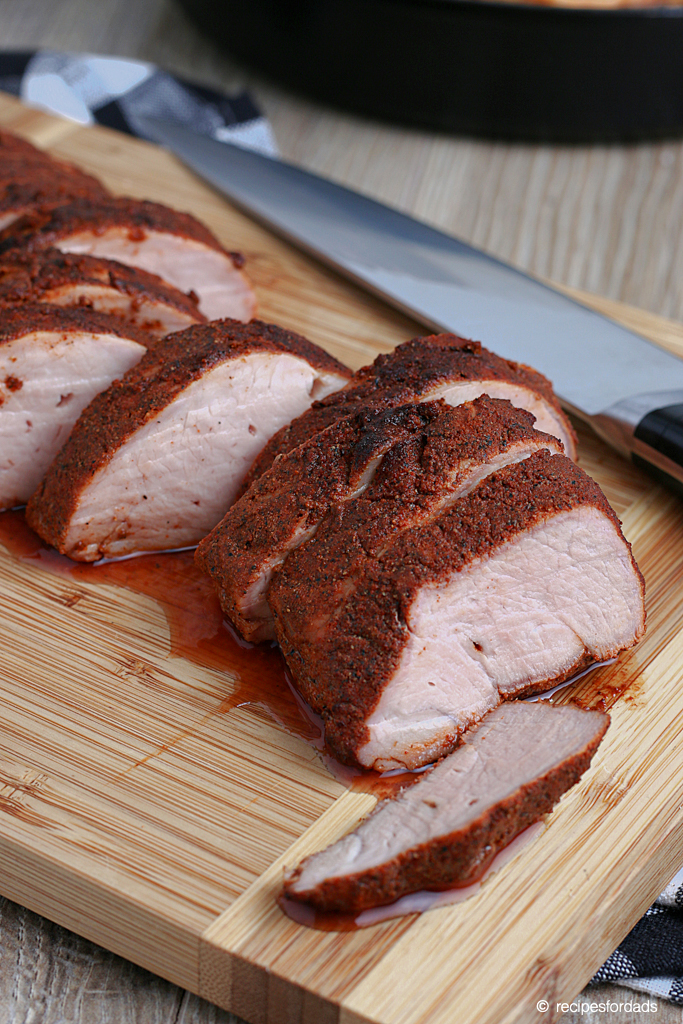 Top Tips for Preparing Smoked Pork Tenderloin
Before you throw that beautiful pork tenderloin on the smoker, there are some steps to take to make sure you're making the best smoked pork tenderloin you've ever had.
Tip #1: First things first, remove the silver skin and excess fat from the pork. Look at your pork loin, do you notice one side has a white film over it?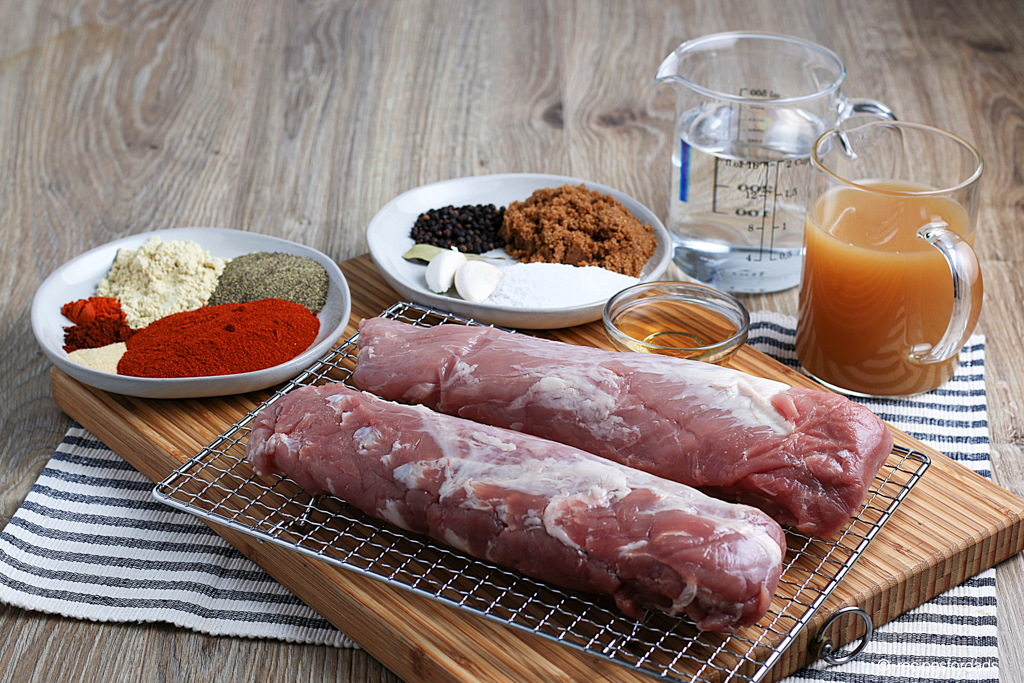 That's the silver skin and you don't want it left on your pork — trust me, you'll wind up with tough and chewy pieces of pork.
To remove the silver skin, start at the narrow end of the tenderloin, pinch the meat in order to move the membrane away from the skin, and then slide your knife under the membrane.
In a sawing motion, move your knife from the thin end to the thick end of the membrane.
Tip #2: For the fullest flavor and to avoid drying out the meat, start with a brine. My favorite pork brine is made up of: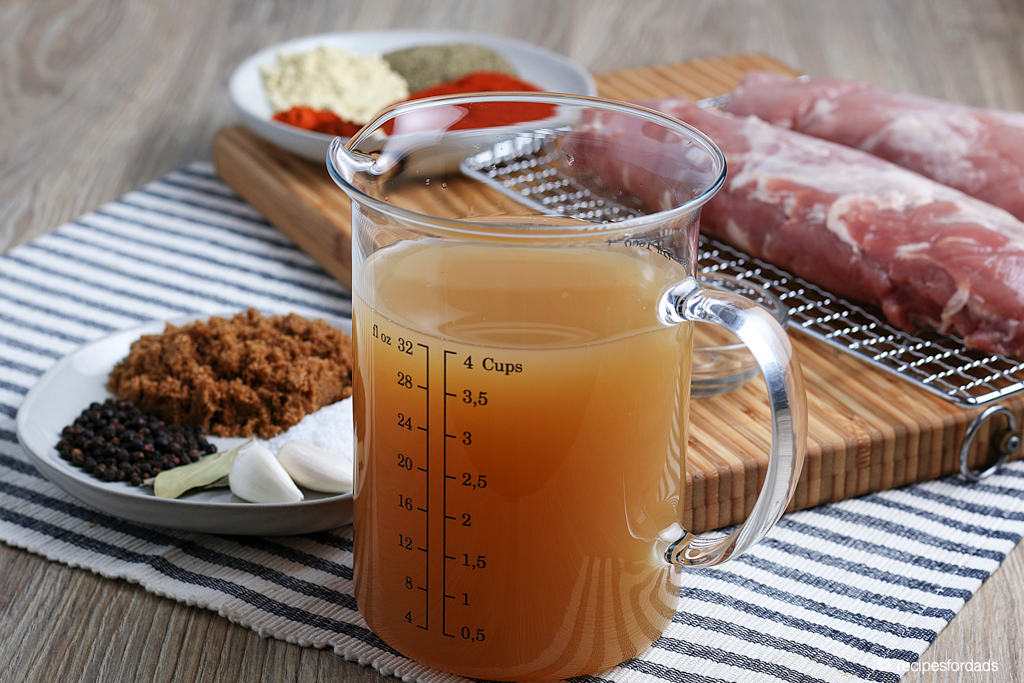 Apple cider
Apple cider vinegar
Kosher salt
Peppercorns
Bay leaves
Garlic
Dark brown sugar, and
Water
How do you keep pork moist when smoking?
One of the biggest concerns that people have when smoking meat is that they're worried that the meat is going to dry out. While it's possible, you can prevent it by rubbing a dry brine on the pork and letting it rest for at least 2 hours or overnight if possible.
The longest part of this process is letting the pork loin marinate in the brine for at least two hours.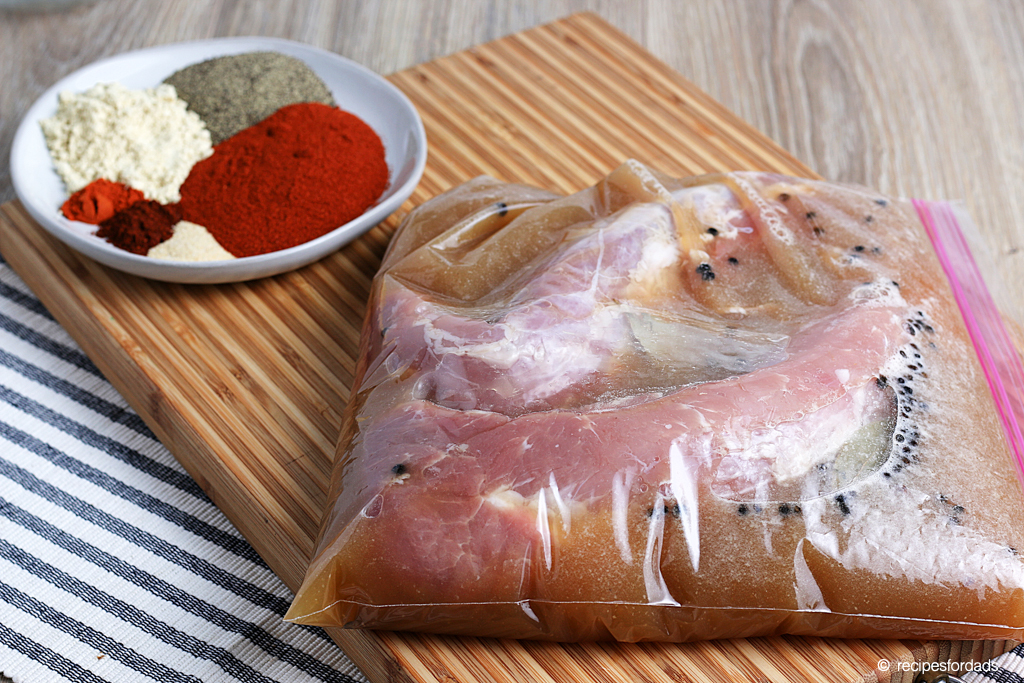 Tip #3: Don't forget a pork rub. A rub can be simple. In fact, most of my rubs involve the same ingredients:
Sweet Paprika
Ground Pepper
Dry Mustard
Chili Powder
Garlic Powder
Cayenne Pepper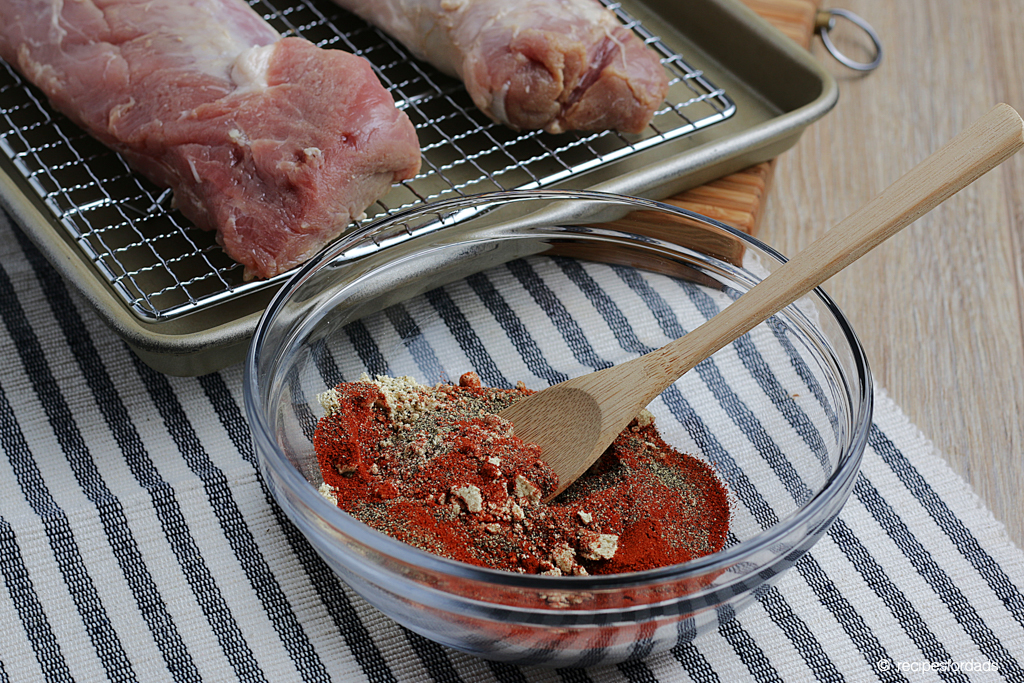 If you're going to be smoking pork frequently, I suggest making a large batch of this rub and keeping it on hand.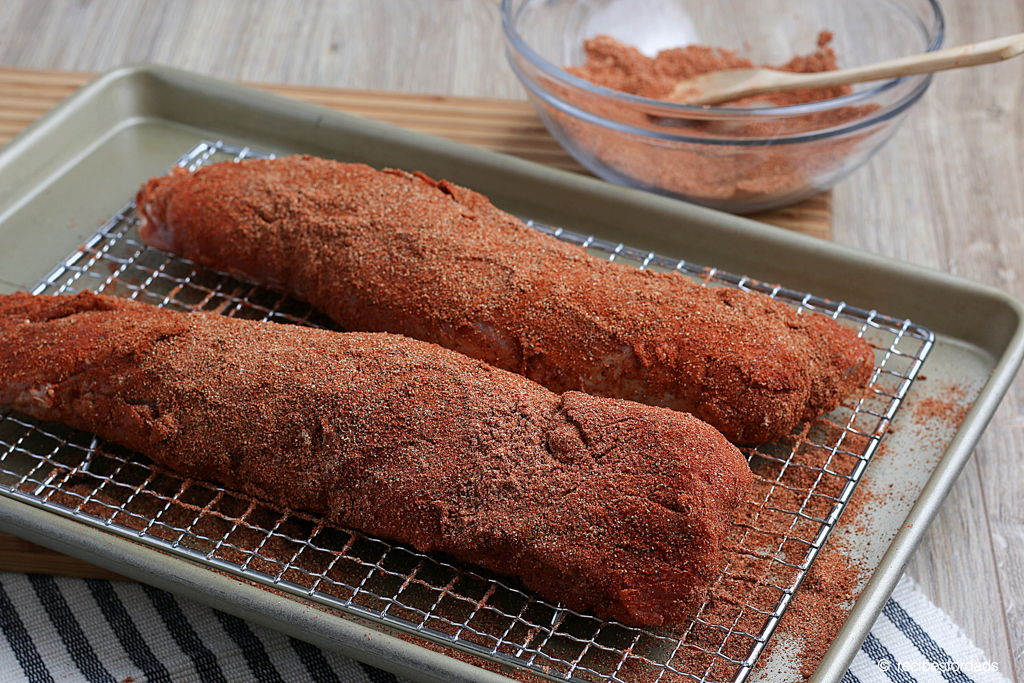 What Temperature Should I Smoke Pork Tenderloins At?
For most of my recipes, I recommend smoking them low and slow. But for pork tenderloins, you don't want to smoke them too slowly.
In order to ensure tenderness and avoid a tough, unpalatable meat, I recommend smoking the meat at 225°F until the pork reaches an internal temperature of 145°F. This usually takes about an hour to an hour and a half.
What Type of Wood Should I Use for Smoked Pork Tenderloin?
My top choice for smoked pork tenderloin is applewood. The sweet and mild flavors of applewood always compliment pork well.
Cook pork tenderloin quickly to ensure tenderness. Although pork tenderloin is one of the most tender pork cuts, overcooking can make it tough and unpalatable.
Do you flip pork tenderloin when smoking?
Since you're going to be smoking the meat and having that heat and temperature surrounding it in all directions, flipping it isn't really of concern.
I do think that it's important however to rotate and move the meat to different areas in the smoker as the heat can be distributed differently throughout the smoker.
At what temp does meat stop absorbing smoke?
This is actually a misconception that many grillers have. There isn't a set temperature on when meat stops absorbing smoke but you will stop getting smoke ring growth once the meat hits an internal temperature of 170 degrees.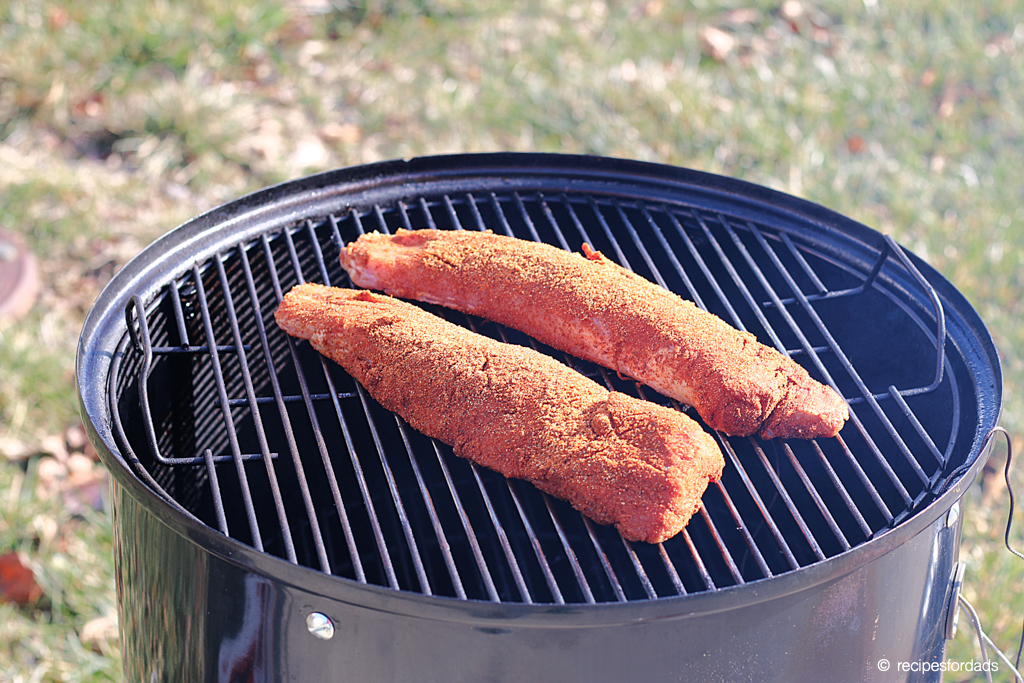 Does meat get more tender the longer you smoke it?
It does. This is why smoking meat is a low and slow process. It's heating the meat at a constant slow temperature to break down the meat, in turn giving it that smoky flavor and making it more tender, too.
Do you wrap meat in foil when smoking?
You have choices to make about this when it comes to smoking meat. If you decide to wrap the meat in aluminum foil, it will retain more moisture and speed up the smoking time because it's trapping in more of the heat.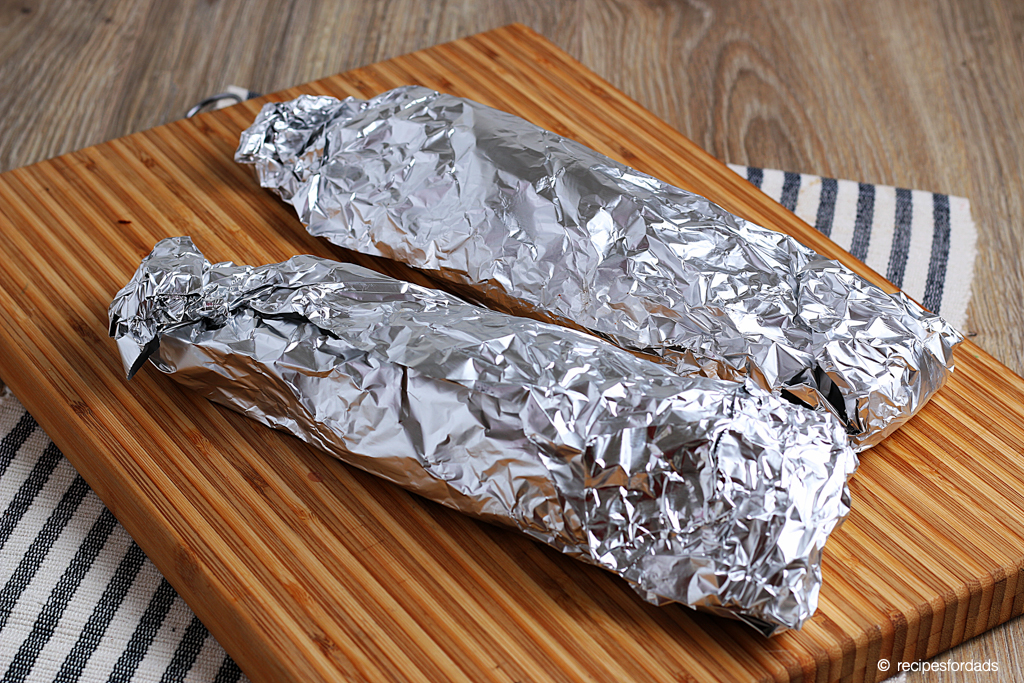 However, you don't want to wrap it in foil for the whole process but rather about halfway through the cooking time.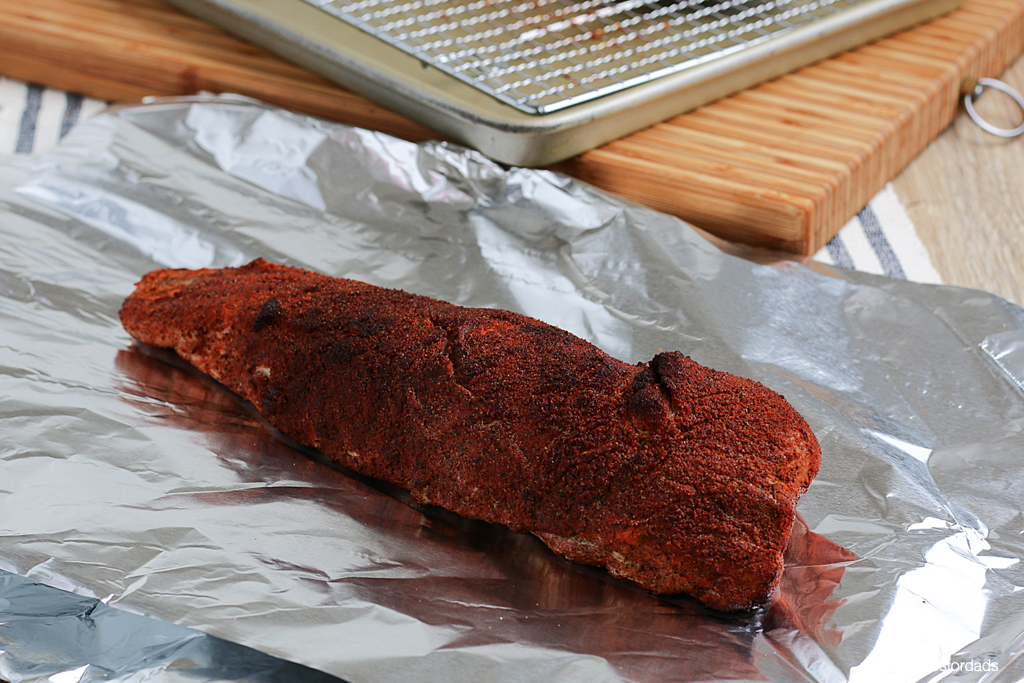 You also don't have to wrap it in foil if you don't want which will give it a more direct smoke flavor when smoking the meat.
This Smoked Pork Tenderloin pairs well with my smoked mac-n-cheese recipe. Don't forget to check it out.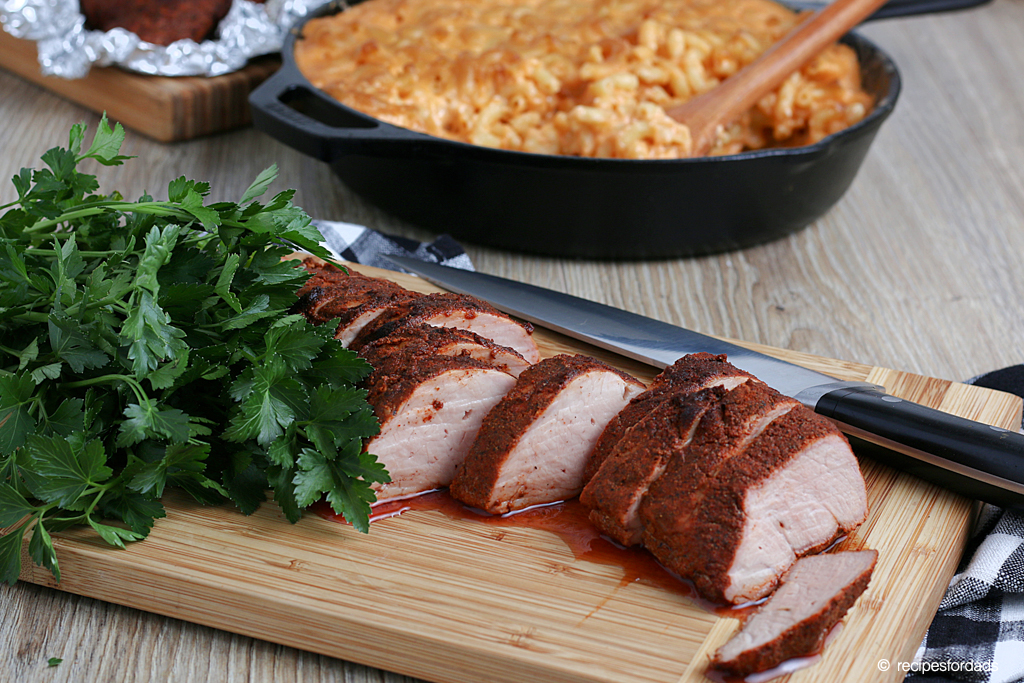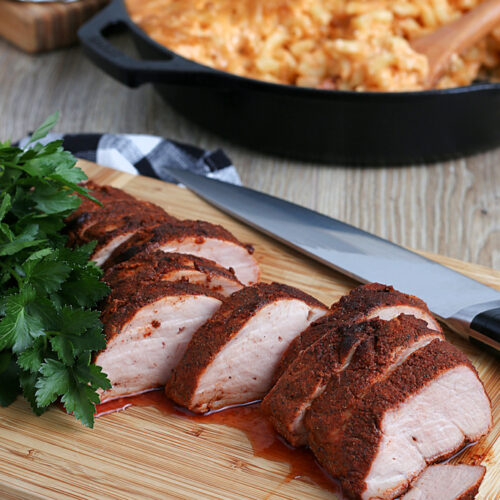 Smoked Pork Tenderloin
Before you throw that beautiful pork tenderloin on the smoker, there are some steps to take to make sure you're making the best smoked pork tenderloin you've ever had.
Print
Pin
Rate
Ingredients
Brine
2

cups

apple cider

2

cups

water

2

tablespoons

apple cider vinegar

2

tablespoons

kosher salt

2

teaspoons

peppercorns

2

bay leaves

2

cloves

garlic

crushed

¼

cup

dark brown sugar
Pork Rub
¼

Cup

Sweet Paprika

2

Tablespoons

Ground Black Pepper

2

Tablespoons

Dry Mustard

½

Teaspoon

Chili Powder

½

Teaspoon

Garlic Powder

½

Teaspoon

Cayenne Powder
Instructions
Brining
Combine brining ingredients in a medium saucepan, heat over medium heat until salt and sugar are dissolved. Cool completely.

Remove silver skin and excess fat from tenderloin.

Place in a brining container and pour the cooled brining solution in to cover the tenderloin.

Marinade in the refrigerator for 2 hours.
Smoking
Preheat the smoker to 225F degrees.

Remove the tenderloin from the brining solution, rinse well and pat dry with paper towels.

Mix together the ingredients for the pork rub and sprinkle on all sides of the tenderloin.

Add applewood chips to the smoker and place the tenderloin in the center of your smoker and smoke until the internal temperature comes up to 145F degrees. About 1-1 ½ hours.

Remove from smoker and wrap in aluminum foil for 15 minutes before serving.

Slice into ½ – ¾ inch thick medallions.
Nutrition
Calories:
108
kcal
|
Carbohydrates:
24
g
|
Protein:
2
g
|
Fat:
2
g
|
Saturated Fat:
1
g
|
Sodium:
2343
mg
|
Potassium:
272
mg
|
Fiber:
3
g
|
Sugar:
17
g
|
Vitamin A:
2288
IU
|
Vitamin C:
1
mg
|
Calcium:
53
mg
|
Iron:
2
mg
All you pitmaster dads need to check out my other recent smoked recipes: