This post contains Affiliate Links. Read my full disclosure for more info.
Learn how to cook up restaurant-quality ribs with this low and slow cooking process. The Traeger 321 ribs are everything you could possibly want in your ribs and more.
From their smokey, slightly sweet taste to their juicy, tender texture, there is a lot to love about these ribs.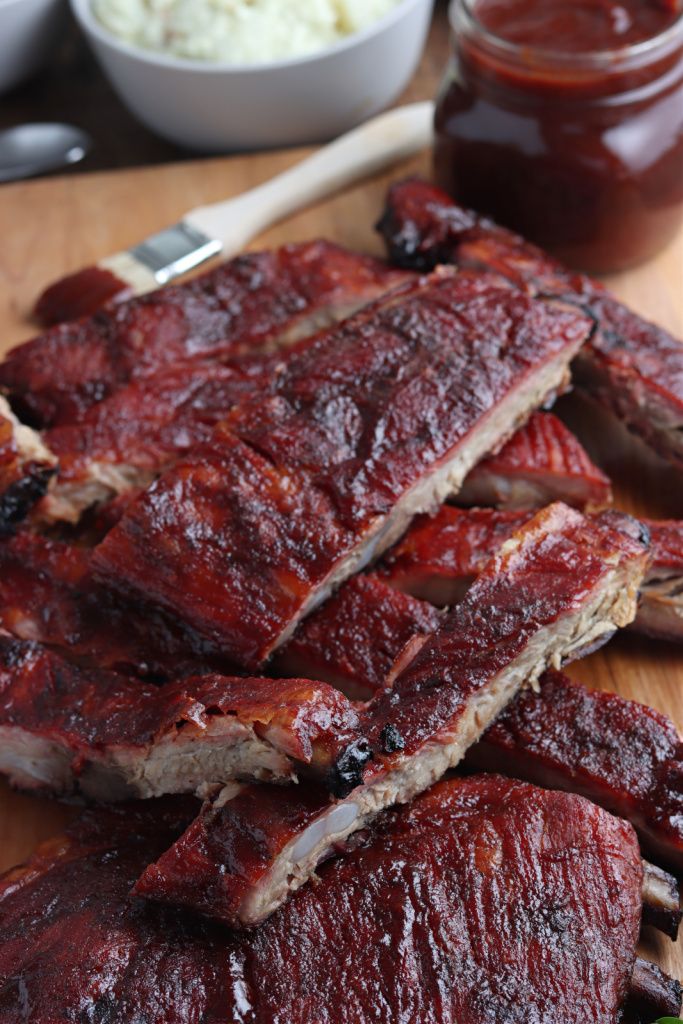 Traeger Ribs Ingredients
Double check the recipe card to make sure you include all of the ingredients because this is just an overview.
Be sure to get the ingredients needed for both the spice rub and the sauce. These ingredients, when paired together, create an incredible taste that you don't want to miss.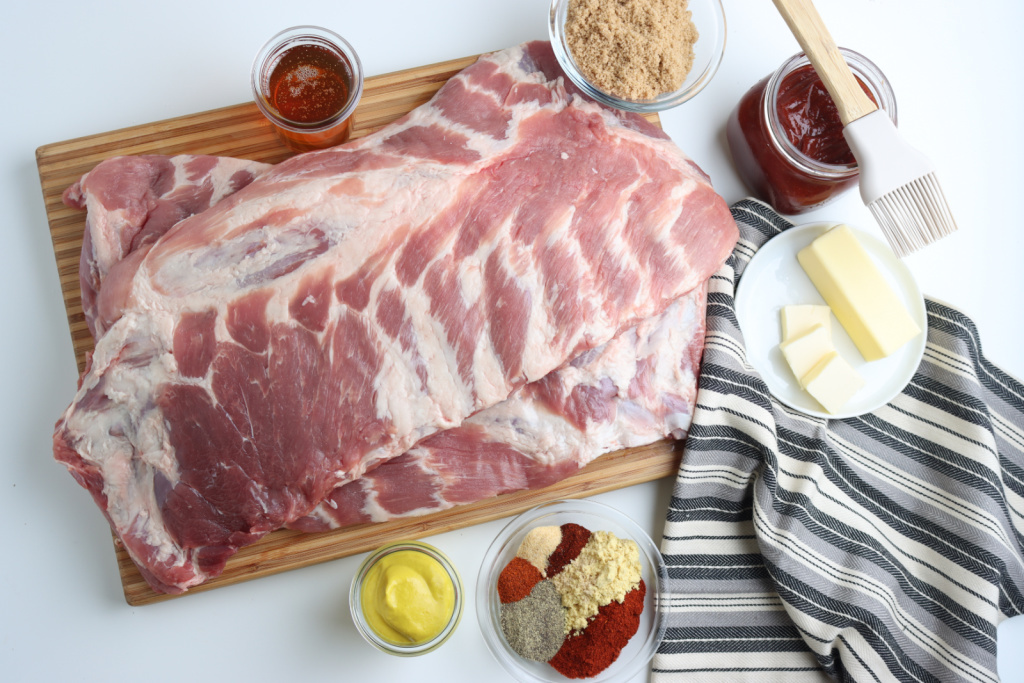 Spare Ribs – Grab two racks. You can always cook more if you need more.
Mustard – Yellow mustard will do the trick for these ribs.
Brown Sugar – You can give your ribs a sweet touch with the addition of brown sugar.
Honey – Nothing like a bit of honey to enhance the taste even more.
Unsalted Butter – Cut your butter into chunks for this recipe.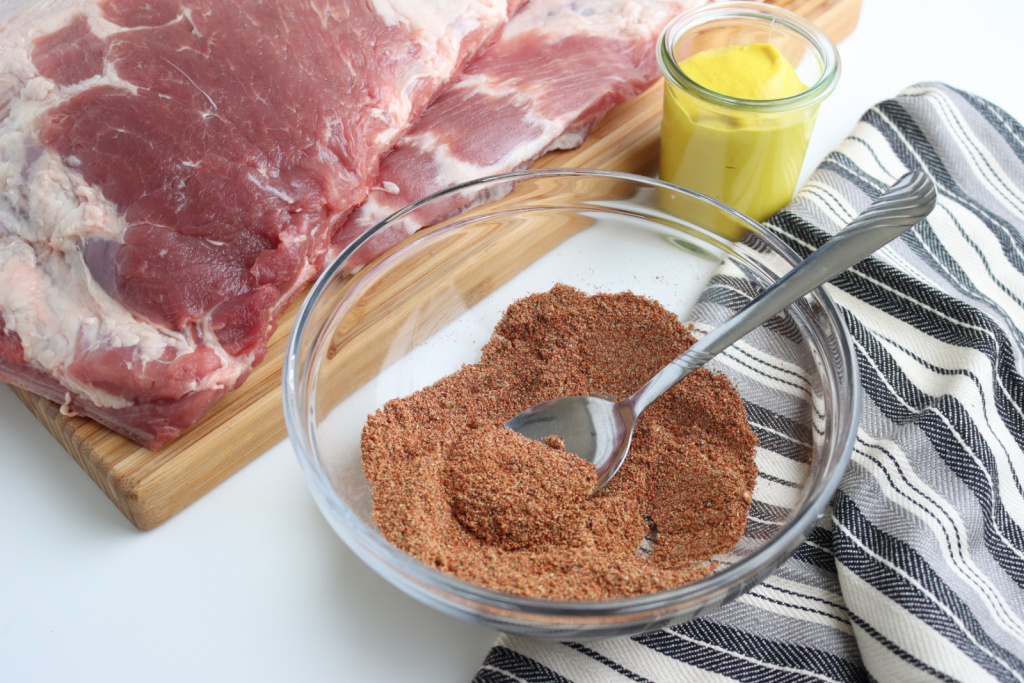 Seasonings
Sweet Paprika – It adds color and flavor to these ribs.
Ground Black Pepper – A little bit of pepper goes quite a long way.
Dry Mustard – It gives these ribs that zesty flavor.
Garlic Powder – You can never have too much garlic. This is a must for the ribs.
Chili Powder – Bring color and flavor to your ribs with a bit of chili powder.
Cayenne Powder – Just a bit of this will add a slight kick without making the ribs too spicy.
You will also need the ingredients to prepare the homemade barbeque sauce. It's much better than using any bottled brand you can find in the stores.
What Is the Traeger 3-2-1 Ribs Method?
The 321 method is a step-by-step process commonly used when preparing ribs in the smoker. It involves smoking the ribs for three hours on the pellet grill, two hours of wrapping them in foil on the pellet grill, and then an additional hour of cooking the ribs on the pellet grill unwrapped with a generous amount of barbeque sauce added to both sides of the meat.
It's a surefire way to ensure you have fall-off-the-bone ribs ready to serve at the end of the night. Because this process takes time, it's a good idea to start cooking your ribs earlier in the day.
How to Make Baby Back Ribs on Pellet Grill
Prep your ribs the night before. Use your knife to get rid of the silverskin membrane, and then apply mustard to your ribs, using it as a binder. Once you've applied the mustard, add your seasoning blend to every side of your ribs, place the bag of ribs in the fridge, and allow everything to marinate overnight.
The next day, set your smoker to 225°F. When it reaches the ideal temperature, put your ribs on the smoker with the meat side up, allowing them to smoke for three hours.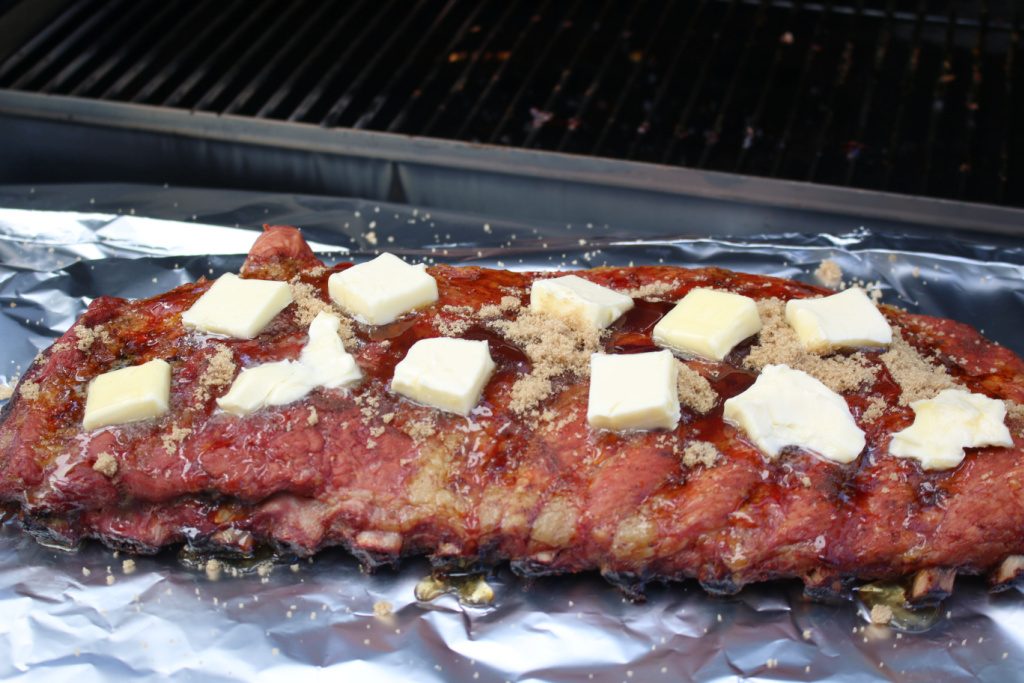 Remove your ribs from the smoker, place the meat side up on your foil, add your brown sugar, honey, and butter, and then seal your foil before placing the ribs back on the smoker for an additional two hours.
After two hours, open the foil, brush both sides of your ribs with the homemade BBQ sauce, and put them right back on the smoker for the last hour. Of course, you can leave them on a bit longer if you want your sauce to get nice and thick. Remove from the smoker, let sit for about 10 minutes, and then serve.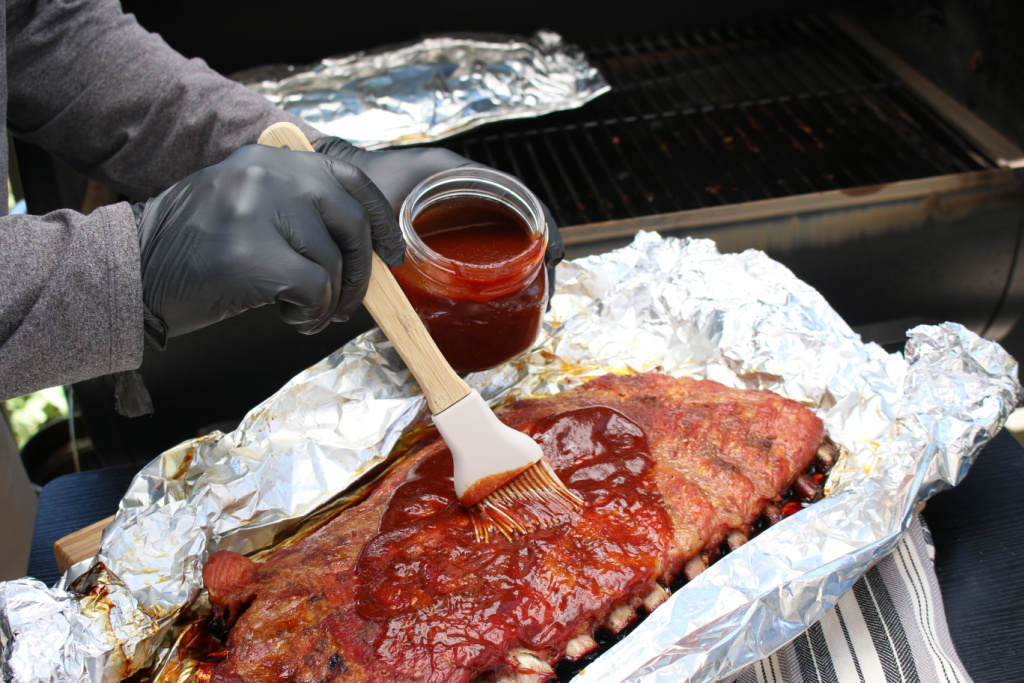 Wood Pellets – Cherry or Apple?
When it comes to these savory ribs, using apple or cherry pellets will work well. Cherry wood creates this incredible sweetness that enhances the taste of the ribs, making them both sweet and savory but not too sweet. The same thing goes for using apple pellets.
The fruit-flavored pellets add a slight touch of sweetness to anything you prepare in the smoker, meaning either option would be great when you prepare these Trager 3-2-1 Ribs.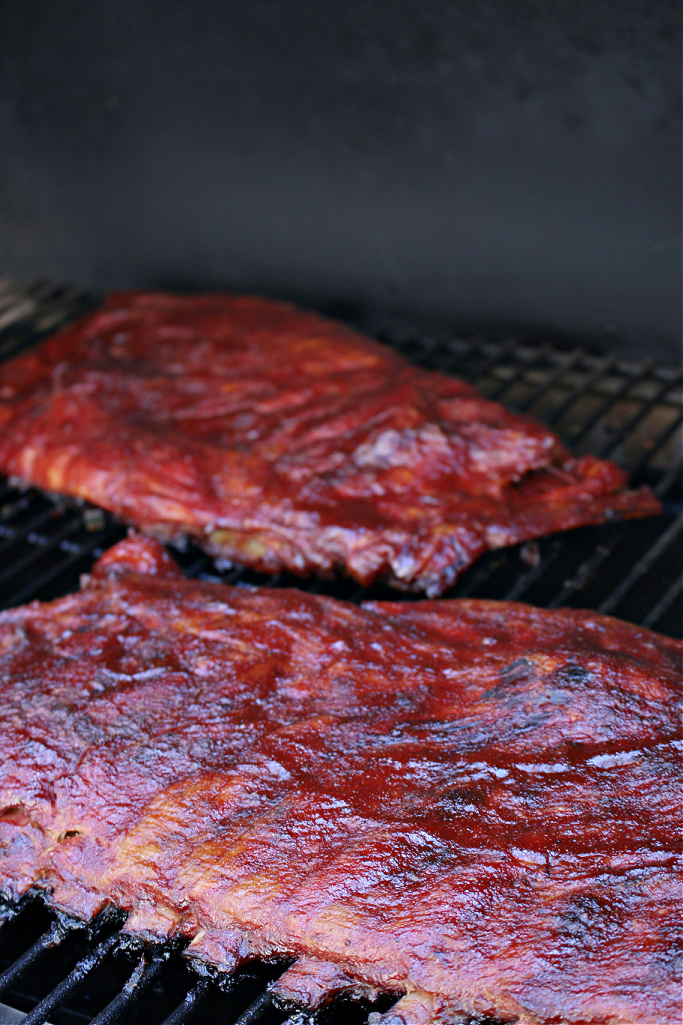 Nothing beats the taste of these incredible Traeger Ribs. Follow the simple 321 cooking method to get tender meat that melts in your mouth.
Cook 'em up and serve them with your favorite sides, such as a baked potato, grilled asparagus, grilled corn on the cob, and coleslaw and you will have the perfect barbeque meal.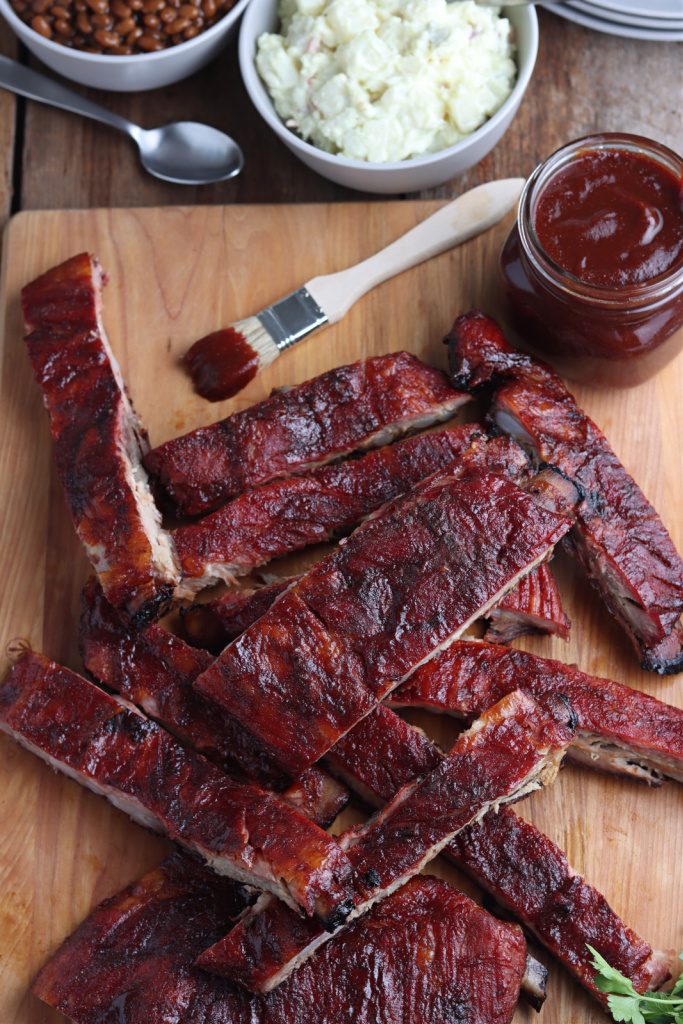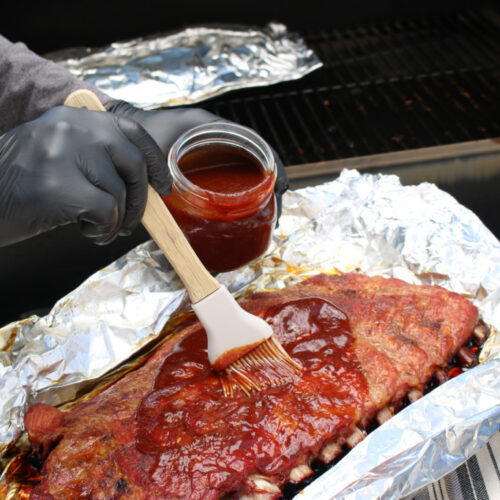 Traeger 3-2-1 Ribs
Traeger 3-2-1 Ribs prepared with simple ingredients and cooked low and slow for meat that falls off the bone.
Print
Pin
Rate
Ingredients
2

racks

spare ribs

yellow mustard

brown sugar

honey

1/2

cup

unsalted butter

cut into chunks
Seasoning Rub
2

Tablespoons

sweet paprika

1

Tablespoon

ground black pepper

2

Tablespoons

dry mustard

1

teaspoon

chili powder

1/2

teaspoon

garlic powder

1/2

teaspoon

cayenne powder
BBQ Sauce (KC BBQ Sauce)
3

cups

ketchup

1/2

cup

apple cider vinegar

1/2

cup

dark brown sugar

packed

1/2

cup

molasses

2

Tablespoons

Worcestershire sauce

1

Tablespoon

smoked paprika

2

teaspoons

ground black pepper

1

teaspoon

salt

1

teaspoon

garlic powder

1

teaspon

onion powder

1

teaspoon

chili powder

1/2

teaspoon

ground mustard
Instructions
Two hours ahead of smoking (or the night before)
Prep your ribs by removing the silverskin membrane from the backside of the ribs using a knife and paper towel to pull it off completely. Cut away breast bone and trim ends of rack.

Mix together seasoning ingredients, apply mustard for a binder to the ribs, and season all sides of the ribs generously. Set in the fridge.
Day of smoking
Preheat smoker to 225°F.

Place the ribs directly on the smoker meat side up. And smoke for 3 hours or until the internal temperature of your ribs has reached 165°F.

Take the ribs off the smoker and place them meat side up onto a double layer of foil, sprinkle with brown sugar, and drizzle with honey and pats of butter. Crimp edges of foil together to get a good seal. And place it back onto the smoker for 2 hours. Or until the internal temperature is 205°F.

After two hours, remove the ribs from the foil and brush both sides with your BBQ sauce. We love our Kansas City BBQ Sauce for this recipe.

Put the ribs back on the smoker for 1 hour or until the sauce has thickened up to your preference.

Remove from the smoker and allow to rest 10-15 minutes before serving.

Store leftovers in refrigerator
Nutrition
Calories:
1288
kcal
|
Carbohydrates:
78
g
|
Protein:
50
g
|
Fat:
88
g
|
Saturated Fat:
33
g
|
Polyunsaturated Fat:
13
g
|
Monounsaturated Fat:
31
g
|
Trans Fat:
1
g
|
Cholesterol:
283
mg
|
Sodium:
1828
mg
|
Potassium:
1714
mg
|
Fiber:
3
g
|
Sugar:
66
g
|
Vitamin A:
3024
IU
|
Vitamin C:
6
mg
|
Calcium:
174
mg
|
Iron:
6
mg