This post contains Affiliate Links. Read my full disclosure for more info.
BBQ restaurants in Kansas City, Missouri are what it's all about today. More specifically, we're talking about the BBQ Capital of the World.
Today, we'll be giving you an overview of the best of the best in Kansas City when it comes to that smoky, saucy, flavor-filled food we all love – BBQ.
What is Kansas City BBQ
Before we get into the restaurants on this list, let's take a minute to talk about Kansas City BBQ itself. KC BBQ is more than just smoked meat slathered in sauce. It's practically a religion in the greater Kansas City area.
While many areas specialize in mainly beef, pork, and chicken, Kansas City will literally smoke and sauce everything. In addition to the beef, pork, and chicken that we usually think of when we think of BBQ, Kansas City is known for turkey, lamb, sausage, and even fish.
One BBQ dish that Kansas City is known for in particular is burnt ends. These little nuggets of deliciousness are exactly what the name implies. They're the crusty, fatty, burnt ends that are cut from the point of smoked beef brisket. They're an enormously popular dish in the area.
Of course, we can't forget the rub and sauce that Kansas City BBQ is known for.
Typically, KC BBQ involves a spicy, flavorful dry rub, the low and slow smoking that delivers all that tenderness and flavor, and finally, a thick, tomato-based sauce.
In fact, when it comes to their BBQ, the sauce is the boss.
Kansas City BBQ sauce is thick and can be sweet, spicy, tangy, or a combination of those profiles. While you can find many varieties of sauces in the region, the classic BBQ sauce of the area is both sweet and spicy and generally features molasses for its sweetness.
Best BBQ Restaurants in Kansas City
If you're a BBQ aficionado like myself, and you'll be in the Kansas City area, you owe it to yourself to check out every restaurant on this list. They're all known far and wide for their delicious flavors and commitment to the craft of the smoked meats we all love.
1. Arthur Bryant's Barbeque
Arthur Bryant's Barbeque is another unassuming BBQ joint that's easy to miss if you aren't careful. If you've noticed a trend in this list, you're right. Some of the best BBQ restaurants in Kansas City are the ones that aren't flashy, just delicious. Arthur Bryant's BBQ falls squarely into that arena.
Arthur Bryant's serves up low and slow classics like ribs, brisket, pulled pork, and all your other favorites along with a healthy serving of downhome charm and friendliness.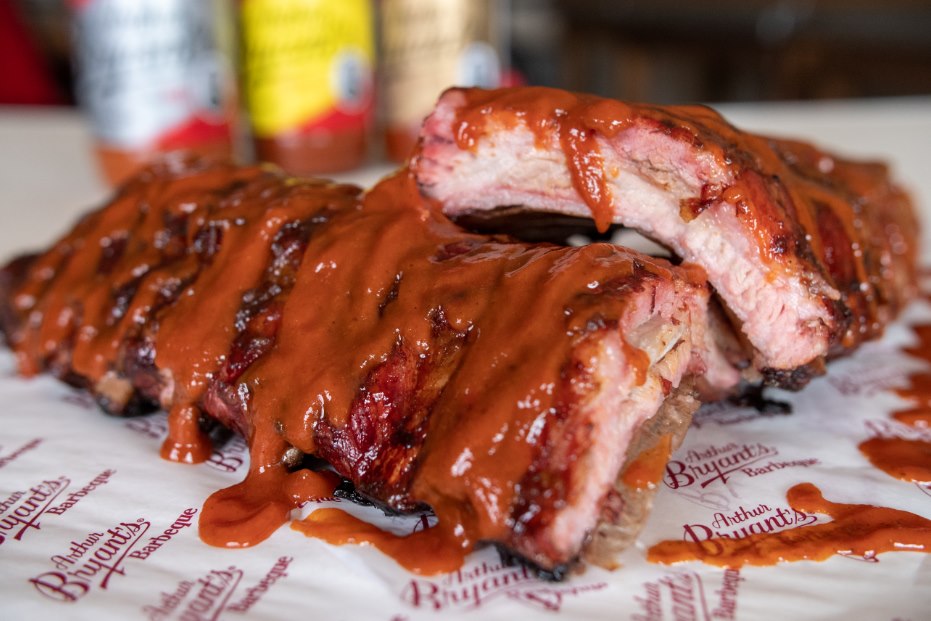 2. BB's Lawnside BBQ
BB's Lawnside BBQ is the quintessential picture of a laid-back BBQ joint. This come-as-you-are restaurant forgoes the fancy bells and whistles and focuses on one thing – outstanding BBQ.
Set just off the road, this restaurant offers dine-in and outdoor dining, along with live music, and some of the best BBQ to be found anywhere in Kansas City. Stop in for a full slab, brisket, and more, and don't forget to pair it with a nice long kneck.
3. Big T's Bar B Q
Big T's Bar B Q is all about the simple joy of BBQ, and it shows in the building, the food, and even the website. When you visit the site, you'll see that it's not flashy. In fact, it's rather bare bones, and that's totally okay. That's because the real show is on the plate.
The owner, Timothy Jones, Big T himself, is all about back-to-basics BBQing. You won't find a high-end gas setup at his restaurant. Instead, you'll find a big, old wood-fired stove that all of his meat gets smoked in. It's a process that leads to some of the smokiest, most tender meat you'll find anywhere in Kansas City.
4. Danny Edwards BLVD BBQ
At Danny Edwards BLVD BBQ, they invite you to come as you are and come with an appetite. This restaurant is all about good times and great BBQ.
At Danny Edwards, you'll find small tables with classic red and white checked table cloths, simple seating, and some of the best BBQ around. They don't get fancy when it comes to their offerings. It's all about the classics like ribs, pulled pork, and of course, all the delicious southern fixings.
5. Firorella's Jack Stack Barbecue
Jack Stack Barbecue is a chain of BBQ restaurants that doesn't feel like a chain at all. They have five locations, three of which are located in Kansas City.
Jack Stack Barbecue combines old-fashioned Kansas City BBQ goodness with an atmosphere that's best describes as low-key classy. You'll e greeted to warm wood and brick, lighting that's neither too bright nor too dim, and classic KC BBQ favorites.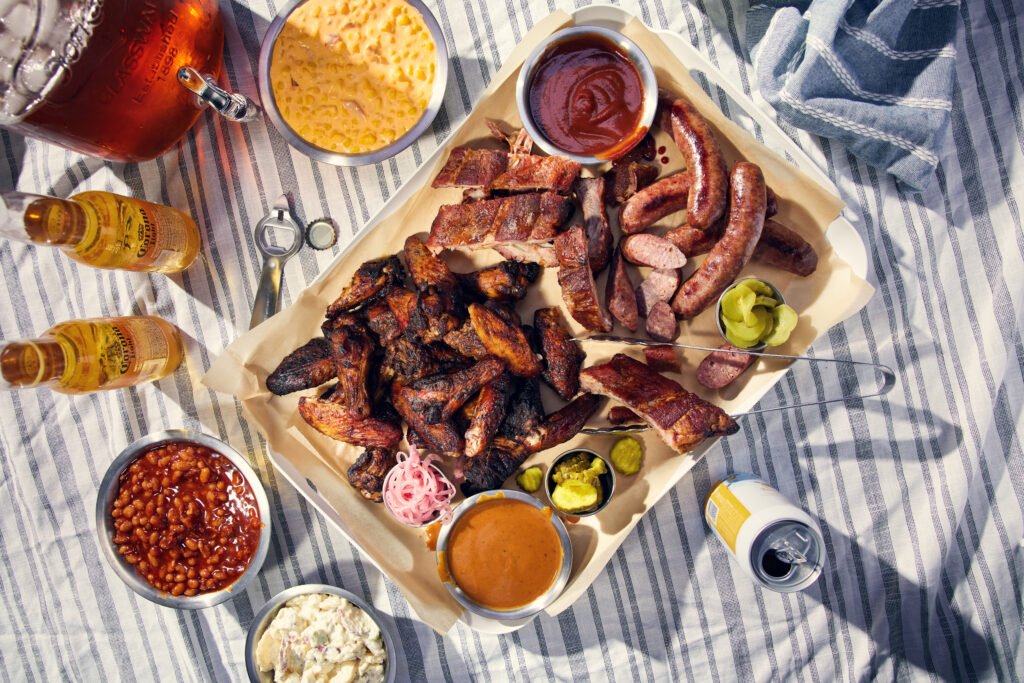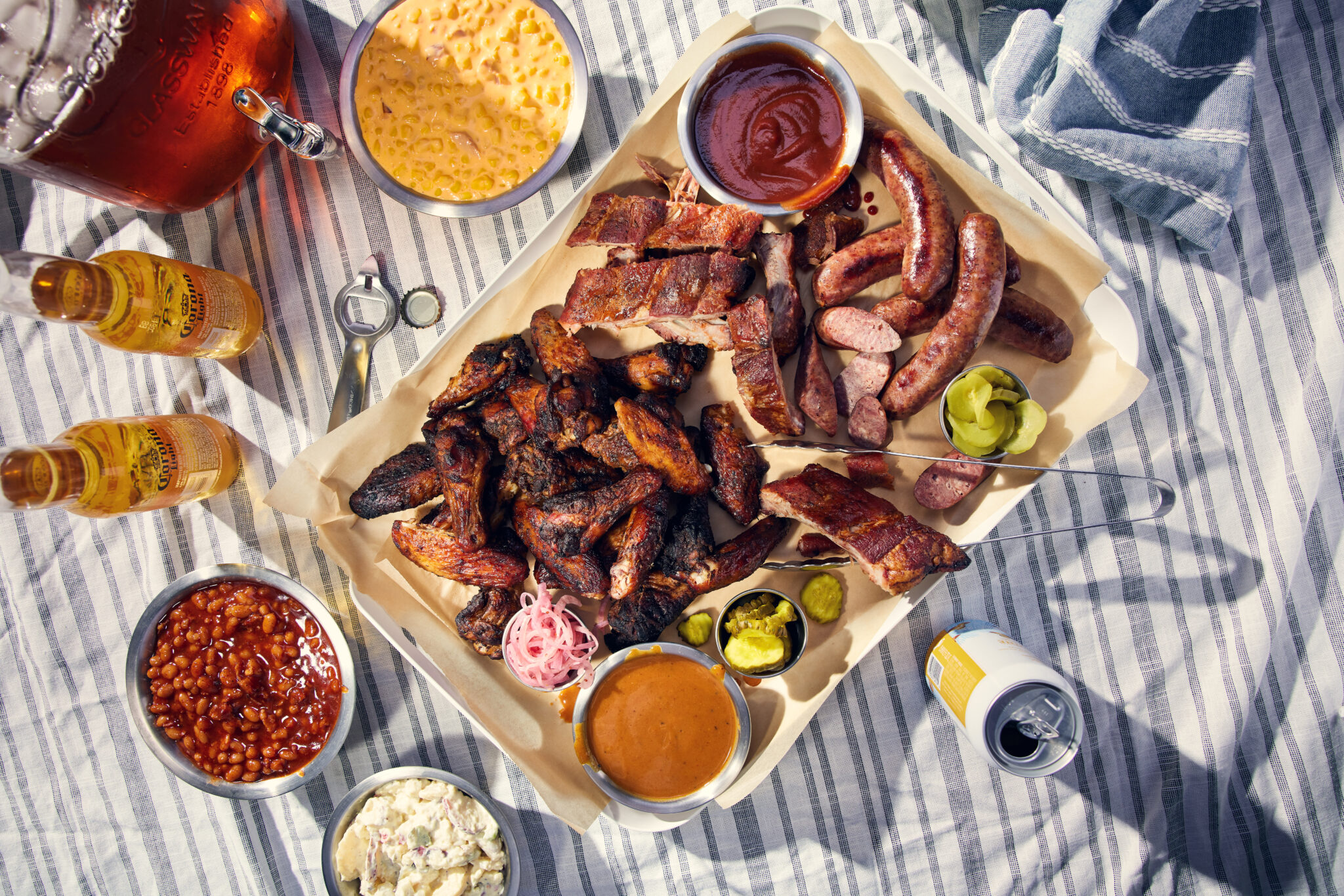 6. Gates Bar-B-Q
Gates Bar-B-Q, a family-owned restaurant has been around quite some time with a history going back as far as 1946. They are truly recognized for their signature sauce and tender, smoky grilled meats.
You'll find delicious offerings like ribs, sandwiches of all types, and even mutton.
You'll also be treated to all the classic sides like beans, fries, and potato salad.
Their service is bar none, offering you an immediate greeting of"HI, MAY I HELP YOU?"
7. Joe's Kansas City Bar-B-Que
Joe's Kansas City Bar-B-Que is easy to miss if you don't know what you're looking for. It's a favorite among both locals and tourists, alike, but you'll drive right by it if you aren't careful. You see, one of Joe's locations is in a gas station and mini-mart in addition to being one of the best spots in KC for BBQ.
You'll find some of the best BBQ and classic sides anywhere in the state at Joe's. What started out as a humble gas station joint has become some of the most sought-after BBQ in the state, and the once humble gas station BBQ has expanded to a total of three locations.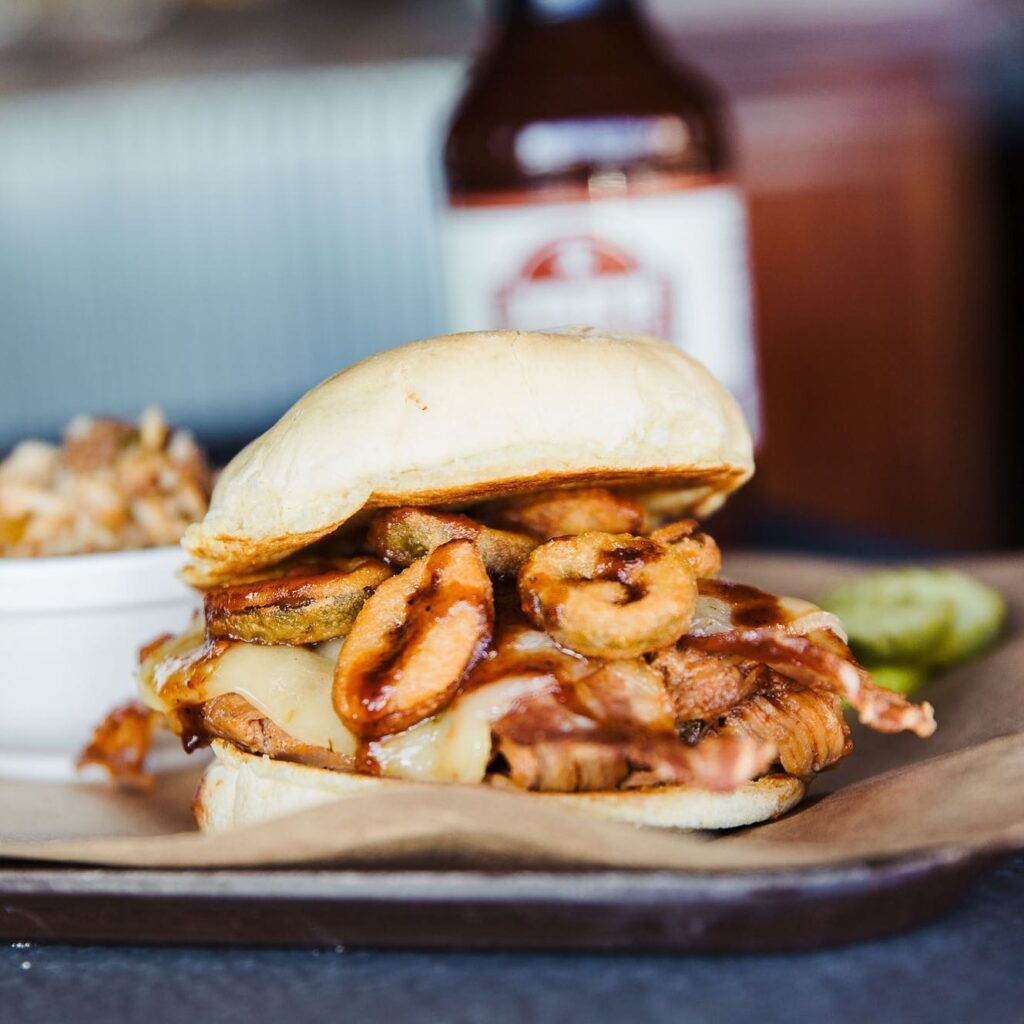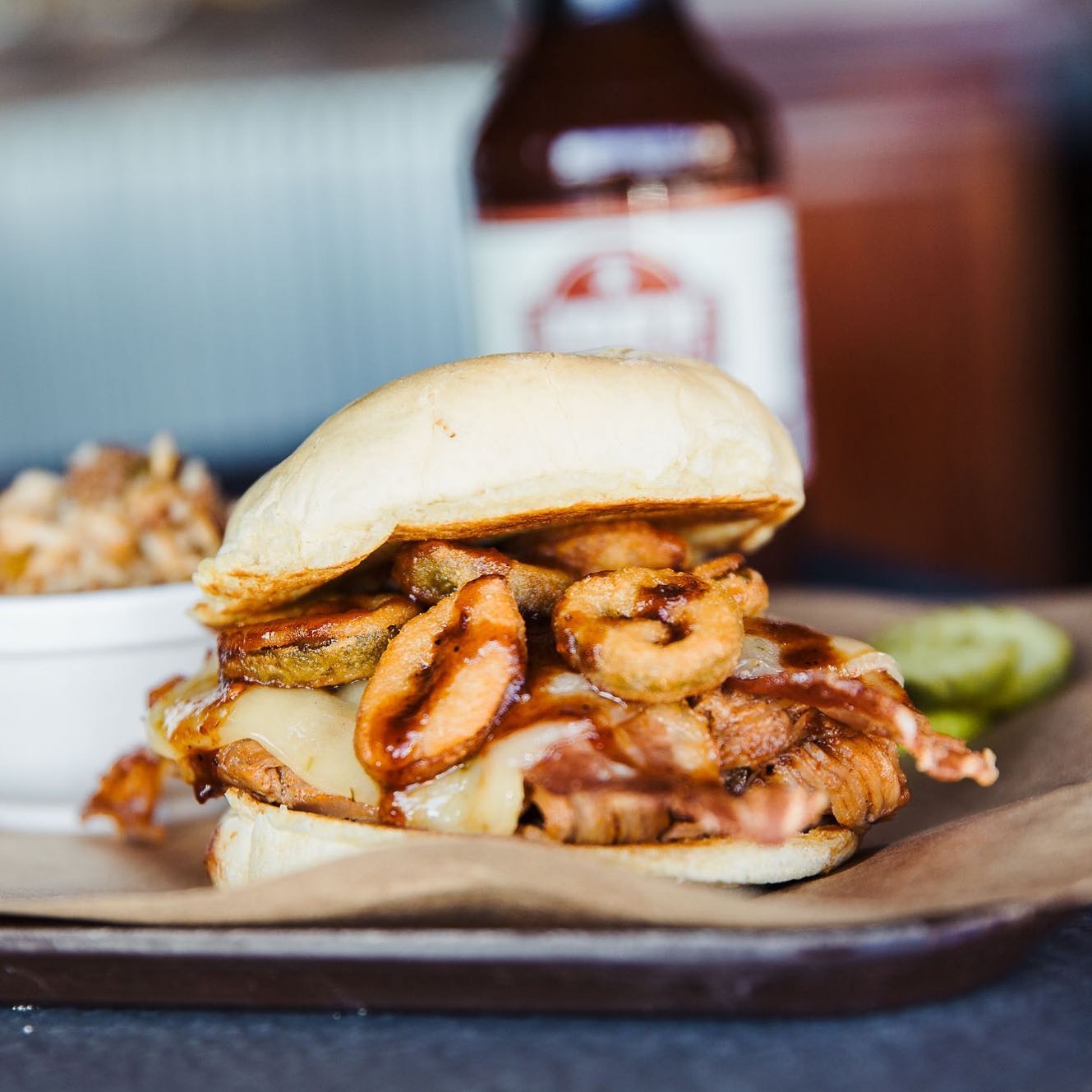 8. Jones Bar-B-Q
Jones Bar-B-Q is a family affair that focuses on the love of both people and food, making it one of the best BBQ restaurants in Kansas City.
Sisters Deborah and Mary carry on their father's tradition of the very best BBQ meats available today the same way he did it over 30 years ago when he opened the very first Jones Bar-B-Q.
Stop in for the best downhome BBQ you've ever had along with their signature sauce, a secret family recipe they've been making for decades.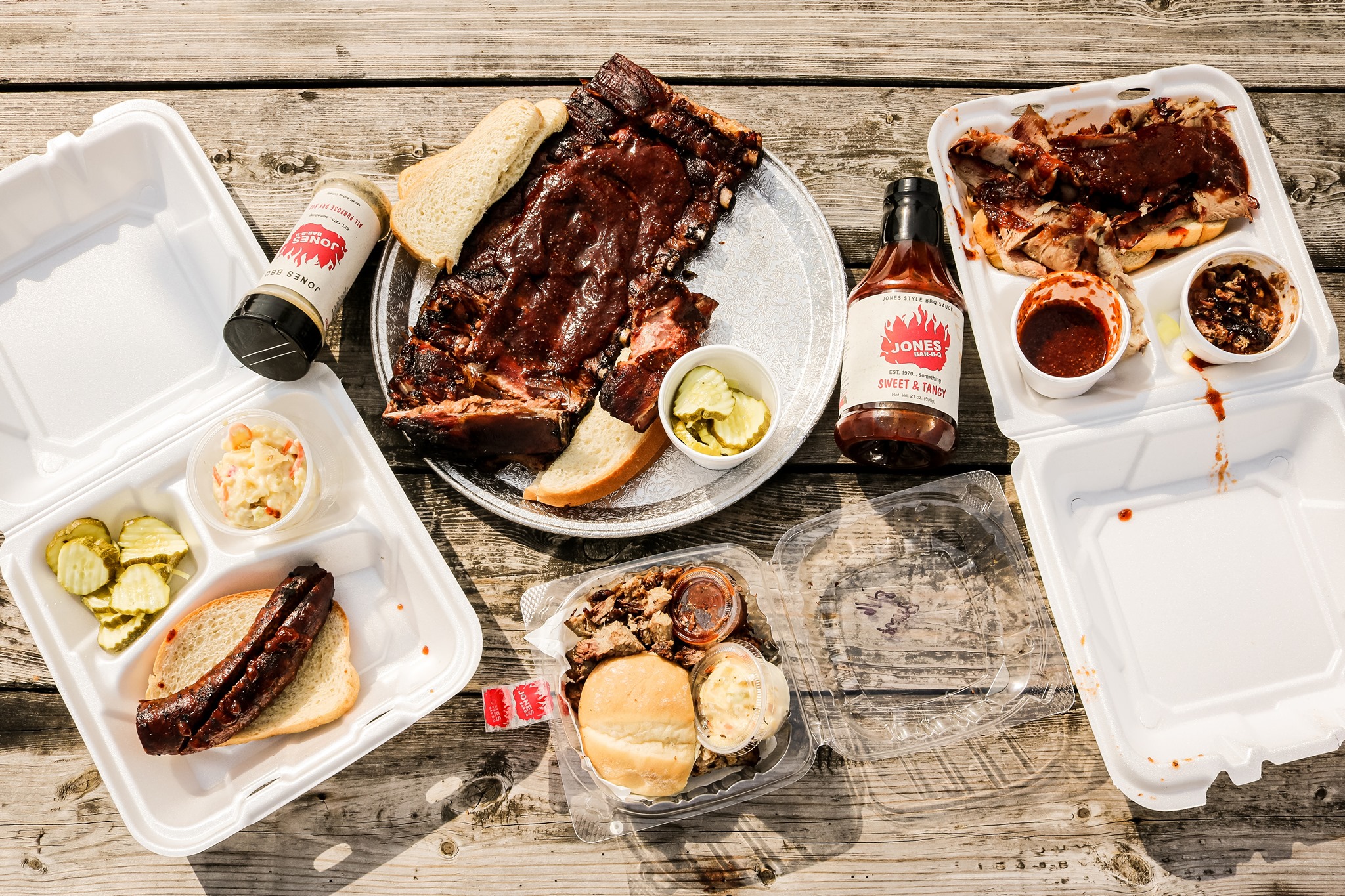 9. Porky's Blazin' Bar-B-Q
At first glance, Porky's Blazin' Bar-B-Q looks less like a BBQ restaurant and more like a barn. And that exterior is the perfect illustration of their approach to service and food – laid-back and downhome.
At Porky's, they take their time and do their BBQ right. Low, slow, and delicious is what they're known for, and it shows in every bite of pork, beef, chicken, turkey, and more.
10. Q39
Q39 is an interesting blend of upscale dining and downhome BBQ. The entrance to the restaurant has a modern flair, but once you enter, you'll be greeted to comfortable tables and seating that aren't quite so chic – and that's said in the best way possible.
Q39 offers both traditional BBQ favorites along with fusion-inspired dishes that take BBQ to a new, modern culinary level. It's a great place for traditionalists as well as those who like to get a little adventurous.
11. Rosedale Barbecue
Rosedale Barbecue is a long-time staple of Kansas City (since 1934) and a favorite among locals and tourists.
This down-home BBQ eatery serves up healthy helpings of all your BBQ favorites like brisket, ribs, pulled pork, chicken, and more, along with classic BBQ sides, all served up with a no-nonsense approach that's all about that smoky flavor we all love.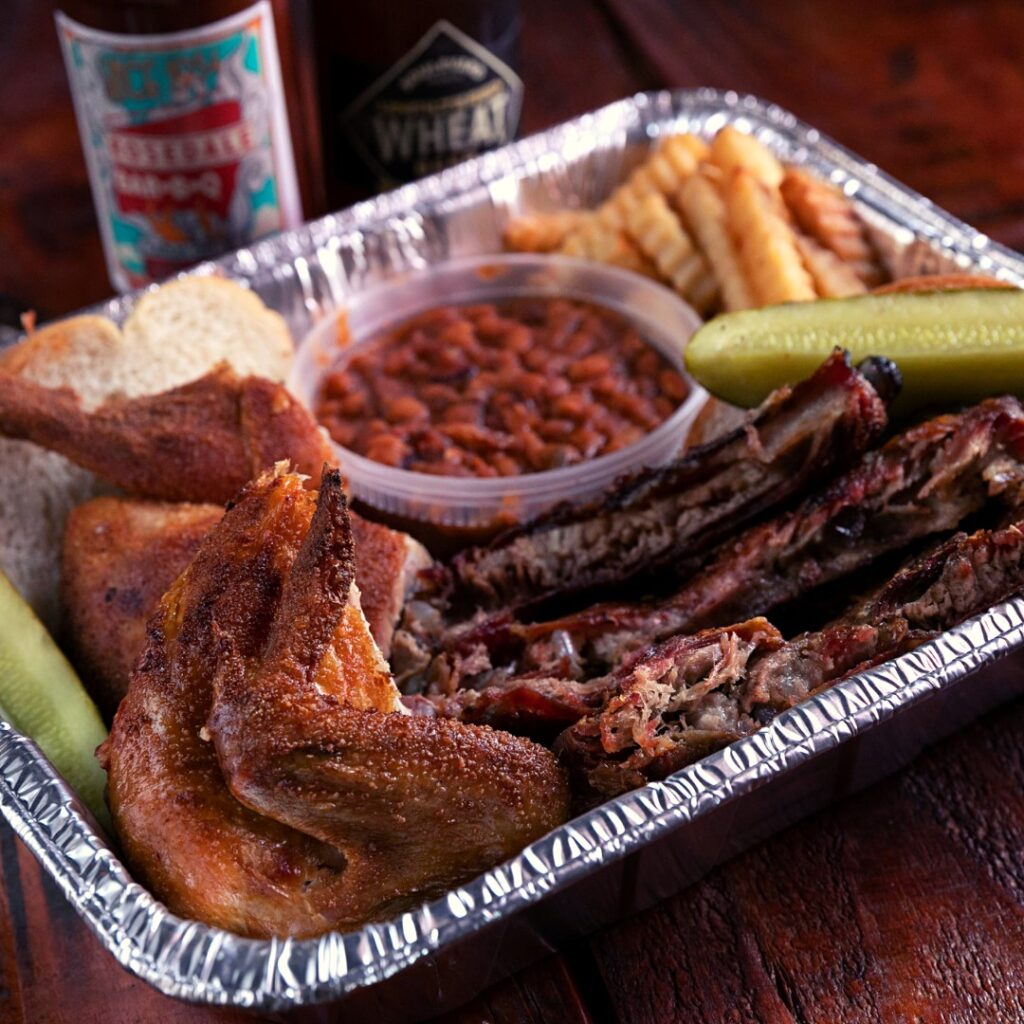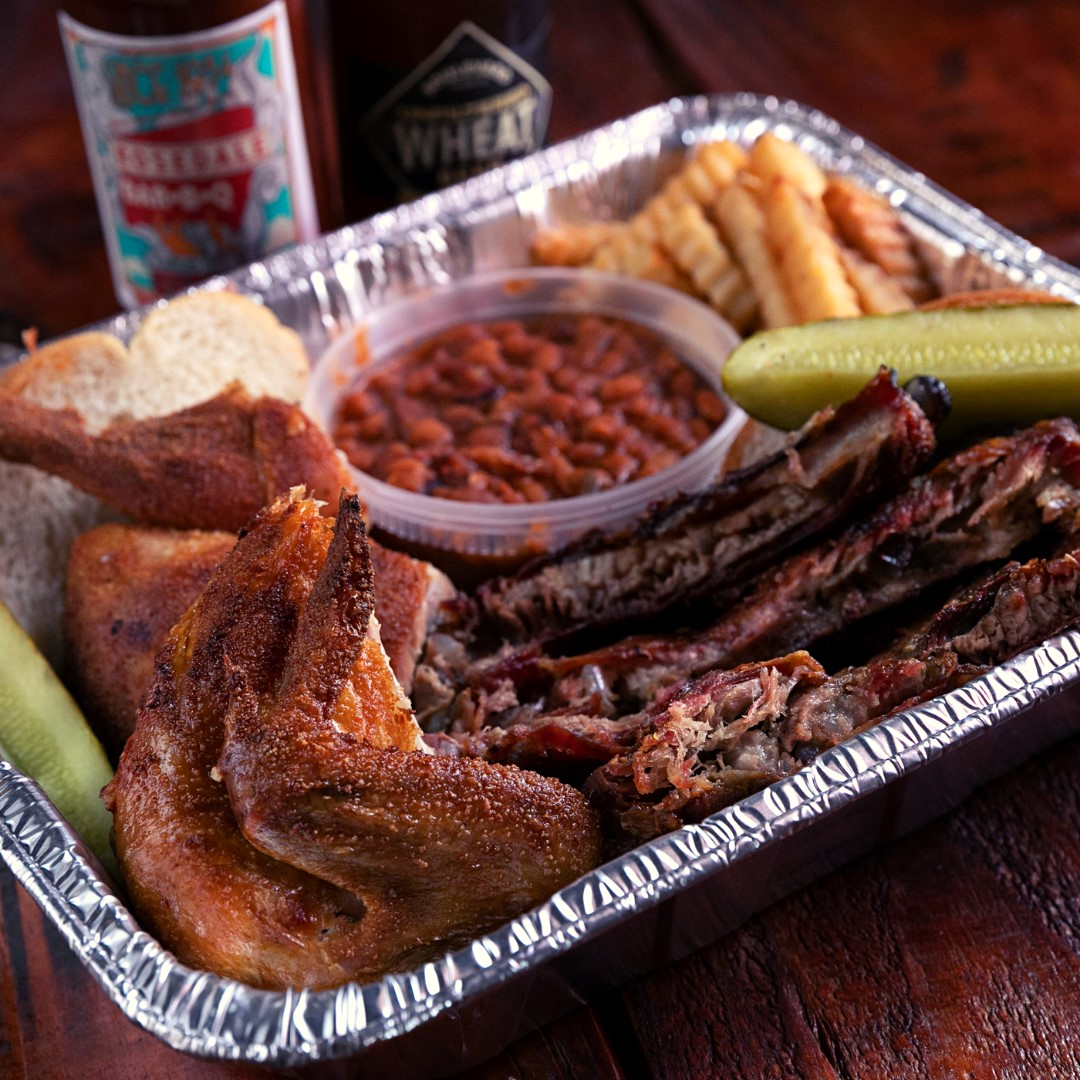 12. Scott's Kitchen
Scott's Kitchen is another unique BBQ spot that you can't miss when you're in Kansas City. Located inside an actual hangar, Scott's offers a unique dining experience with food that is absolutely some of the best in the city.
Their secret is low and slow cooking with no shortcuts, no cutting corners, and no trying to speed up the process. Instead, they take their time and produce meats that are flavorful, smoky, and a joy to eat with every bite.
13. Slap's BBQ
Slap's BBQ is a no-nonsense, no-frills BBQ joint in every sense. This unassuming red metal-sided building sits just off the road, and its plain exterior just about sums up its approach to BBQ.
A Slap's BBQ, they don't get creative. They don't go avant-garde. Instead they focus on what makes them one of the best BBQ restaurants in Kansas City – the food.
You'll find all the classics like brisket, ribs, and the like along with delicious sides including some of the best hushpuppies anywhere.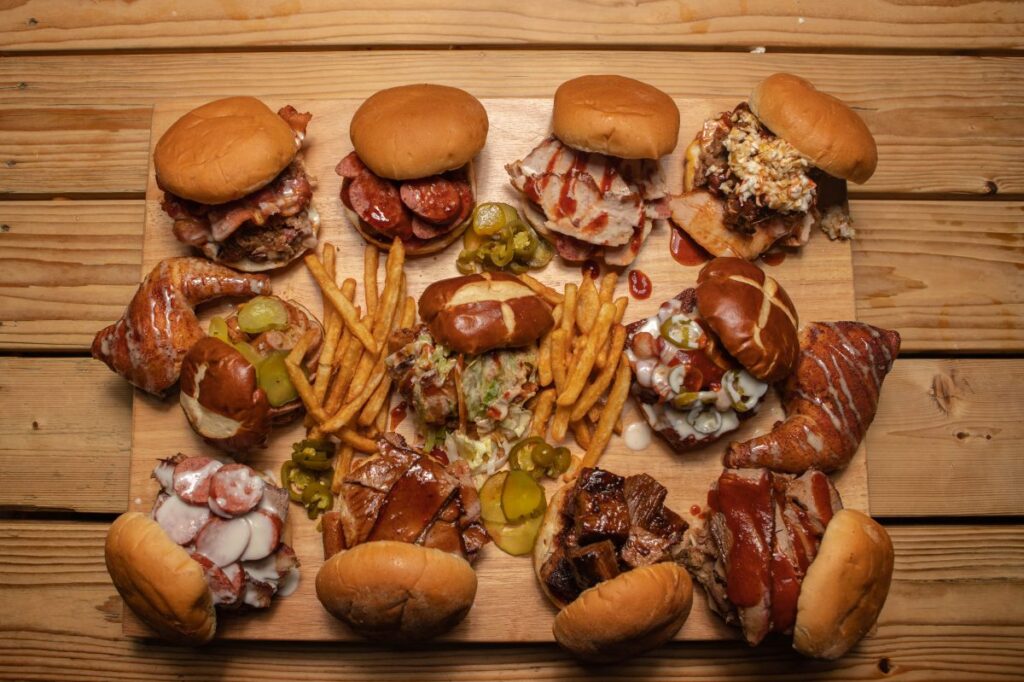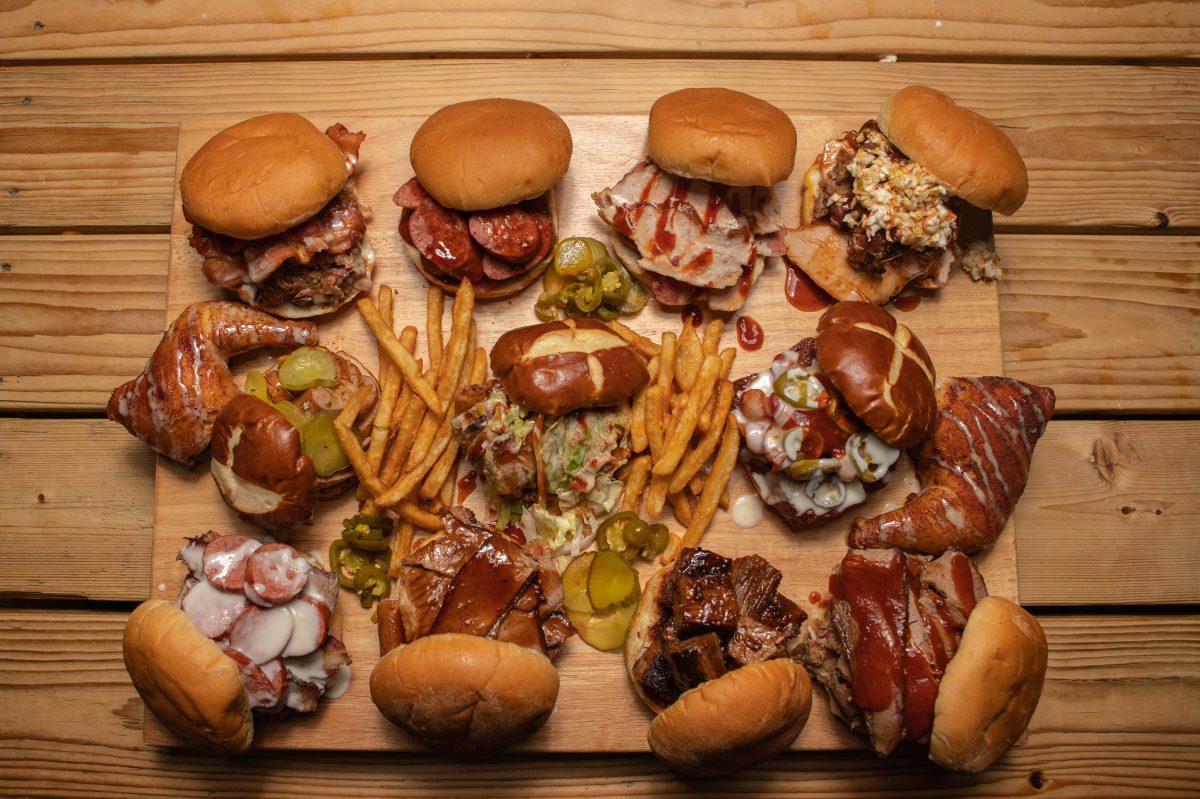 14. Woodyard Bar-B-Que
Woodyard Bar-B-Que is a treat for you and your pooch. Perhaps one of the most unique BBQ joints in all of Kansas City, Woodyard welcomes both human and dog patrons to their establishment.
Another tucked-away joint on this list, Woodyard is a small little place just off the road, but the flavors it serves up are absolutely huge. Here, you'll find classic Kansas City BBQ favorites along with smokehouse meats, chili, and cold, refreshing draft beers.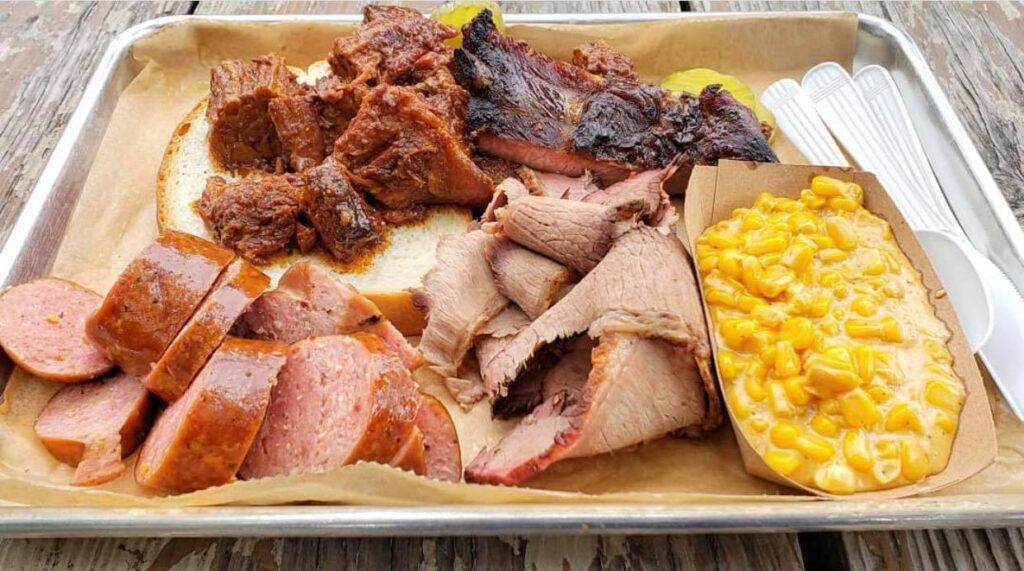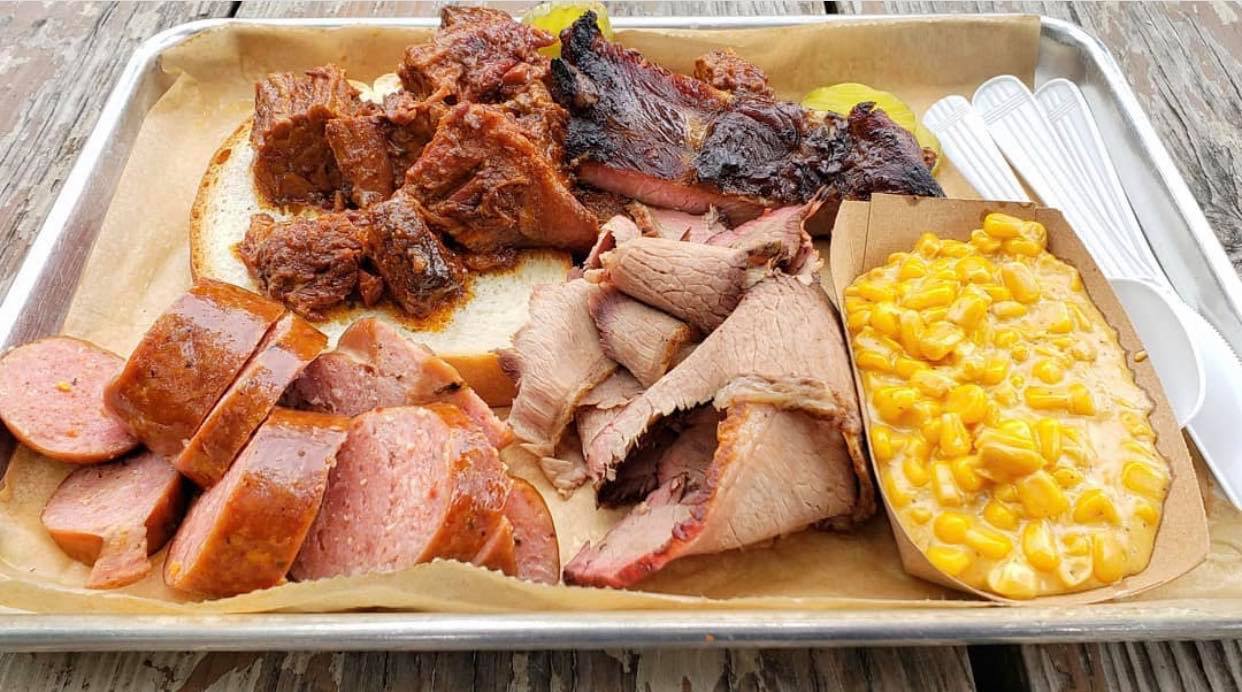 The Best BBQ Restaurants in Kansas City are Waiting for You
If you're traveling to Kansas City, Missouri you need to stop in at all of these KC BBQ establishments. All 14 of these BBQ restaurants are the best of the best BBQ restaurants in Kansas City, and you can taste it in every bite.
From upscale dining to hole-in-the-wall joints that are heavy on flavor and not on style, you'll find the best of the best food and atmosphere on this list.
Pin for Later