This post contains Affiliate Links. Read my full disclosure for more info.
When you're looking for deliciously simple side dishes, look no further than yourTraeger for these Smoked Sweet Potatoes! Whether you're already smoking the main dish or not, it's worth the effort to light up the smoker for sweet potatoes.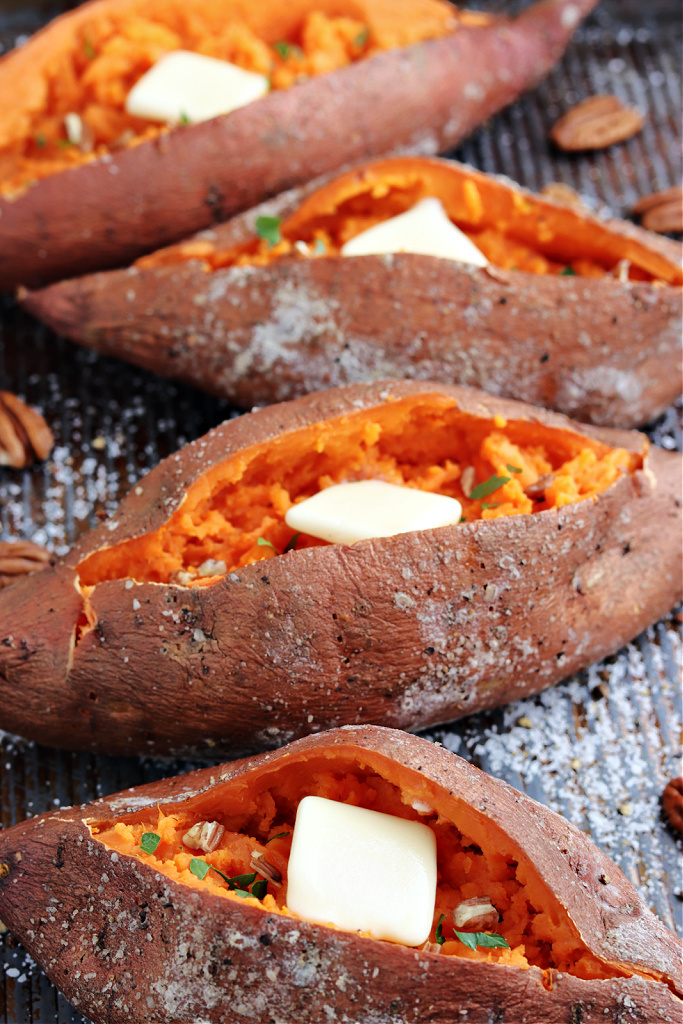 Sweet Potatoes can be a pain to dice, since they are much harder than Russet potatoes. So instead, why not make a baked sweet potato on the grill? Prepped in much the same way you would a regular potato, sweet potatoes have an incredible flavor, plus they are chock full of antioxidants, fiber, vitamins, and minerals. Sweet Potatoes are also practically fat free and they support gut health and immune function. So really, what's not to love?
Looking for more Smoked Side Dishes? Try these Smoked Baked Beans, Smoked Mushrooms or Smoked Cream Cheese.
Ingredients to make your Smoked Sweet Potato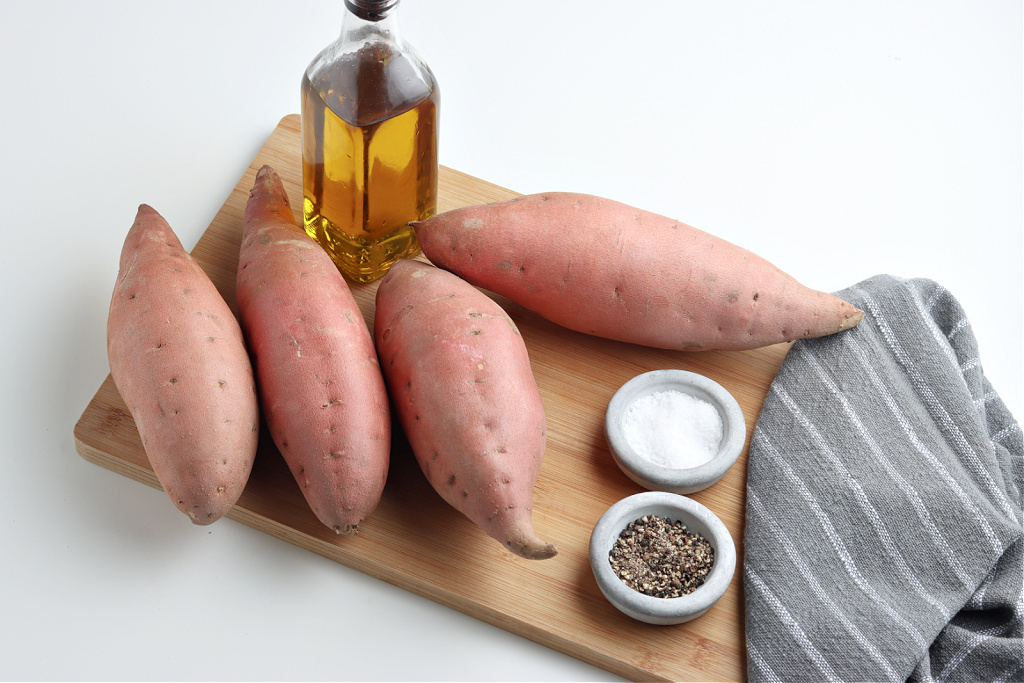 Keep scrolling for the complete recipe. This is just a summary of ingredients.
Sweet Potatoes – You'll want whole, fresh sweet potatoes, not canned or precut. You don't even have to take the skins off!
Olive Oil – Adding oil to the skins of your sweet potato will help the skins not get too crispy, plus they will help the salt and pepper stick to the skin and soak in while smoking.
Salt – the addition of salt enhances the flavors of whatever you're cooking. A little salt will almost always make a dish taste better.
Cracked Black Pepper – the use of cracked black pepper rather than ground black pepper is because cracked black pepper retains its flavor longer. The surface area of the cracked peppercorns is smaller, so the rate of evaporation is slower, giving you flavor longer during the cooking process.
How to Smoke Sweet Potatoes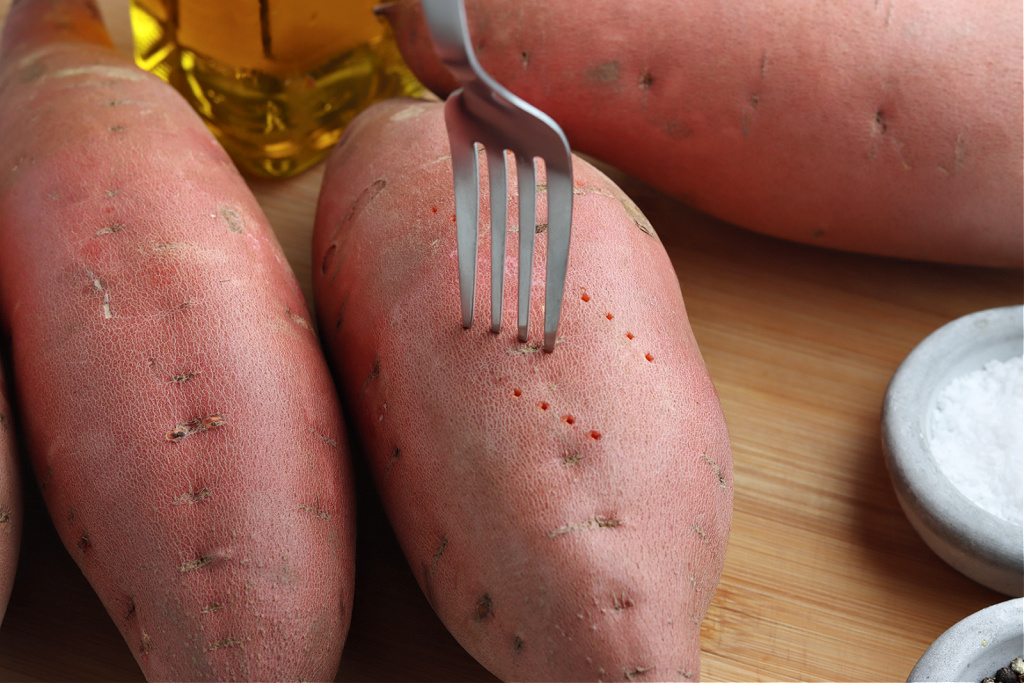 Start with preheating your smoker. While it's preheating, scrub and dry the sweet potatoes and poke them with a fork.
Once dry and poked, drizzle olive oil over each sweet potato then season them all over with the salt and cracked black pepper. Place your sweet potatoes in the smoker for a couple hours or until done.
When your sweet potatoes are done, take them out of the smoker and let them rest. Then you can cut them, fluff them, and add your toppings. A super simple and delicious dish.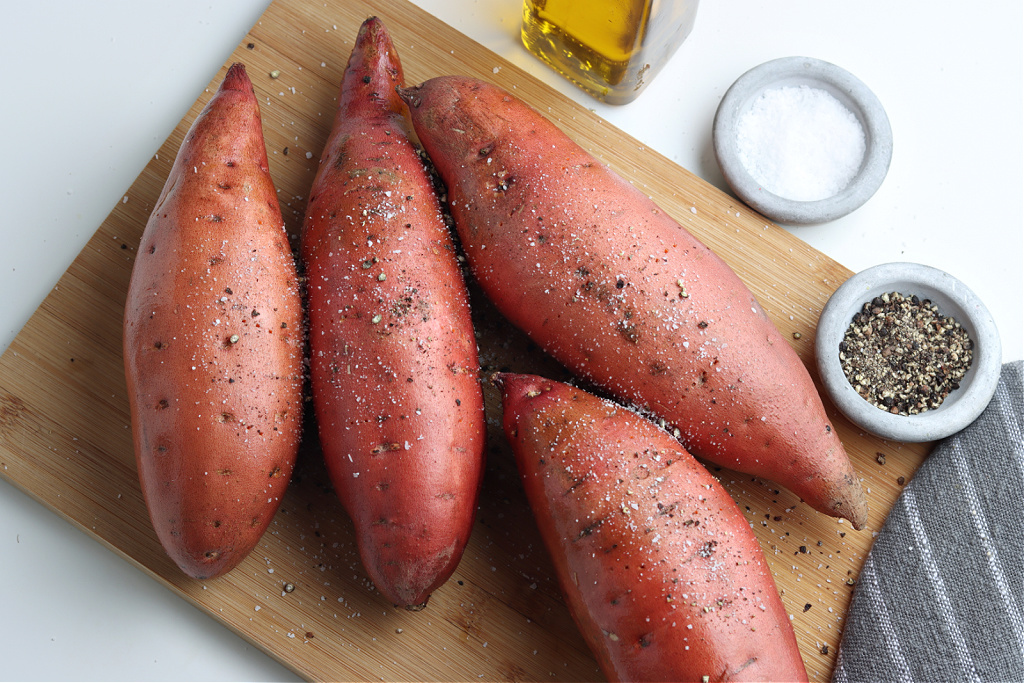 How Can I Tell If My Traeger Sweet Potatoes are Done?
A perfectly done sweet potato will have an internal temperature of 210 degrees. If you aim for them to be between 205 degrees and 215 degrees, they should be done.
You can also pierce the sweet potatoes with a fork. Once the fork can be inserted into the sweet potato with ease, they should be done and ready to be removed.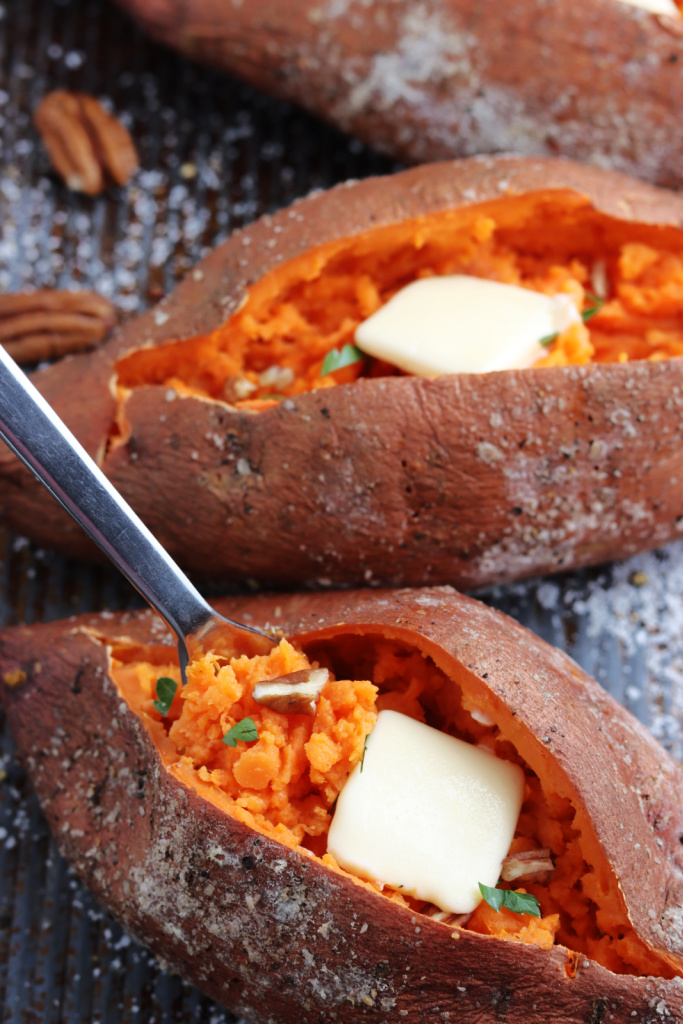 Recommended Toppings for Smoked Sweet Potatoes
Sweet Potatoes are a versatile side dish. They are tasty with a simple topping of butter or sour cream, just like a Russet potato. But if you'd like to get a little fancy, here are a few ideas for toppings.
Maple Pecan Butter can easily be whipped up using butter, pure maple syrup, ground cinnamon, and chopped toasted pecans. The flavors in this butter really bring out the unique flavor in the sweet potato. If pecans aren't your favorite, you can leave them out. The butter, syrup, and cinnamon are a delicious combination on their own.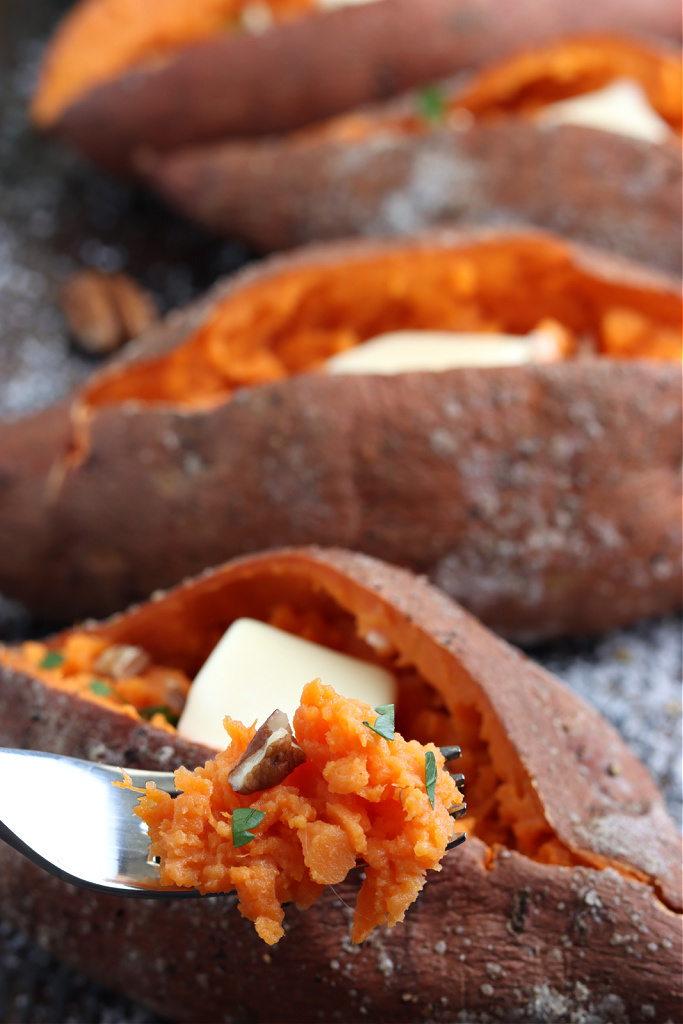 Ground pork sausage and diced apples can be cooked together and then added in with the fluffed sweet potato for an all-in-one meal. No further seasonings are required. The ground pork sausage and the apples complement the sweet potato perfectly.
Or it's just as acceptable to go the candied yams route. Just add some cinnamon, brown sugar, and miniature marshmallows for a sweet treat at dinner.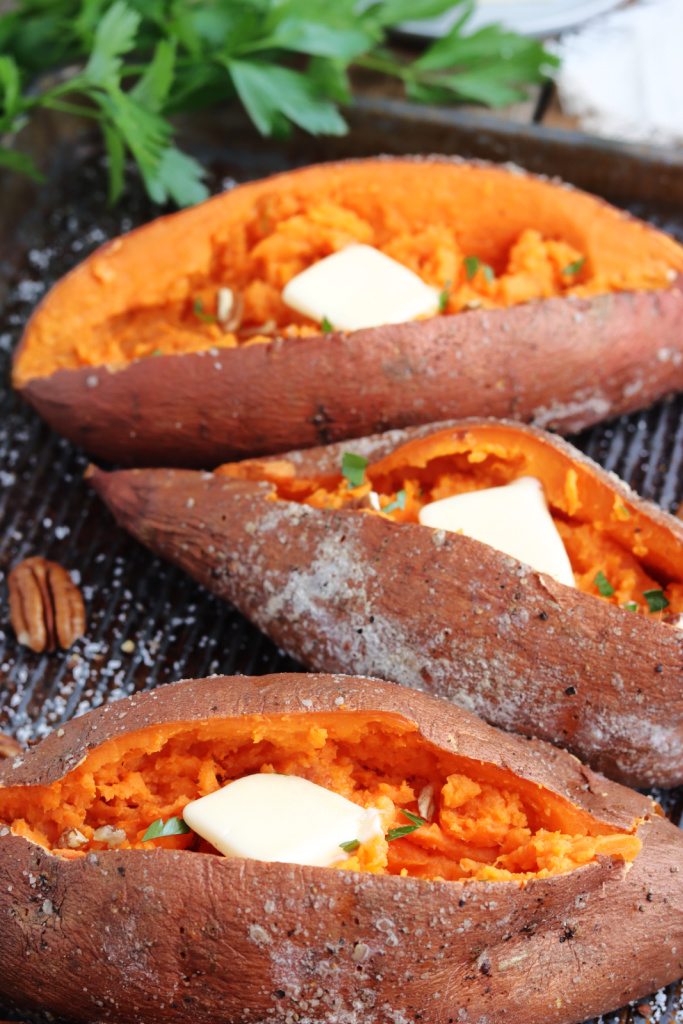 What should you serve with Smoked Sweet Potatoes?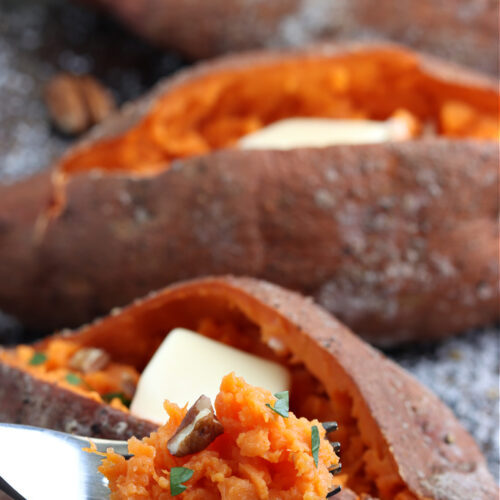 Smoked Sweet Potatoes
Sweet Potatoes, olive oil, salt, and pepper are all you need to make incredible Smoked Sweet Potatoes tonight.
Print
Pin
Rate
Equipment
Wood Pellet Choices

Maple, Pecan or Signature
Ingredients
4

each

whole sweet potatoes

2

tablespoons

olive oil

1

tablespoon

salt

1

teaspoon

cracked black pepper
Instructions
Preheat your smoker to 225-250° F.

Wash and dry sweet potatoes and pierce the skins with a fork in several places.

Drizzle with olive oil, and rub all over the skin of the sweet potatoes. Season them on all sides with salt and black pepper.

Place the sweet potatoes on the smoker, and smoke for 2 hours, or until the potatoes can be pierced with a fork. Aim for your potatoes to be between 205-215° F. A perfectly cooked sweet potato will have an internal temperature of 210° F

Remove the sweet potatoes from the smoker and allow to rest for 5-10 minutes.

Cut them open with a knife and fluff the insides. Top with your choice of toppings.
Nutrition
Calories:
64
kcal
|
Carbohydrates:
1
g
|
Protein:
0.1
g
|
Fat:
7
g
|
Saturated Fat:
1
g
|
Polyunsaturated Fat:
1
g
|
Monounsaturated Fat:
5
g
|
Sodium:
1745
mg
|
Potassium:
10
mg
|
Fiber:
0.2
g
|
Sugar:
0.05
g
|
Vitamin A:
145
IU
|
Vitamin C:
0.03
mg
|
Calcium:
4
mg
|
Iron:
0.1
mg