This post contains Affiliate Links. Read my full disclosure for more info.
These Smoked turkey legs are a Disney copycat recipe that may remind you of your favorite theme park in Disney World. The secret to this recipe is the Turkey Leg Brine.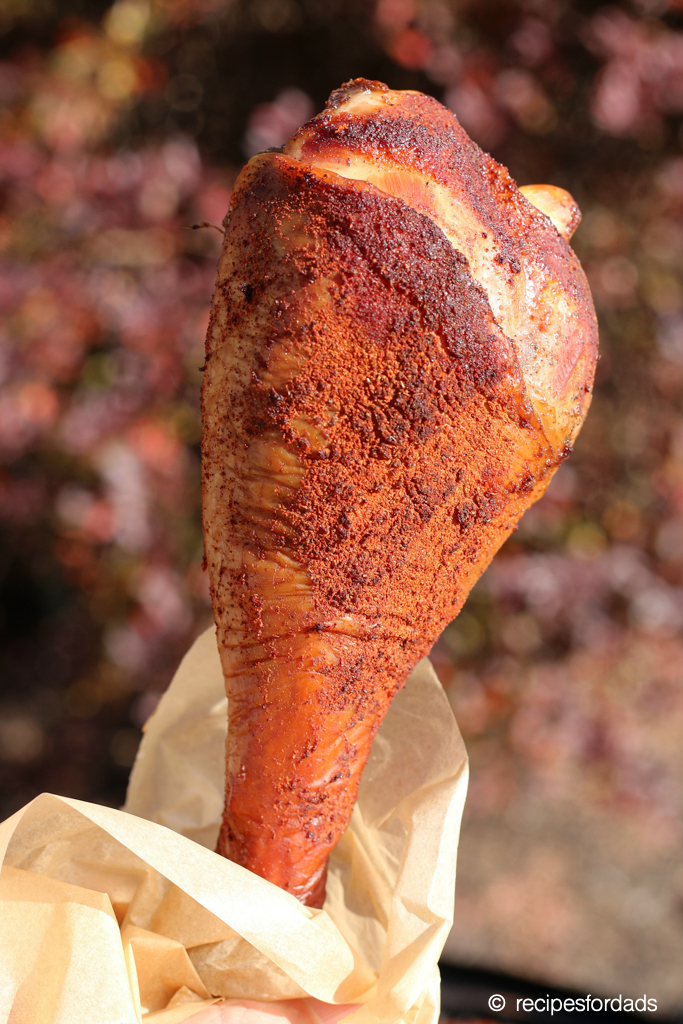 Doesn't everyone look forward to walking around Disney, gnawing on a giant turkey leg that's literally almost bigger than their head?!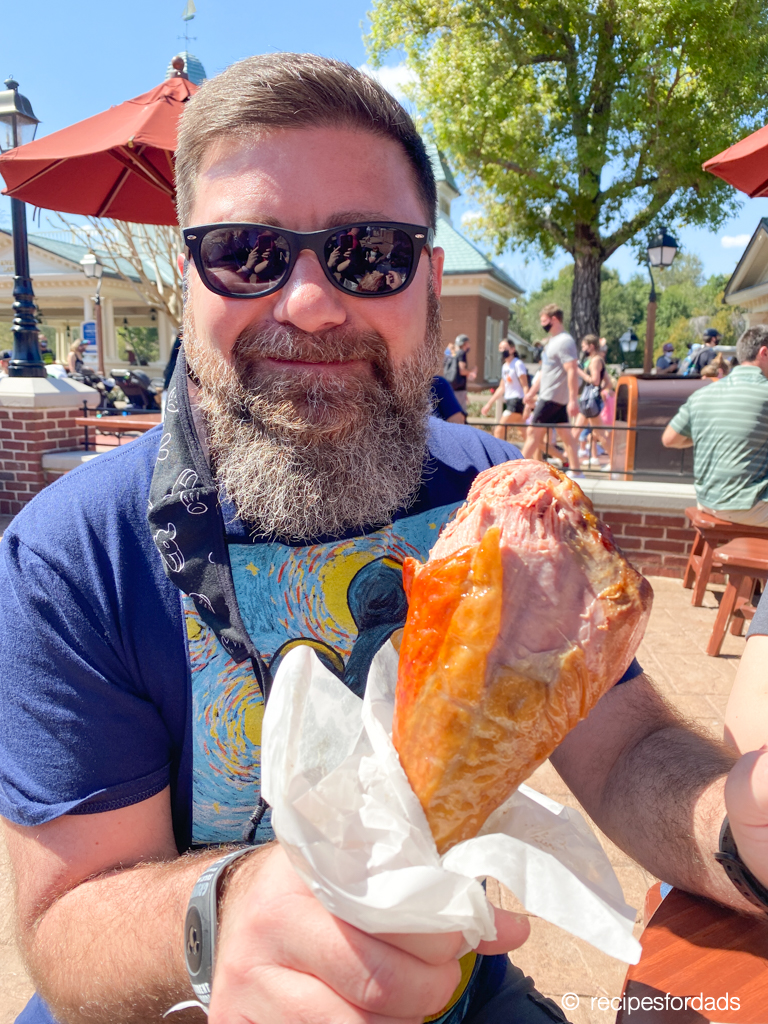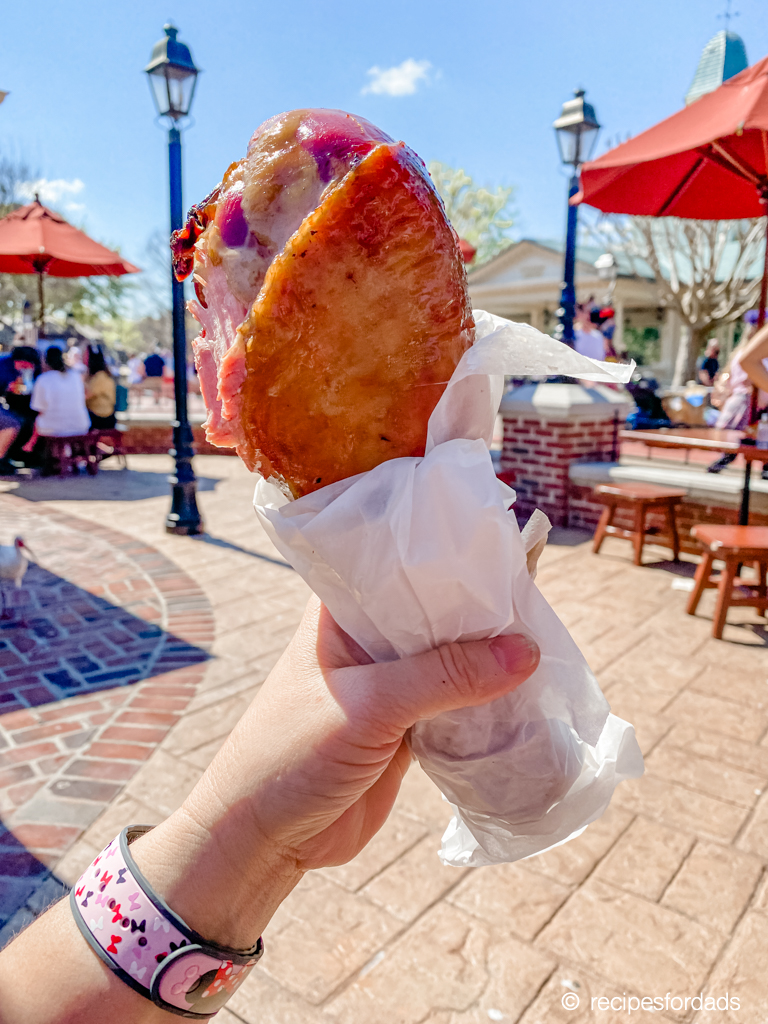 Since my family and I cannot visit Disney World as often as we would like, I decided to make these smoked turkey legs at home for the kiddos (and myself too). The good news, it's not that hard to do.
We're answering all the top questions on how to create these delicious, juicy legs at home. Make certain to scroll all the way to the bottom as well to get your smoked turkey legs recipe.
Is Making A Smoked Turkey Leg Recipe Hard?
No, in fact, as long as you have all the supplies and some patience, smoked turkey legs are relatively easy to make. Most recipes for smoked turkey legs require:
A good brine:

a brine is generally a mixture of spices, water, and liquid smoke that you soak your turkey legs in prior to smoking them.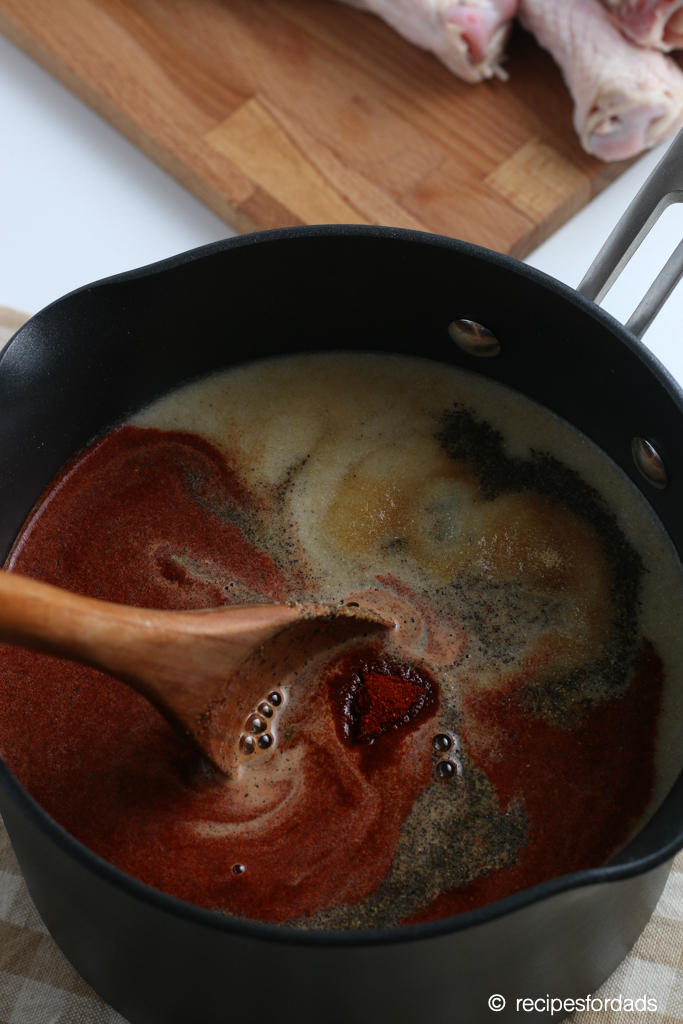 Or
A good dry rub:

dry rubs consist of spices that you place on the turkey legs hours before smoking.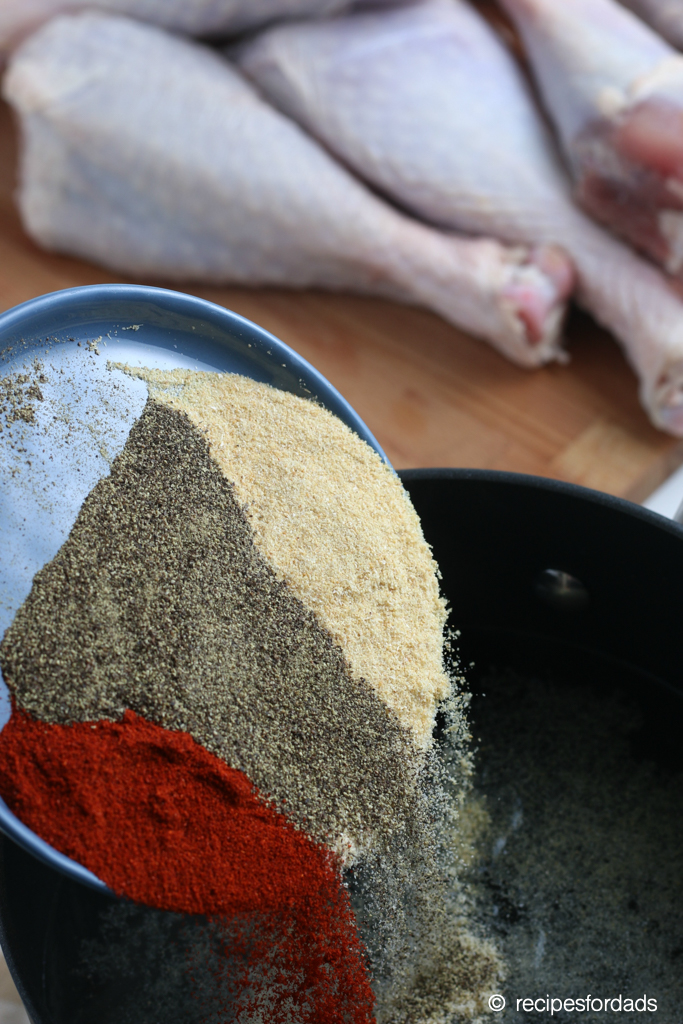 How do you keep a turkey moist when smoking?
One thing to keep in mind is that you need to be aware that there is a chance that smoking meats can cause them to be dry if you're not careful.
The easiest way to make your turkey leg moist is to use a good wet brine and let it soak for several hours, up to 24 hours beforehand.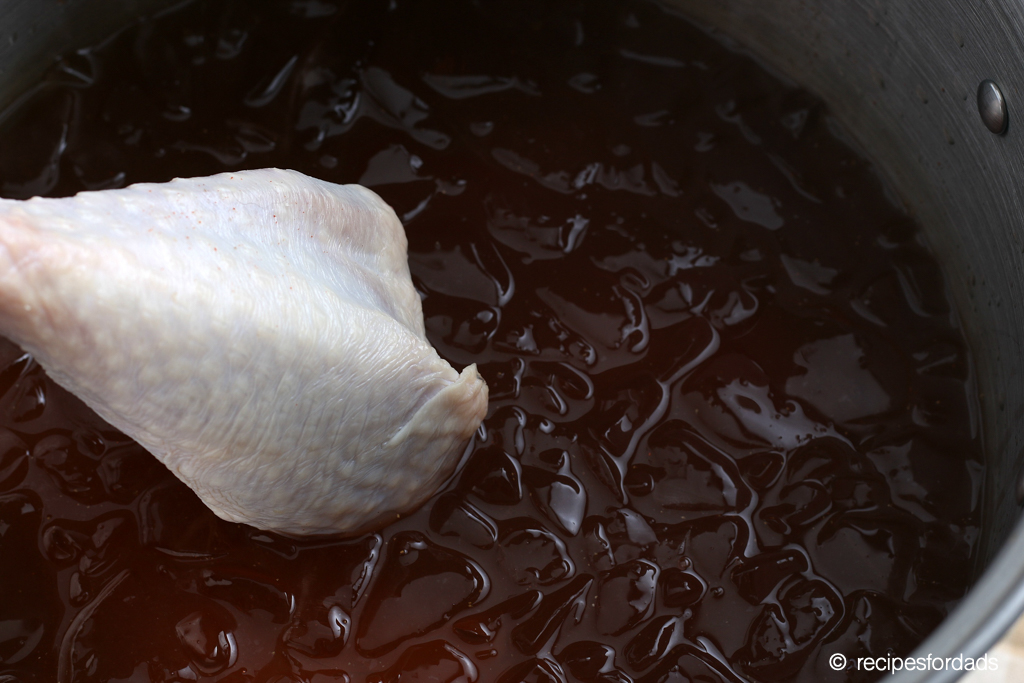 This will help that moisture stay within the turkey leg when you're smoking it and will keep it moist during the smoking process.
How Long Does Smoking Turkey Legs Take?
Timing is everything when it comes to smoking any kind of meat. From knowing how long to let the meat in the brine, to smoking it for the ideal time frame.
Generally, you want to allow at least thirty minutes per pound, plus an hour, when smoking meat at 180-200°F.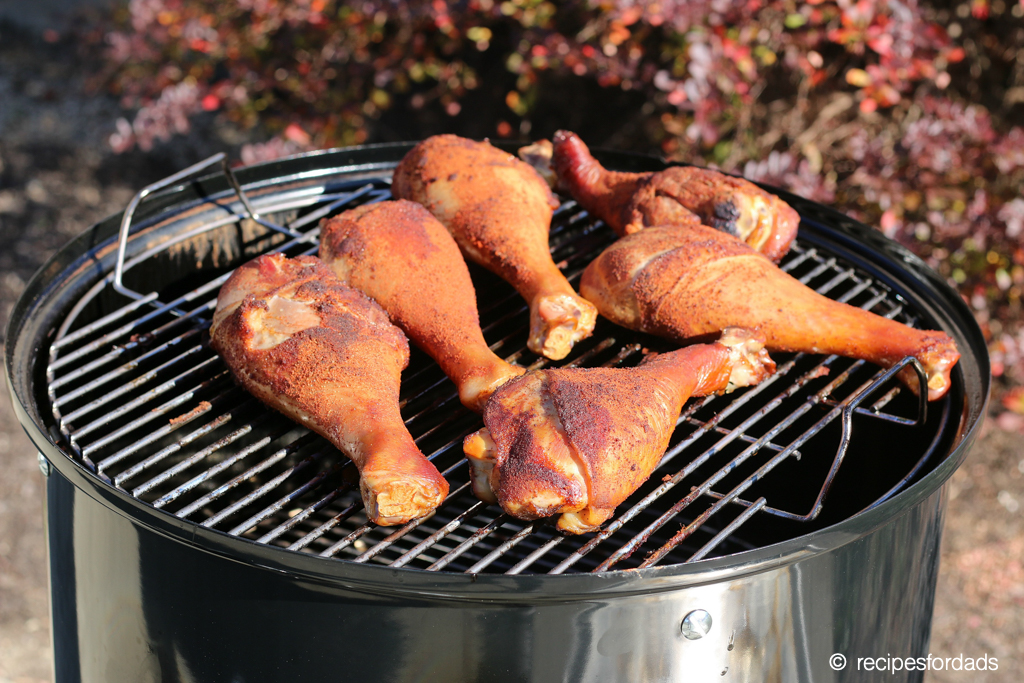 It takes roughly

an hour and a half to smoke turkey legs.

You'll know your turkey legs are done with the thickest part of the meat reaches 165°F.

Be sure to plan enough time for prep—

you'll want to loosen up some of the skin on the turkey legs if you're using a dry rub.
How to Make Smoked Turkey Legs
Start by bringing your brine to a boil. Let the brine cool, and then place your turkey legs in the brine overnight in the refrigerator.
If you want to speed up this process, you can use a marinade injector and inject the brine directly under the skin of the legs. Let them rest for 5-6 hours before smoking.

Looking for a crispier skin? Dry the turkey legs with a paper towel before you begin smoking them.
If you are using a dry rub and not a brine, you've likely already loosened up the skin. Now it's time to massage that rub onto your turkey legs.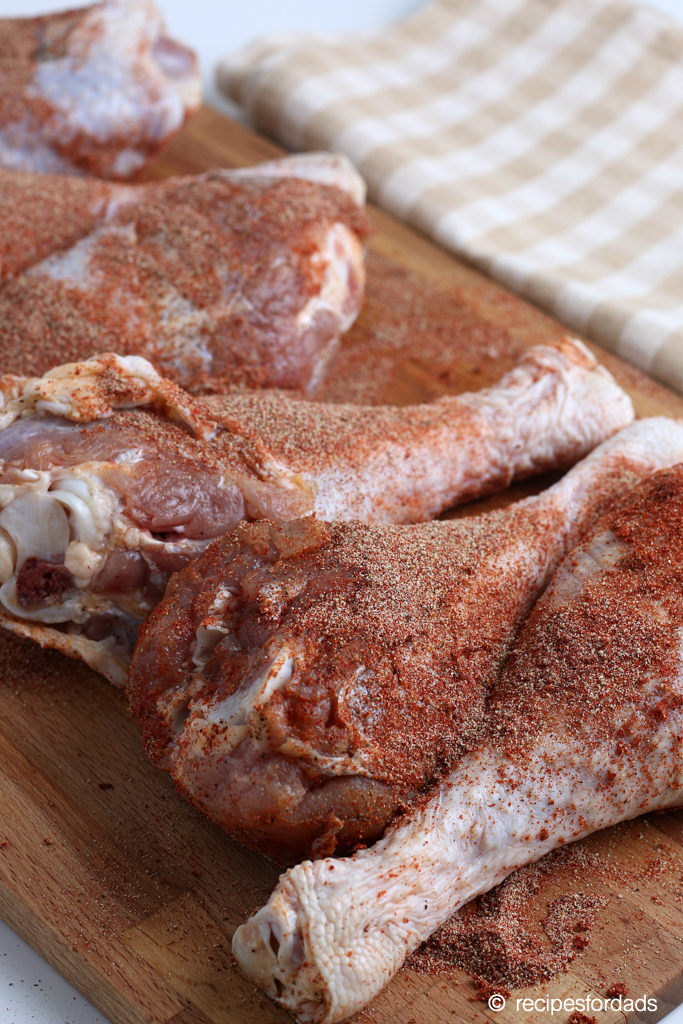 Be sure to liberally rub the rub under the skin of the legs. Place them in the refrigerator until you are ready to start the smoking process.
How do I know when turkey legs are done?
The easiest way to know when your smokey turkey leg is done is to use a meat thermometer and check the internal temperature.
For your turkey legs to be considered done by the USDA regulations, your meat thermometer should read 165 degrees at a minimum.
(You might find yourself cooking the turkey past this temperature due to the smoking process but it's a good indicator that the turkey meat is cooked all the way through.)
Why does my turkey meat look pink?
This is actually an important detail to pay attention to and this is also why it's important to be able to check the internal temperature of the turkey as well.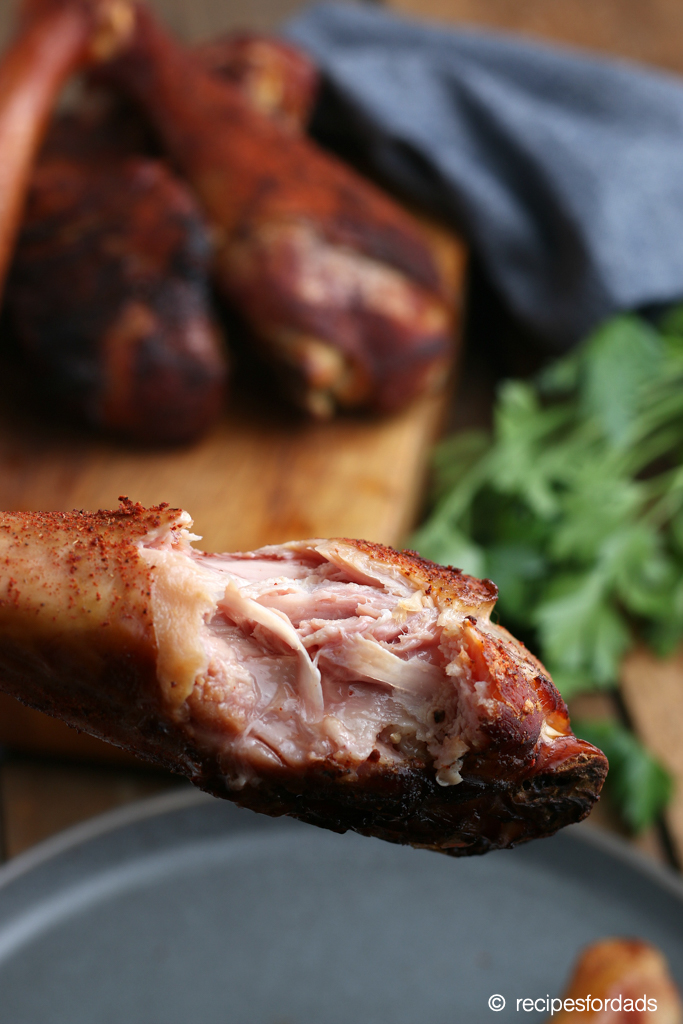 If your turkey meat temperature shows that it's above 165 degrees and is still looks pink, this is because you've successfully achieved that "smoke ring" that so many BBQ'ers strive for in their cooking.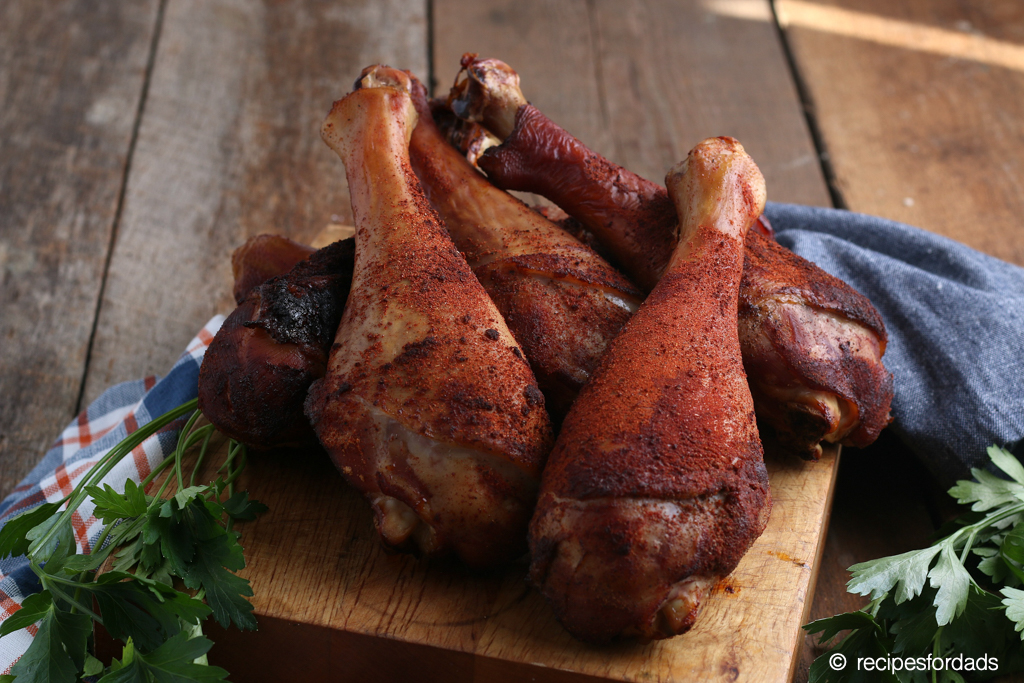 If you've can't stop thinking about those favorite Disney Turkey Legs, it's time to learn to make your very own best-ever smoked turkey legs (Disney copycat recipe) at home!
Is smoked turkey healthy?
Turkey meat is a leaner meat and a healthier choice than other meats that might have a higher fat content or breading.
If you're looking for a leaner cut of meat, a smoked turkey is a great choice because it's less fat AND has great flavor, due to the smoking process.
Don't forget to check out my other smoked recipes, especially my Smoke Whole Turkey on the blog.
I can't wait to hear what you think after you smoke your turkey and take your first bite.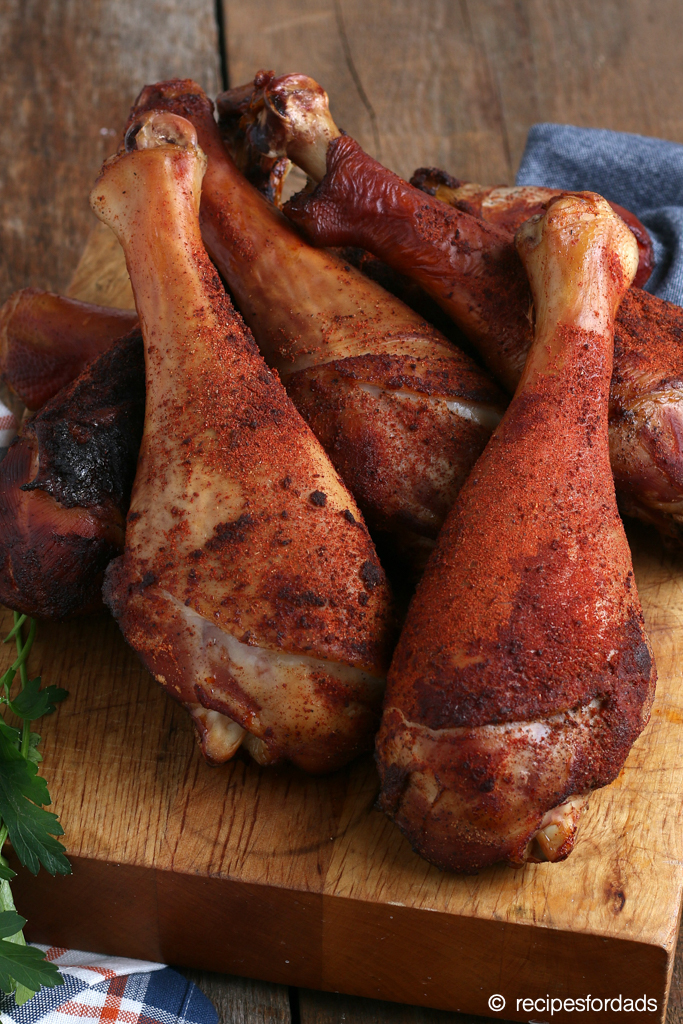 If you are in a hurry and do not have time to smoke your turkey legs, an alternative would be smoked turkey legs from Farm Pac Kitchen (you can buy them here on Amazon). They claim to be the same smoked turkey legs sold at major theme parks and festivals around the US.
But that takes out all the fun of smoking them yourself…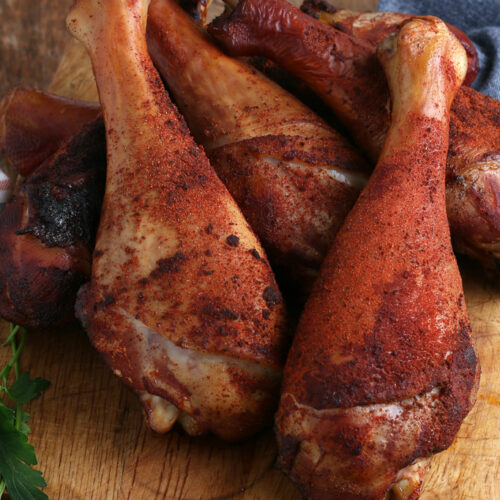 Smoked Turkey Legs
These Smoked turkey legs are a Disney copycat recipe that may remind you of your favorite theme park in Disney World. The secret to this recipe is the Turkey Leg Brine.
Print
Pin
Rate
Ingredients
6

turkey legs

1

gallon

water

1

cup

kosher salt

½

cup

sugar

1

tablespoon

onion powder

1

tablespoon

garlic powder

1

tablespoon

paprika

1

tablespoon

black pepper

Seasoning Rub

2

tablespoon

paprika

2

teaspoons

garlic powder

2

teaspoons

onion powder

1

teaspoon

black pepper

½

teaspoon

ground cumin
Instructions
Bring water to boil in a large pan, add kosher salt and sugar and stir until dissolved. Add remaining ingredients and remove from heat, cover and allow to cool for 30 minutes.

Add mixture to a brining bucket or stockpot and add enough cold water or ice cubes to make a minimum of 16 cups brining solution.

Place Turkey legs in brining solution and place in the refrigerator. Allow to brine for 4 to 6 hours.

Remove from brine and pat dry. Allow to dry come to room temperature for 30 minutes on the kitchen counter.

Mix all of your rub seasoning ingredients together and rub the entire outside of the turkey legs to fully coat them with seasoning rub.

Bring your smoker to 225F while the turkey legs are drying. Add 3-4 chunks of cherry wood (OR your preference of smoking wood) once your temperature has stabilized.

Place the turkey legs directly on the smoker grates, and smoke until the internal temperature reaches 165F in thickest part of the leg. 

When done remove from the smoker and rest for 10-15 minutes. Serve immediately.
Nutrition
Serving:
1
g
|
Calories:
636
kcal
|
Carbohydrates:
23
g
|
Protein:
79
g
|
Fat:
26
g
|
Saturated Fat:
6
g
|
Polyunsaturated Fat:
17
g
|
Cholesterol:
330
mg
|
Sodium:
19265
mg
|
Fiber:
2
g
|
Sugar:
17
g