This post contains Affiliate Links. Read my full disclosure for more info.
Are searching for the secrets tips on how to grill the best burger recipe perfectly and every single time on your gas or electric grill? You have come to the right place.
Not only do I share with you my secret to my best burger recipe ingredients, I also teach you the best way to grill your burgers on a charcoal or gas grill like a pro!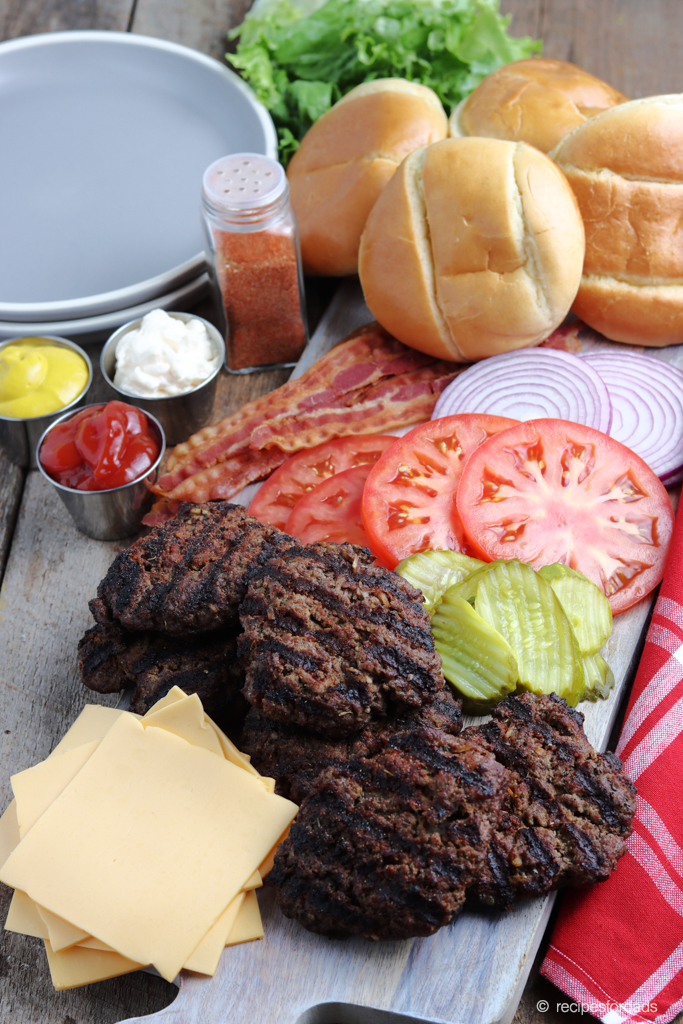 What I am about to share with you is the absolutely best Burger Recipe you'll find!
Grilled burgers just might be one of the most popular food ideas for using your grill, but learning how to cook them properly is key.
The last thing that you want to have happened is to overcook your burgers on the grill.
These simple tips for grilling burgers will have you enjoying the taste and flavor of a perfectly grilled burger time and time again.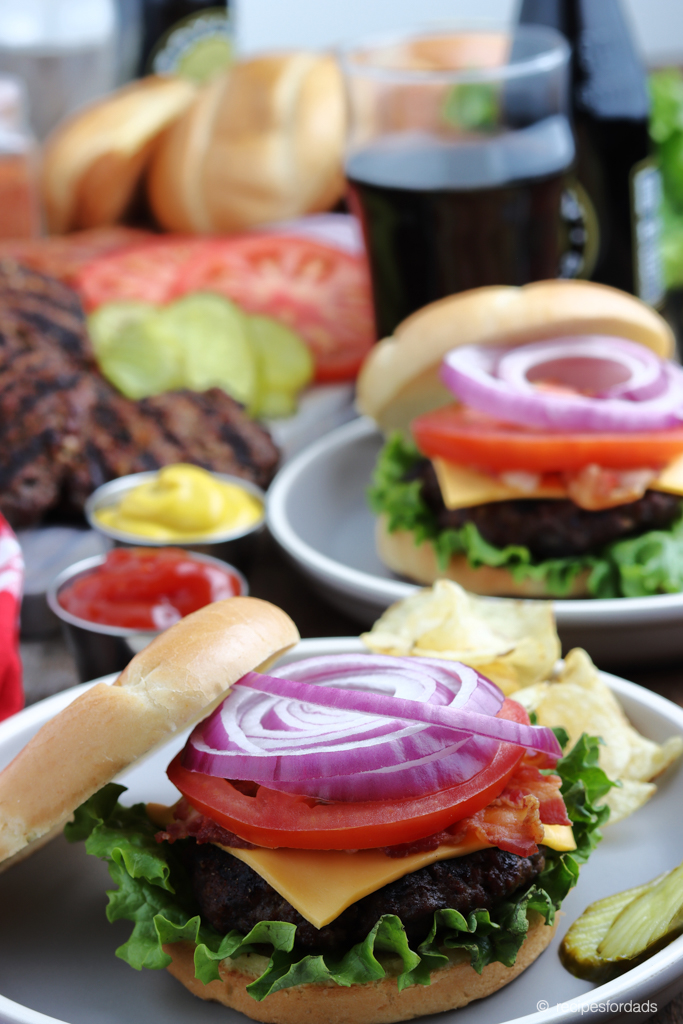 What is the secret to juicy grilled burgers?
One of the biggest reasons your burgers may get overcooked on the grill is from setting the heat too high and rushing the process.
While grilling can be a great way to cook burgers fast, you don't want to make the mistake of cooking them directly in the fire or on top of a super hot grill grate.
Make certain that you're also using hamburger meat that does have some fat content to it so it will release some of that extra fat while the burgers are grilling.
This will help the burgers retain that juicy texture without the worry of drying them out.
Best Burger Recipe (Secret Ingredient)
If your meat has a low-fat content, add mayonnaise to your mixture (yes, you read that correctly). When you're patting up the burgers, using mayonnaise is a great way to add fat content and flavor – and is one of the best-kept hamburger recipe secrets.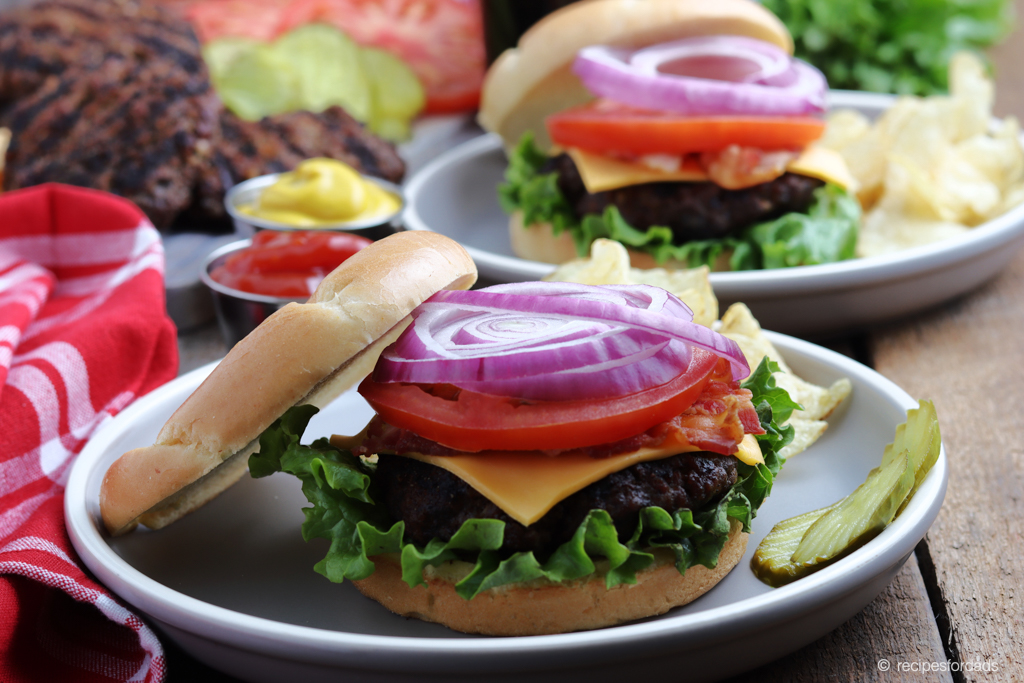 Be certain that you mix in the mayonnaise evenly as possible.
But beware – don't overmix the hamburger meat. This will make it actually tougher in texture and create a "less than thrilling" flavor profile for your grilled burgers.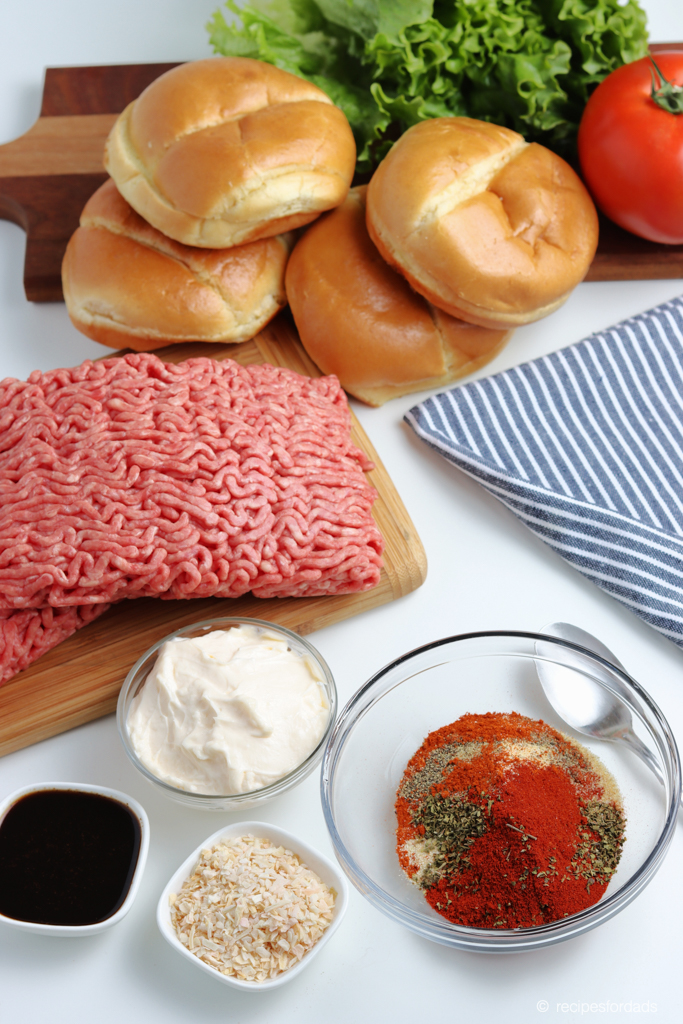 Tips for Grilling Burgers on Gas Grill
Everyone tends to grill their burgers differently on the grill but here are a few simple grilling tips to keep in mind:
Your burgers do not need to be placed directly in the fire. Keep that in mind. Your grill will hold in the heat well to give the entire grill grate a nice even heat source for your burgers.
Place the burgers in various parts of the grill. Don't be scared to move them around and flip them throughout the cooking process. This will ensure that the burgers will cook evenly and in a process that won't dry them out at all.
The other big tip to keep in mind is to make a bit of a divot in the middle of the burger, using your thumb. This divot should just be a little dip, not a hole. This simple action will keep your burgers from shriveling and shrinking up on the grill.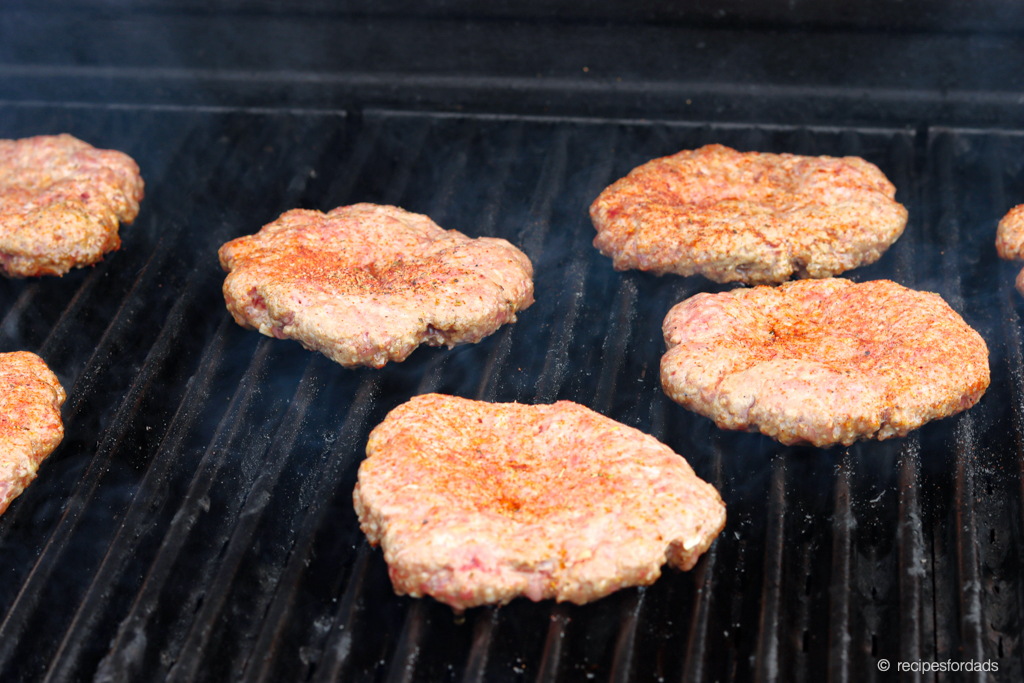 Tips for Grilling Burgers on Charcoal Grill
The same rules apply for cooking burgers on a charcoal grill as they do on a gas grill but there are a few things to keep in mind.
Cooking on a charcoal grill is going to have more uneven spots to think about which just means that you'll want to be certain to move the burgers on the grill to ensure that they're cooked all the way.
You'll also want to keep the lid on while they're cooking on the charcoal grill to help distribute the heat more throughout evenly.
Seasoning for Grilled Burgers
Seasoning your burgers is a simple process and one that is important. Adding in your seasoning while you're making the mixture is key.
If you want to add on a bit more seasoning, you can always add to the burgers as they're cooking on the grill, too.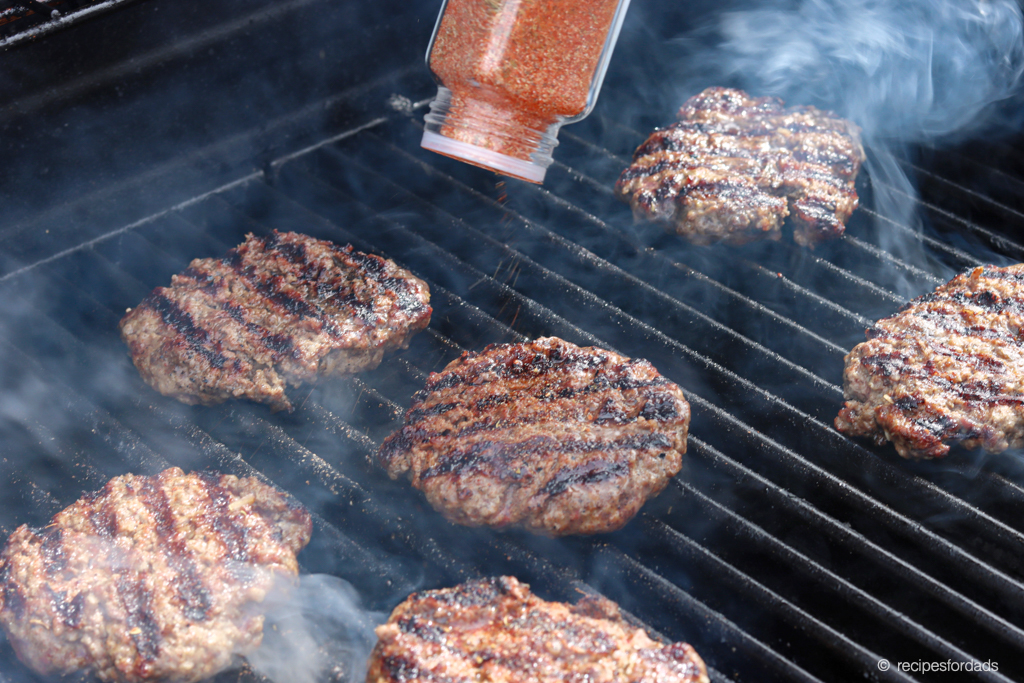 How long should you grill burgers?
It's hard to put a specific time on this as there are a lot of factors that can change the answer. A lot of people will recommend cooking your burgers 3-4 minutes on each side, and while that can be true, it might take longer than that, too.
Some burger might actually take 10-15 minutes total to cook because it just all depends on how hot the grill is and how thick the burger is as well.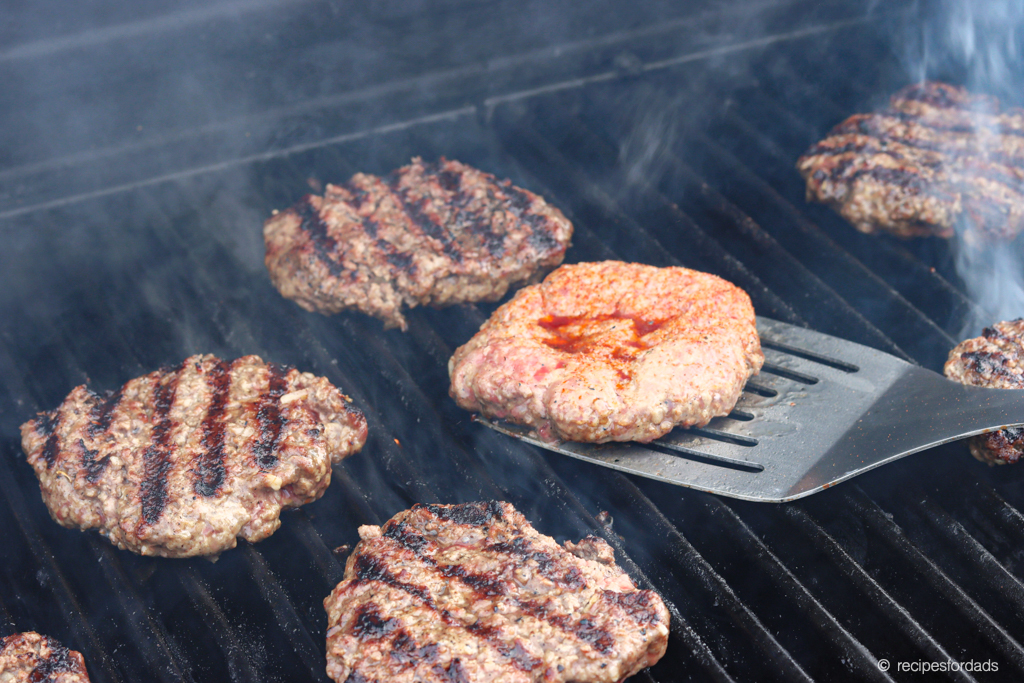 What temperature should you cook your burgers at?
You want to be certain that you're cooking your burger to a temperature that makes it safe to consume.
The FDA recommends that all burgers be cooked to an internal temperature of 160 degrees. There are some who prefer their beef to be rarer than that.
Using a meat thermometer can help you know how done the burgers are on the grill.
Burgers at 120 degrees are rare
Burgers at 130 degrees are considered medium-rare
Grilled burgers at 140 degrees are medium.
A temperature of 150 degrees indicates that the burger is medium-well
The internal temperature of 160 degrees is a well-done patty.
How to make your burgers more flavorful (juicy)
As everyone knows, adding toppings to your grilled burgers is the quickest way to give your burgers more flavor. Some simple topping ideas are:
Lettuce
Cheese
Fresh tomatoes
Onions
Ketchup/mustard/mayo
Bacon
Dill pickles/relish
Don't forget to pair this burger recipe with some delicious summer barbecue favorite sides like these Grilled Asparagus or Corn on the Cob (with the Husks)!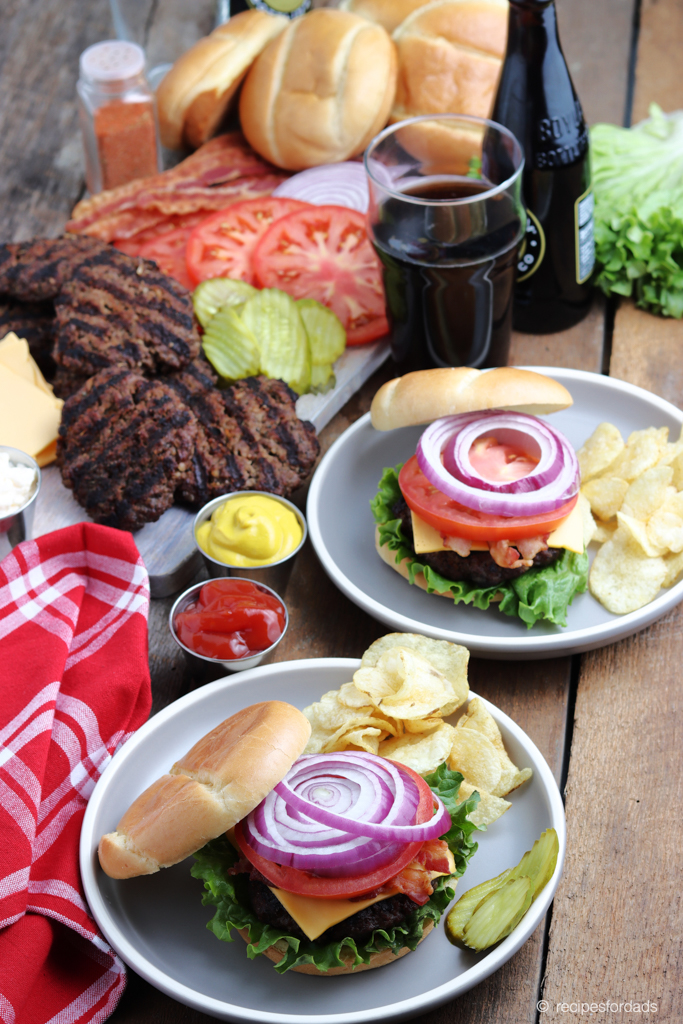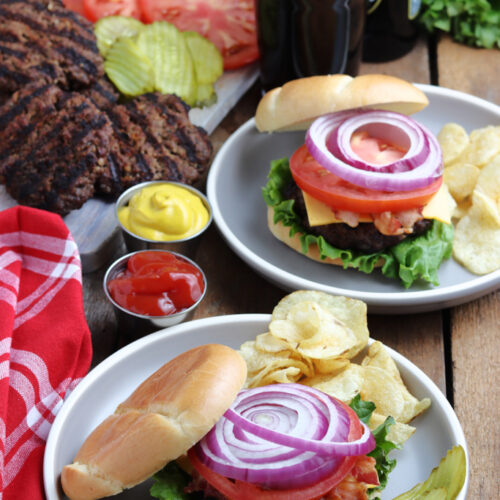 Best Burger Recipe (Grilled)
This juicy burger recipe will have you enjoying the taste and flavor of a perfectly grilled burger time and time again.
Print
Pin
Rate
Ingredients
2

pounds

ground beef

½

cup

mayonnaise

2

tablespoons

Worcestershire sauce

2

tablespoons

dried minced onions
Spice Blend, optional
2

tablespoons

paprika

4 ½

teaspoons

garlic powder

2

teaspoons

cayenne pepper

2

teaspoons

ground black pepper

2

teaspoons

onion powder

1 ½

teaspoon

dried oregano

1 ½

teaspoons

dried thyme
Burgers
Buns

Cheese

Bacon

Lettuce

Tomatoes

Onions

Pickles

Condiments
Instructions
In a small bowl, mix together the spices for the seasoning

In a large bowl, combine ground beef, mayonnaise, Worcestershire sauce and dried minced onions and mix together. Don't overwork the mixture

Divide beef into 8 equal portions

Form into patties and make an indentation in the center

Heat grill to 350 degrees or medium-high heat

Cook burgers 4-5 minutes on each side

Serve immediately with your favorite toppings
Nutrition
Calories:
309
kcal
|
Carbohydrates:
3
g
|
Protein:
23
g
|
Fat:
22
g
|
Saturated Fat:
6
g
|
Trans Fat:
1
g
|
Cholesterol:
80
mg
|
Sodium:
207
mg
|
Potassium:
449
mg
|
Fiber:
1
g
|
Sugar:
1
g
|
Vitamin A:
303
IU
|
Vitamin C:
4
mg
|
Calcium:
29
mg
|
Iron:
3
mg