This post contains Affiliate Links. Read my full disclosure for more info.
Whether you call them kabobs, kebabs, or shish kebobs, these grilled steak kabobs are perfect as is or you may add in some veggies between the steak slices to give this dish more color and flavor.
The secret to these steak kabobs being so juicy and tender, is my secret steak marinade.
You can't go wrong by serving these easy and delicious beef kabobs for any summer cookout.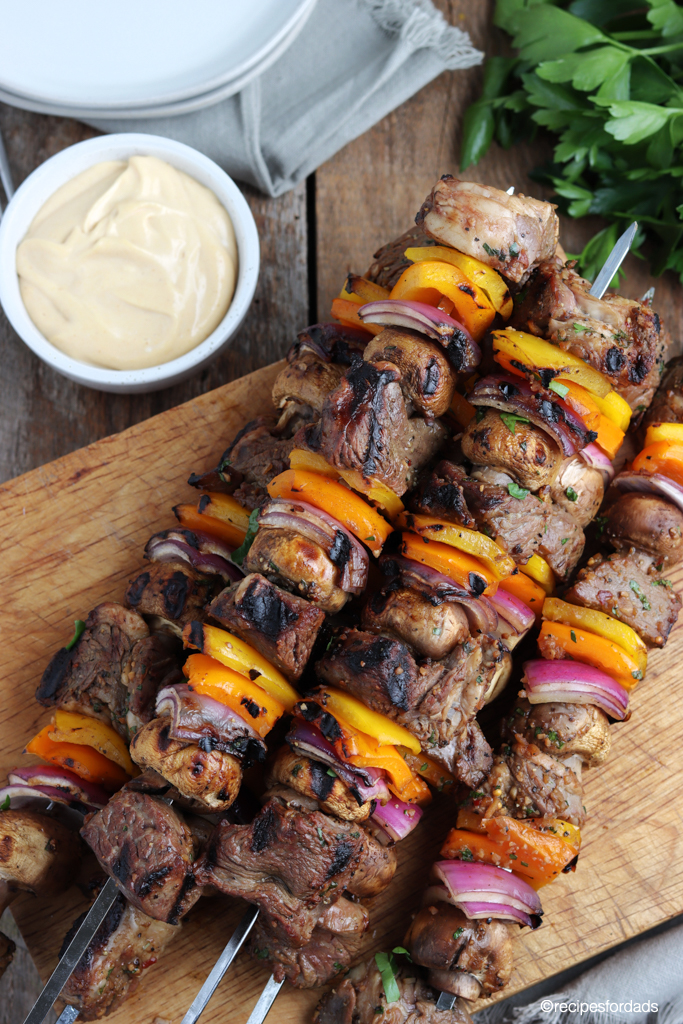 I just love finding new ways to serve grilled shish kabobs when my family decides to use the grill for dinner time.
With just a few simple ingredients and steak marinade, these delicious and juicy beef kabobs will become your new weekly favorite go-to meal.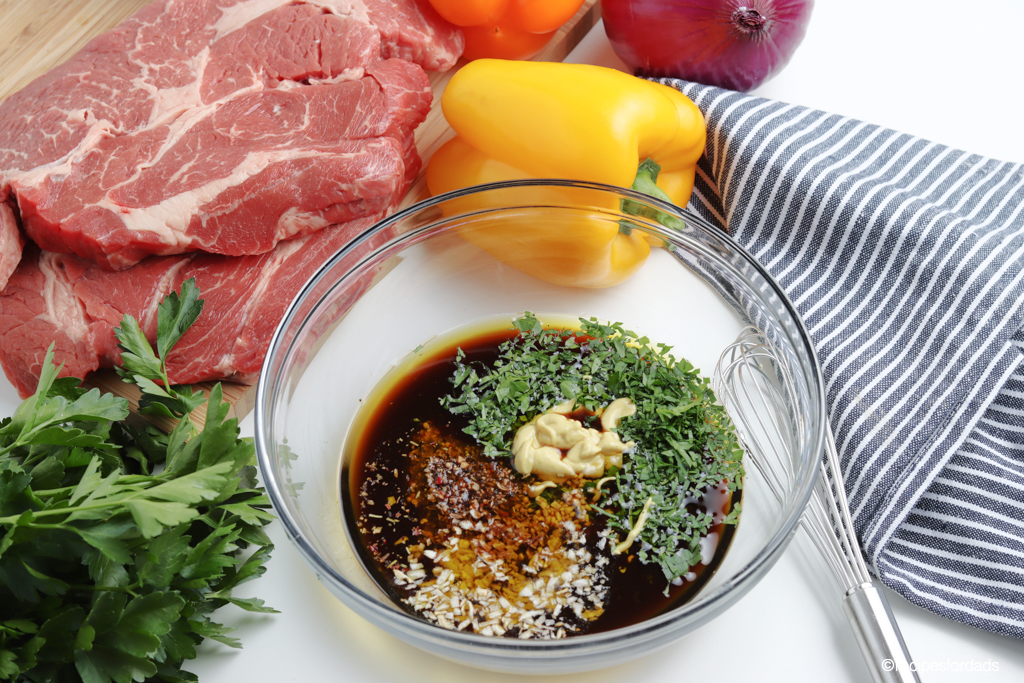 Ingredients for Steak Kabobs
sirloin steak
bell peppers, any color
red onion
mushrooms, button or cremini
World's Best Steak Marinade
soy sauce
olive oil
Worcestershire sauce
dijon mustard
garlic, minced
dried minced onions
steak seasoning
fresh parsley, finely chopped
I know how hard is it to grill steak sirloin to perfection, that's why I wanted to make sure to add a few tips for you to know how to grill your next kabobs.
How do you cut peppers and onions for shish kabobs?
If you're wanting to add some vegetables to the kabobs, you need to be certain that you're cutting them big enough and thick enough to stay on the skewer.
Square cuts are best because they'll be evenly balanced when you put them on the skewer.
If you cut them too small or too thin, the vegetables are going to burn a lot faster than the steak and that can cause a problem.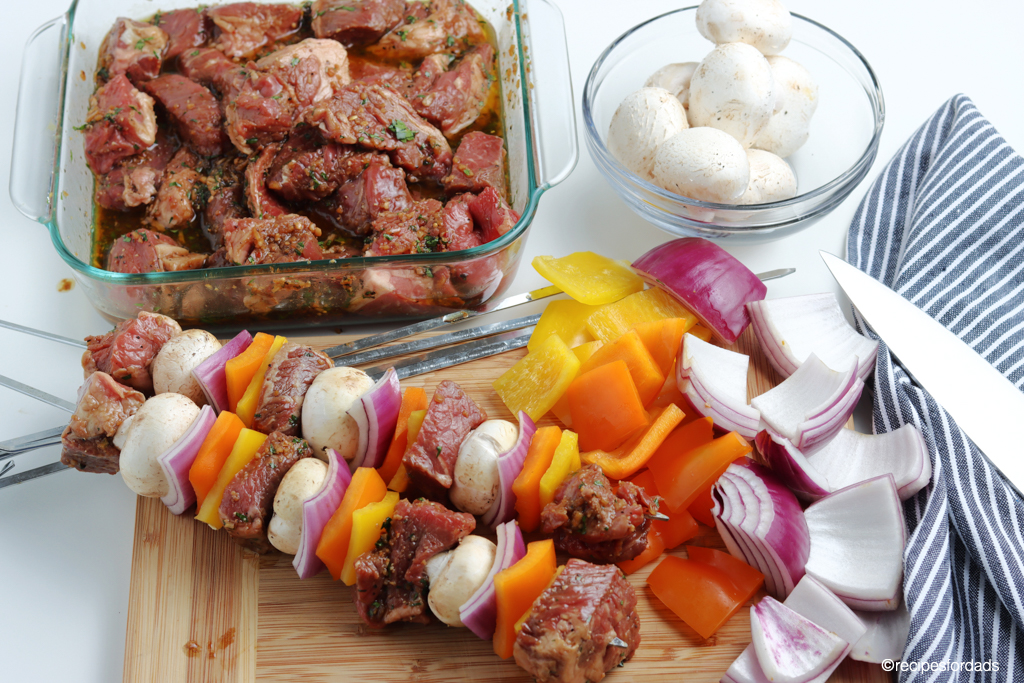 Marinating your grill kabobs
You'll want to marinate your kabob meat for 8 hours to maximize the flavor and tenderness of your kabob meat.
You're going to want to brush the outside of these beef kabobs with some sort of oil. Olive oil or coconut oil is great, and vegetable oil will work just fine as well.
Once you brush the kabobs with oil, you can then apply the seasonings to the outside of the kabobs and they'll stick in place easier.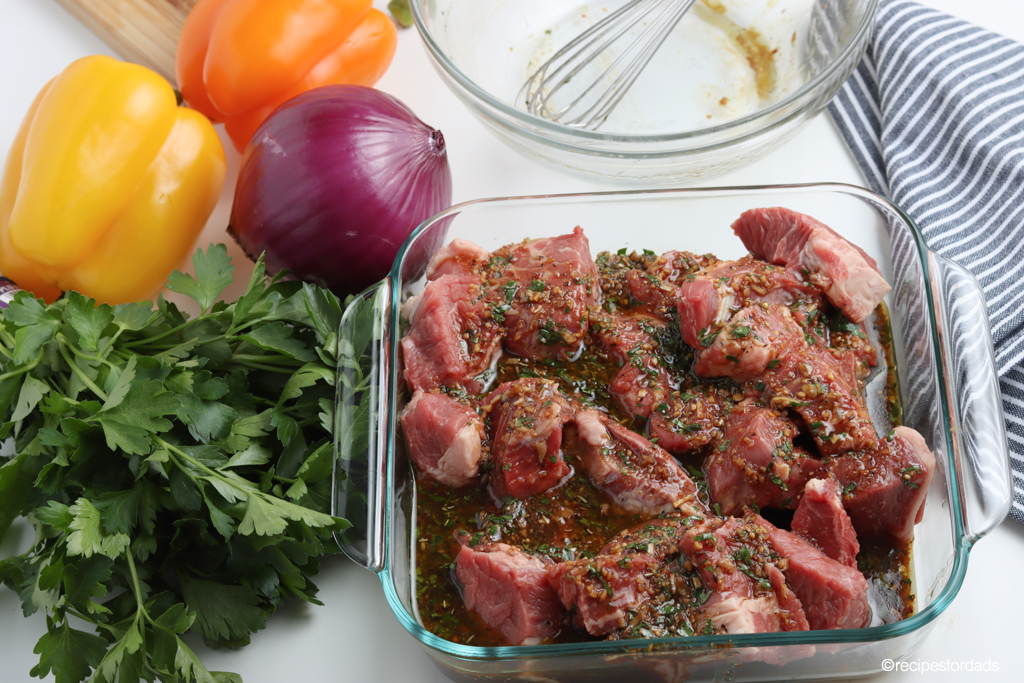 Once you've marinated your kabob meat, it's time to start making your grilled shish kabobs. Preheat your grill to medium heat, and brush clean so that debris doesn't stick to your grilled meat.
Heat the grilled beef according to the recipe instructions and allow to rest before serving.
How long should you soak wooden skewers?
If you're going to use wooden skewers (which I personally do not), you need to make certain that you soak them for at least 15-30 minutes ahead of time. Just immerse them in water and let them sit.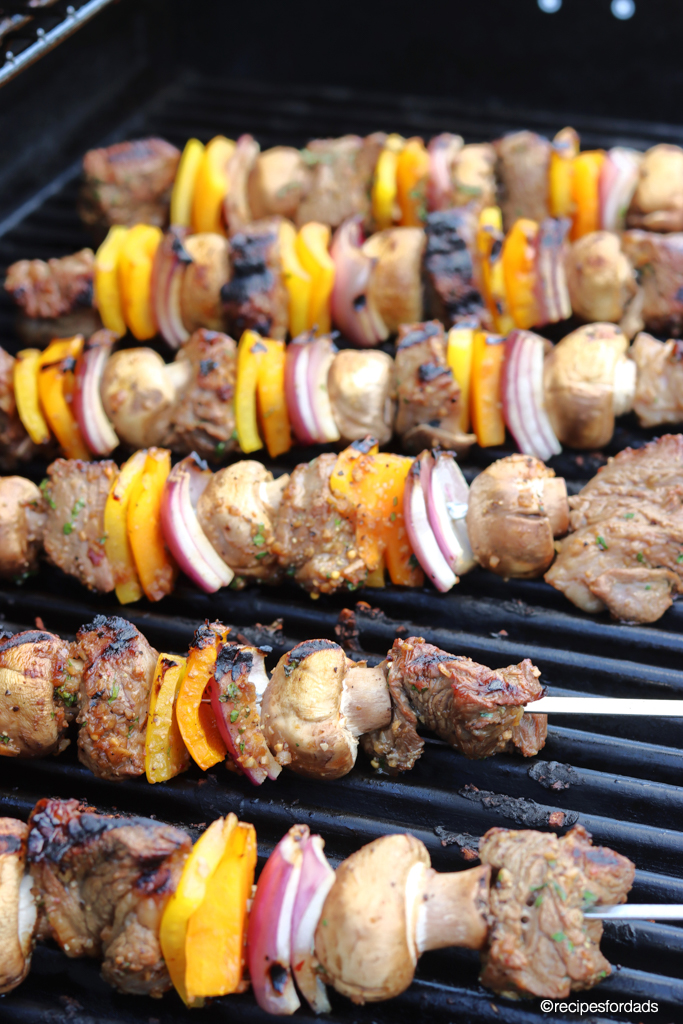 This is important because otherwise the wooden skewers will catch on fire and burn as well.
If you don't soak them or forget to, it will be an unpleasant experience because a few things might happen.
The heat may actually splinter the wood, causing some of those wooden pieces to possibly go into the meat or even in your mouth.
The other possibility is that the skewers will burn and then in turn burn the food that is on it as well.
What can I use if I don't have skewers?
As long as you have something that is sturdy and long (and safe to have food on it), you can use it as a skewer.
I've purchased metal skewers from Amazon and I use them all the time, over and over again. They're one of the best purchases for grilling.
You can also try and use chopsticks or something along those lines on the grill as well as long as you follow the same procedures and soak them first.
How long do you grill beef kabobs?
You'll want to grill your beef kabobs for 2-3 minutes per each side. You'll flip the grilled kabobs after they've started to brown and cook for the same time on the other three sides.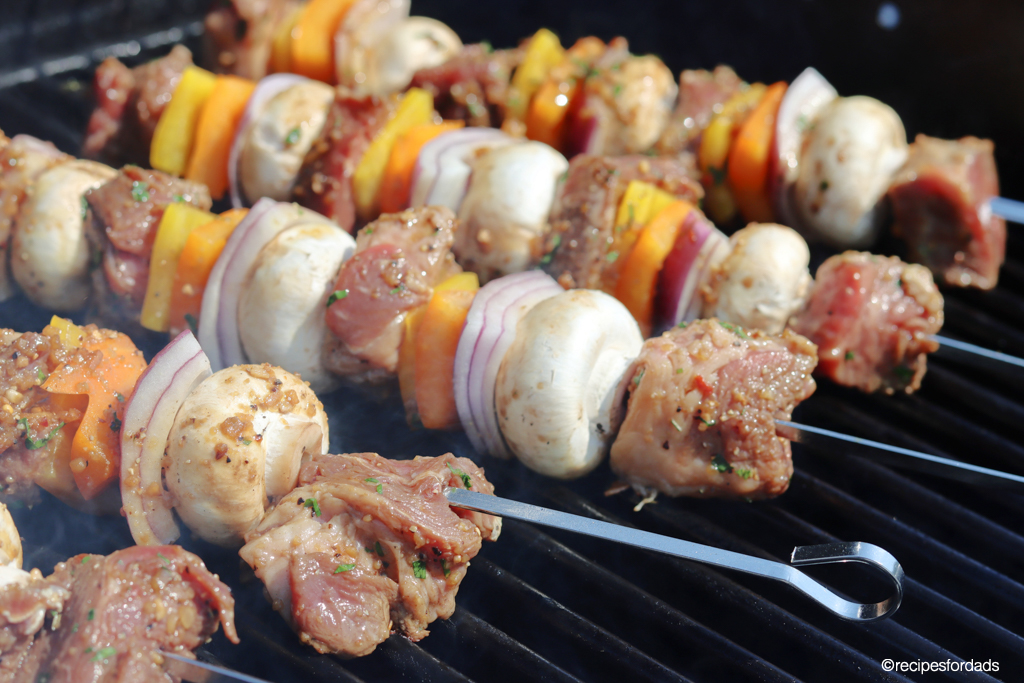 What temperature should I grill steak kabobs?
You must remember to grill beef or steak to an internal temperature of 135°F – 150°F degrees (depending on the level of preference medium to well done) for safe consumption. Use a grilling meat thermometer to test the internal temperature of your grilled beef kabobs is always recommended.
It's best to grill kabobs over medium heat which is generally 350-400 degrees F. Allow your grill to preheat for 10-15 minutes and then brush the grilling plate clean using your grill brush.
What do you eat with grilled shish kabobs?
There are many side dish recipes that go well with shish kabobs (or they are great by themselves).
For my grilled beef kabobs, you may enjoy a spicy cabbage coleslaw (this is my favorite recipe), grilled asparagus, smoked mac and cheese, grilled corn on the cob, or baked beans recipe.
Each of these recipes works as a fabulous option to eat with shish kabobs whether you're hosting a grilled meal for your immediate family or entertaining guests during a summer BBQ.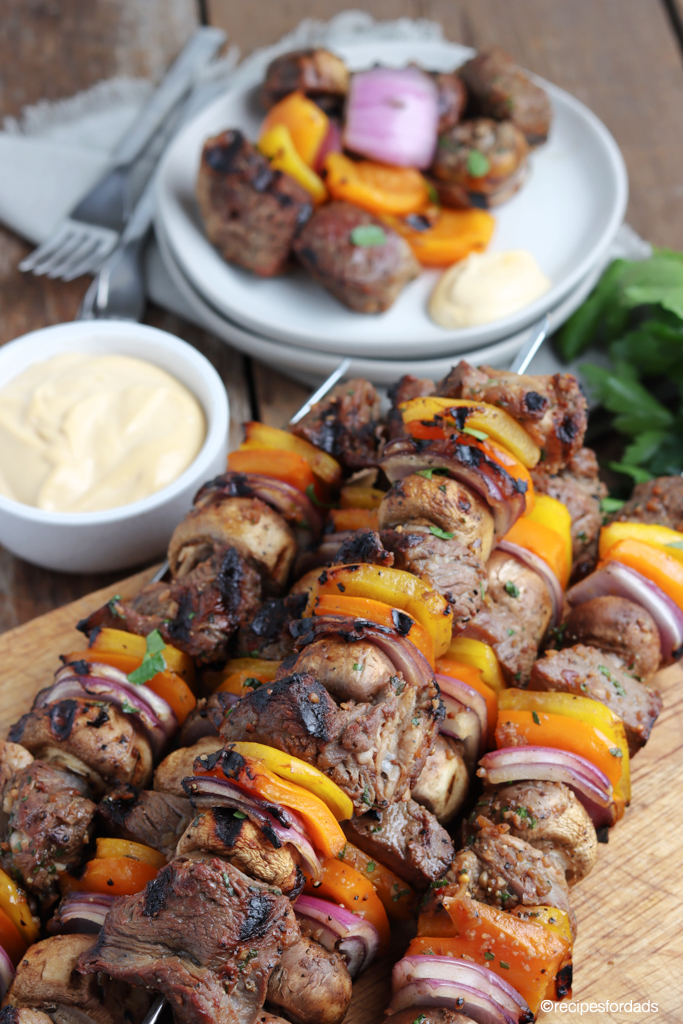 You may like these other delicious grilled or smoked recipes: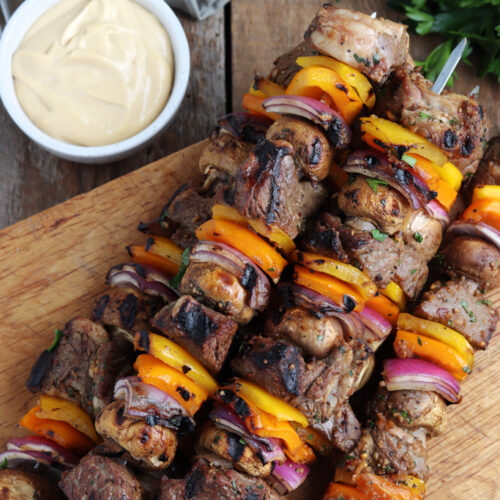 Grilled Beef Kabobs With World's Best Steak Marinade
The secret to these beef kabobs being so juicy and tender, is my secret steak marinade. You can't go wrong by serving these easy and delicious beef kabobs for any summer cookout.
Print
Pin
Rate
Ingredients
1 ½ – 2

pounds

sirloin steak

2

bell peppers

any color

1

large red onion

8

ounces

mushrooms

button or cremini

¼

cup

low-sodium soy sauce

¼

cup

olive oil

¼

cup

Worcestershire sauce

1

tablespoon

dijon mustard

2

cloves

garlic

minced

1

tablespoon

dried minced onions

2

tablespoons

steak seasoning

1

tablespoon

fresh parsley

finely chopped
Instructions
Combine all ingredients in a bowl and whisk until combined

Cut steak into cubes, about 1 inch and add to resealable bag

Pour marinade over steak, seal and refrigerate for 1-4 hours **see notes

Remove steaks, discard marinade and allow to come to room temperature

Kabobs

Cut vegetables into bite size pieces, leave mushrooms whole or cut in half depending on size

Thread steak and vegetables onto skewers **see notes

Heat grill to medium-high heat

Place kabobs onto hot grill and cook for 4-5 minutes per side

Remove from grill and serve immediately
Notes
Marinade time will vary depending on the thickness and quality of steak
Skewers – if using wooden skewers, soak in water at least 30 minutes before using
If using metal skewers, handle with care using a hot pad
Nutrition
Calories:
731
kcal
|
Carbohydrates:
15
g
|
Protein:
91
g
|
Fat:
33
g
|
Saturated Fat:
9
g
|
Cholesterol:
242
mg
|
Sodium:
976
mg
|
Potassium:
1904
mg
|
Fiber:
3
g
|
Sugar:
7
g
|
Vitamin A:
2017
IU
|
Vitamin C:
84
mg
|
Calcium:
171
mg
|
Iron:
9
mg