This post contains Affiliate Links. Read my full disclosure for more info.
If you're looking for a great marinade for any type of grilled chicken recipe, this chicken marinade recipe is perfect for both grilling or baking. It is my go-to seasoning. This chicken marinade is easy to make and creates super juicy chicken every time.
I also use this to marinate the chicken on my recipe for Grilled Chicken Cobb Salad as well. Don't forget to check that out. It's delish!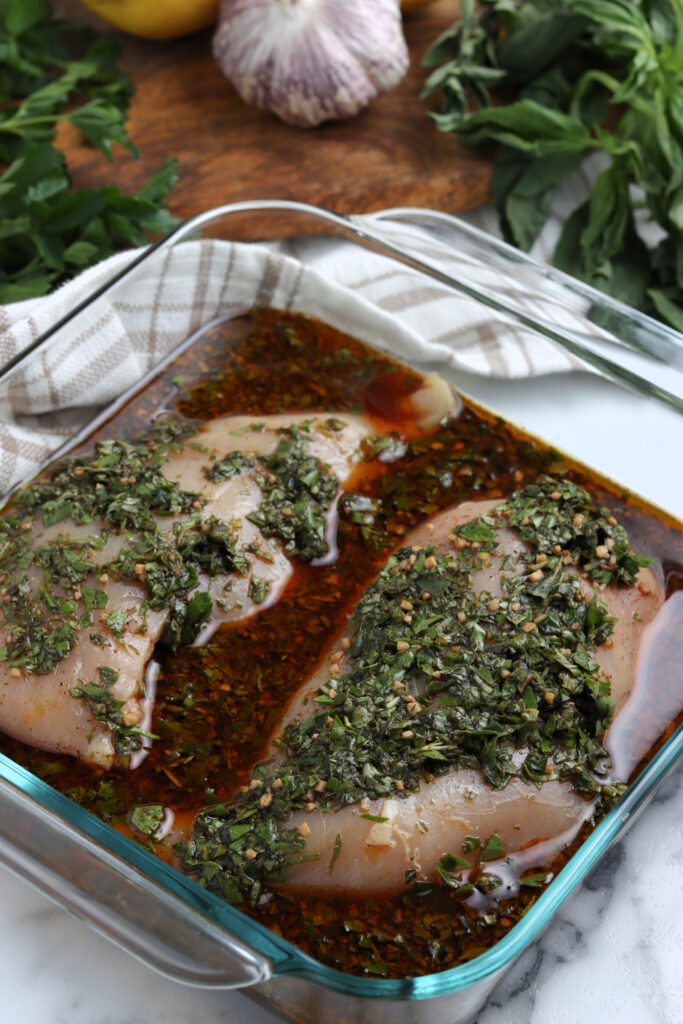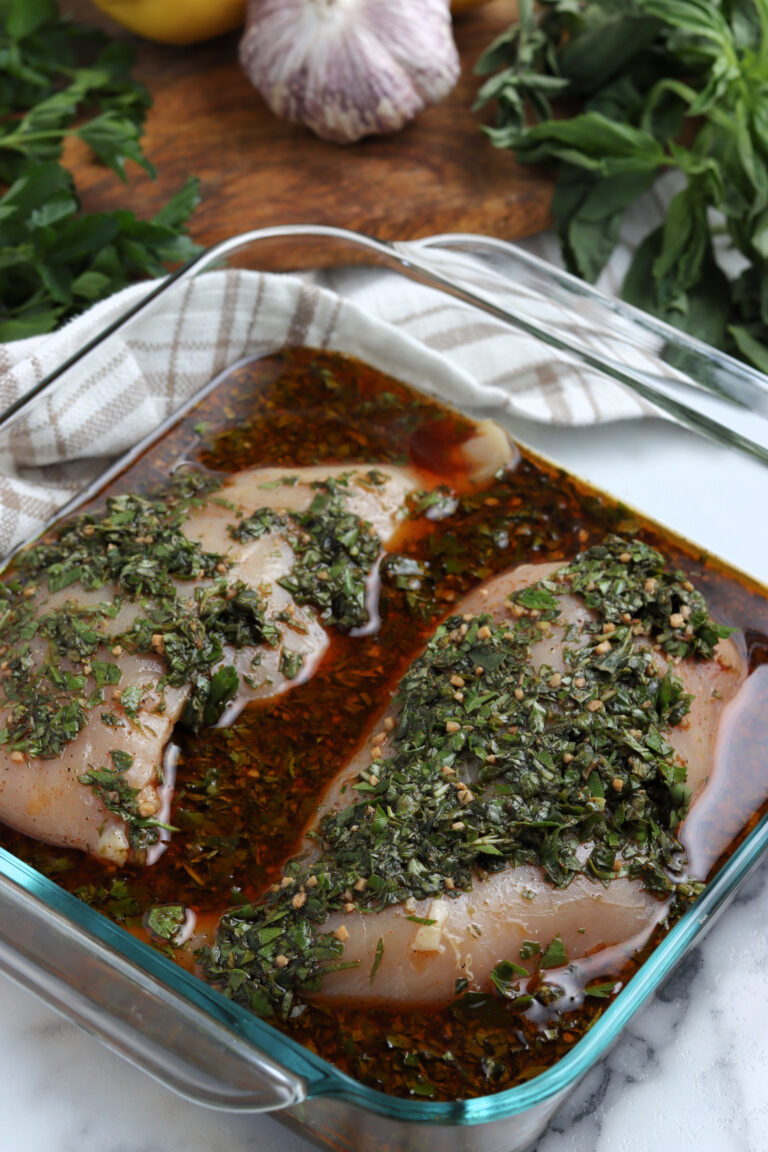 Since this simple marinade for chicken takes just 5 minutes of time, there's no reason not to whip it up and have it ready to use.
It's made my chicken recipes flavorful and more delicious in every single way.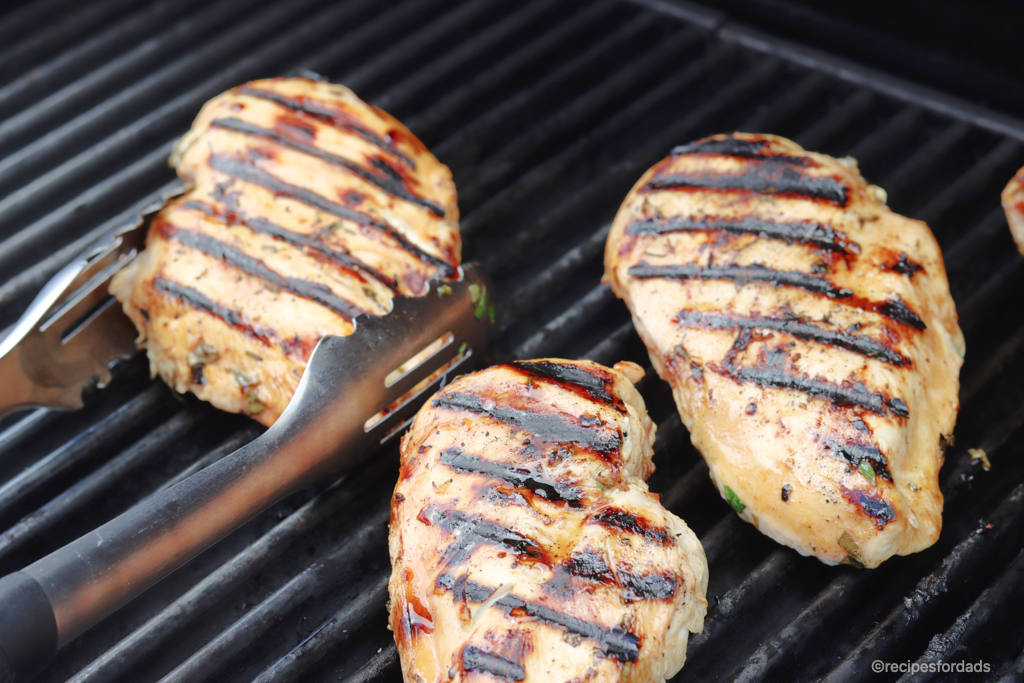 Ingredients needed to make Chicken Marinade With Garlic
You should already have most of these ingredients in your pantry to make this marinade. There's no need to make a special trip to the store unless you really want to. Skip the store-bought premade marinades; those types of marinades are full of preservatives and who knows how long they've been sitting on the shelf.
lemon juice
Worcestershire Sauce
olive oil
fresh oregano
fresh parsley
fresh basil
garlic
brown sugar
paprika
salt
black pepper
And of course, don't forget your chicken of choice. It will go with any cut of chicken so just have it thawed and ready.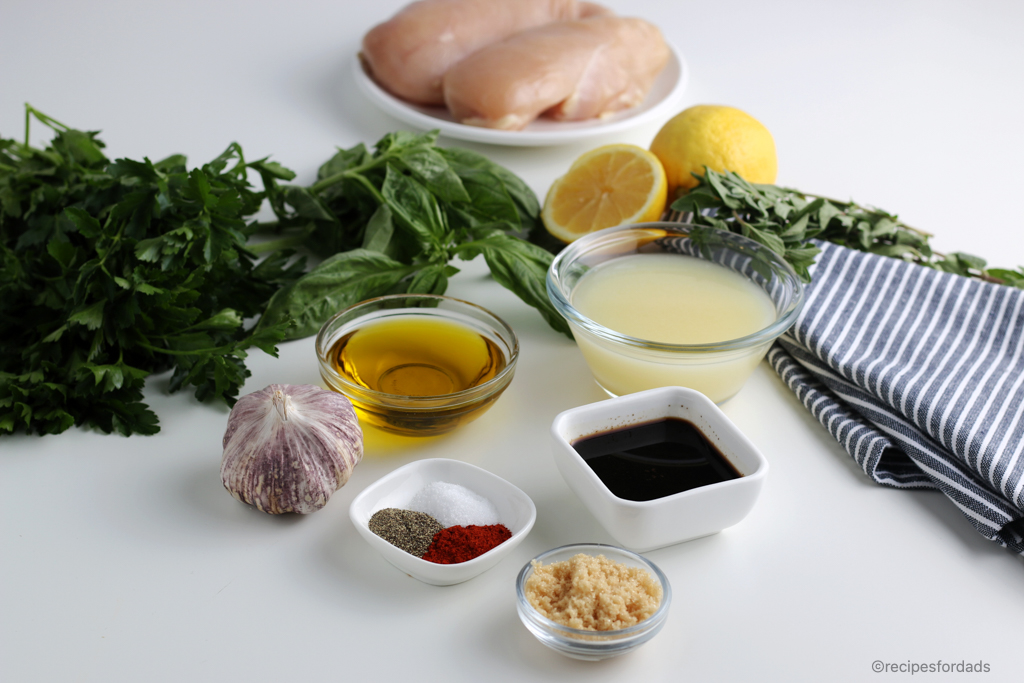 Do you have to use fresh herbs in a marinade?
You don't, but fresh herbs bring out a more fresh flavor. You can easily substitute the fresh herbs for dried herbs so just use what you have in the kitchen, but using fresh herbs is always better.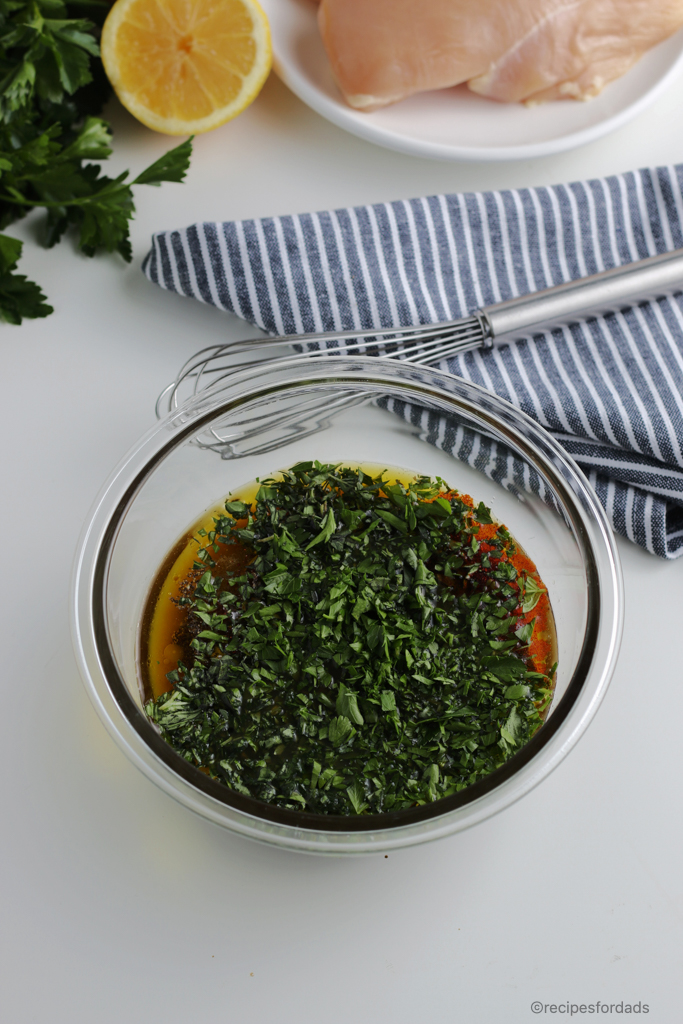 How long can you safely marinate chicken?
You'll see that this chicken recipe calls for up to 4 hours but you can actually have chicken marinating in the fridge for up to 24 hours.
Keep in mind though that the longer that you marinate chicken, you're running the risk of it toughening the meat as well.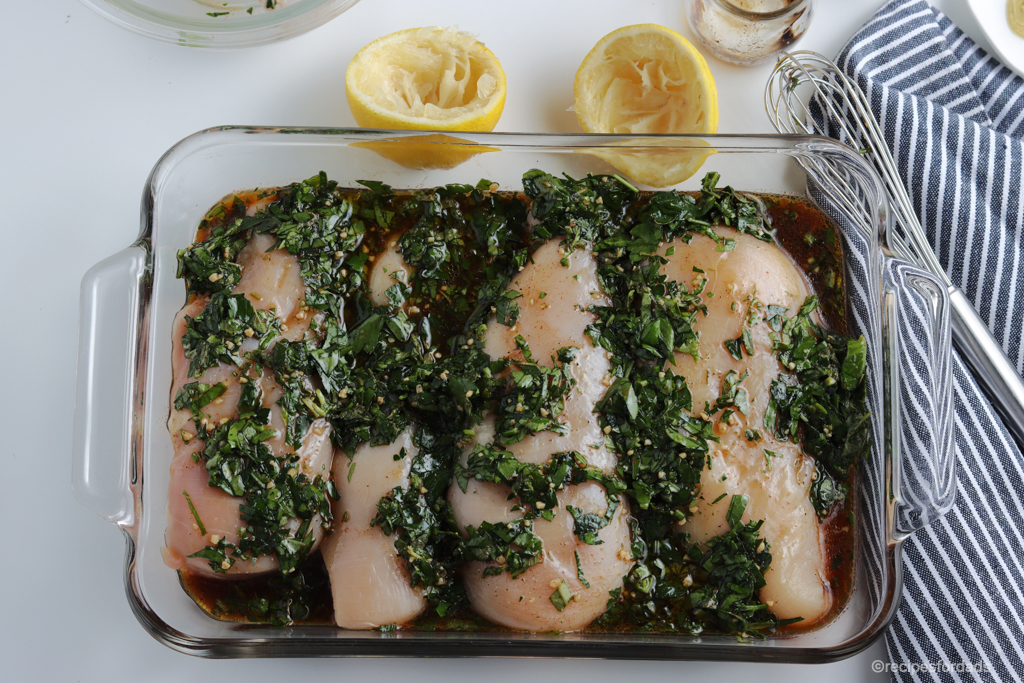 How do you know if you're marinating your chicken long enough?
As long as you marinate it for at least 20 minutes, you're going to have that delicious flavor that you love. You'll also learn from one time to the next about if you want to marinate for a longer or shorter amount of time.
What do you do with the leftover marinade?
I throw it out. As much as I hate wasting food, I see no purpose in using it for anything else. Just know that you're going to use it and toss it.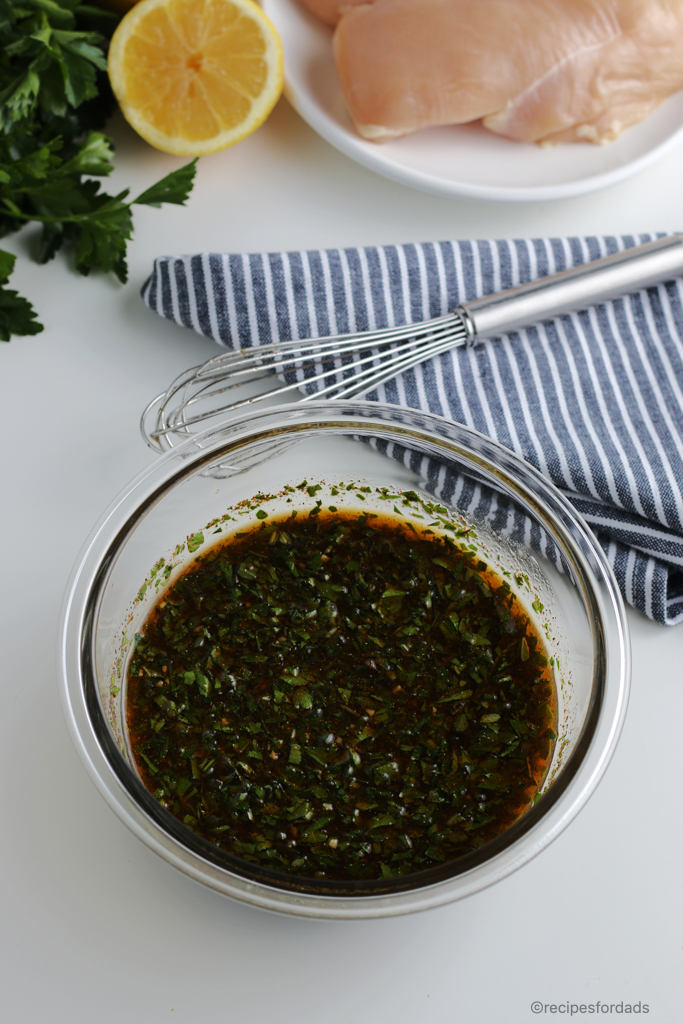 Can you make marinade ahead of time?
You can just be ready to give it a good shake or stir when it's time to use it. I tend to never make it more than 24 hours in advance because it's a fast and easy recipe that takes mere minutes to make up fresh.
Tips for Marinating Chicken
The biggest thing that you're going to want to remember when you're marinating the chicken is that you want to cover the chicken and then keep the container that it's in covered or the bag sealed as well. Keeping the air out and the marinade in is key.
You may want to check out this Related Article: How To Marinate Chicken – Full How-To Guide
Let me know what you think of the flavor of this easy marinade recipe for both grilling and baking. It's a fast and simple approach to making flavorful chicken, fast. You'll find that minimal effort and minimal ingredients combined make for huge flavors. Simple can be the best when adding it to meats.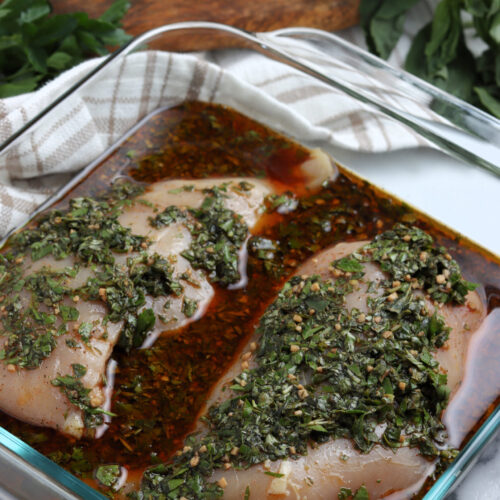 Grilled Chicken Marinade
This recipe for grilled chicken marinade is a fast and easy way to add flavor quickly to your chicken.
Print
Pin
Rate
Ingredients
½ cup fresh lemon juice

3 tablespoons Worcestershire Sauce 

¼ cup olive oil

2 tablespoons fresh oregano, minced or 2 teaspoons dried oregano

¼ cup fresh parsley, minced and lightly packed or 4 teaspoons dried parsley 

¼ cup fresh basil, minced and lightly packed or 4 teaspoons dried basil 

3 cloves garlic, minced

1 tablespoon brown sugar 

½ teaspoon paprika 

½ teaspoon salt

½ teaspoon black pepper   

4 (8 oz) boneless, skinless chicken breasts  
Instructions
Add all marinade ingredients to a medium bowl and whisk until completely combined.

Add chicken to large resealable bag. Pour marinade over chicken, seal.

Place in refrigerator to chill up to 4 hours.

Remove from refrigerator and set at room temperature, 20-30 minutes. Cook on grill or in oven.
Nutrition
Calories:
418
kcal
|
Carbohydrates:
10
g
|
Protein:
49
g
|
Fat:
20
g
|
Saturated Fat:
3
g
|
Polyunsaturated Fat:
2
g
|
Monounsaturated Fat:
12
g
|
Trans Fat:
1
g
|
Cholesterol:
145
mg
|
Sodium:
393
mg
|
Potassium:
1042
mg
|
Fiber:
1
g
|
Sugar:
5
g
|
Vitamin A:
518
IU
|
Vitamin C:
22
mg
|
Calcium:
81
mg
|
Iron:
3
mg
More Easy Tips & Recipes for Grilling or Smoking Chicken