This post contains Affiliate Links. Read my full disclosure for more info.
The Grilled Chicken Caesar salad is one of the most popular salads and with good reason. It's a salad that is simple, but when done right, incredibly flavorful.
You can certainly keep it simple with grilled chicken, romaine lettuce, croutons, Parmesan cheese, and bottled dressing and no one would fault you for it. BUT, if you want something that is simple and a powerhouse of flavor, you're going to love this recipe.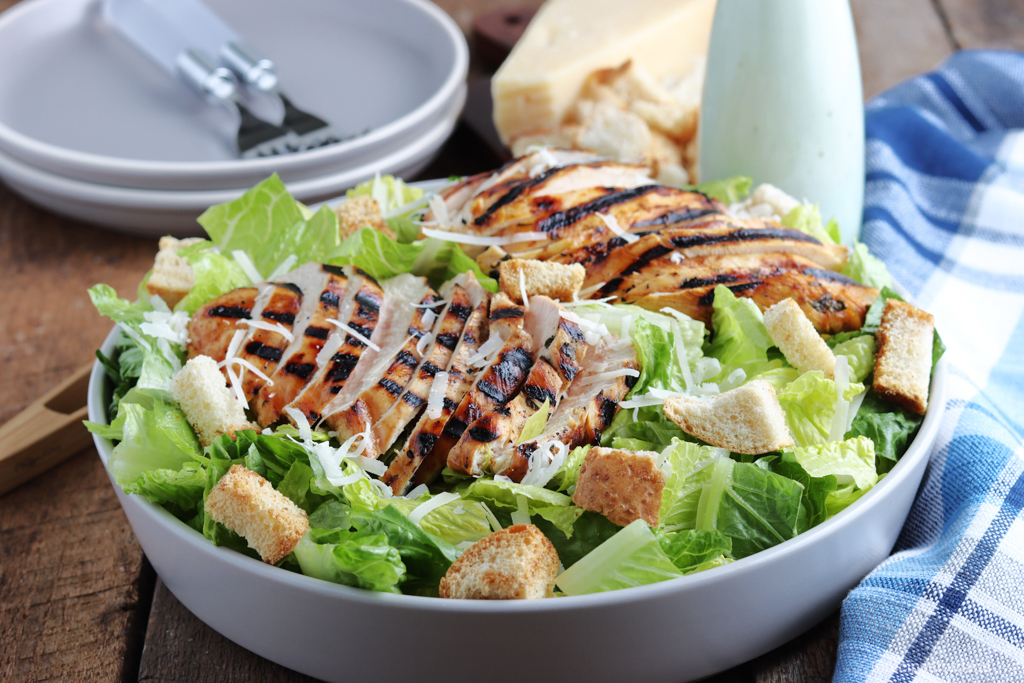 This recipe takes each layer of the grilled chicken Caesar salad and takes it to the next level.
With a marinade for the chicken and homemade dressing recipe, you'll have a Caesar salad that will have your family oohing and aahing over how flavorful it is.
Don't let the number of your ingredients scare you. This recipe is super simple.
A great tip is to double the marinade recipe and grill some extra chicken to have for sandwiches the next day. If you're going to be heating up the grill, why not make the most of it? Having that extra protein ready to go in the fridge is always a plus.
Why is it called Caesar salad?
When you hear Caesar salad, you can't help but think of the Roman emperor. There are even bottled dressing companies that use his image or some other Roman icon on their packaging.
However, the truth is the Caesar salad was invented in 1924 by the chef Caesar Cardini. It was another culinary case of having just a few ingredients on hand and a bunch of hungry customers. Don't you love when that happens?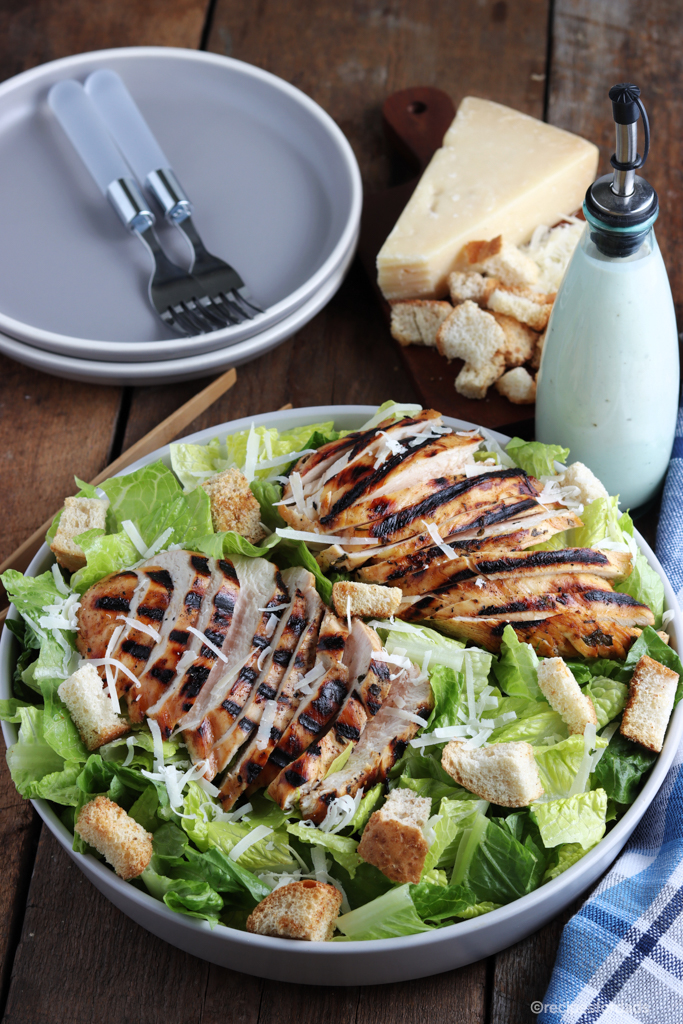 Does Caesar salad really have anchovies in it?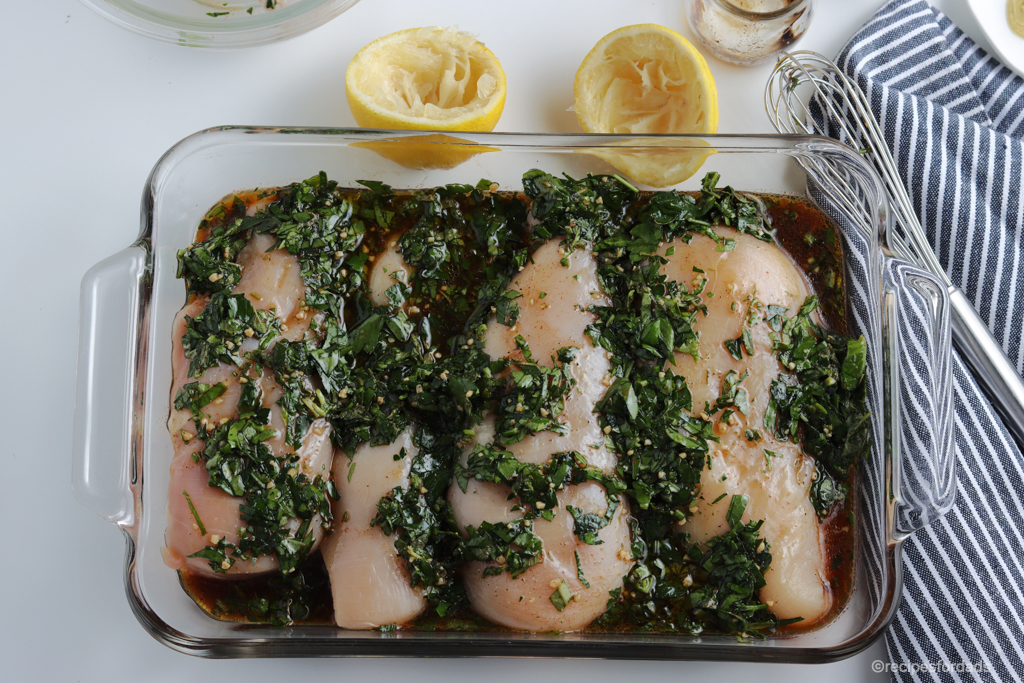 Yes. While you can find dressing recipes that leave out this ingredient, you're really missing out. Anchovies are a key ingredient.
The fish adds a rich, salty flavor that really makes the dressing pop. The recipe down below uses anchovy paste, making the dressing easy to make.
Is Caesar salad healthy?
As with many things, it depends on your eating plan. It's true that the Caesar salad isn't as healthy as other salads that contain a variety of vegetables. But it's a lot healthier than pizza or other high-fat dishes.
Remember that the key to anything is moderation. Also, the chicken adds a good source of lean protein. And those anchovies you're so scared of, offer a great source of omega-3 fatty acids.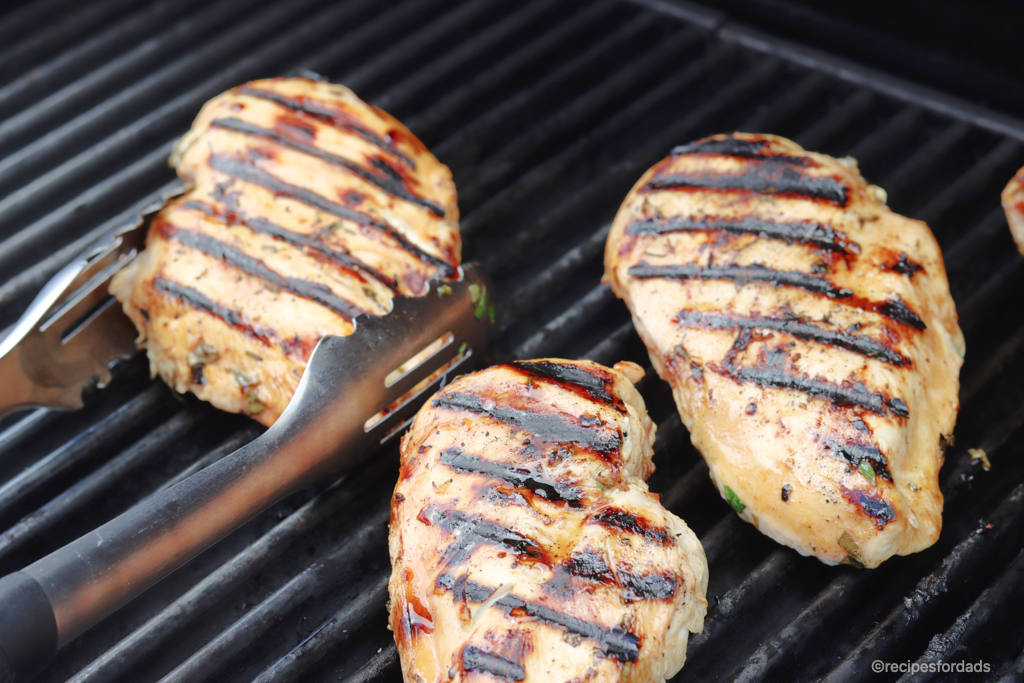 How long do you grill chicken breast on the grill?
Make sure to

Preheat grill to medium-high heat

and cook 5-10 minutes on one side.
Turn chicken and continue cooking 5-10 minutes or until internal temp reaches 165 degrees F.
Remove from grill and place on board to rest for 5 minutes while you make the homemade caesar dressing.
Can you top this salad with other protein options?
Yes! Caesar salad is great with grilled or smoked salmon. You could also add grilled shrimp.
If you're looking for a meat-free option, consider adding white beans or garbanzo beans. Their flavor is neutral enough that they won't clash with the flavors of the dressing.
You could also marinate firm tofu and grill it. Play around with your favorite protein options and see what works best for you and your family.
What are some great dishes to Serve With Grilled Chicken Caesar Salad?
Fettuccini Alfredo Pasta, Bruschetta or garlic bread go well with Caesar salad. If your idea is to serve the salad as an appetizer, leave off the chicken, and serve it with any of my smoked meat recipes.
Don't forget to check out my homemade Ceasar salad dressing recipe with anchovy paste.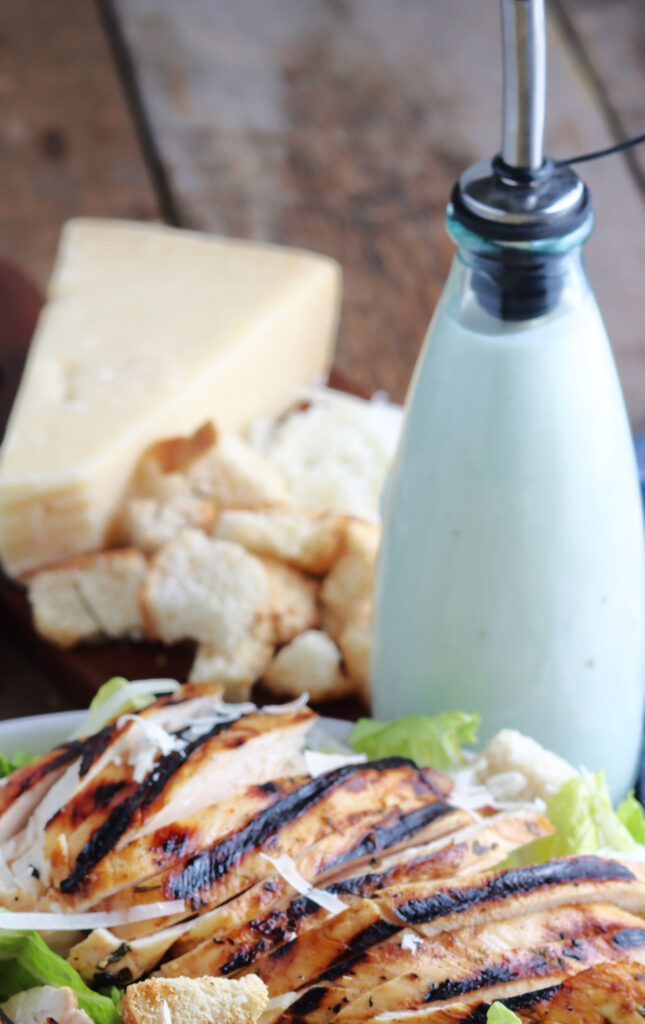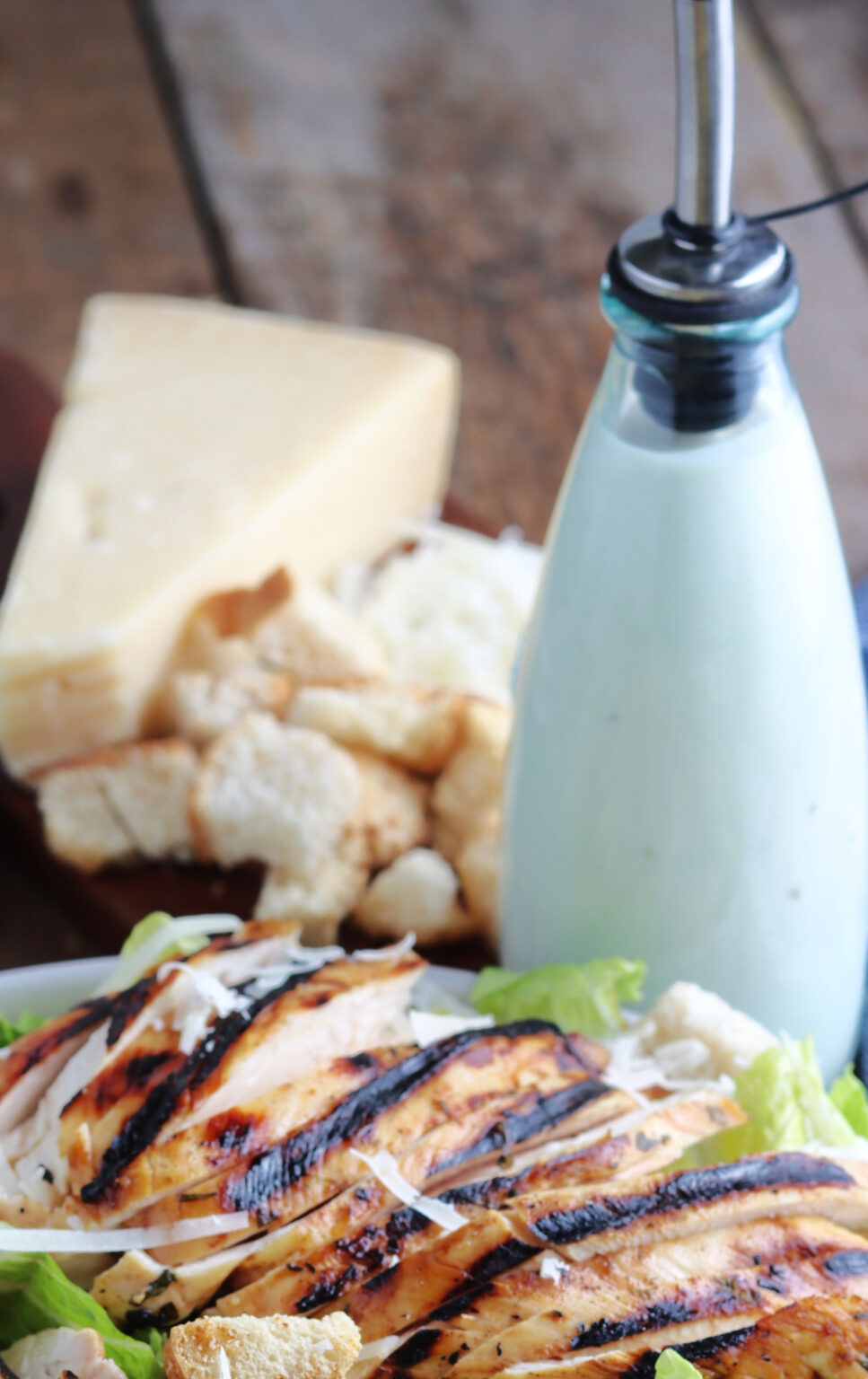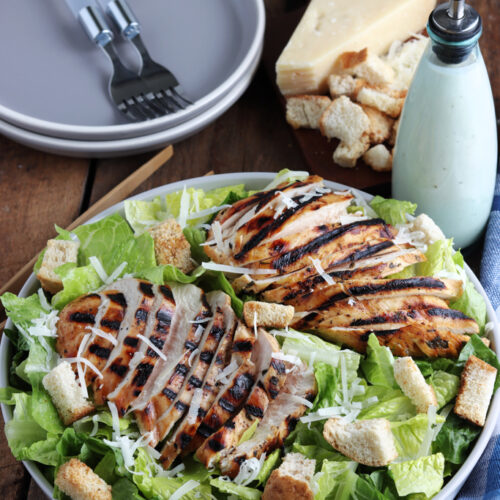 Grilled Chicken Caesar Salad
The Grilled Chicken Caesar salad is one of the most popular salads and with good reason. It's a salad that is simple, but when done right, incredibly flavorful.
Print
Pin
Ingredients
Chicken Marinade
2-4

8 oz

chicken breasts

1/2

cup

fresh lemon juice

3

tbsp

Worcestershire Sauce

1/4

cup

olive oil

2

tbsp

fresh oregano, minced

or 2 teaspoons of dried oregano

1/4

cup

fresh parsley, minced and lightly packed

or 4 teaspoons dried parsley

1/4

cup

fresh basil, minced and lightly packed

or 4 teaspoons dried basil

3

garlic cloves, minced

1

tbsp

brown sugar

1/4

tsp

paprika

1/2

tsp

salt

1/2

tsp

black pepper
Homemade Caesar Salad Dressing – (Link to Recipe)
Salad
romaine lettuce hearts, chopped

croutons

Parmesan cheese

Salt and pepper

to taste
Instructions
Marinade
Whisk together all ingredients for marinade in a medium bowl

Place chicken in shallow baking dish and pour marinade over

Cover with plastic wrap and chill for at least 1 hour

Preheat grill to medium-high heat

Cook 5-10 minutes on one side, turn chicken and continue cooking 5-10 minutes or until internal temperature reaches 165 degrees F

Remove from grill and place on board to rest for 5 minutes while you make the dressing
Salad
Cut lettuce into bite sized pieces

Slice chicken and place on top of lettuce

Top with croutons and shredded fresh parmesan cheese
Nutrition
Calories:
160
kcal
|
Carbohydrates:
10
g
|
Protein:
1
g
|
Fat:
14
g
|
Saturated Fat:
2
g
|
Polyunsaturated Fat:
1
g
|
Monounsaturated Fat:
10
g
|
Cholesterol:
1
mg
|
Sodium:
421
mg
|
Potassium:
209
mg
|
Fiber:
1
g
|
Sugar:
5
g
|
Vitamin A:
461
IU
|
Vitamin C:
20
mg
|
Calcium:
71
mg
|
Iron:
2
mg