This post contains Affiliate Links. Read my full disclosure for more info.
You don't need too many ingredients to prepare the best Traeger Chicken Wings that will have your family referring to you as the "King of the Smoker." A blend of garlic powder, onion powder, cayenne pepper, and a few other ingredients will give your chicken wings all the flavor you need to enjoy every last bite.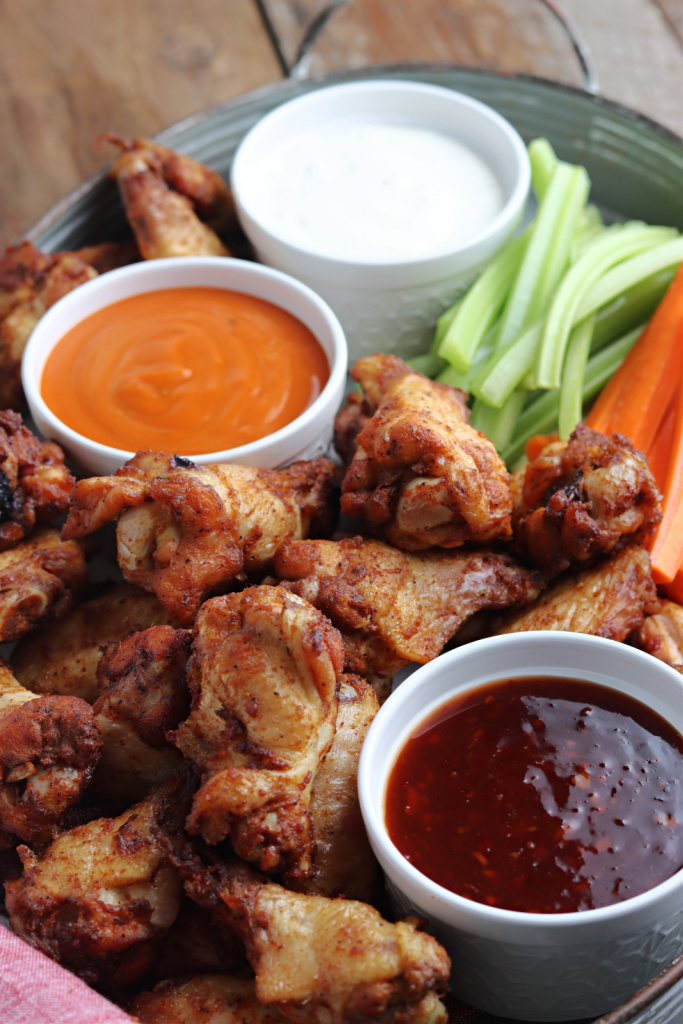 Smoking Wings Ingredients
You probably already have these ingredients at home, which makes preparing this recipe for Smoked Chicken Wings even easier.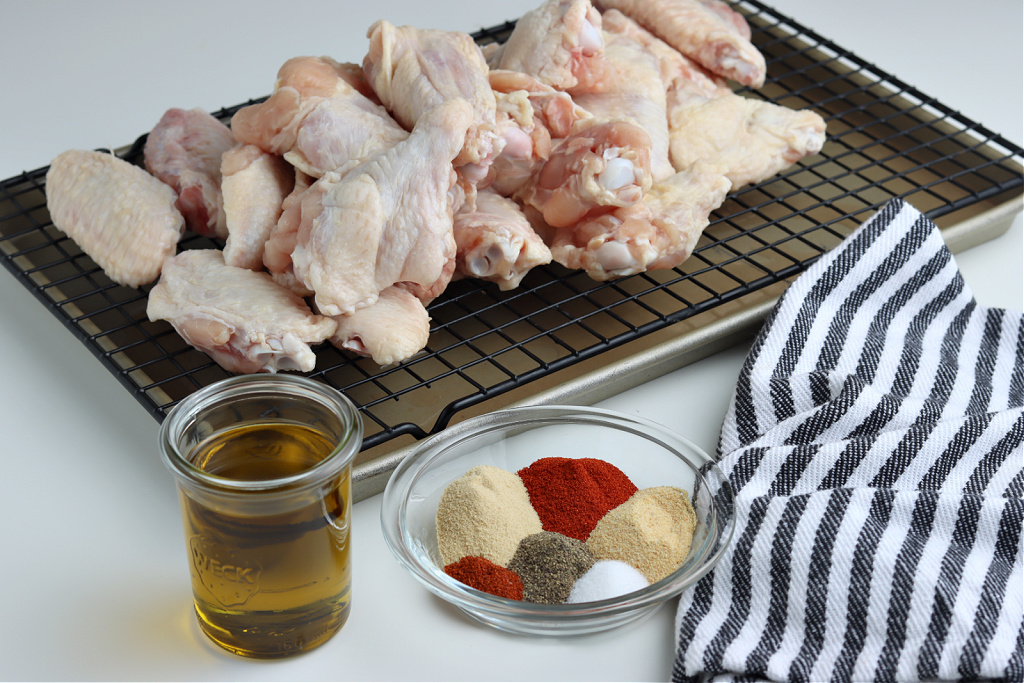 Chicken Wing Sections – Four pounds is more than enough to feed the family.
Olive Oil – You want the blend of seasonings to stick, so be sure to grab some olive oil.
Garlic Powder – You can never have TOO much garlic on chicken wings.
Onion Powder – It goes great with the garlic, making this seasoning combination ideal.
Cayenne Pepper – Add a bit of a kick with some cayenne pepper in the mix.
Black Pepper – You can't go wrong with using a bit of black pepper when seasoning your wings.
Paprika – Add some color to your wings with paprika!
You can even add salt to these wings.
How to Make the Smoked Chicken Wings Recipe
Preparing Traeger Chicken Wings is easy. You want to start by separating your chicken wings into drum and wing sections. You can learn how to cut chicken wings, it's easy.
Grab you a small bowl, add your seasonings to it, and mix well to create the perfect blend that enhances the taste of your chicken.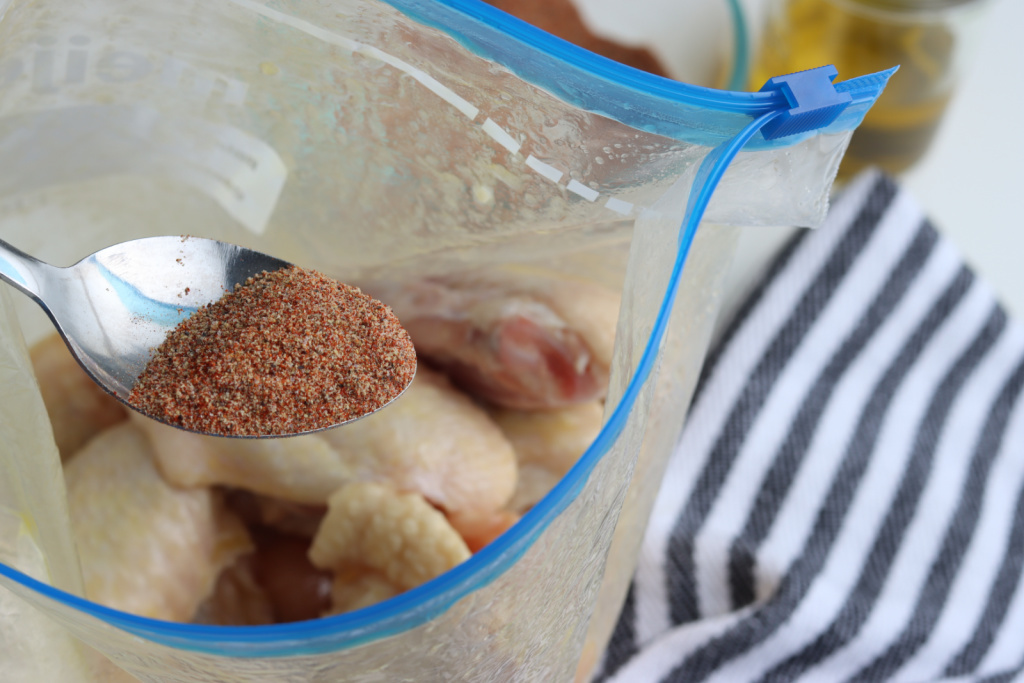 Put your chicken wings in a large resealable bag, coat them in olive oil, and then sprinkle the seasoning on top of them, coating both sides with a generous amount of your blend. Next, put your bag full of chicken in the fridge and let it sit to marinate for at least an hour. 
Preheat your smoker to 225 degrees F, set your chicken wings on the smoker, and let them cook for about two hours. Check the internal temperature and make sure those wings reach 165 degrees F before you remove them.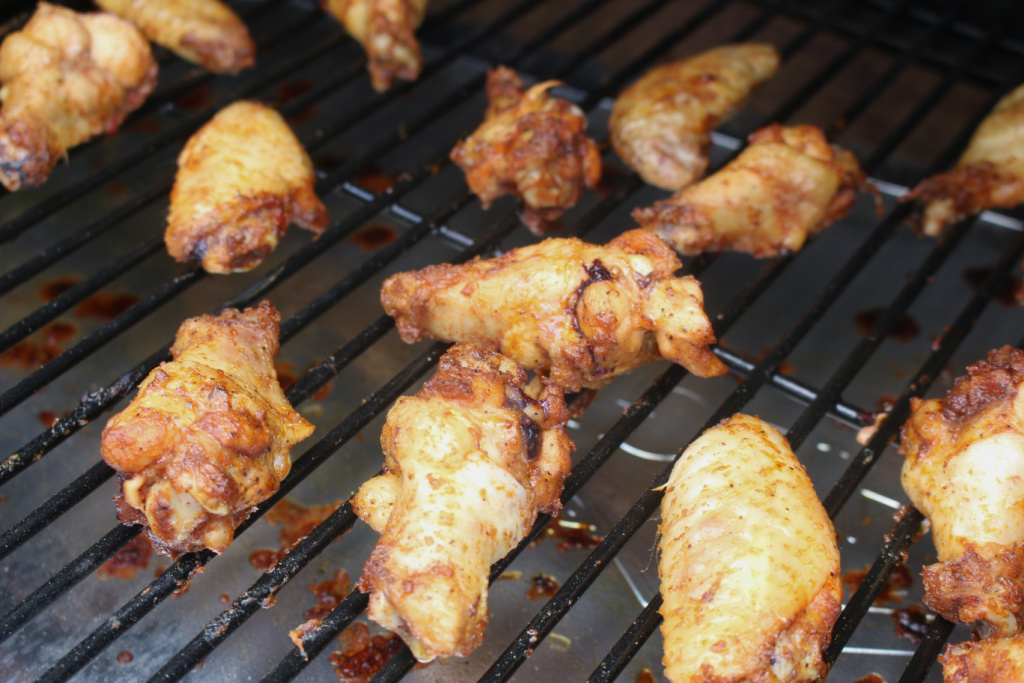 Smoked Chicken Wings Tips
Let your smoker preheat for at least 15-30 minutes before you put your chicken wings on it. If you put them on too soon, the chicken wings will take even longer to cook because the smoker won't be ready for them.
If you like the skin real crispy, add 1 ½ teaspoon of baking powder to your seasoning blend. It works like a charm to get that skin crisp and crunchy.
When using the smoker to prepare these wings, the best types of pellets to use are apple or pecan. They add an excellent smoked taste to the chicken wings that improves the flavor of the meat even further.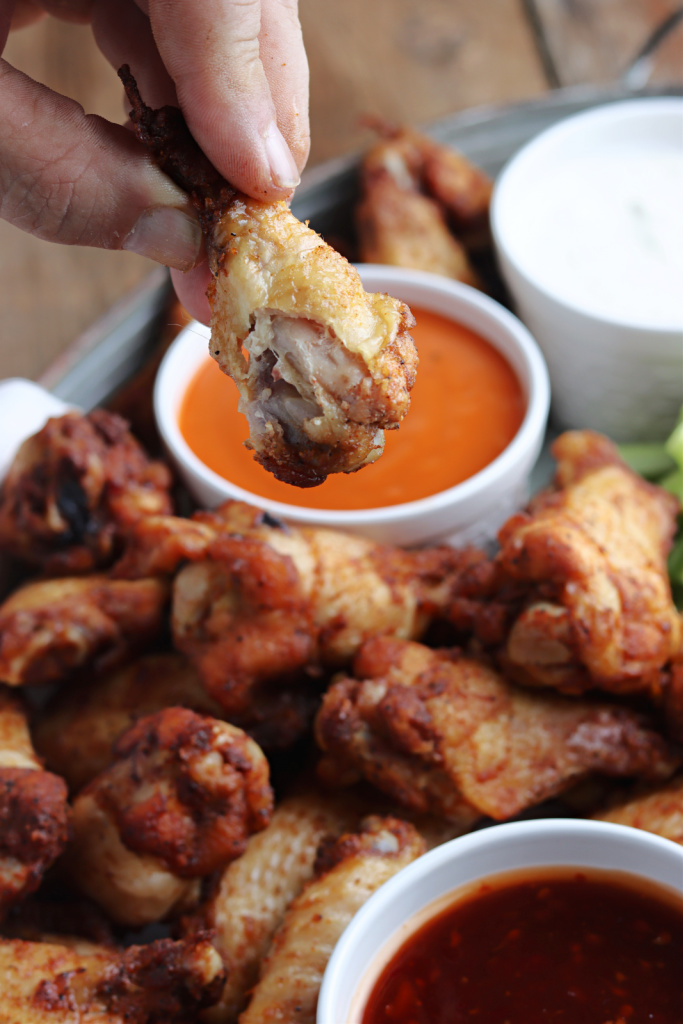 Apple or Pecan, Which Wood Pellets?
If you want to achieve a sweet and smoky taste, apple is an excellent choice. Although it has a fruitier taste than the pecan pellets, it still brings that smoky flavor to the chicken, and it's naturally an excellent choice when cooking any kind of poultry, whether it's chicken wings or something else. On the other hand, if you prefer a more mesquite, hickory taste, go with the pecan pellets. The pecan pellets aren't as sweet and are more on the savory side.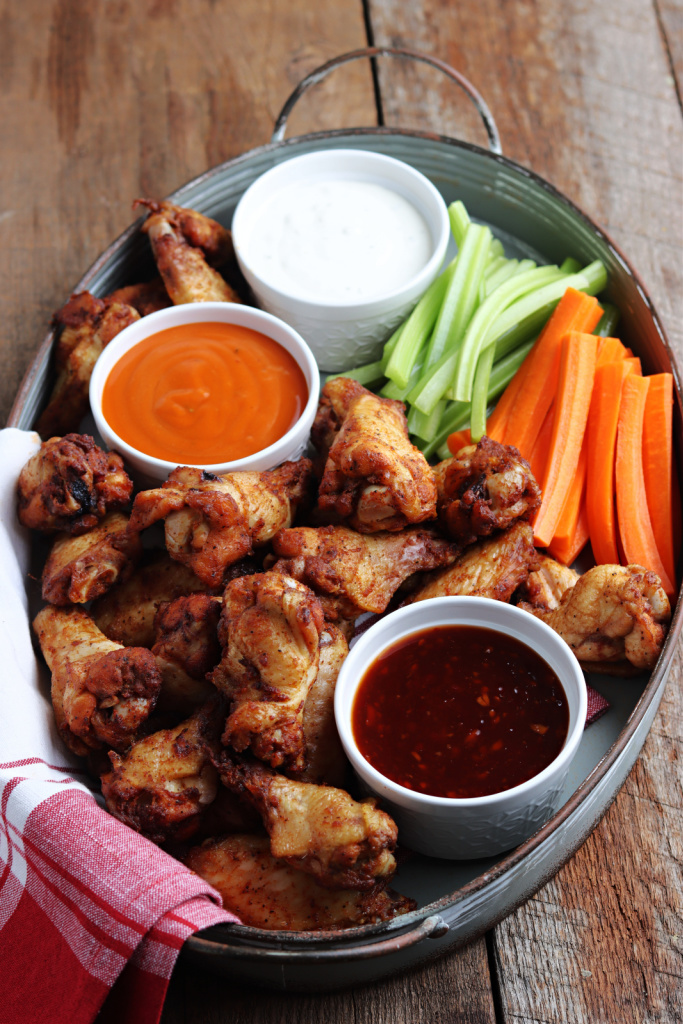 What Sides to Serve with Traeger Chicken Wings?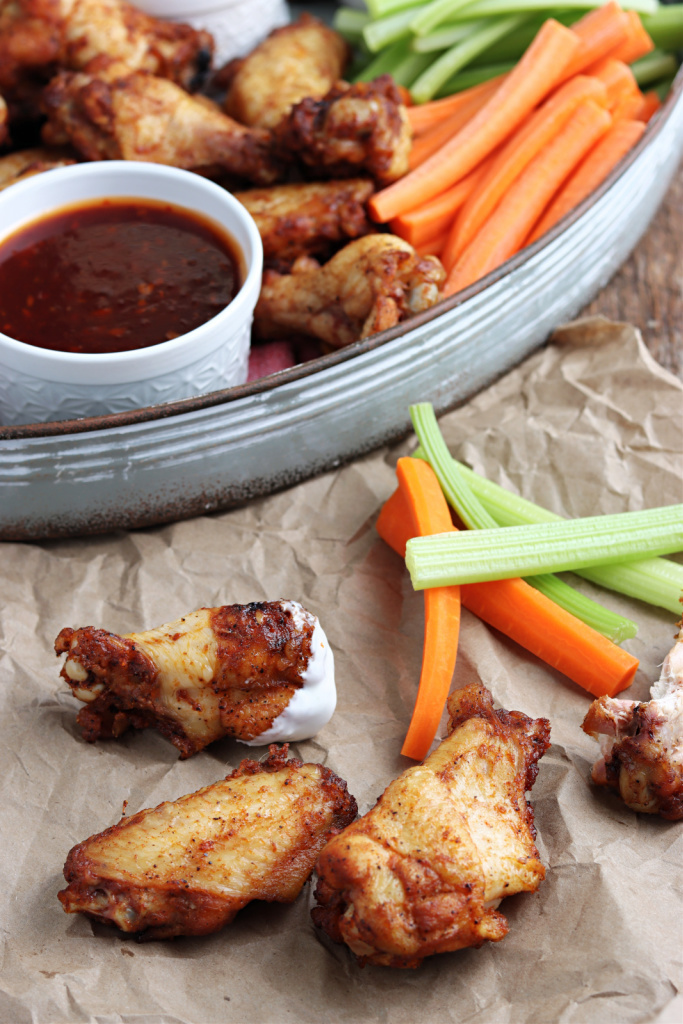 Want to make a meal out of these chicken wings? The meat is versatile enough to serve with just about any side, but these are a few good options to consider serving with your smoked wings.
Baked Mac & Cheese – Recreate that feeling of being at a famous BBQ restaurant by preparing some homemade baked mac and cheese to serve alongside your wings.
Macaroni Salad – If you want to keep it simple and serve something that requires minimal effort, macaroni salad is a great choice. It's easy enough and goes well with the chicken.
Fries – Whether you want to pull out a bag of frozen fries and heat them up or make fries from scratch using russet potatoes, they go great with chicken wings and are another side to consider.
Sauce – don't forget several sauces to choose from for dipping. This Easy BBQ Sauce has only 3 ingredients, we love our Texas BBQ Sauce or this Alabama White Sauce would taste good too!
These Smoked Chicken Wings have the perfect blend of seasonings and cook well in the smoker. If you want tasty, fall-off-the-bone meat, give this recipe a try.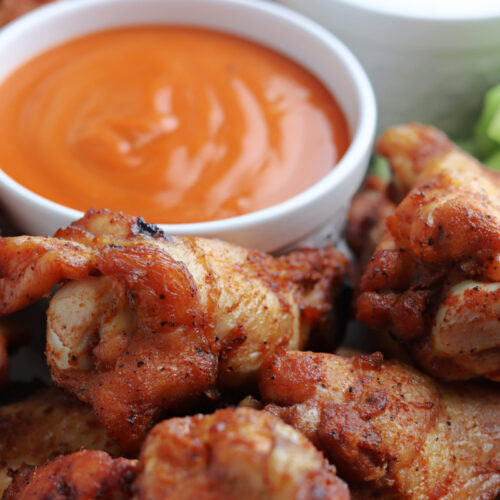 Traeger Chicken Wings
A blend of garlic powder, onion powder, cayenne pepper, and a few other ingredients will give your smoked chicken wings all the flavor you need to enjoy every last bite.
Print
Pin
Rate
Ingredients
4

pounds

chicken wing sections

2

Tablespoons

olive oil

2

teaspoons

paprika

2

teaspoons

garlic powder

2

teaspoons

onion powder

1

teaspoon

ground black pepper

1/2

teaspoon

cayenne pepper

1/2

teaspoon

salt
Instructions
Combine all the dry ingredients for the seasoning rub together in a small bowl.

Separate chicken wings into drum and wing sections if not already separated.

Add chicken wing sections to a large zip-top bag. Drizzle the wing sections with olive oil and coat all sides of the wings.

Sprinkle the seasoning rub on the chicken wings, pressing the rub into the chicken to coat the outside evenly. Place in the refrigerator for one hour.

Preheat the smoker to 225°F.

Place the chicken wing sections directly onto the smoker and smoke for 2 hours at 225°F. Wings are done when they reach an internal temperature of 165°F.

Serve with your choice of sauces.
Notes
You can add 1 ½ teaspoon of baking powder to the seasoning blend for a crispier skin.
Nutrition
Calories:
308
kcal
|
Carbohydrates:
1
g
|
Protein:
23
g
|
Fat:
23
g
|
Saturated Fat:
6
g
|
Polyunsaturated Fat:
5
g
|
Monounsaturated Fat:
10
g
|
Trans Fat:
0.2
g
|
Cholesterol:
94
mg
|
Sodium:
236
mg
|
Potassium:
213
mg
|
Fiber:
0.3
g
|
Sugar:
0.1
g
|
Vitamin A:
272
IU
|
Vitamin C:
3
mg
|
Calcium:
19
mg
|
Iron:
1
mg