This post contains Affiliate Links. Read my full disclosure for more info.
If you are wondering how to grill chicken wings easily, this Grilled chicken wings recipe is a simple way to cook wings fast and perfectly every single time.
The added grill marks create a crisp crust combined with juicy and perfectly grilled wings.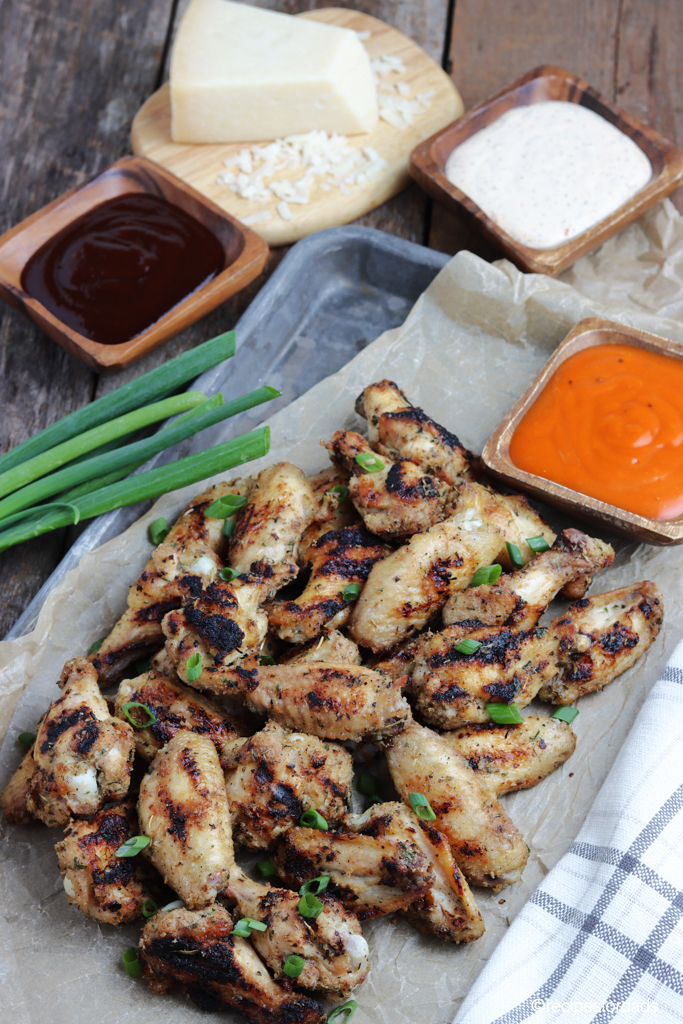 One of our go-to grilling recipes, once the weather gets warm, is grilled chicken wings. There's nothing quite like the perfectly cooked flavor of easy-to-hold and eat wings.
In fact, grilling wings just might be our favorite way to cook up wings because of the smoky flavor and taste.
How long does it take to make this grilled chicken wings recipe?
This can vary depending on the meatiness of the wings and the size. On average, you're looking at about 25 – 35 minutes to cook chicken wings on the grill.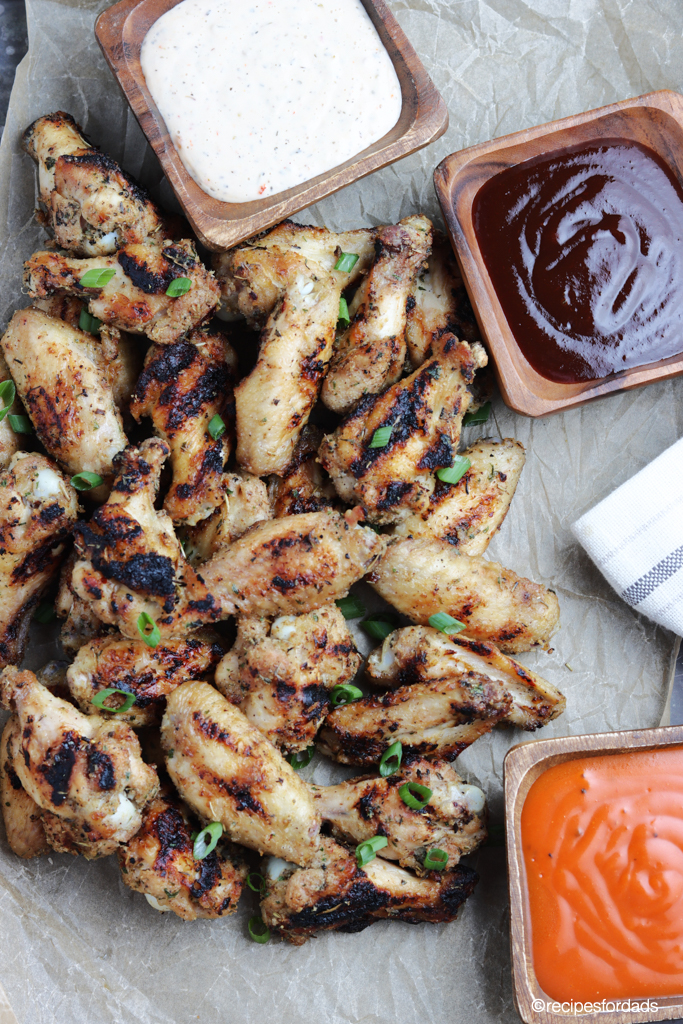 Should I boil my chicken wings before grilling?
Some people do, some people don't. As long as you cook your wings until they reach an internal temperature of 165 degrees, you really don't have to boil them ahead of time if you don't want to.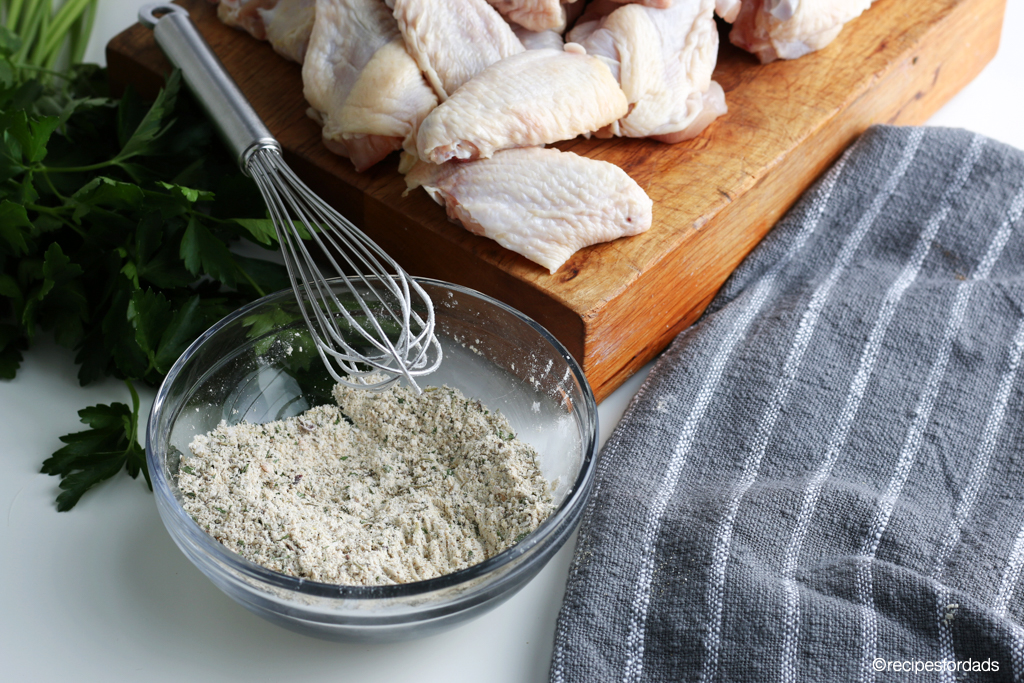 Boiling chicken wings is just a simple way to ensure that they're thoroughly cooked with minimal effort and once that happens, you just finish them off on the grill for flavoring.
Do you put sauce on wings before or after grilling?
If you're going to add sauce to your wings, do it after you're done grilling. This way it coats the cooked chicken well and stays on.
If you're going for a caramelized taste and texture on your wings, you can add BBQ sauce throughout the grilling process as long as it has a high level of sugar as the main ingredient.
The sugar is what is going to crystalize and give that sticky texture and taste.
How do you keep chicken wings from sticking to the grill?
The easiest way to keep your wings from sticking is to spray the grill with a nonstick cooking spray. Do this before you add the wings and you can even do it again when you flip them.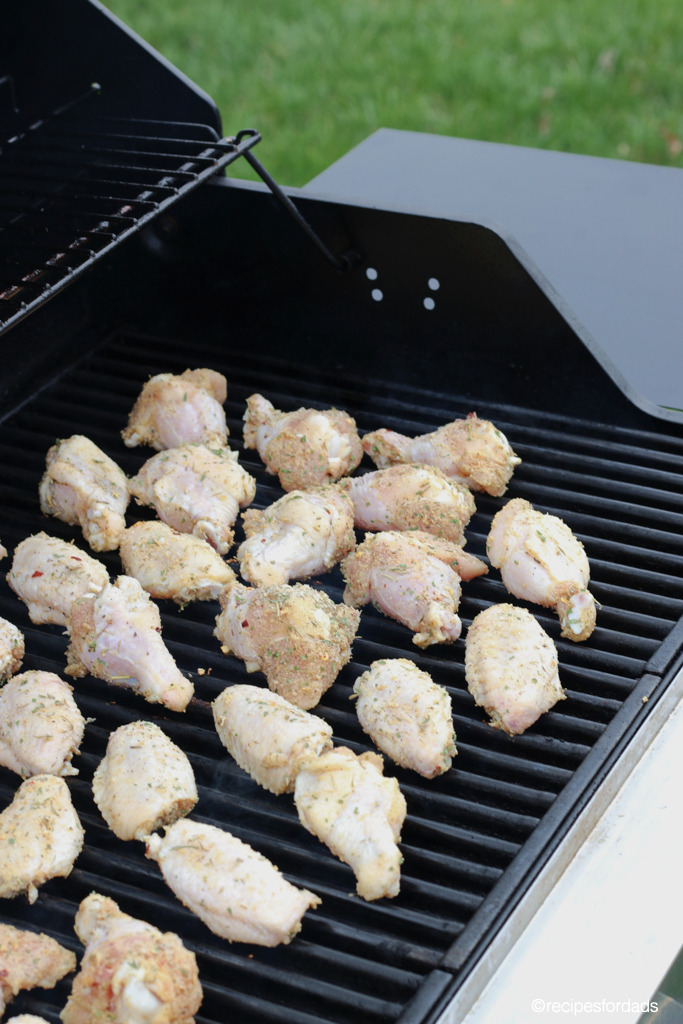 Do you flip chicken on the grill?
Absolutely. You need to flip your chicken wings every couple of minutes on the grill. This is the best way to get a well-rounded flavor. It will also alleviate any issues from potential hot spots on the grill as well.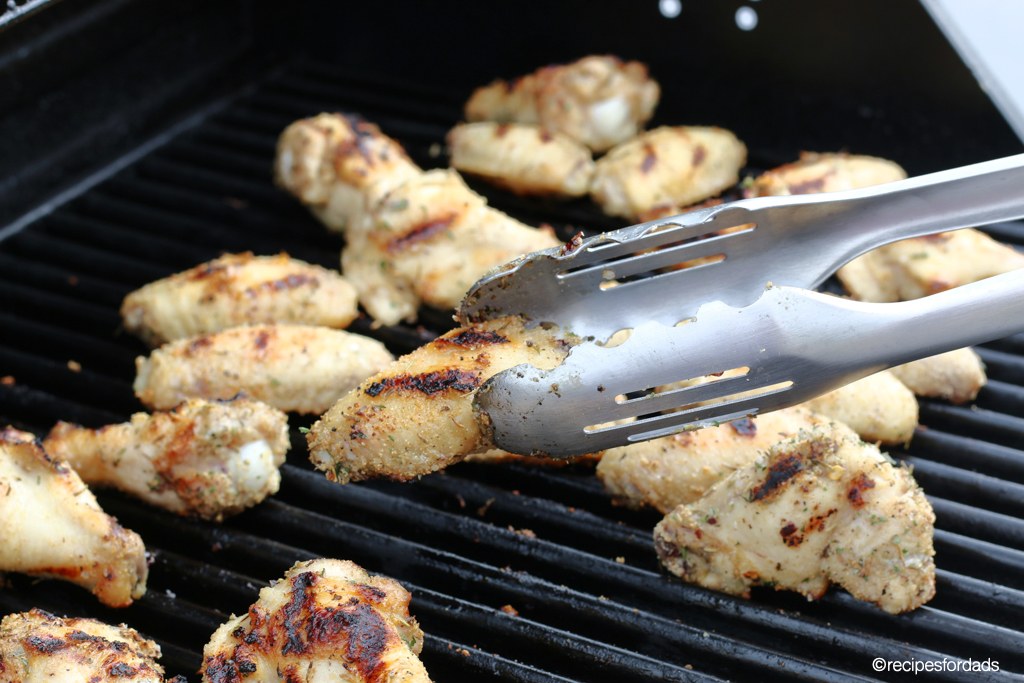 Are grilled wings bad for you?
My rule of thumb is that everything should be eaten in moderation. Grilling wings is healthy than fried chicken if you're comparing it to that.
Just be certain to pair it up with a side dish like Corn on the Cob (with the Husks) or Grilled Asparagus (With Foil) to balance out with a healthy veggie option.
What temp should you grill chicken wings?
You're going to want to keep the grill at around 350 degrees if possible. This would be the prime temp to grill wings without drying them out or overcooking.
How do you know when chicken wings are done cooking?
The easiest way to ensure that the chicken is done cooking is to invest in a meat thermometer. It is the only way to be 100% certain that your chicken is fully cooked.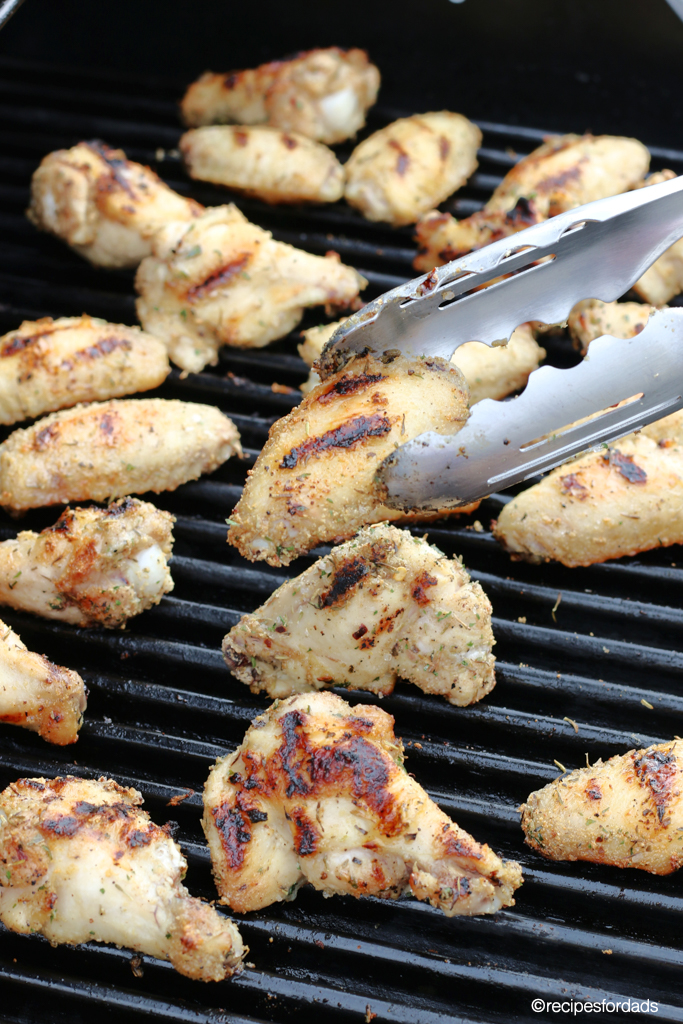 All you have to do is insert the thermometer into the meaty party of the chicken, away from the bone and look for a temperature reading of at least 165 degrees.
Tips for Seasoning & Saucing your Grilled Chicken Wings
Some people prefer a dry rub for their wings while others love to add on the sauces. If you're going to add a dry rub, you can add this to the raw chicken before placing it on the grill.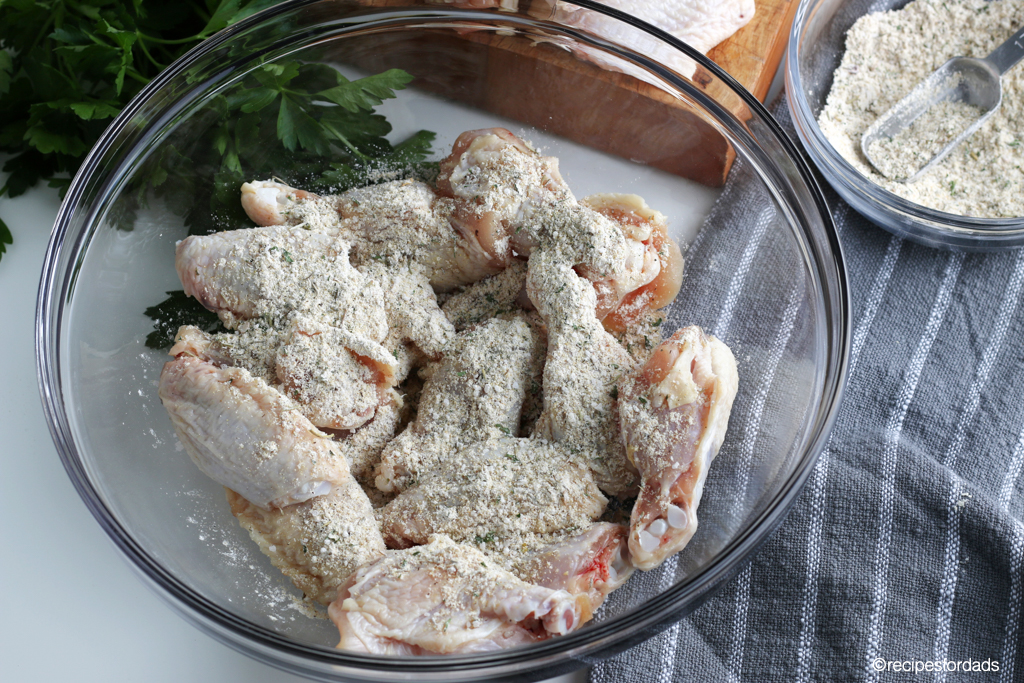 If you're going to add sauce, this is best done after the wings are cooked enough or cooked entirely.
Season with a sweet sauce, BBQ sauce, or even a hot sauce as well. The best part about grilling wings is that you can change and alter the flavor easily.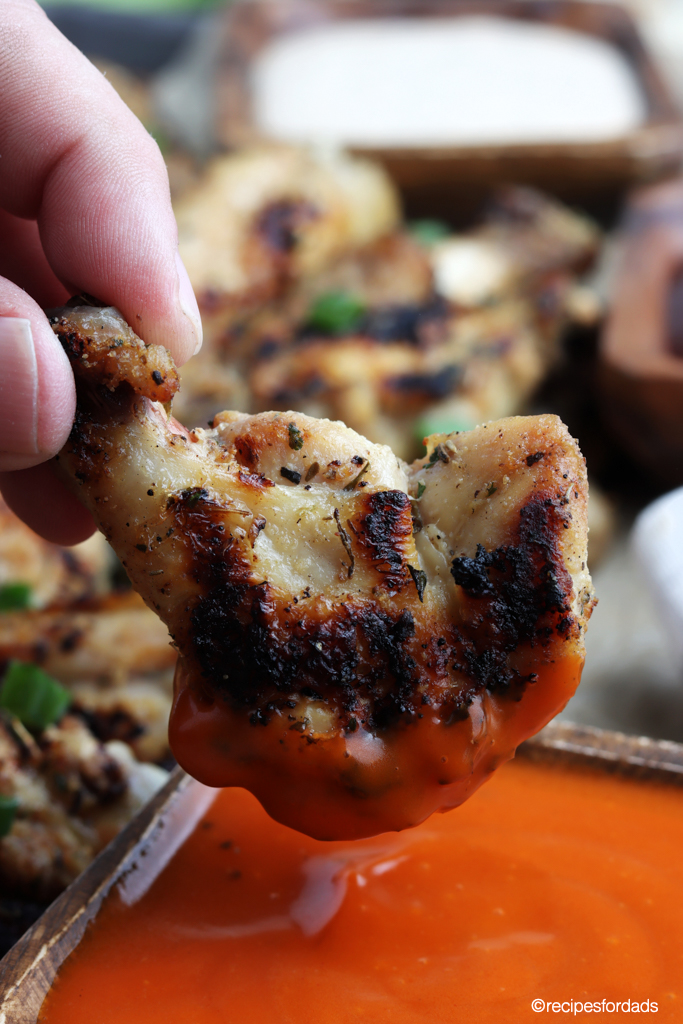 How to reheat leftover chicken wings
If you can reheat the leftover wings low and slow in the oven, that is going to be the best bet to making certain that you don't overcook them.
Otherwise, you can pop them in the microwave for a few seconds of time.
Ready to make these grilled chicken wings yourself? The simple recipe is listed below!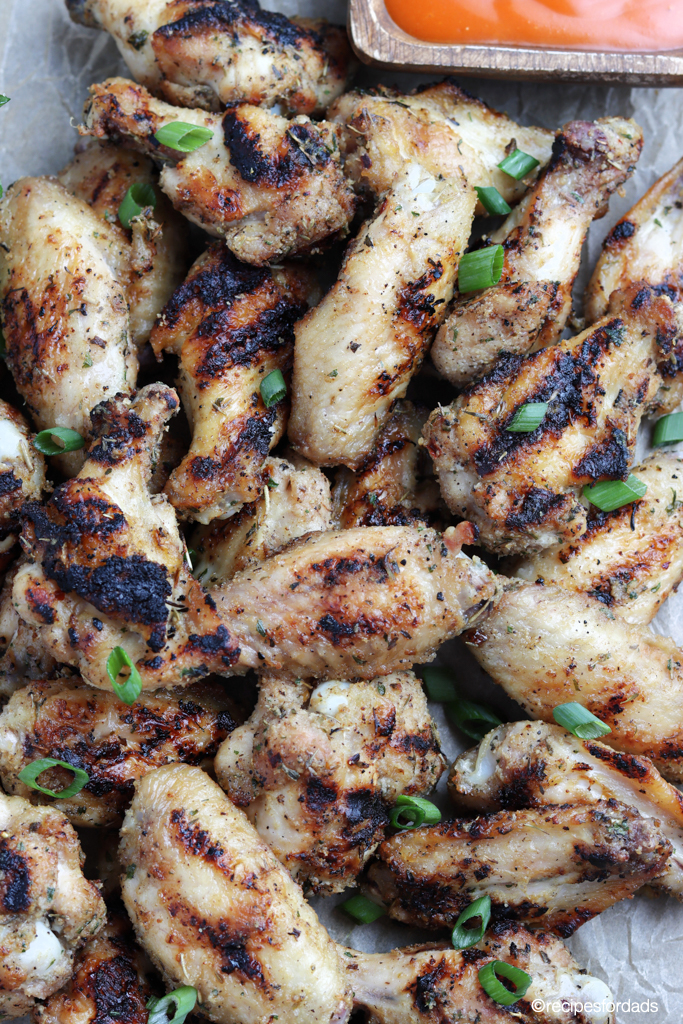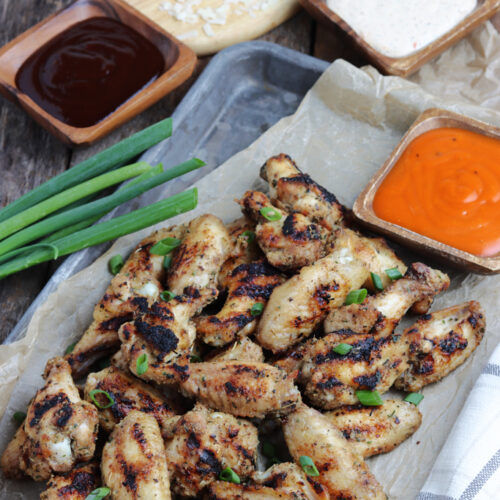 Grilled Chicken Wings Recipe
If you are wondering how to grill chicken wings easily, this Grilled chicken wings recipe is a simple way to cook wings fast and perfectly every single time.
Print
Pin
Rate
Ingredients
Ingredients
2

pounds

chicken wings

both flats and drumettes

2

tablespoons

homemade All-Purpose Seasoning or store bought

recipe below

2

tablespoons

cornstarch
All-purpose Seasoning
2

tablespoons

garlic powder

1

teaspoon

onion powder

1

tablespoon

salt

½

teaspoon

black pepper

1

teaspoon

dried thyme

½

teaspoon

coriander

½

teaspoon

rosemary

¼

teaspoon

crushed red pepper

½

teaspoon

cumin

½

teaspoon

dried basil

1

teaspoon

dried parsley
Instructions
Combine seasonings and cornstarch in a large bowl or ziplock bag

Add chicken wing pieces and toss to coat chicken evenly

Preheat grill to medium-high heat, or 400 degrees F

Place wings on grill and cook for 5 minutes, flip and cook for an additional 5 minutes to get a good crisp on the skin. Then reduce the heat to medium (275F) and grill an additional 20-25 minutes until done, turning several times

Serve with dipping sauces or your choice
Nutrition
Calories:
305
kcal
|
Carbohydrates:
8
g
|
Protein:
23
g
|
Fat:
20
g
|
Saturated Fat:
6
g
|
Trans Fat:
1
g
|
Cholesterol:
94
mg
|
Sodium:
1840
mg
|
Potassium:
261
mg
|
Fiber:
1
g
|
Sugar:
1
g
|
Vitamin A:
234
IU
|
Vitamin C:
1
mg
|
Calcium:
33
mg
|
Iron:
2
mg
More Easy Tips & Recipes for The Grill