This post contains Affiliate Links. Read my full disclosure for more info.
These Grilled Potato Wedges are both crispy on the outside, and soft on the inside, with just the right amount of seasoning. They make the perfect addition to any type of meal or BBQ.
You'll be enjoying the best grilled potato wedges in no time at all. One of the best ways to cook up potatoes on the grill.
If you're ready to learn how to grill potato wedges just follow the simple grilling directions below.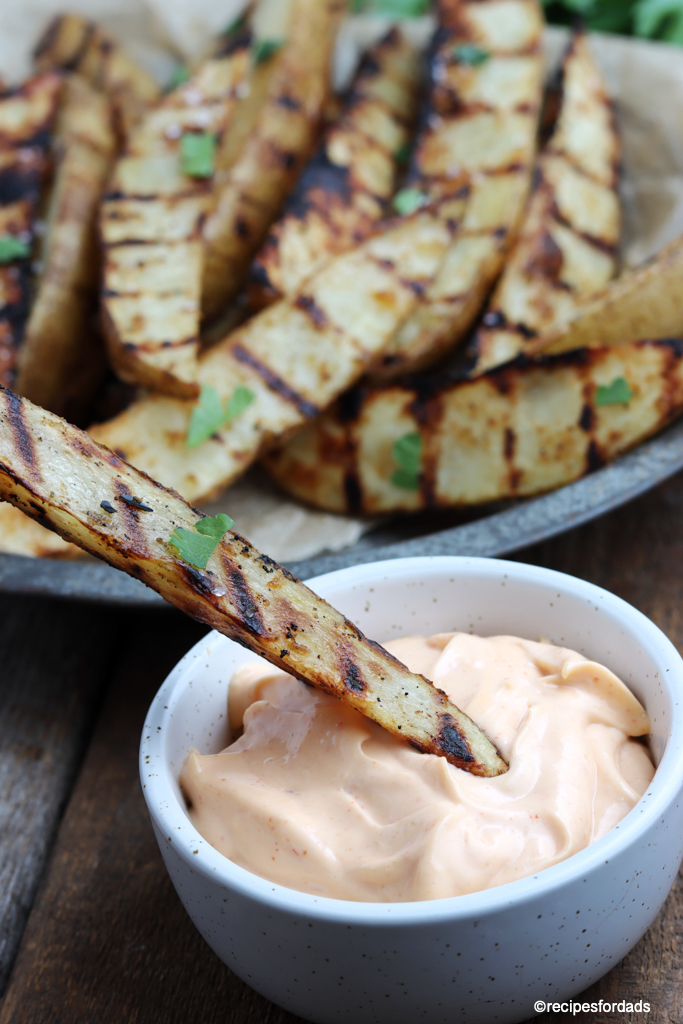 The best part about grilling potatoes is that they hold that smoky taste and flavor. Cutting up the potato wedges for grilling takes literally no time and can be a super simple way to have the perfect side dish fast.
In fact, grilling potato wedges offers another dish option that will have you loving and appreciating your grill that much more.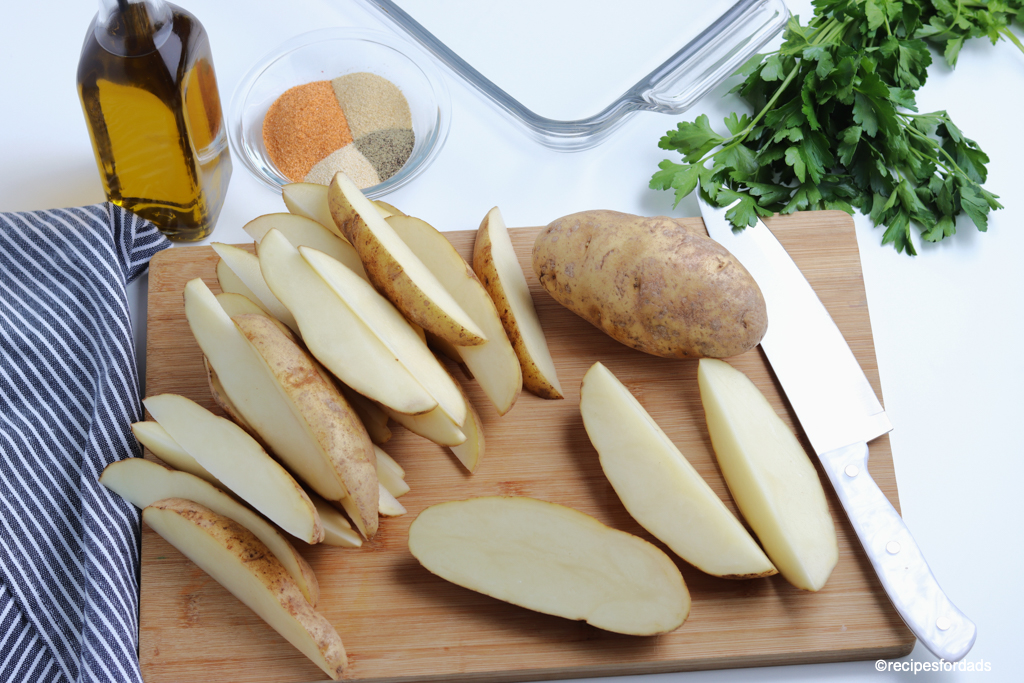 How do you cut 1/2 inch potato wedges?
Cutting potato wedges isn't hard to do as long as you follow a process. Cut the potatoes in half to start and then cut them in half again. Keep doing this cutting method until you have your potato wedges.
It's also easier to cut the potatoes if you lay the cut them down flat on the cutting board. This makes it so that they don't move or roll about while you're cutting them.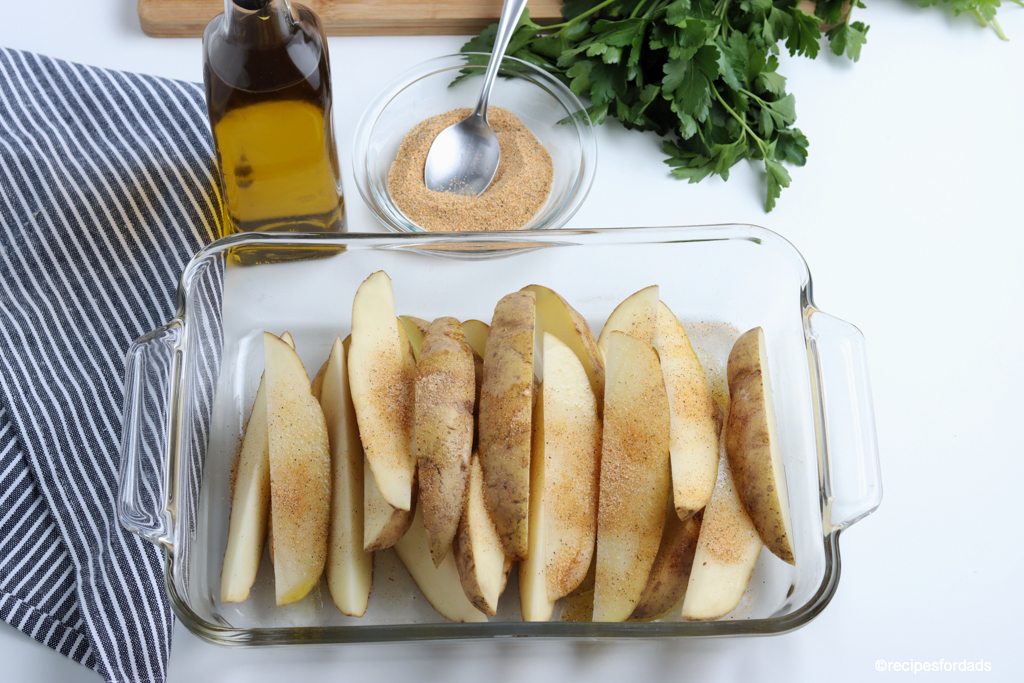 How do you know when the potatoes are done cooking?
Adding raw potato wedges onto the grill is a fast and easy way to start grilling them immediately. It may take a few more minutes to cook them but you'll love how they turn out.
The easiest way to tell that they're done cooking is to do the fork test. Once the cooking time has passed, use a fork and give the wedges a poke.
If the potato wedges are easy to pierce, they're done and ready to be taken off the grill.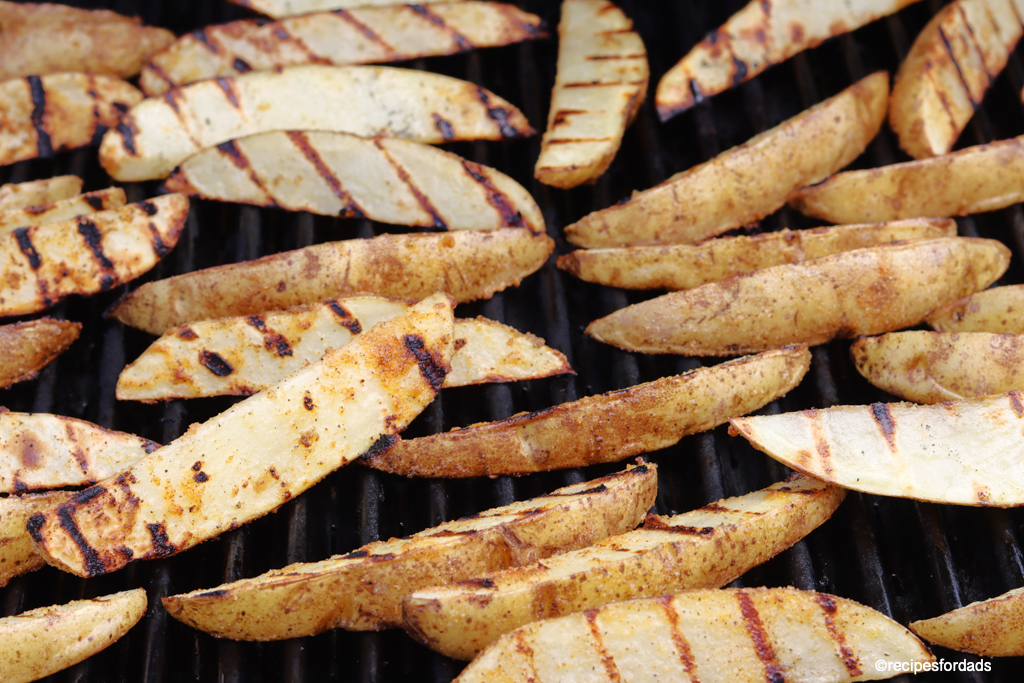 If they're still hard, they need to cook a few more minutes.
How to reheat leftover potato wedges
While potato wedges are best served hot from the grill, you can easily reheat them and enjoy that grilled flavor again.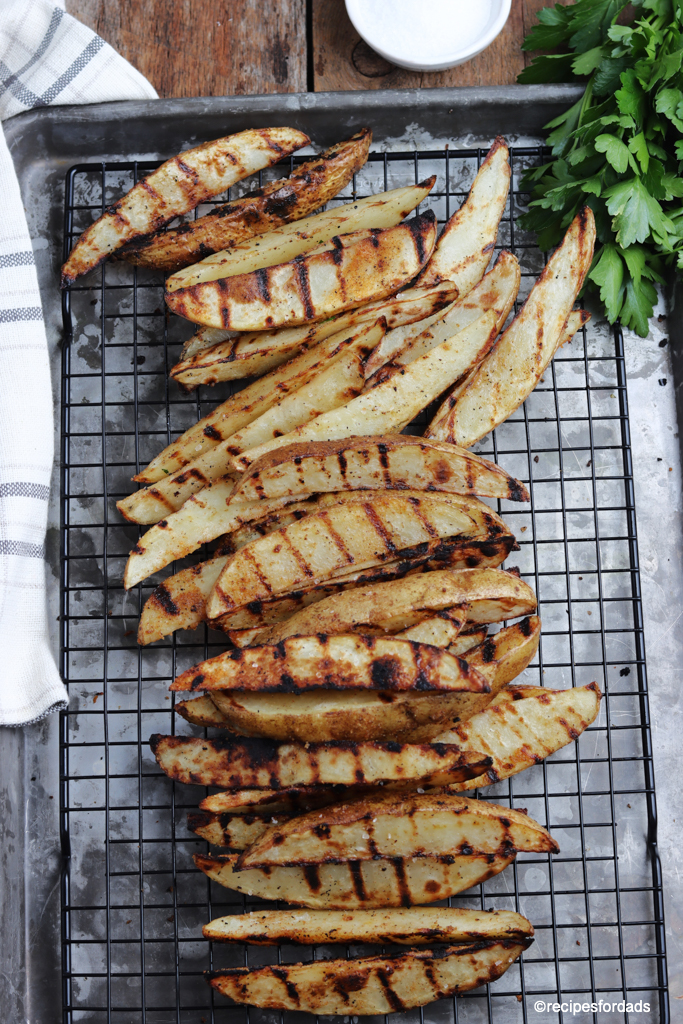 Low and slow is always an option so putting them in the oven can be a hit and make them crisp back up a bit as well.
If you're in a hurry, the microwave will heat them in a jiffy but this isn't going to crisp them up at all.
Can you freeze potato wedges?
Yes, you can. If you decide that you want to save the wedges for later, just pop them in the freezer. Add them to a freezer-safe bag and seal it tight.
How do you keep potato wedges from getting soggy?
As long as you cut them and have them sitting out on a paper towel while they're waiting to be grilled, they shouldn't get soggy at all.
And if you're worried about the potato wedges being soggy as leftovers, just make certain that you let them cool down completely before adding them to a container and storing them in the fridge.
The one thing that will cause the wedges to become soggy is if you try to store them too quickly when they're hot. This will cause this to release the heat inside the container which will cause a "dew" on your wedges.
How many calories are in potato wedges?
Who's counting, right?
But, honestly, this all depends on the serving size and how big the wedges are. If you have 1/2 inch thick wedges and count 8 as a serving size, you're going to be looking at somewhere close to 130 calories.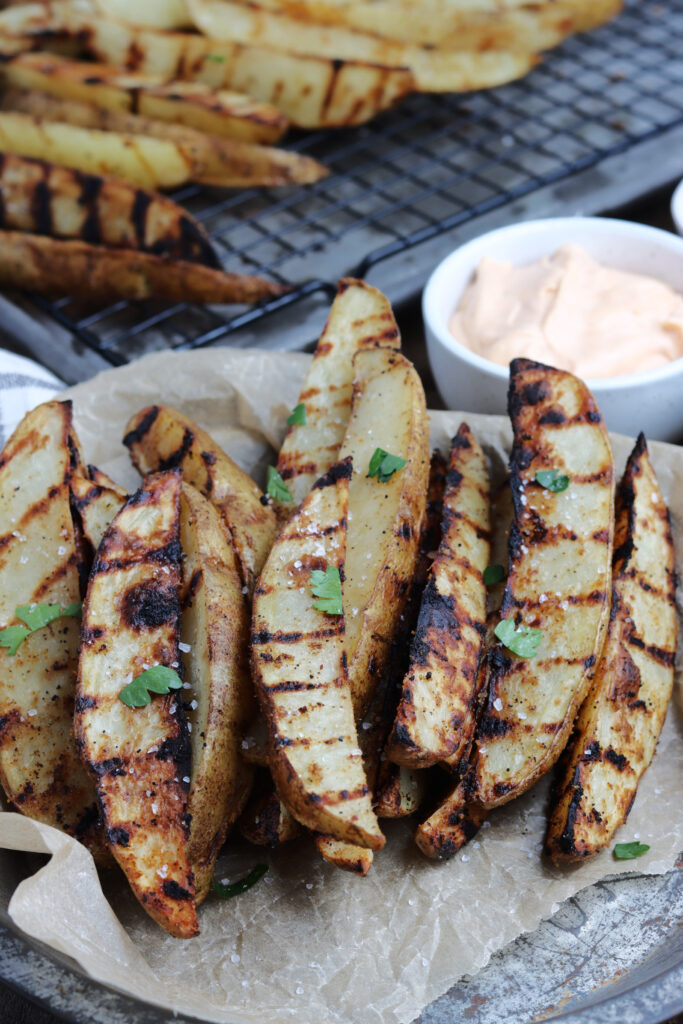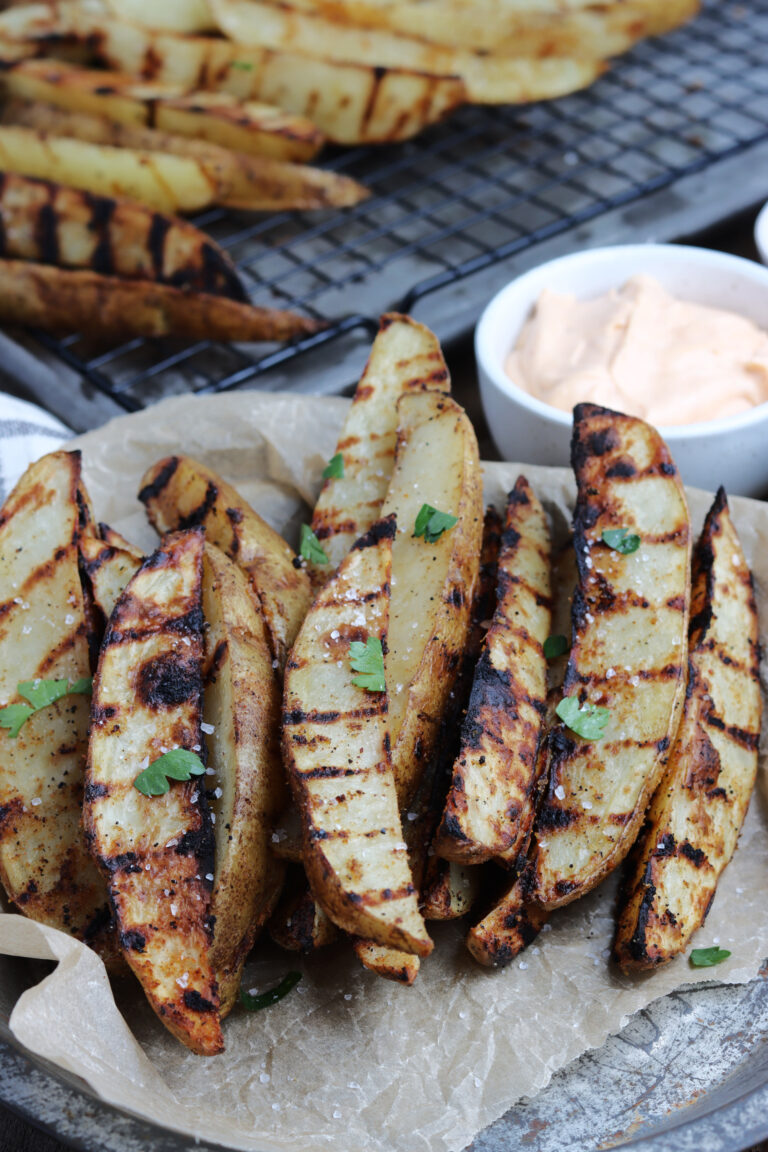 What main meal goes well with potato wedges?
So many food items pair perfectly with this potato side dish. Below are a few suggestions to consider.
These potato wedges pair well with:
Any type of meat or veggie dish is always a good choice.
Ready to learn how to make this recipe for Grilled Potatoes? Find out how below!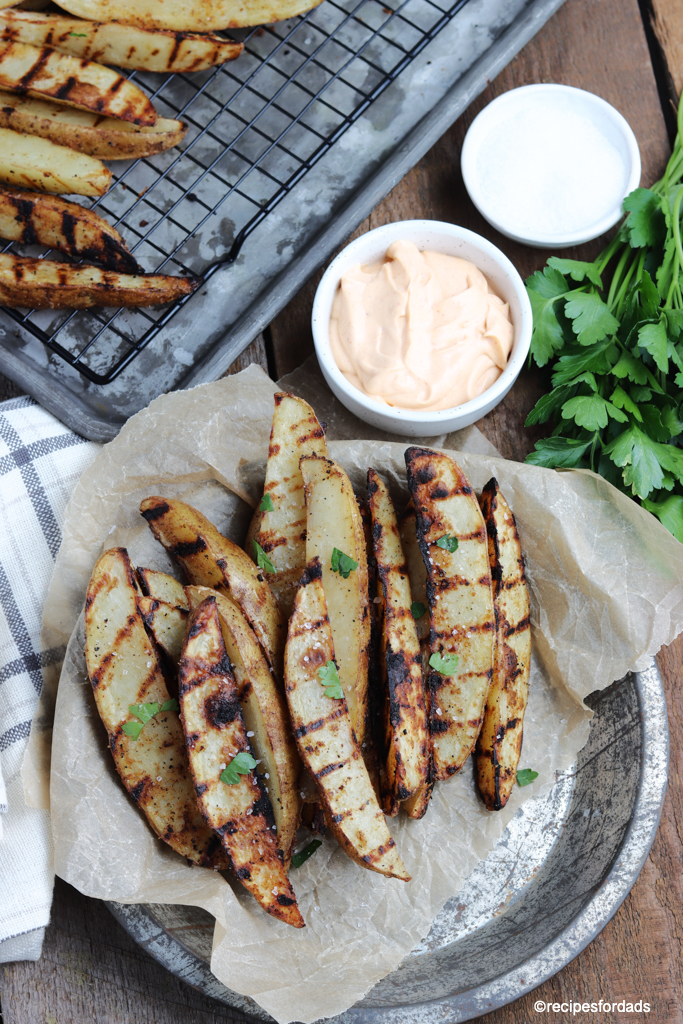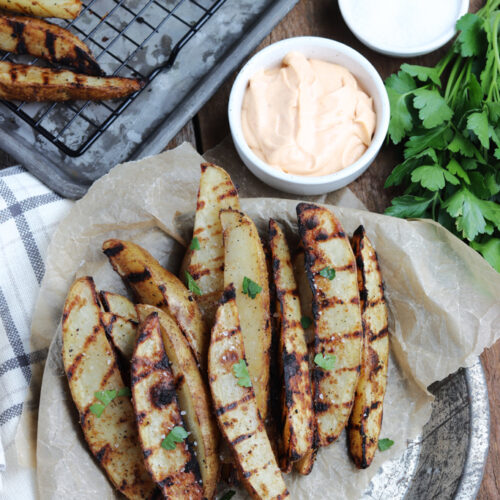 Grilled Potato Wedges
This recipe for grilled potatoes is fast and delicious!
Print
Pin
Rate
Ingredients
2-3 pounds white russet potatoes

2-3 tablespoons olive oil

1 tablespoon seasoned salt

1 teaspoon garlic powder

1 teaspoon onion powder

½ teaspoon black pepper

Fresh parsley for garnish, optional

Coarse salt for garnish, optional

Your favorite dipping sauce, optional
Instructions
Wash potatoes and cut into wedges

Place in baking dish or large bowl

Combine spices and sprinkle about half over potatoes

Toss to coat and add more oil and spices 

Preheat medium-high heat or 350 degrees F

Coat grates with canola or vegetable oil

Place potato wedges directly on grates

Cook 12-15 minutes, turning every 4-5 minutes and cook until fork tender

Cooking time will vary depend on thickness and size of potatoes

Serve immediately with parsley, salt and dipping sauce, if desired. Store leftovers in refrigerator 
Nutrition
Calories:
239
kcal
|
Carbohydrates:
40
g
|
Protein:
5
g
|
Fat:
7
g
|
Saturated Fat:
1
g
|
Polyunsaturated Fat:
1
g
|
Monounsaturated Fat:
5
g
|
Sodium:
14
mg
|
Potassium:
961
mg
|
Fiber:
5
g
|
Sugar:
2
g
|
Vitamin A:
5
IU
|
Vitamin C:
45
mg
|
Calcium:
30
mg
|
Iron:
2
mg
Other grilling recipes you may like: