Smoked Pork Shoulder – Fall Apart Pork Butt Recipe
Pork Butt Recipe
Smoked pork shoulder (pork butt) is one of those recipes that is a masterpiece of its own. Smoked low and slow, pork shoulder is the way to go if you're looking for something that's easy to make and hits your tastebuds perfectly no matter how it's served.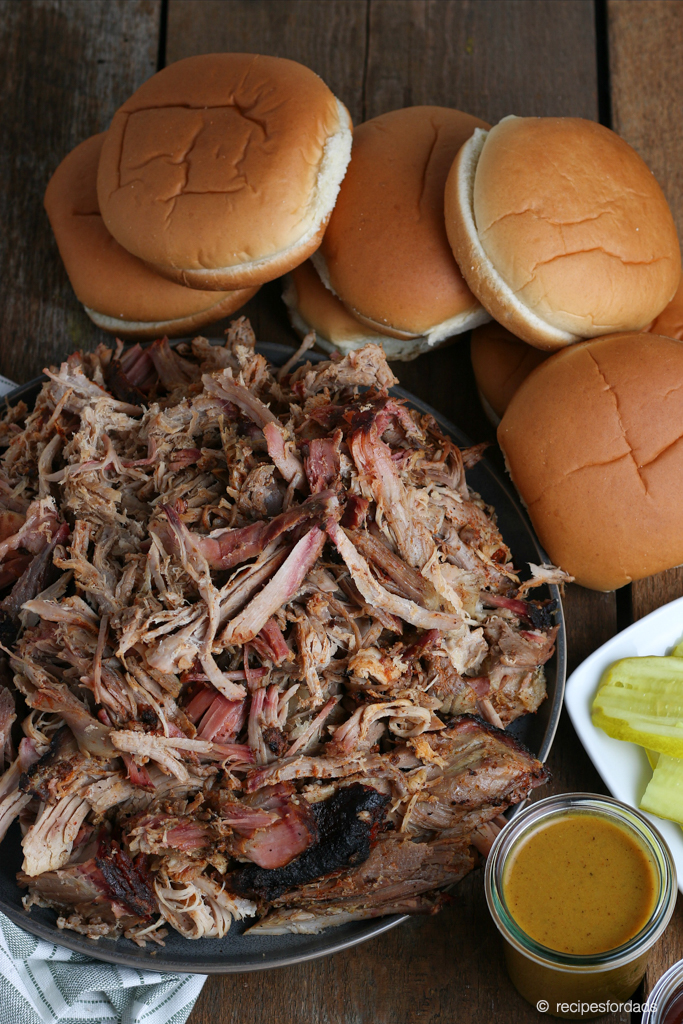 How to Choose The Best Pork Shoulder for Smoking
What's the most commonly ordered meal when you hit a barbeque restaurant? You bet, the pulled pork. What makes it so good? 
 Quality Cut Matters.
Aside from a proper smoke time and temperature, it's the fat. 
Consider purchasing your pork shoulder from your local butcher. The fresher the better. 
When purchasing your pork shoulder, look for one that is pink in color and has some marbling (that marbling is the fat that gives the pork so much flavor). Another purchasing tip: consider using a bone-in shoulder. It'll give you the perfect "fall off the bone" roast you're looking for.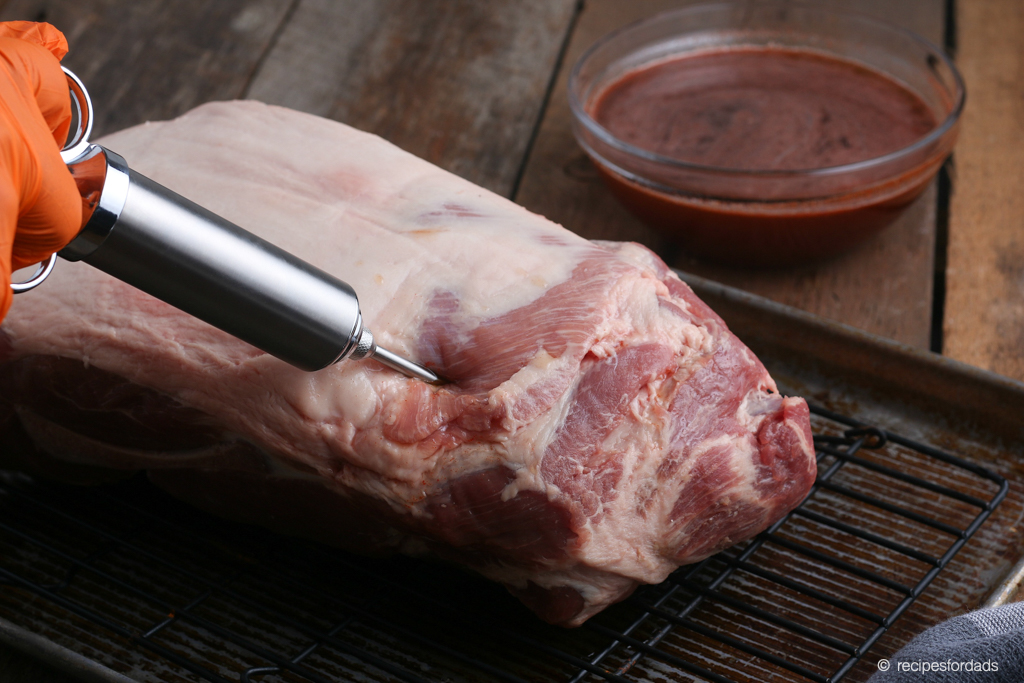 Is There a Difference Between a Pork Shoulder and a Pork Butt?
No, there isn't, both come from the shoulder of the pig—if your cut is labeled a pork butt, it's higher up on the foreleg.  
How to Make Smoked Pork Shoulder
The secret to making the best smoked pork shoulder is to keep it moist. Dry pork ends up being tossed in barbeque sauces and doesn't get the attention it truly deserves. 
In order to create a moist smoked shoulder, we recommend a pork injection using a meat injector. This is done the night prior to smoking. It's easy to do, in fact, you can pick up a cheap injector at your local grocery store. Just toss the injection ingredients together, inject it into the pork shoulder, and let it take in all the juices for the evening.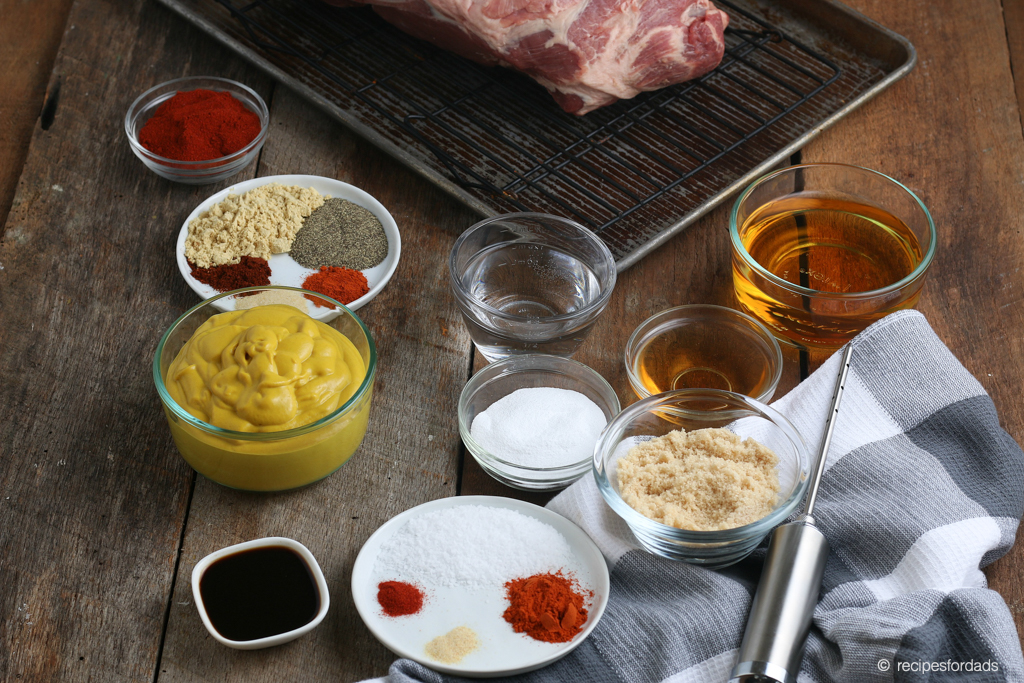 My flavorful smoked pork injection recipe uses: 
Apple juice
Salt 
Brown sugar
Paprika
Cayenne pepper
Garlic
Soy Sauce
Apple cider vinegar
Kosher salt
Water, and
Amesphos phosphates
When you're ready to smoke your pork roast, take it out of the refrigerator, wipe it down with some dry paper towels, and let it sit at room temperature for an hour. 
Pork Shoulder Temperature
After you've let your pork shoulder sit overnight, you'll want to preheat your smoker. Preheat your smoker to 225°F. Smoking at the correct temperature gives the pork the best texture and the best flavor. 
A Pork Butt Recipe Secret: the Rub Down
While you wait for your smoker to preheat, rub down your pork butt with spices to really enhance the flavor. 
Spice rubs are all the rage for meats that are smoked, grilled, roasted, etc. But there's a secret to the perfect rub: mustard. 
The acidity in the mustard will tenderize the meat.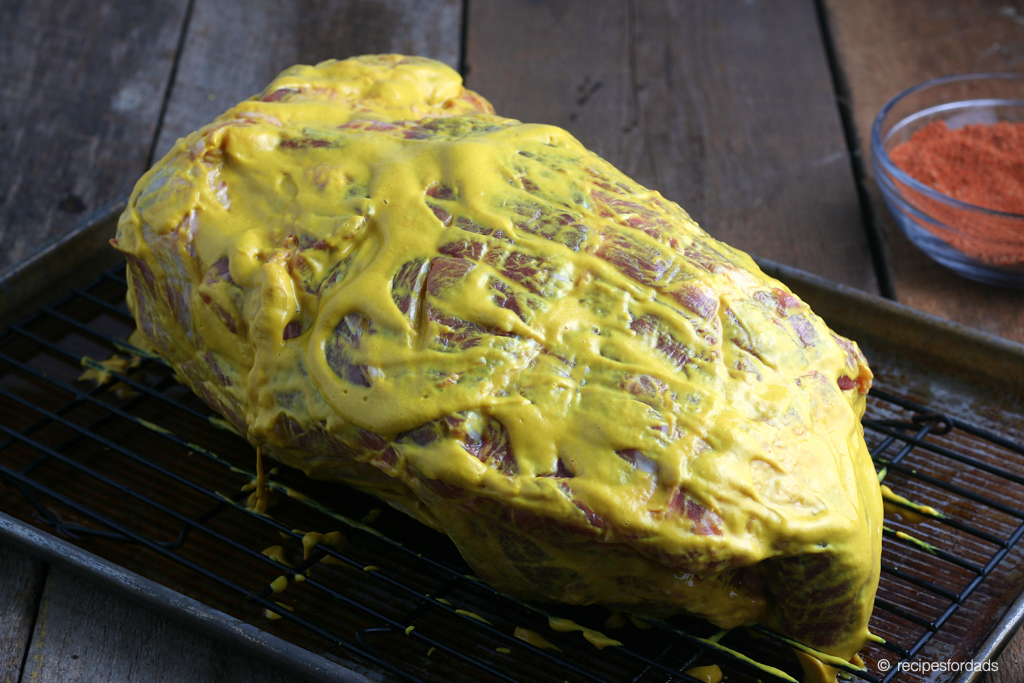 After you've coated your pork shoulder in the mustard, you can add your favorite rub to all sides of the pork. My favorite ingredients to add to a pork rub include: 
Ground Pepper
Cayenne Pepper, and
Garlic Powder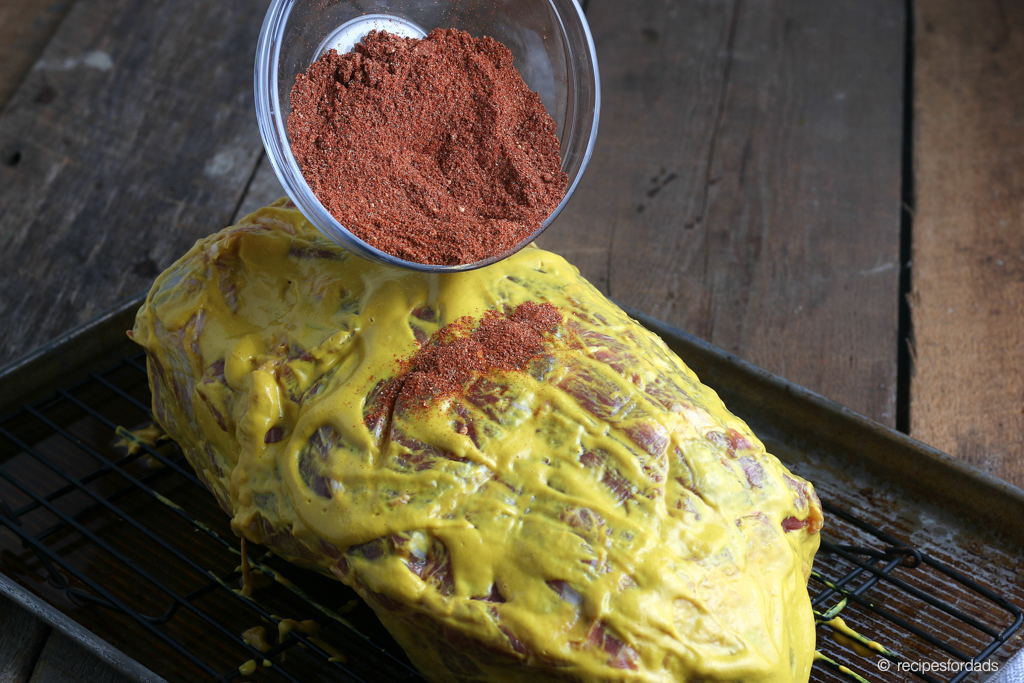 Smoked Pork Butt: Timing is Key
Smoked pork shoulder requires patience. Not because it's difficult to do, but because the smoking process can take anywhere between 15-20 hours.
For every pound of meat, you'll want to leave in it the smoker for 120 minutes. The time may vary based on the consistency of your smoker and the size of the pork shoulder.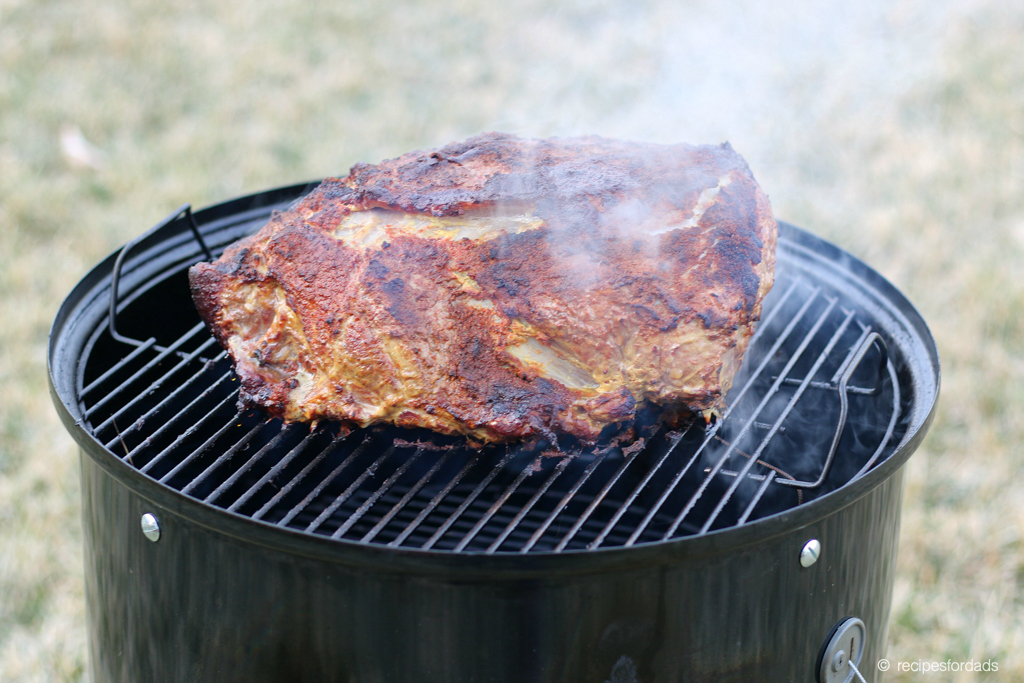 Once your pork shoulder has reached an internal temperature of 190-201°F, it's ready to be taken out of the smoker. 
But don't start shredding yet. 
To lock in all the flavors, wrap the pork butt in foil and let it rest for at least an hour.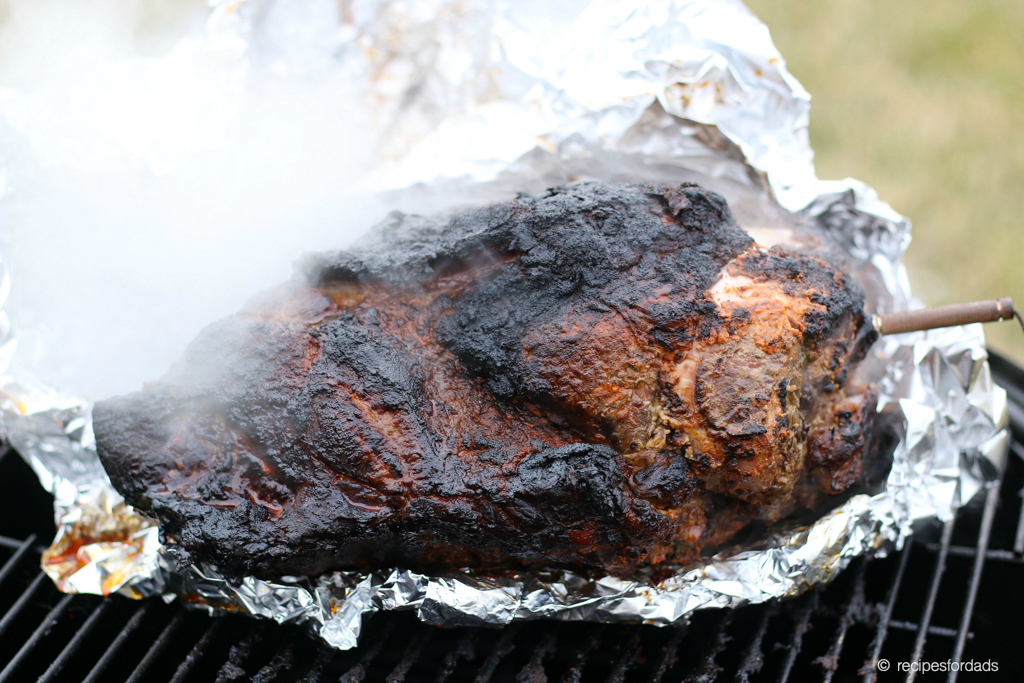 When should you shred your Pulled Pork?
Finally, you can begin shredding your pork butt has rested for at least 1 hour and is cool enough to handle.
I usually prefer to use my hands, but you can also use two forks to shred the meat apart.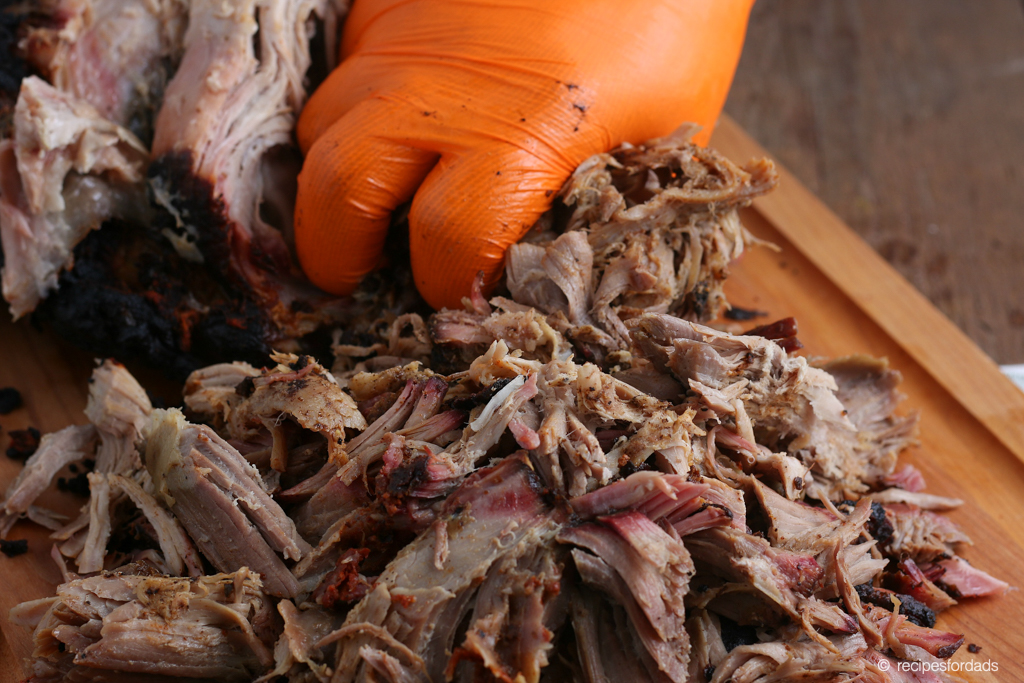 Make sure you remove any bones and excess fat from the pan and add juices or additional seasoning for that extra added flavor.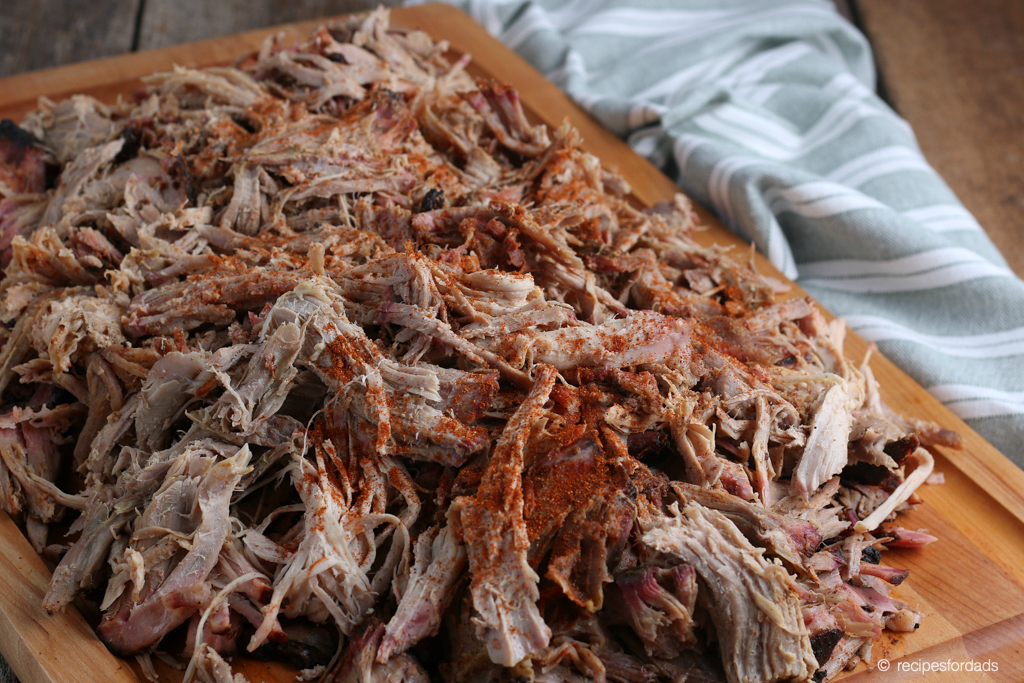 What do you serve with Pulled Pork Sandwiches?
You can always serve a traditional coleslaw, potato salad, or french fries, but the sky is the limit when it comes to the variety of BBQ side dishes that could pair nicely with pulled pork sandwiches.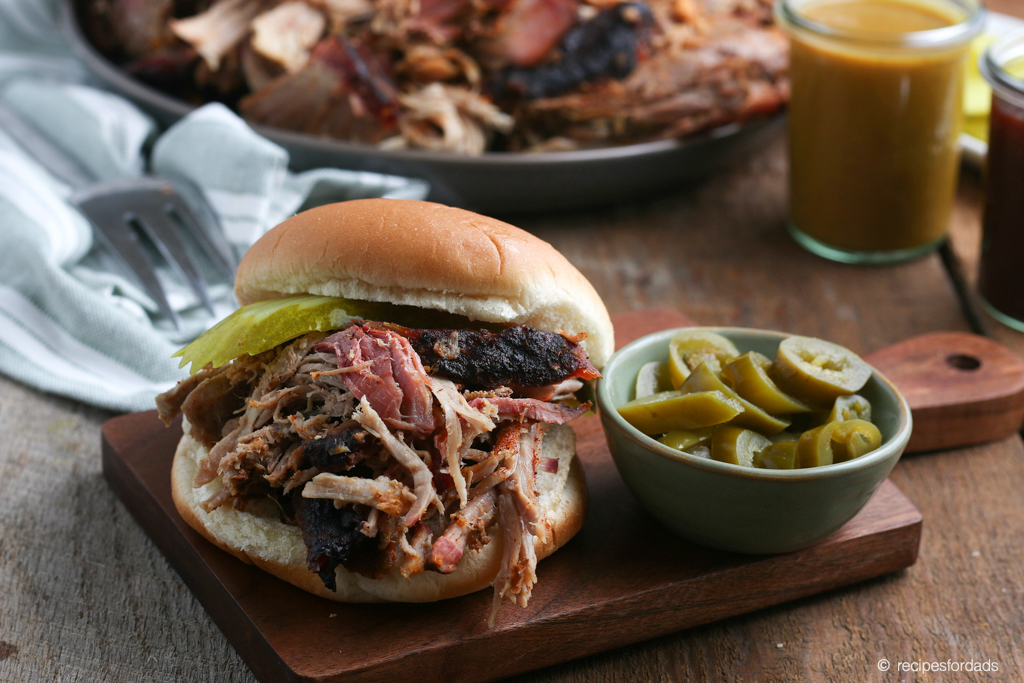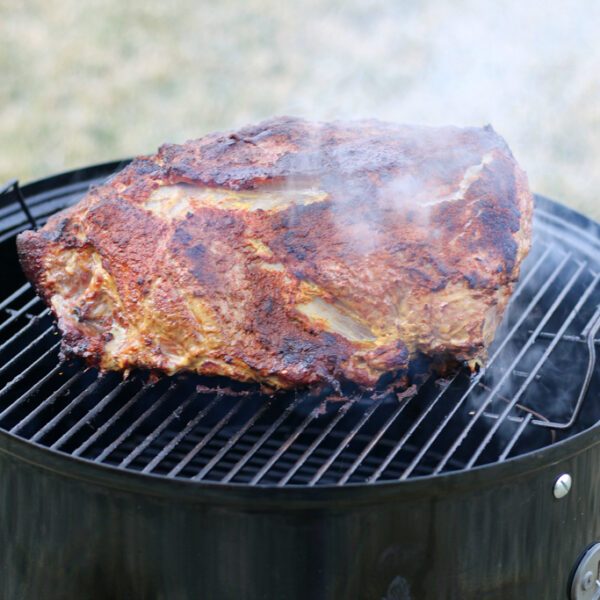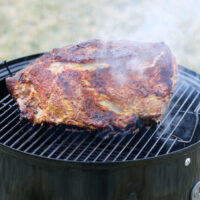 Smoked Pork Butt Recipe
Smoked pork shoulder (pork butt) is one of those recipes that is a masterpiece of its own. Smoked low and slow, pork shoulder is the way to go if you're looking for something that's easy to make and hits your tastebuds perfectly no matter how it's served. 
Print
Pin
Rate
Servings: 1 person per ½ pound
Calories: 1413kcal
Ingredients
8-10 pound bone-in pork shoulder pork butt
Yellow Mustard enough to coat exterior
Pork Injection
1 cup Apple Juice
2 tablespoons Kosher Salt
½ cup Water
½ cup Brown sugar
1 teaspoon Cayenne pepper
⅛ teaspoon of paprika
⅛ teaspoon of garlic powder
2 tablespoons Soy sauce
¼ cup Apple cider vinegar
¼ cup Amesphos phosphates
Spice Rub
¼ Cup Sweet Paprika
2 Tablespoons Ground Black Pepper
2 Tablespoons Dry Mustard
½ Teaspoon Chili Powder
½ Teaspoon Garlic Powder
½ Teaspoon Cayenne Powder
Instructions
Prepare and season your pork shoulder a day before you are planning to smoke your pork shoulder. 

Remove your roast from the packaging and wipe it down on all sides with paper towels, allow to rest for an hour. Mix up the injection sauce and spice rub while waiting.

Inject the pork shoulder with the liquid mixture.

Coat the entire exterior of the pork shoulder with the yellow mustard.

Season your pork shoulder on all sides, top, and bottom, with the spice rub. 

Preheat your smoker to 225 degrees F for indirect smoking.

Place your seasoned pork butt on the smoker fat side up.

Close the lid and smoke the pork until it reaches an internal temperature of at least 195 degrees F. You can cook to 201 degrees F if you like softer pork. This process can take anywhere between 15-20 hours, depending on the consistency of heat in your smoker and the size of your pork shoulder.

Remove the pork shoulder from the smoker and wrap tightly in foil. Allow the roast to rest for at least an hour before shredding.

Pull apart the shoulder, discarding any chunks of fat or gristle. Sprinkle the roast with an additional tablespoon or so of the spice rub.
Notes
If you wish to speed the cook process up, you can pull the pork butt at 165 and wrap it in foil and put it back on the smoker in order for it to cook faster and get through the stall.
Nutrition
Serving: 1g | Calories: 1413kcal | Carbohydrates: 15g | Protein: 109g | Fat: 99g | Saturated Fat: 36g | Polyunsaturated Fat: 54g | Cholesterol: 416mg | Sodium: 1774mg | Fiber: 2g | Sugar: 12g
All you pitmaster dads need to check out my other recipes: