This post contains Affiliate Links. Read my full disclosure for more info.
This S'mores Dip, made in the iron skillet, gives you all the sinful goodness that you've come to expect from s'mores. Plus, it's incredibly easy to make, and perfect for grilling.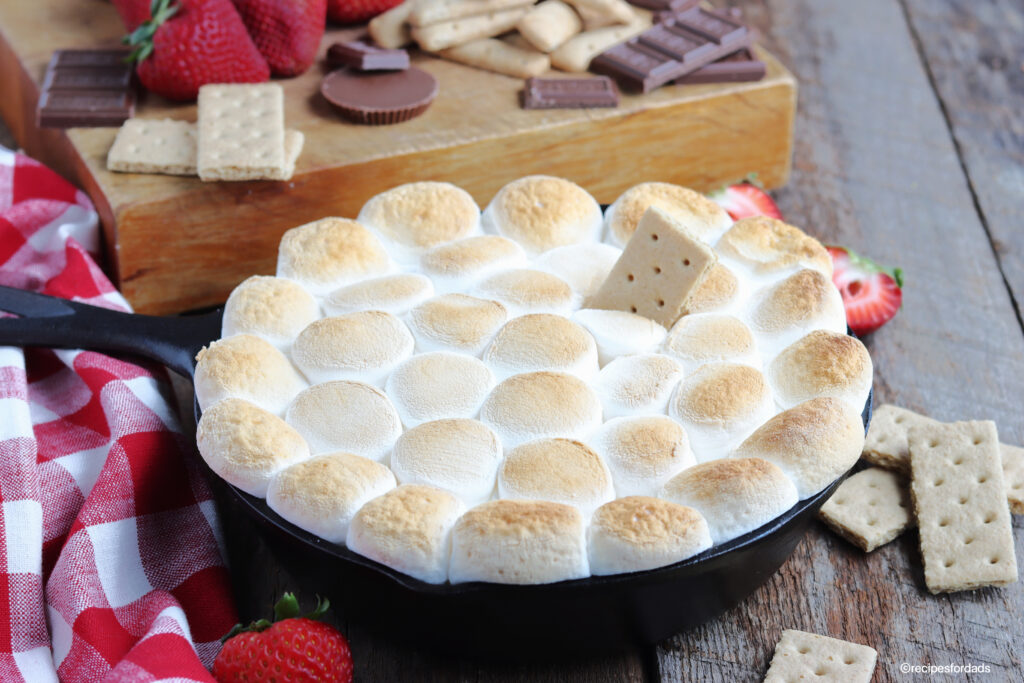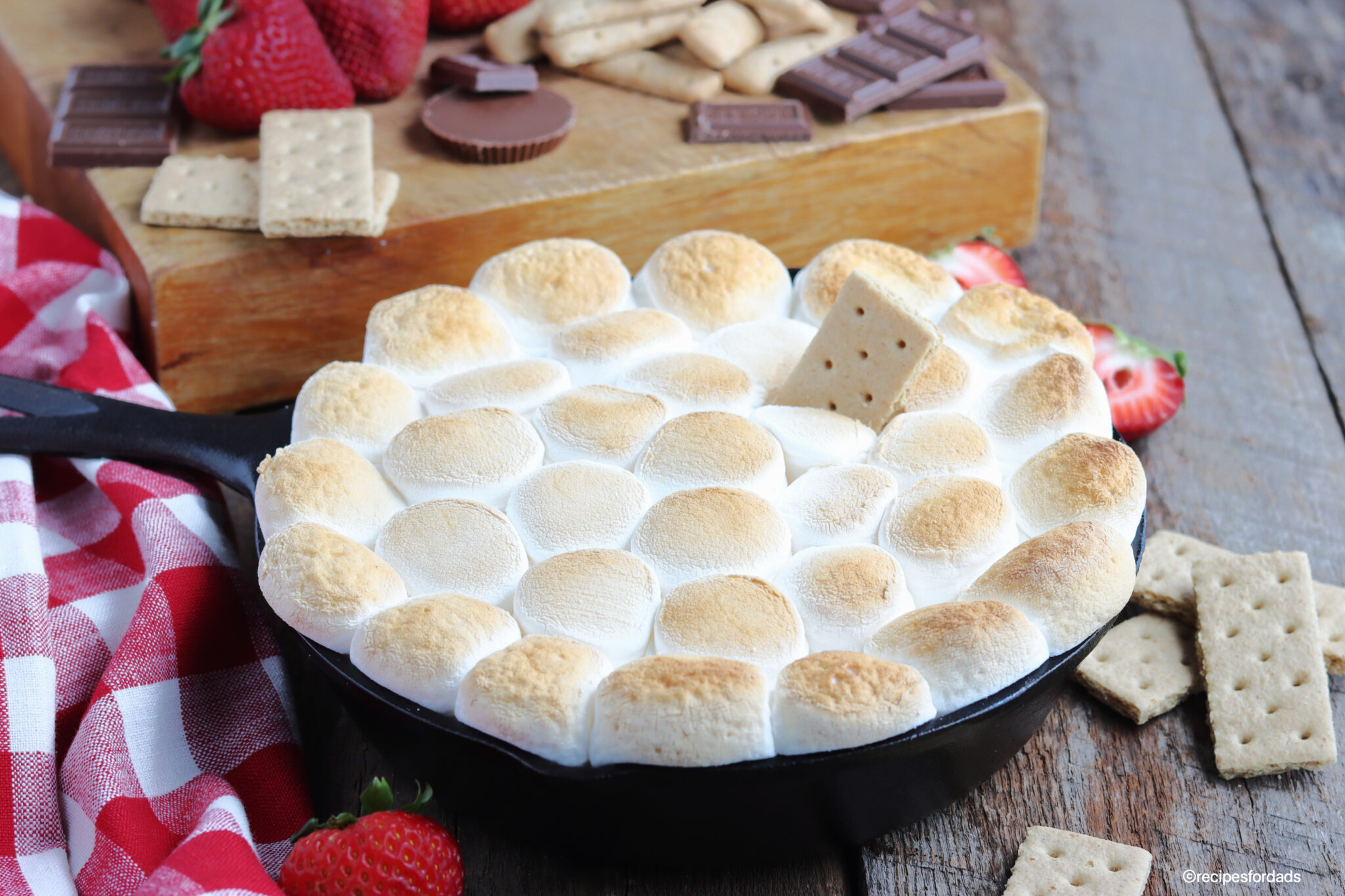 While meat is what many of us think of when it comes to grilling, there are desserts you can cook on the grill, too!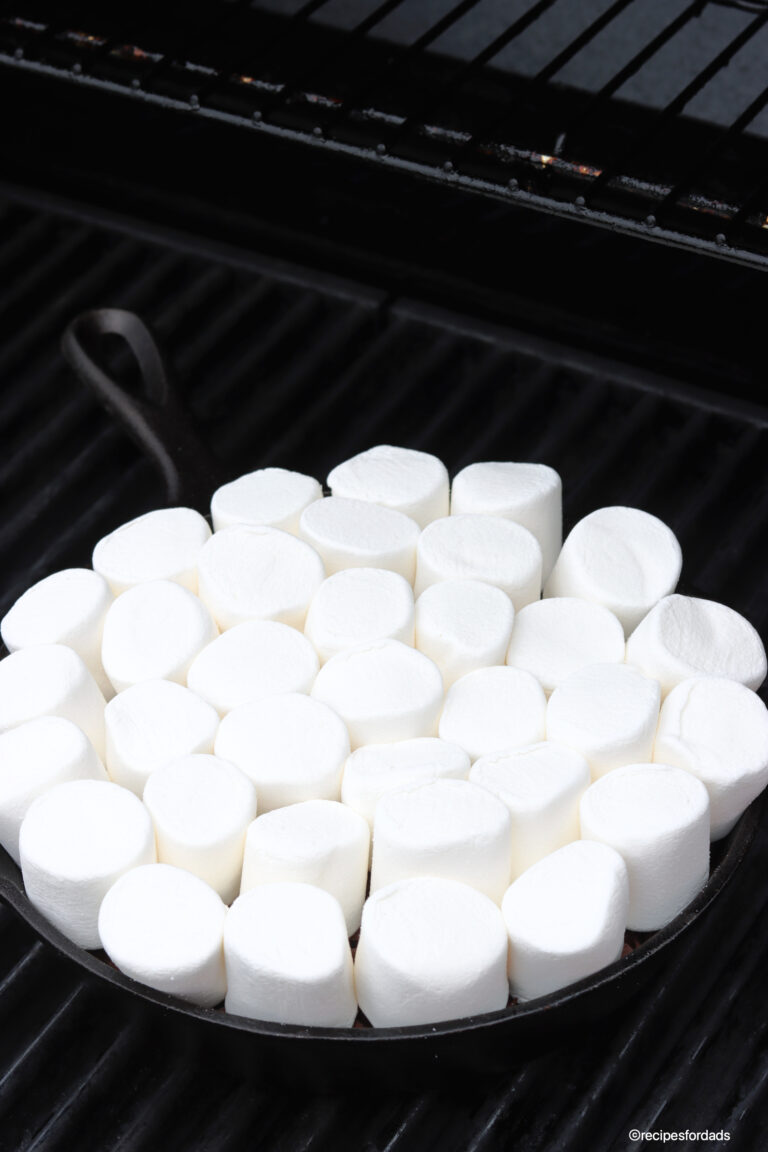 And we all know that s'mores are a huge hit during the summer, around a campfire – or any time at all, really.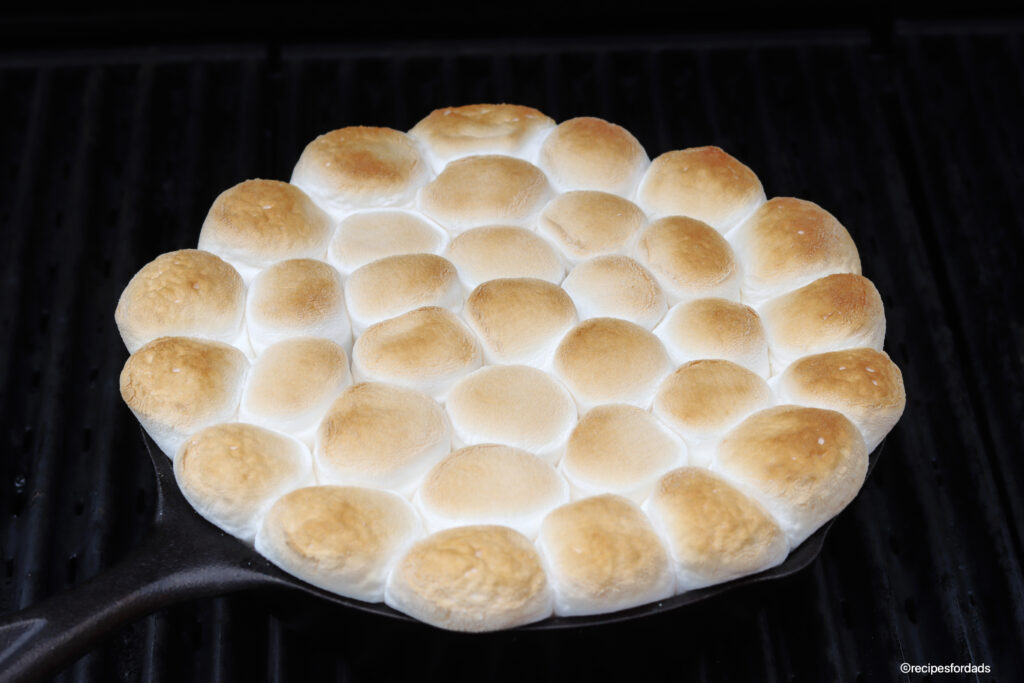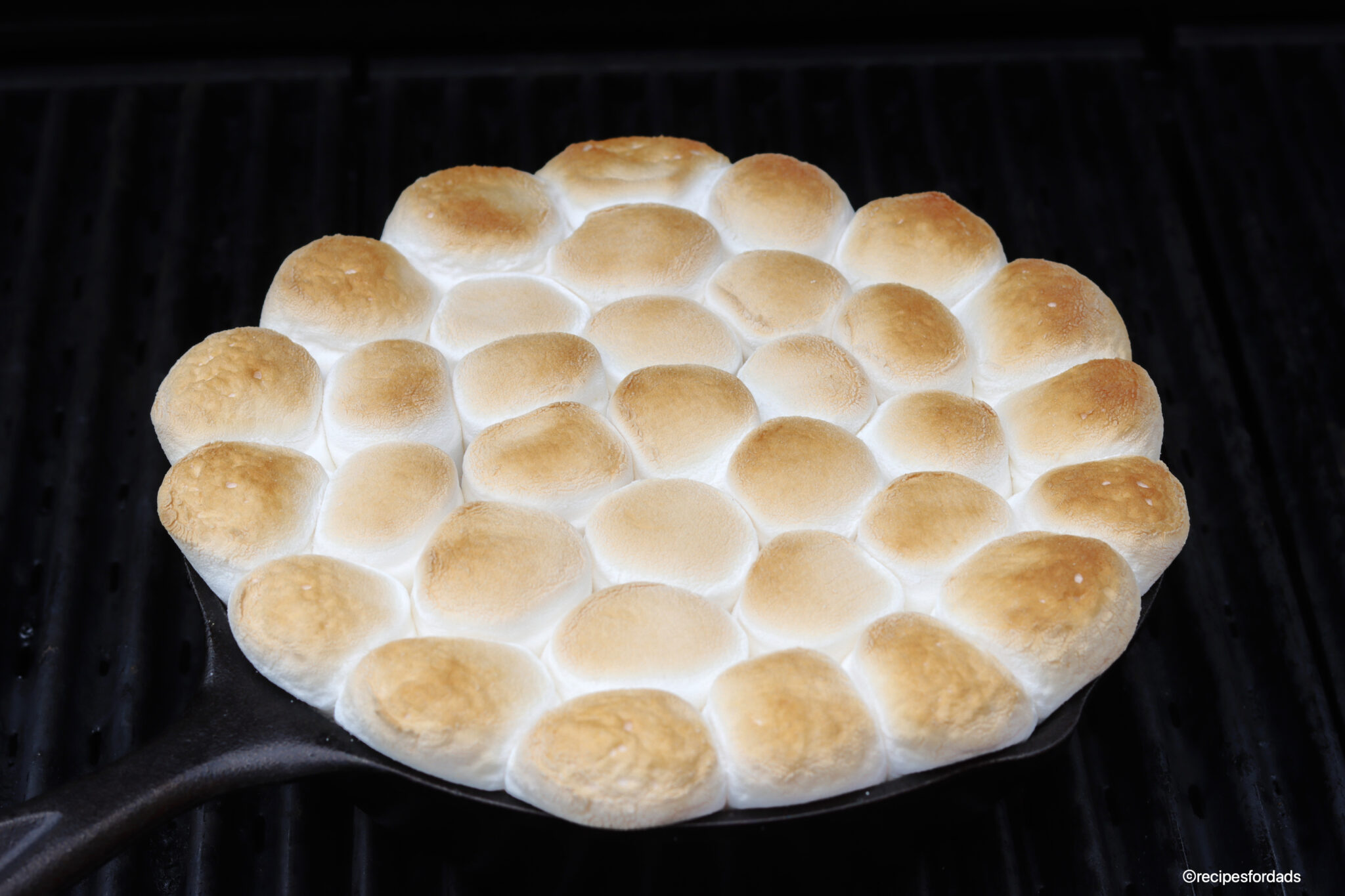 You only need a few ingredients to make this grilled s'mores dip and you probably have the ingredients on hand. Why not surprise the family with a delicious treat tonight?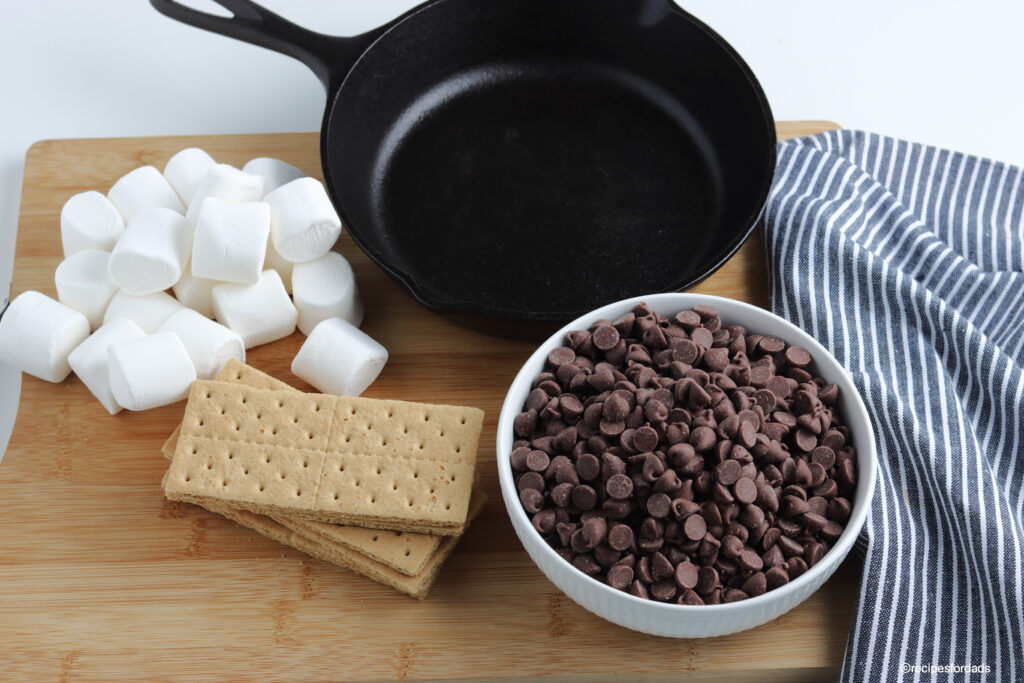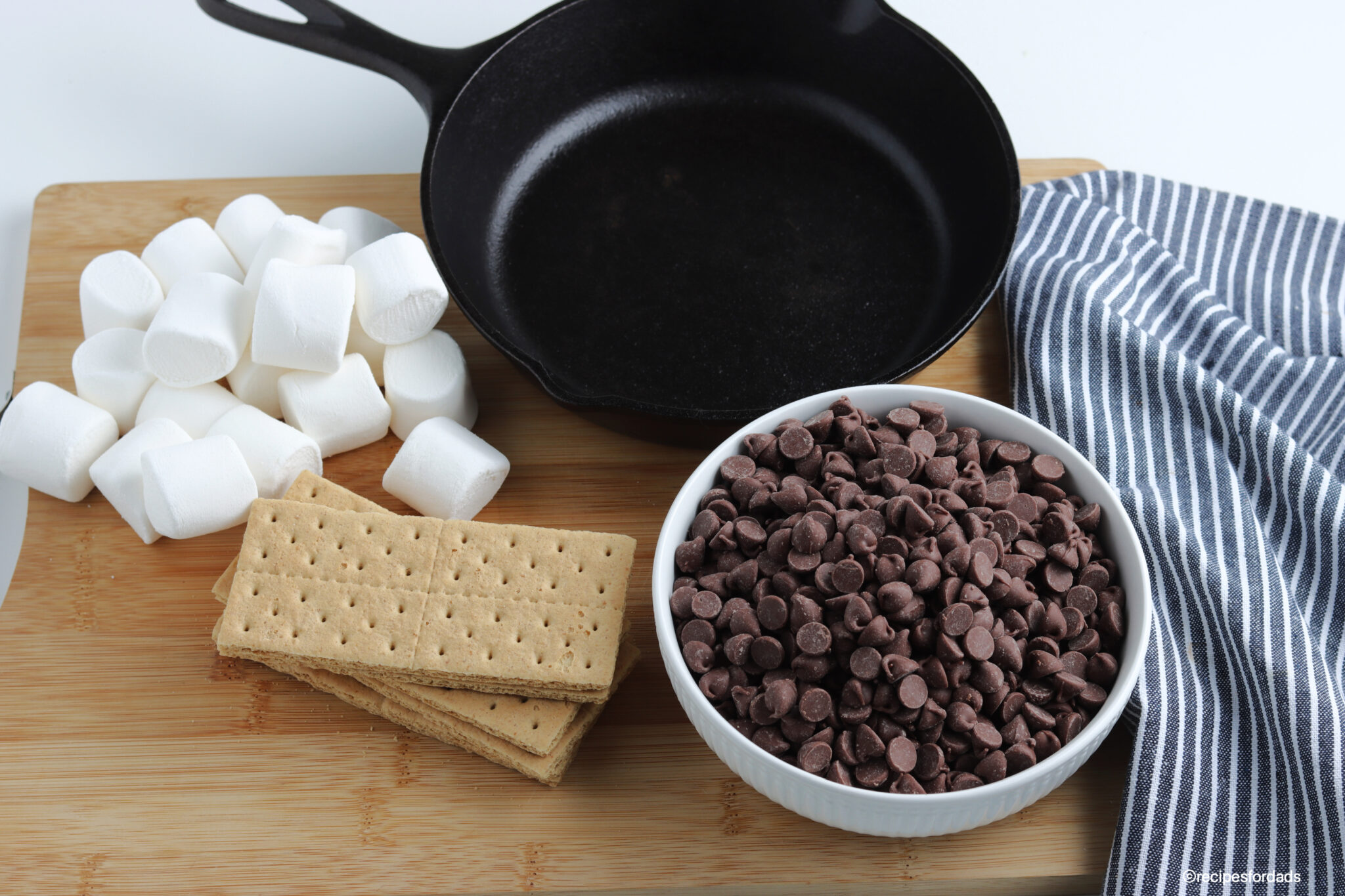 Of course, eating traditional s'mores almost always results in a mess, especially with little ones.
Instead of squishing all of the ingredients onto your shirt when you take a bite, you'll be able to use a graham cracker to scoop up the gooey, creamy goodness.
You can also play around with what you dip. No one said you HAD to use graham crackers with this grilled s'mores dip.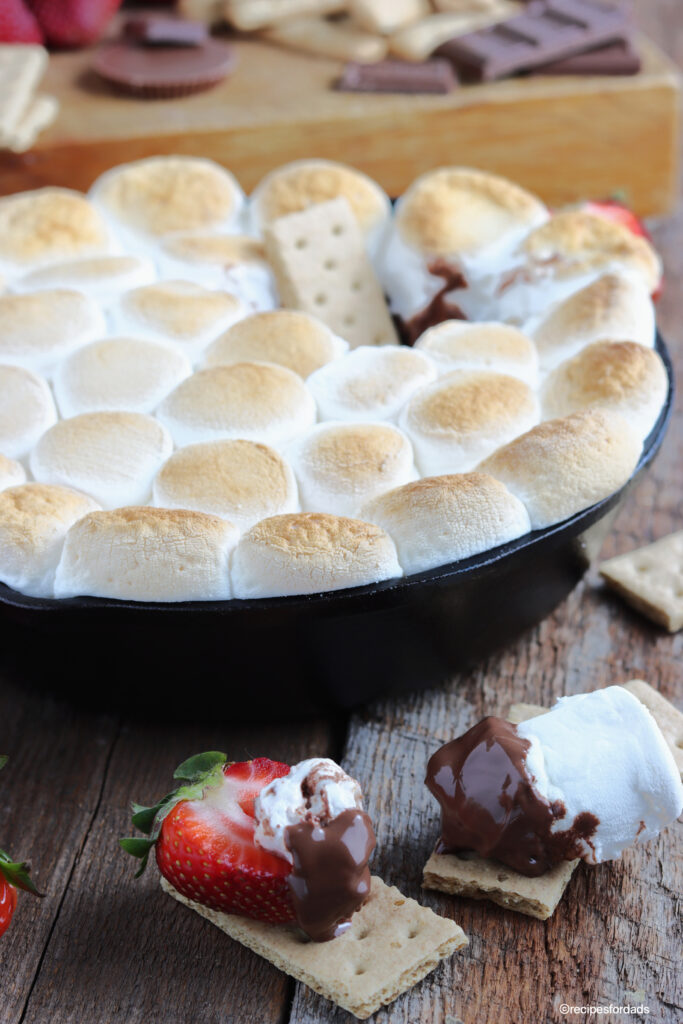 When were s'mores invented?
The creamy chocolate combined with the gooey marshmallow and crisp graham crackers has been a hit for almost 100 years.
We actually have the Girl Scouts to thank for inventing this delicious treat. At least that's where the recipe first appeared in 1927.
It was originally called Some Mores and the recipe was published in the Tramping and Trailing with the Girl Scouts book. And you thought Thin Mints were their best culinary creation.
What food goes with s'mores?
While not a food, hot cocoa has always been a great combo with s'mores. However, fresh fruit is a great option as well.
It helps cut the sugar overload of this grilled s'mores dip and strawberries are wonderful with it. Honestly, though, s'mores are a pretty stand-alone dish. You don't really need anything to go with them.
Big marshmallows or mini?
You can use either to make this dip. It's completely up to you. You can even use some of the flavored marshmallows if you want.
Or get really fancy and use some of the chocolate-filled ones. This recipe is flexible and allows you to play around with it quite a bit.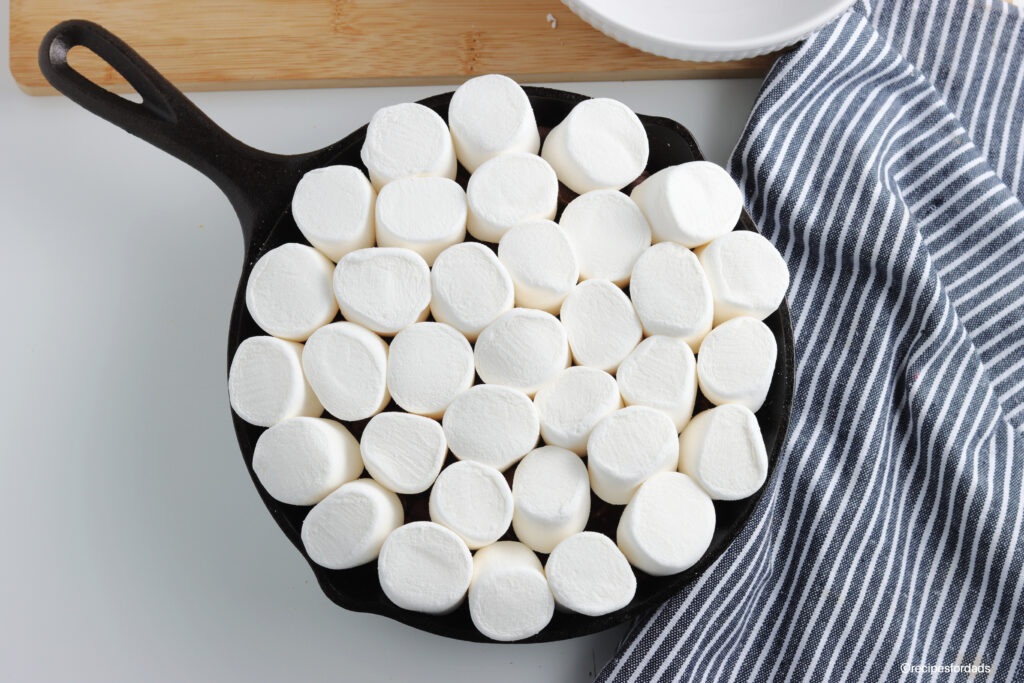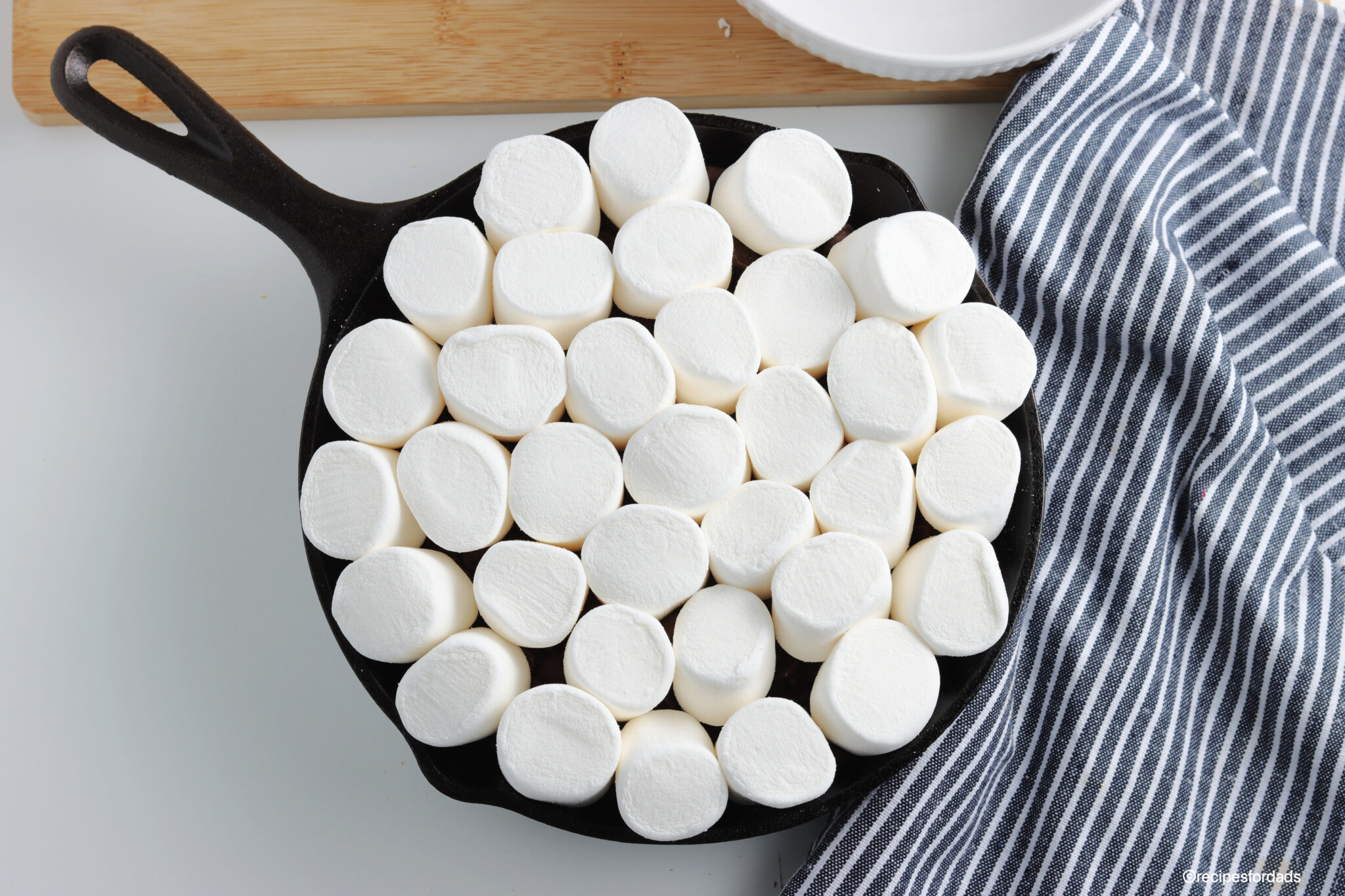 What if my S'mors dip sticks?
The layer of graham cracker crumbs will help a lot to prevent sticking. Also, a well-seasoned cast iron pan is important. It's very important that you not use a non-stick pan.
While some non-stick pans are made to go in the oven, a grill gets much hotter and may release some of the toxins found in the non-stick coating if it gets too hot. Cast-iron is always the best option when cooking on a grill.
Ingredients for S'mores Dip: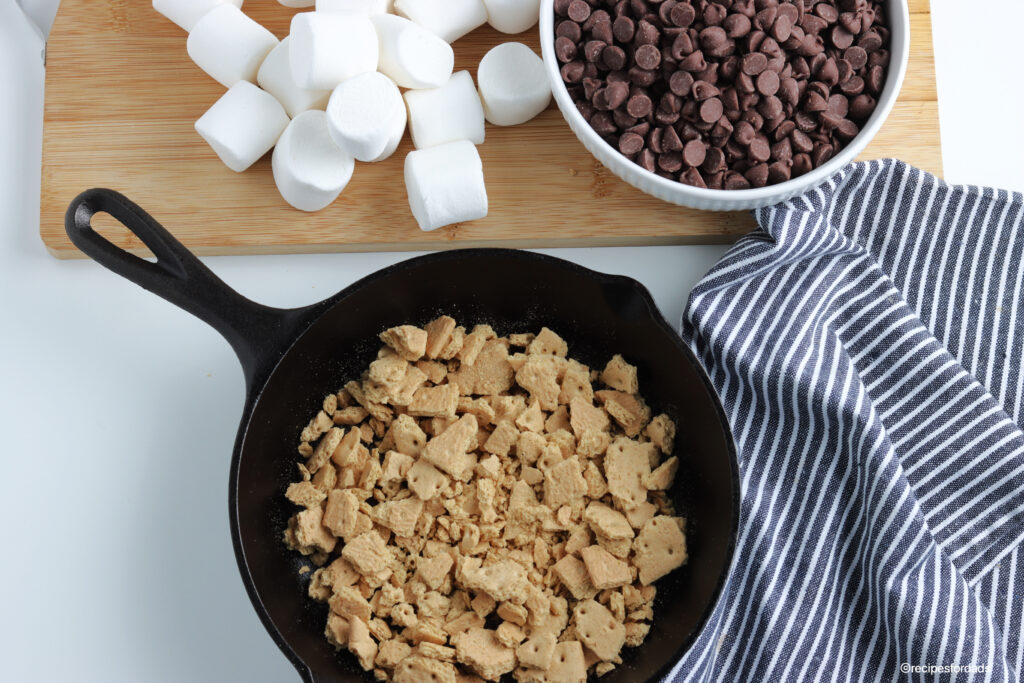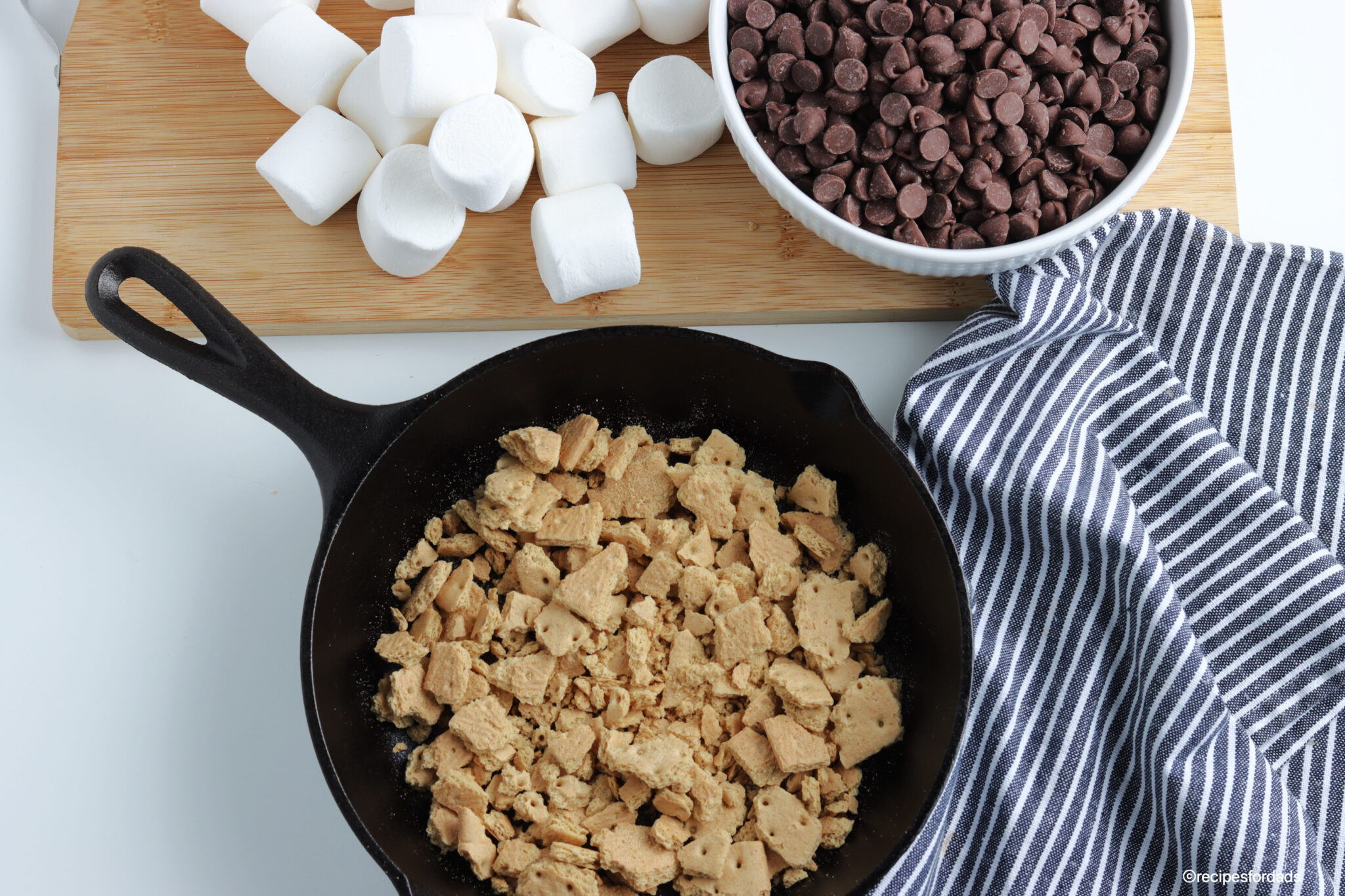 Serving Options
Graham crackers
Graham cracker sticks
Strawberries
What about leftovers?
If you have leftovers, which is probably not going to happen with this recipe, there's really no good way to heat it back up.
However, it tastes good once it's set up.
Take a hot knife and cut it into slices for a completely new treat the next day. Just make sure you store the leftovers in an airtight container once cooled or the marshmallows might become really tough.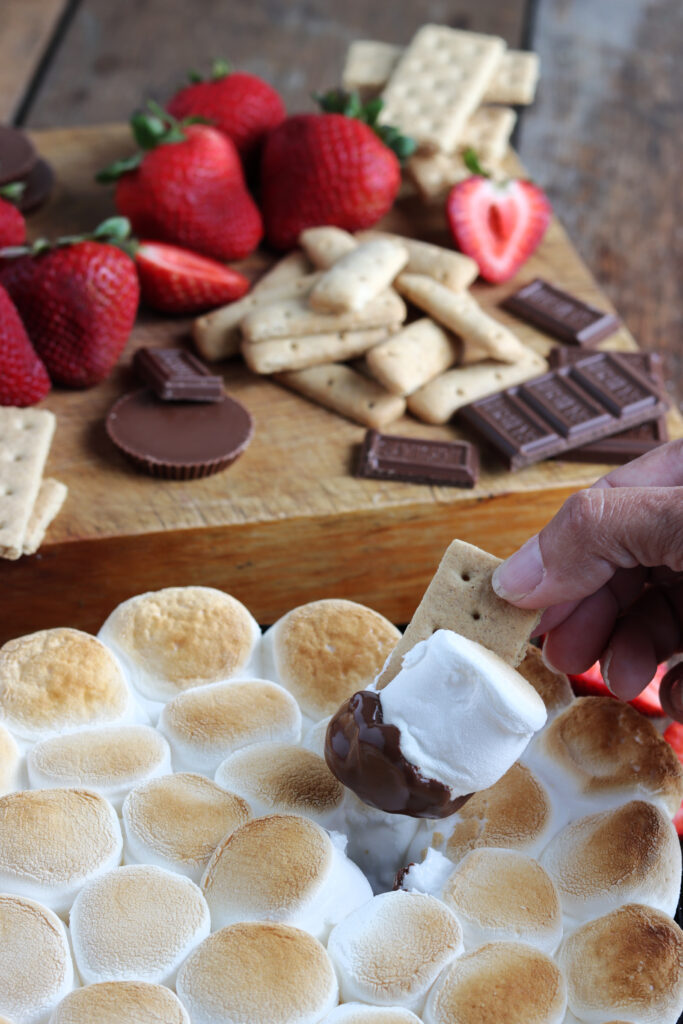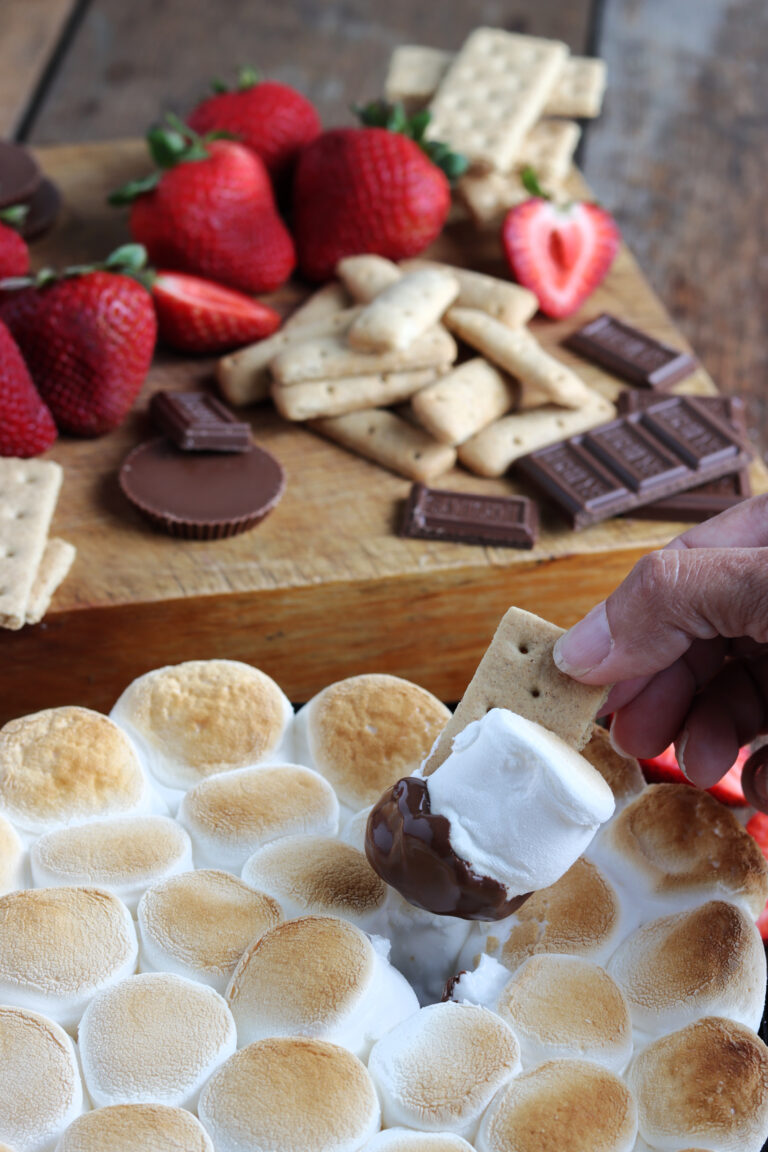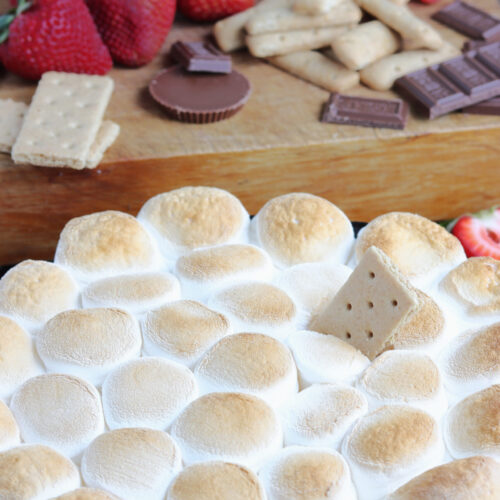 Easy Grilled S'mores Dip
This S'mores Dip is easy to make with just a few simple ingredients. Creamy chocolate combined with the gooey marshammlow and crisp graham crackers, made perfectly on the gril or in the oven.
Print
Pin
Ingredients
6-8

graham crackers

roughly crushed

1 ½

cups

chocolate chips

milk or semi-sweet **see notes

Marshmallows

Graham crackers

Graham cracker sticks

Strawberries
Instructions
Preheat grill to medium-high heat

Crush graham crackers by placing them in a resealable bag and using a rolling pin or heavy spoon

Add graham crackers crumbs to bottom of cast iron skillet

Fill skillet to about ½ inch from the top with chocolate chips

Add marshmallows on top of chocolate chips

Place on grill and cook about 3-5 minutes, turn burner off on one side and move skillet over

Continue cooking until marshmallows are toasted

Remove from grill and serve immediately with your choice of crackers, or strawberries
Notes
Finish this dip up in the oven for extra toasted, brown marshmallows. 

The amount of chocolate chips can be changed for different sizes of cast iron skillets.  This recipe is used with an 8 inch cast iron skillet, but can be easily adapted.
Nutrition
Calories:
428
kcal
|
Carbohydrates:
75
g
|
Protein:
2
g
|
Fat:
15
g
|
Saturated Fat:
8
g
|
Polyunsaturated Fat:
1
g
|
Monounsaturated Fat:
1
g
|
Cholesterol:
13
mg
|
Sodium:
184
mg
|
Potassium:
39
mg
|
Fiber:
1
g
|
Sugar:
51
g
|
Calcium:
18
mg
|
Iron:
1
mg