This post contains Affiliate Links. Read my full disclosure for more info.
Smoked Brisket
Smoked brisket is that brag-worthy main dish that barbeque-goers can't stop raving about. It's delicious and appreciated by everyone that understands good barbeque.
Smoked brisket sometimes seems difficult to master—that's why I'm sharing my secrets to smoking the best brisket (plus my secret brisket rub).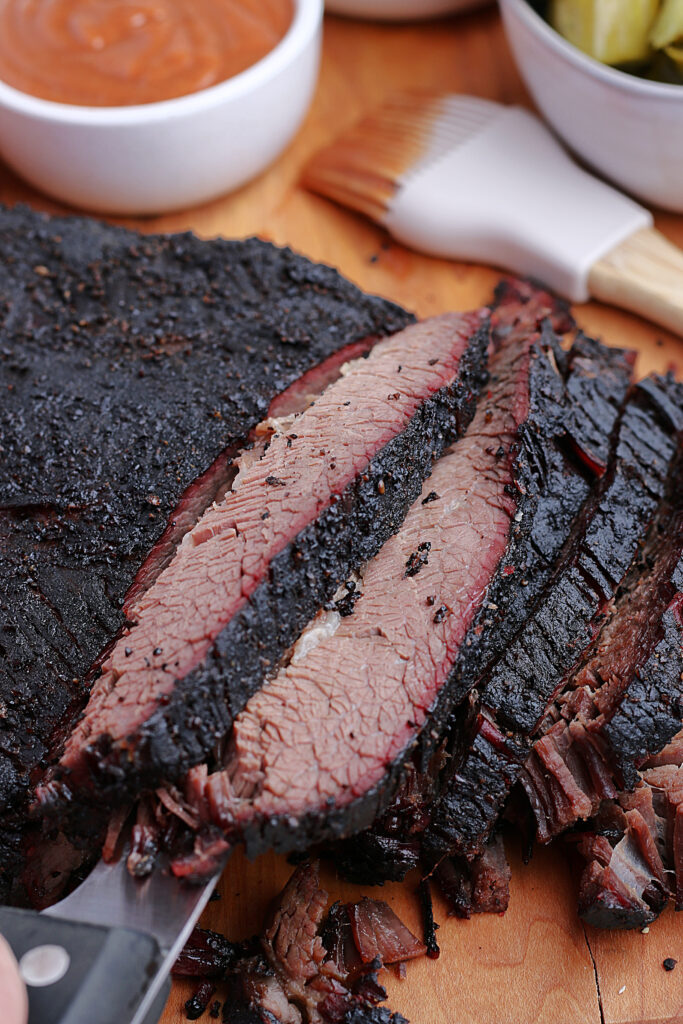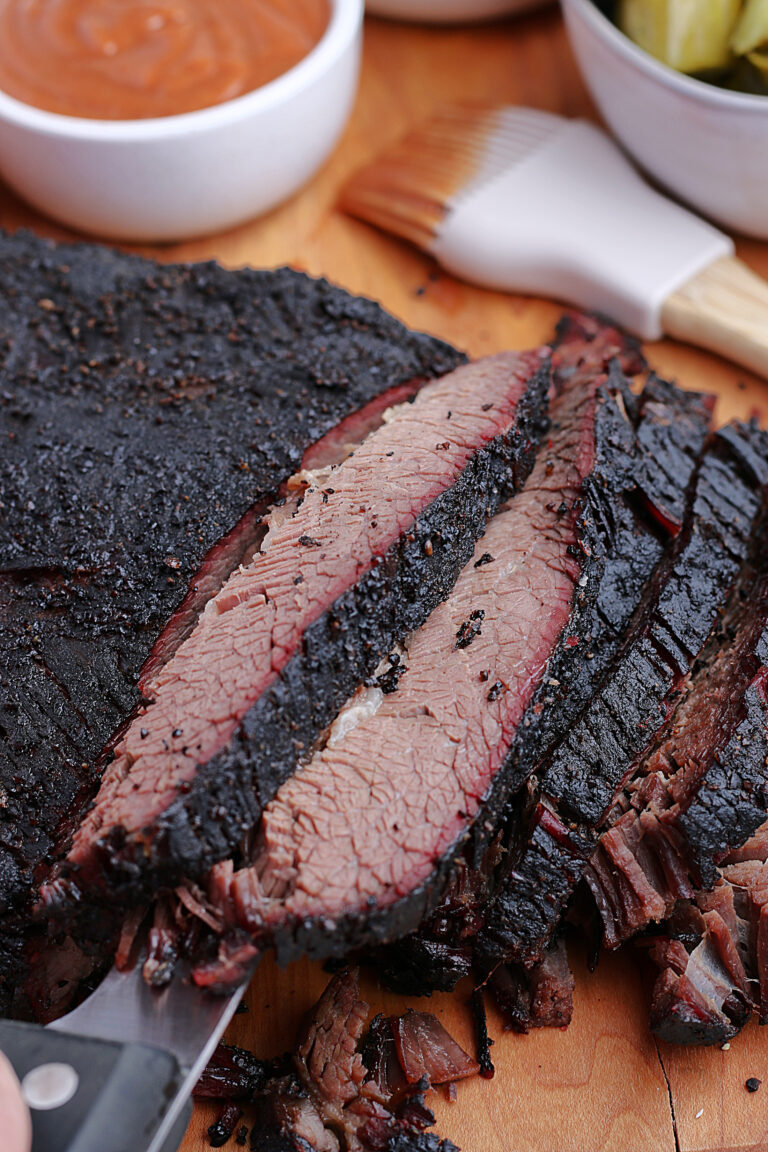 My Top Tips for A Brag-Worth Smoked Brisket
Smoked brisket seems complicated, and as a dad, I don't have time for complicated recipes. So, I took on a smoked brisket as a challenge and realized something:
If you know the basics, a perfect smoked brisket is only hours away—with very little effort involved.
Now, I'm sharing my top tips with you.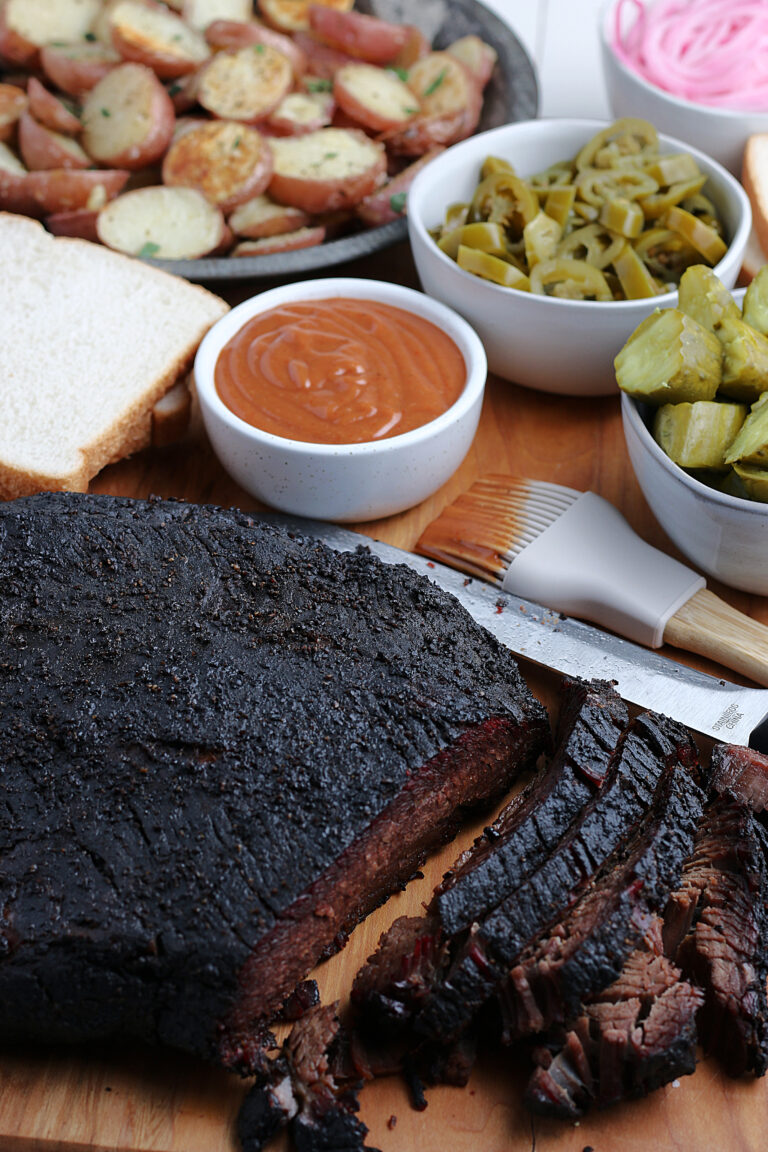 Quality Meat Matters with Brisket
Check the grade of the beef you're buying. As you may already know, there are three different grades of beef:
Prime is the priciest and the highest-quality brisket, but it comes with a price tag. If you're feeding a large crowd, or don't want to spend as much, a choice grade will still give you a great experience.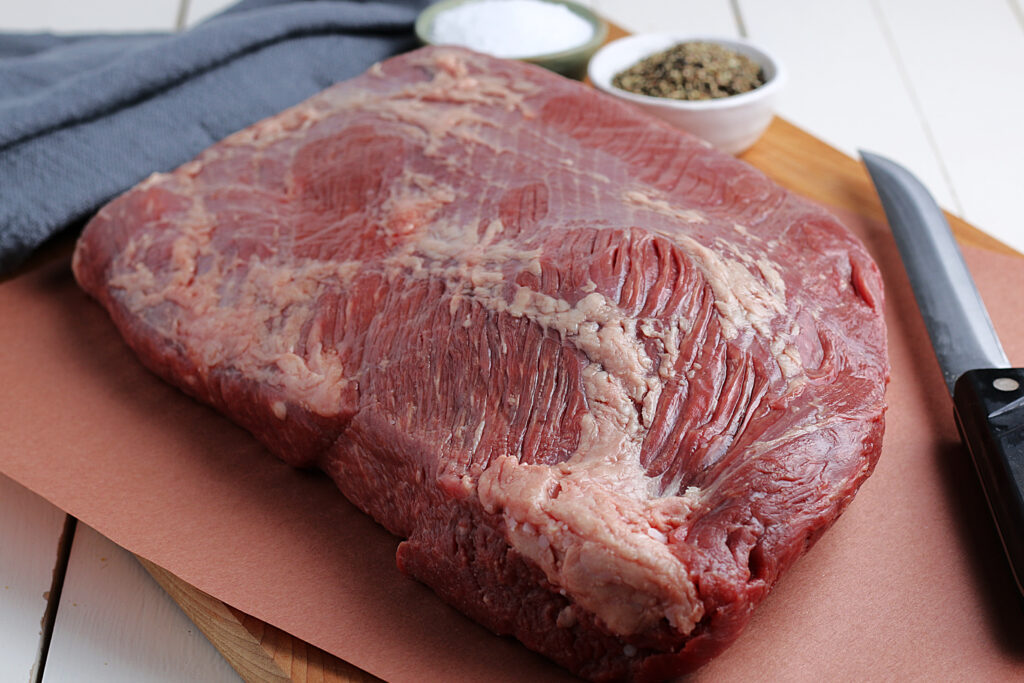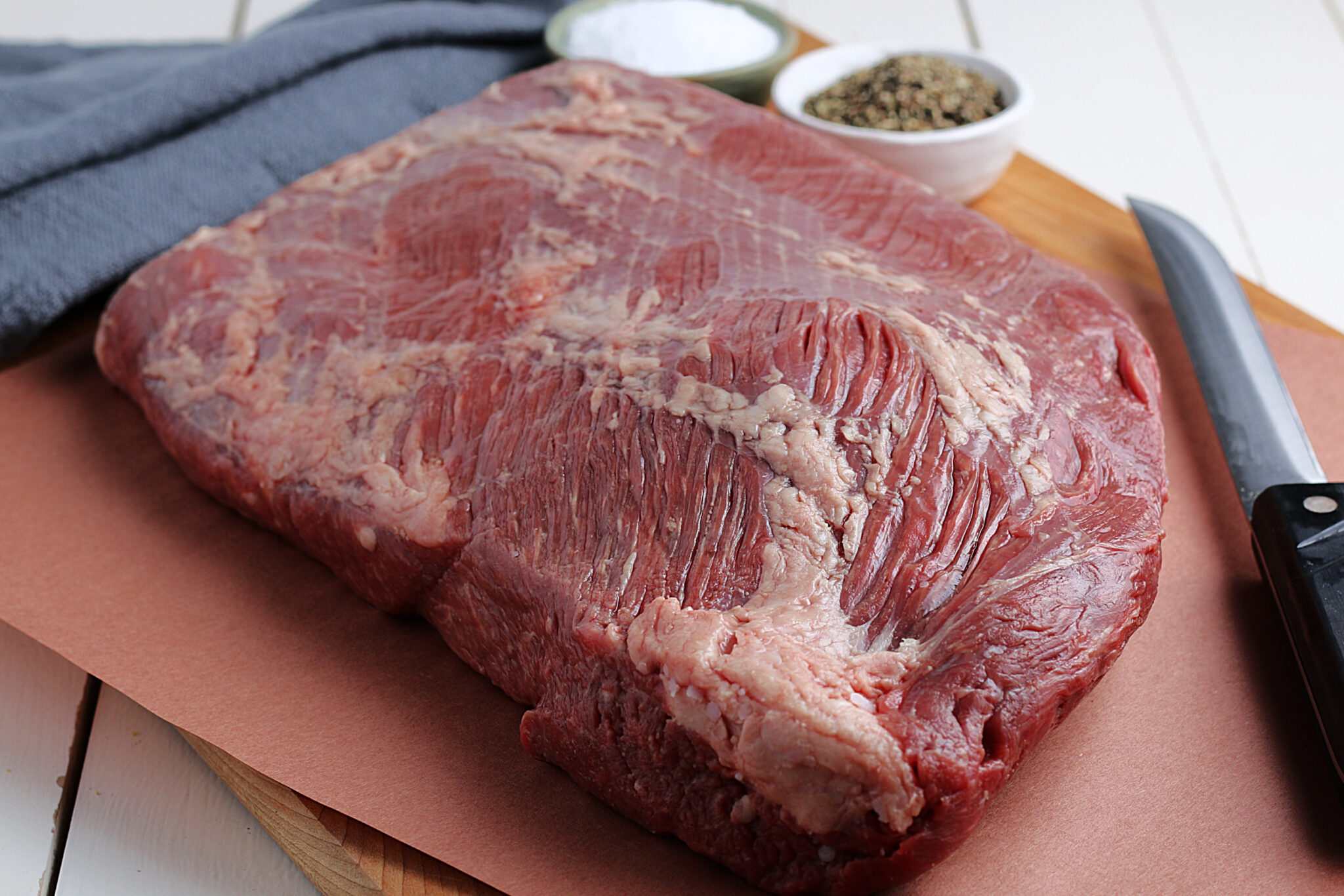 Fat = Flavor
Again, if you're looking to save a bit of money, look for a flat-cut. It's typically pre-trimmed at the grocery store and can save you some money, especially if you're feeding a large crowd.
Point cuts are sliced with the fat on them—the fat has all the flavoring you need. If I had to choose between the two, a point cut is going to be my go-to.
Smoked Brisket Rub—Keep it Simple
Brisket is full of flavor, especially when you're smoking it. So you don't need a bunch of extra seasonings or flavors to make a good brisket. We're going for easy and delicious here.
Prior to putting the brisket in your smoker, season it generously with some coarse salt and freshly cracked pepper. That's the only kind of rub you'll need (trust me on this one).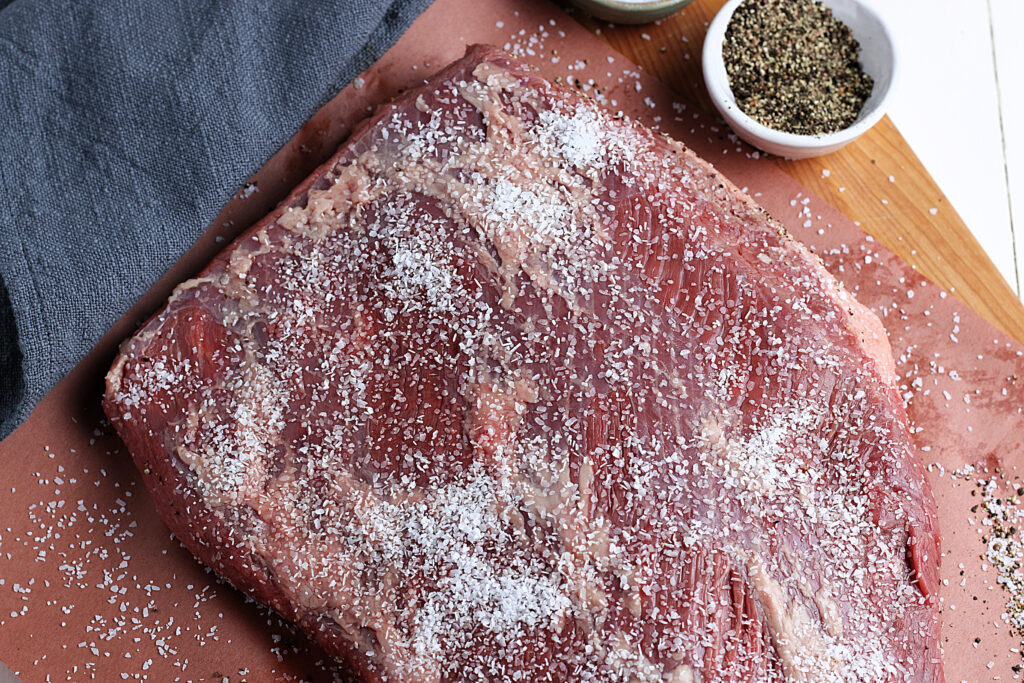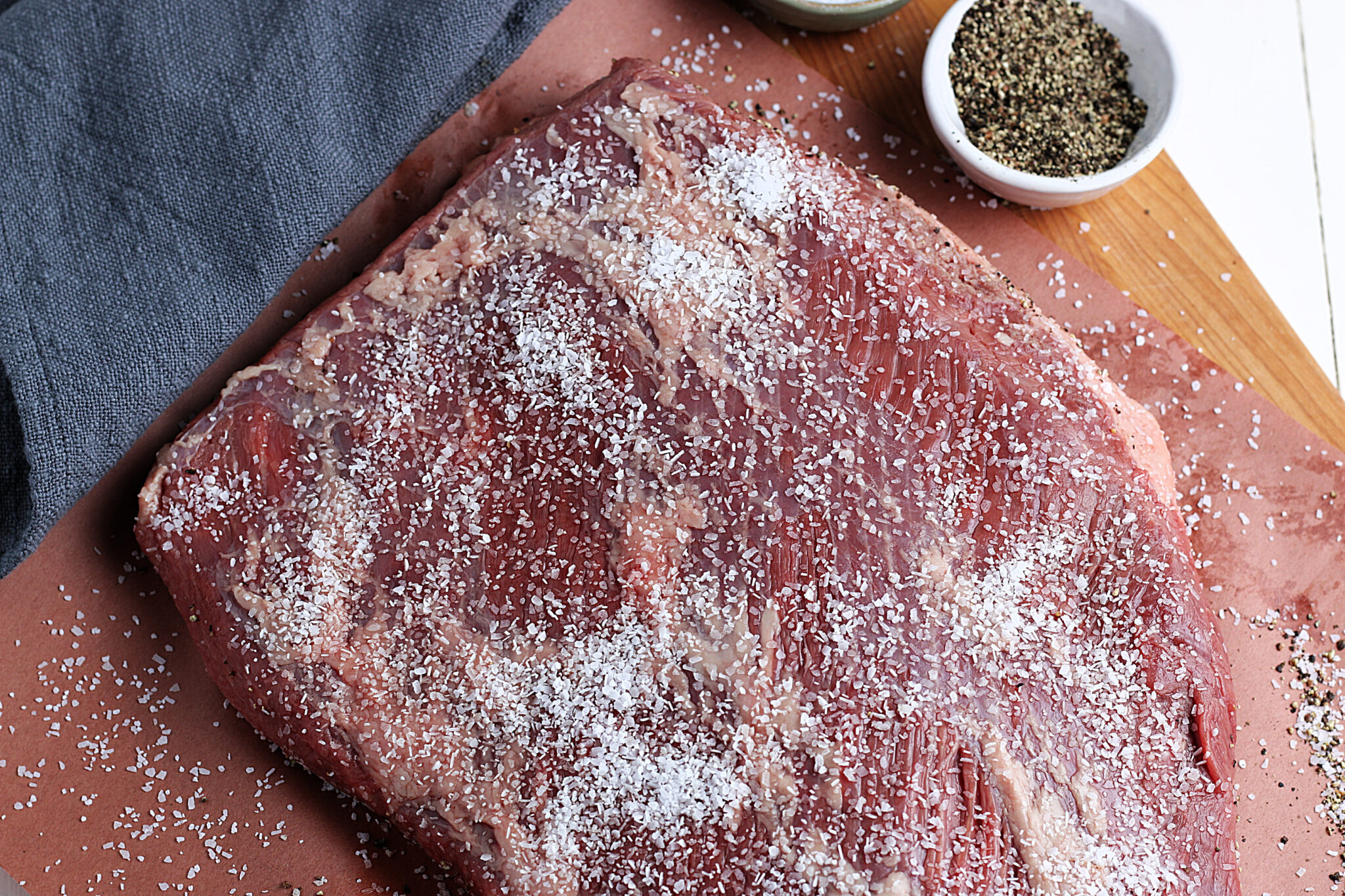 What's are the Best Woodchips to Use with Brisket?
I recommend using applewood or post oak.
They're ideal for beginners or experts. Both burn hot and for a long period of time.
Post oak pairs well with just about anything—it gives the perfect subtle balanced flavor of mild and smokey. It's not too overpowering.
Applewood also gives brisket a nice mellow flavor, but it adds some sweetness.
Choose woodchips that are 4-6 inches in size, any smaller and they'll burn too quickly.
Smoked Brisket Temp and Time: Low and Slow is the Way to Go
If you've been smoking meats with me for any amount of time now you know my go-to smoking method is low and slow.
This is especially important with smoked brisket recipes. Brisket is a tough cut of meat because the muscles in the brisket get used heavily during the cow's life—leading to a large amount of connective tissue development.
To unwind the strands of collagen and give brisket that melt-in-your-mouth texture, it needs time.
Preheat your smoker to 225°F, then add your woodchips.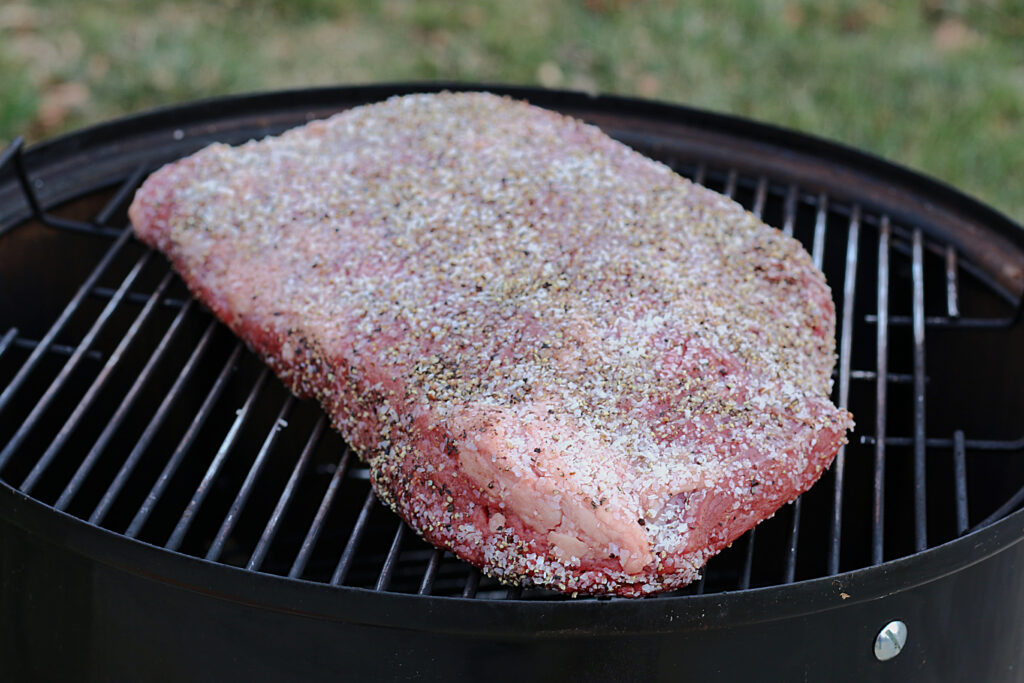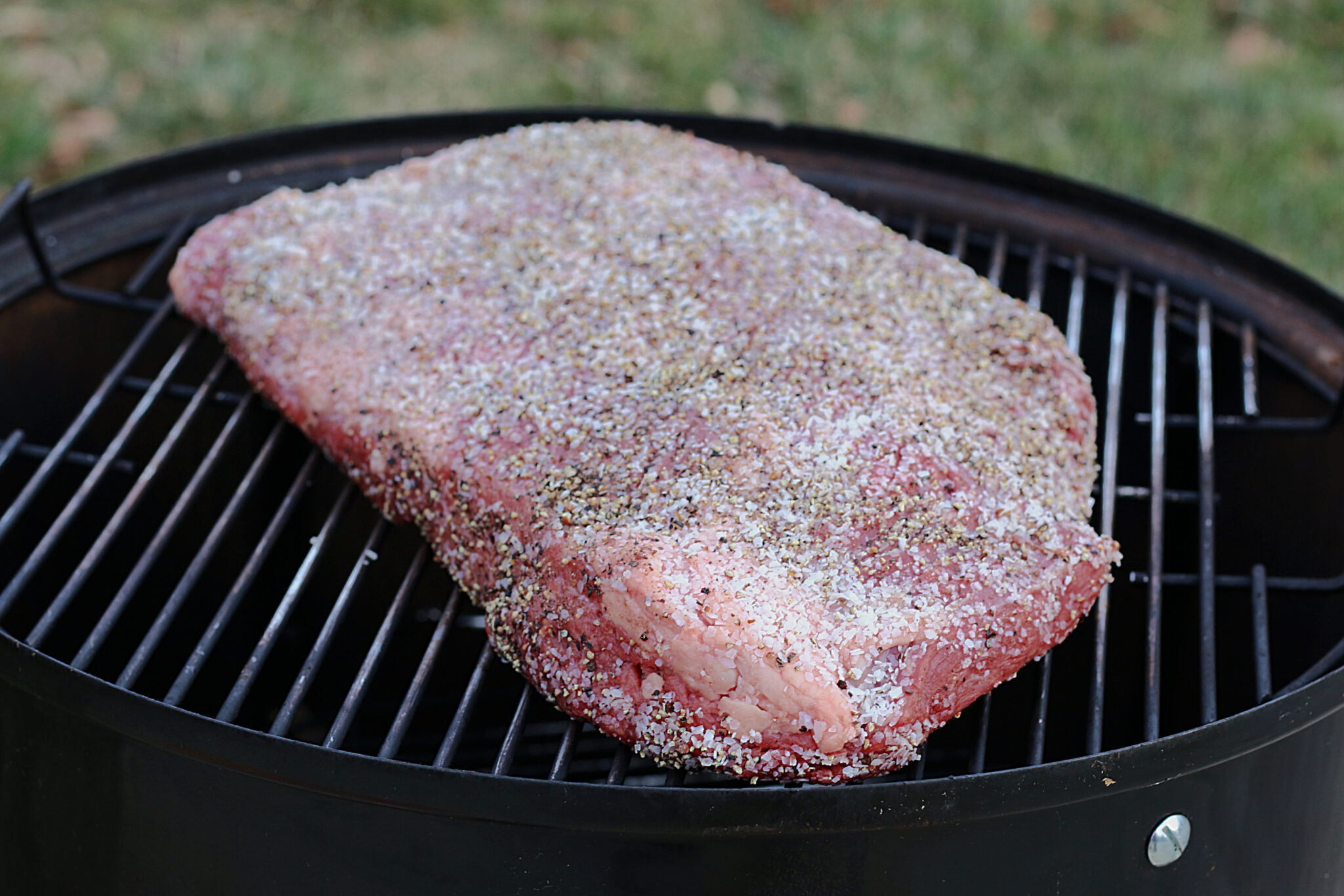 Smoking the brisket is a two-step process. First, place your brisket directly on the grill grates. Smoke the brisket until it reaches an internal temperature of 165°F.
The average smoking time for brisket is 60-90 minutes per pound of meat.
Once it's reached 165°F, you want to remove it from the smoker, wrap it in butcher paper and place it back in the smoker until it reaches an internal temperature of 200-205°F.
Can I Skip Wrapping the Brisket
If you want to miss out on tons of flavor, you can skip it—but I don't recommend that.
Wrapping the meat in unwaxed butcher paper limits the amount of smoke on the surface of the meat. This results in:
Better color

Better flavor

A speedy cooking time

Added moister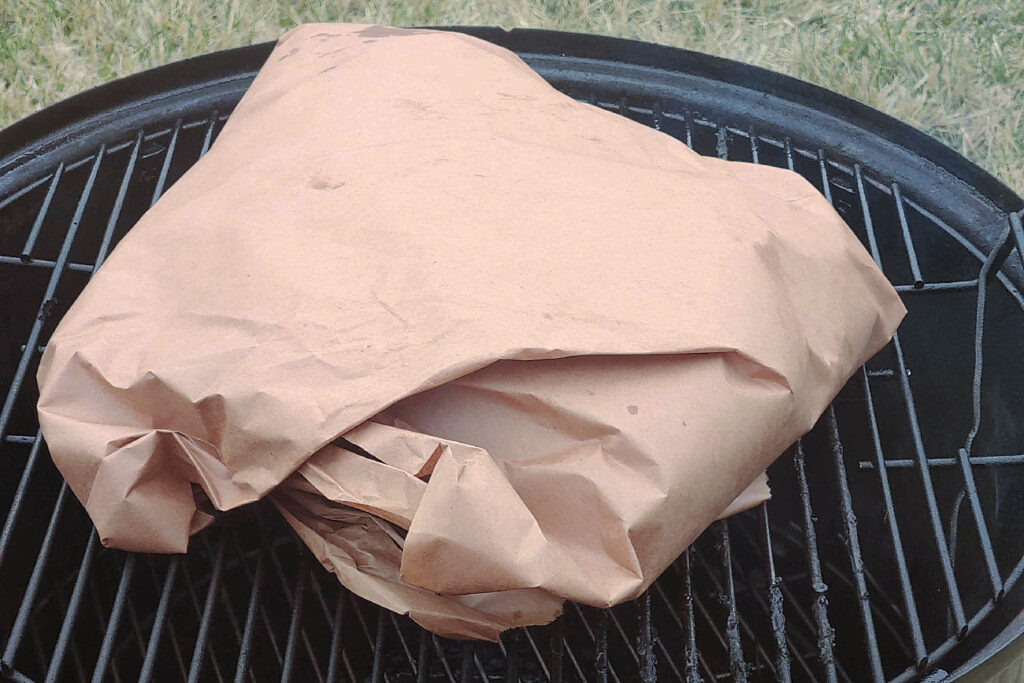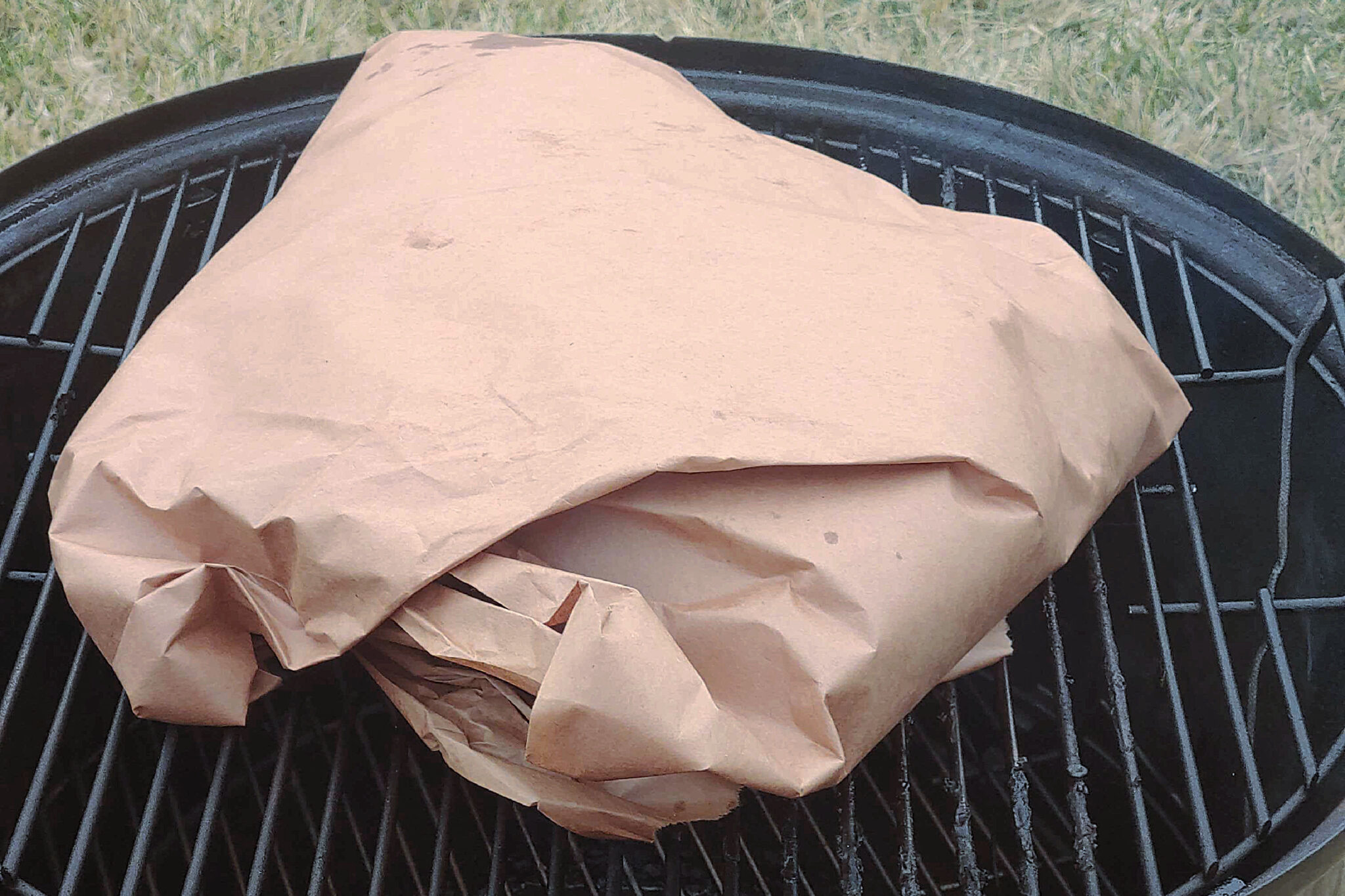 Let it Rest
Good things come to those who wait. Once you remove the wrapped brisket from the smoker, allow it to rest for 1-2 hours.
Trust me, it's worth the wait. Give your brisket time to absorb all the flavors and moisture.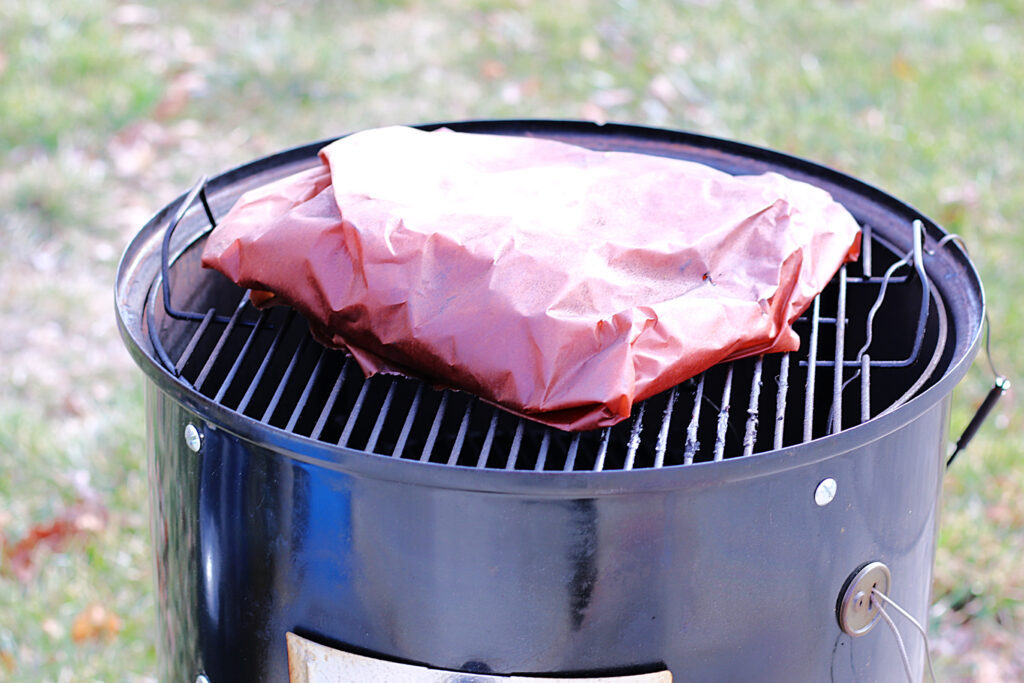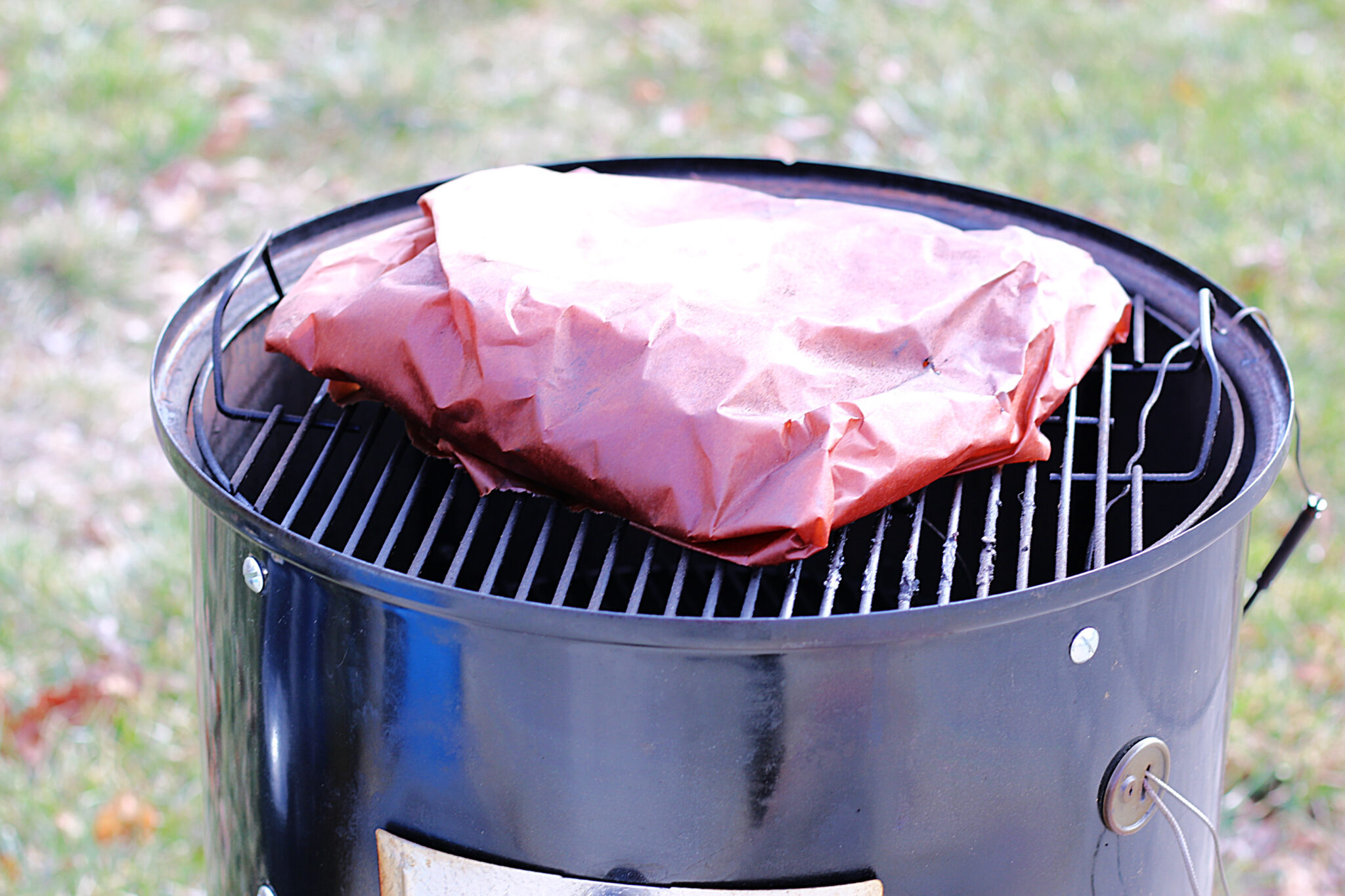 How to Serve Brisket
When it's time to break out the brisket, be sure to cut against the grain. This helps break up the fibers of the meat, making it easier to chew.
You may like these other delicious grilled or smoked recipes: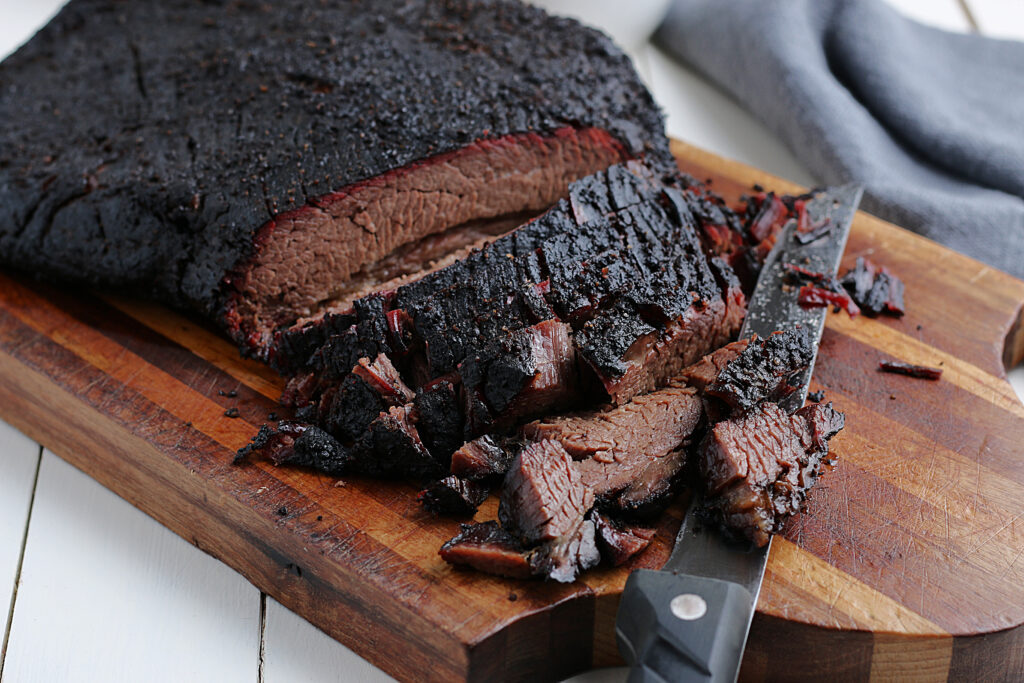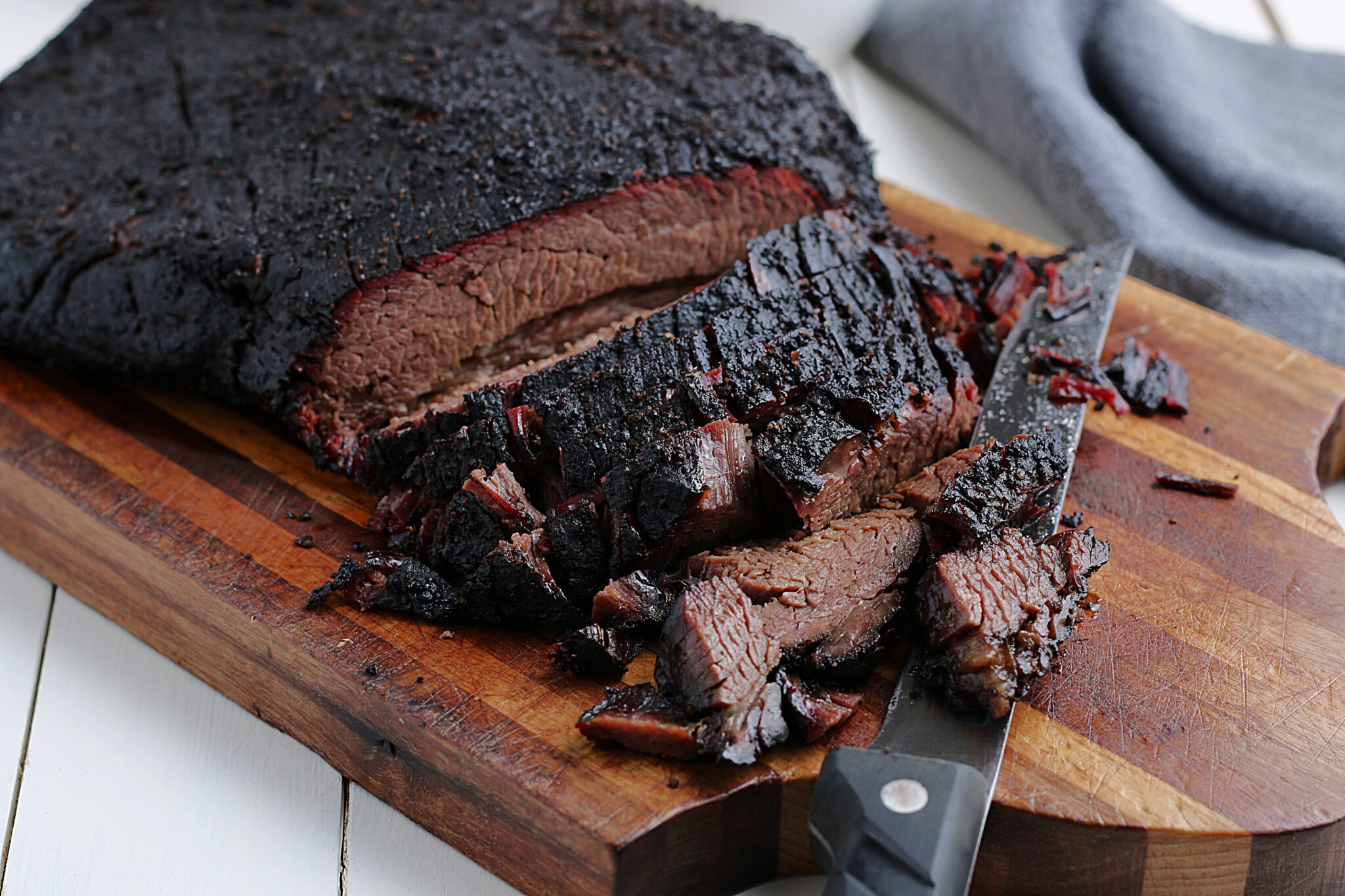 For a unique, authentic style brisket, serve it with white bread, pickles, pickled red onions, and add in a little heat with some pickled jalapenos.
You may like these other delicious grilled or smoked recipes: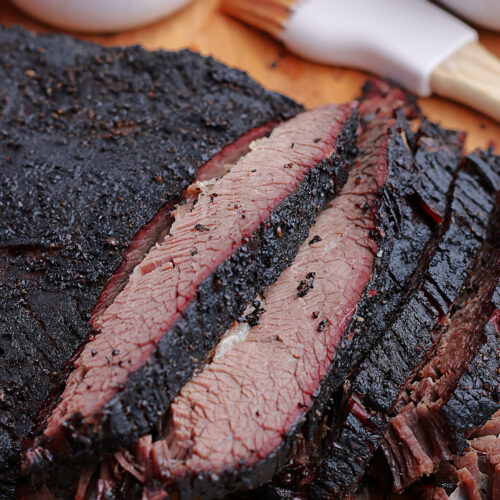 Tender Smoked Brisket Recipe
Smoked brisket sometimes seems difficult to master—that's why I'm sharing my secrets to the best smoked brisket recipe. 
Print
Pin
Rate
Ingredients
Beef brisket

whole, flat or tip

Coarse Kosher salt

Fresh cracked black pepper
Instructions
Remove brisket from the refrigerator and trim fat cap to ¼ inch thickness. Generously season all sides of your brisket with kosher salt and cracked black pepper.

Let rest on the kitchen counter while the smoker comes up to temperature.

Heat your smoker to 225F degrees, once the temperature has settled add post Oak and Applewood and place the brisket on the grill grate and close the lid. Smoke brisket until internal temperature reaches 165F degrees.

When the brisket reaches 165F wrap in butcher paper or aluminum foil and place back on the smoker and continue smoking until the brisket reaches an internal temperature between 200-205F degrees.

Remove from smoker and allow to rest 1-2 hours. (can be rested longer in a cooler).

After the brisket has rested serve by slicing the brisket across the grain. Serve with pickles, white bread, pickled red onions, and pickled jalapenos for an authentic Texas style brisket.
Notes
Post Oak and Applewood Wood
Nutrition
Serving:
1
g
|
Calories:
21
kcal
|
Protein:
2
g
|
Fat:
1
g
|
Saturated Fat:
1
g
|
Polyunsaturated Fat:
1
g
|
Cholesterol:
8
mg
|
Sodium:
52
mg