This post contains Affiliate Links. Read my full disclosure for more info.
The idea of smoked salmon intimidated me at one time, but as I began smoking more and more dishes, I decided to give Traeger smoked salmon a try — and now, it's one of my favorite foods to smoke.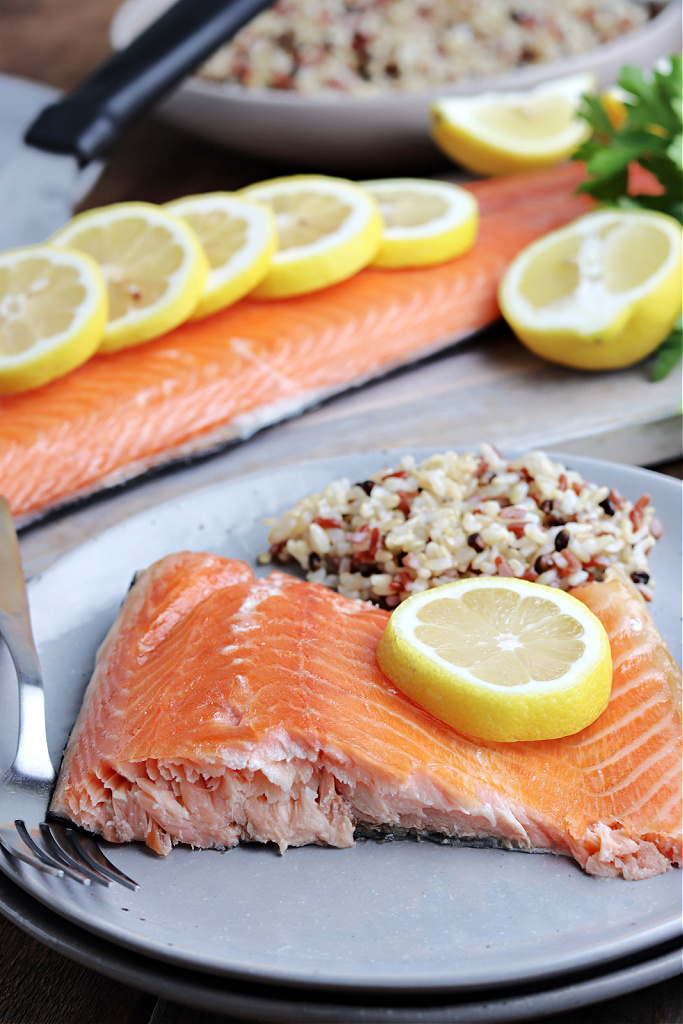 How To Pick the Best Salmon
Fresh salmon is always my first — and best choice — for smoked salmon. It should have a vivid pink color and no odor. When picking salmon, be sure to smell it and check that the eyes are relatively clear if you're buying a whole fish.
Typical options you'll have are:
Farm-Raised Salmon — typically raised in a farm, you'll find that farm-raised salmon is typically larger and has a higher fat content than wild-caught salmon. This salmon is great for smoking because the fat makes for a very tender cook. King Salmon and Atlantic salmon are most commonly found in grocery stores
Wild-Caught Salmon — this salmon is caught from its natural habitat. These are much leaner fish because they are constantly moving. Although best for being grilled, wild-caught salmon can also be smoked. Be aware that wild-caught salmon will cook much faster than farm-raised salmon, but the flavor profile is preferred. Look for Chinook (Columbia River King) salmon, Copper River, or Sockeye salmon.
For this recipe, we'll be using 2-4 pounds of salmon filets.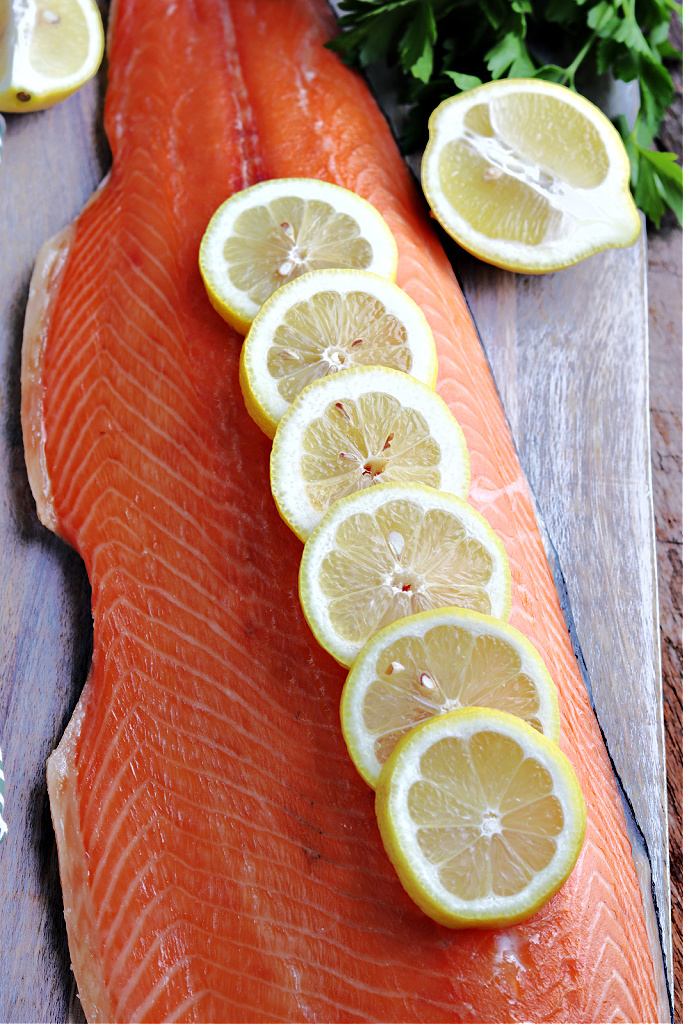 Perfect Dry Brined Smoked Salmon
The key to this Traeger smoked salmon is the dry brine.
Dry brines use the natural moisture of the fish to form a brine, then the fish soaks the brine back in. Not only does this produce juicy, flavorful smoked salmon, but it also results in more even browning and a nice, light, crispy crust.
This dry brine is only three ingredients:
Kosher salt
Brown sugar; and
White sugar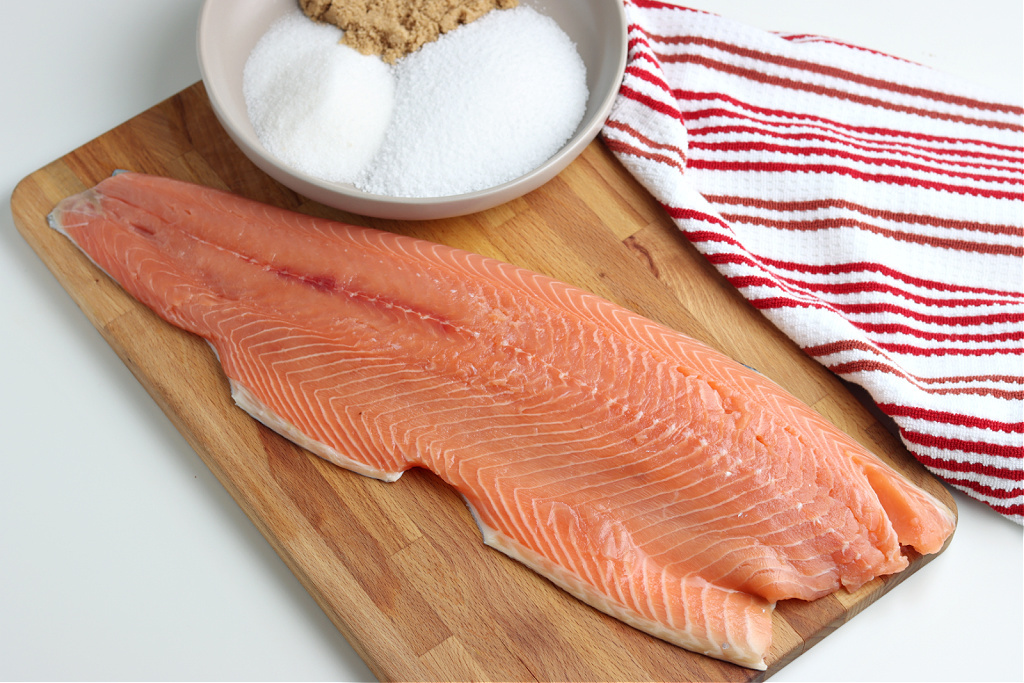 Combine all three ingredients in a small bowl thoroughly. Place your salmon filet on a wire baking rack on a baking sheet or tray. Sprinkle the brine all over the length of your filets. Cover the surfaces of both sides of your filet with the brine. This is known as curing. Let the brine sit on your salmon for two hours uncovered in the refrigerator — or up to 8 hours.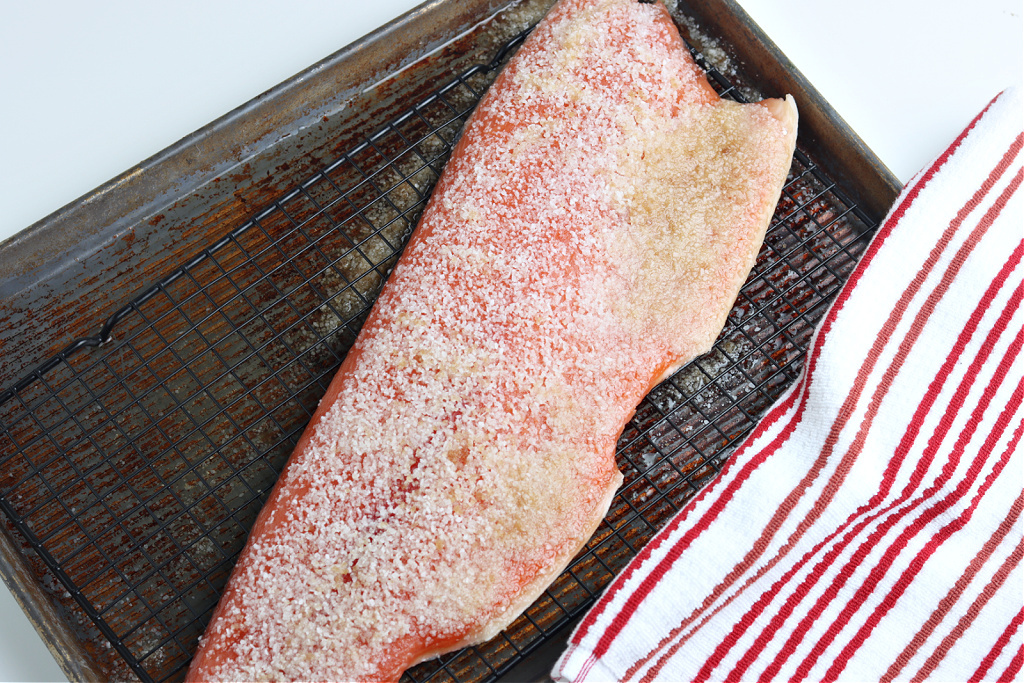 When it's time to smoke the salmon, you'll notice a lot of excess moisture has been pulled from the filet. This is normal and due to the salt.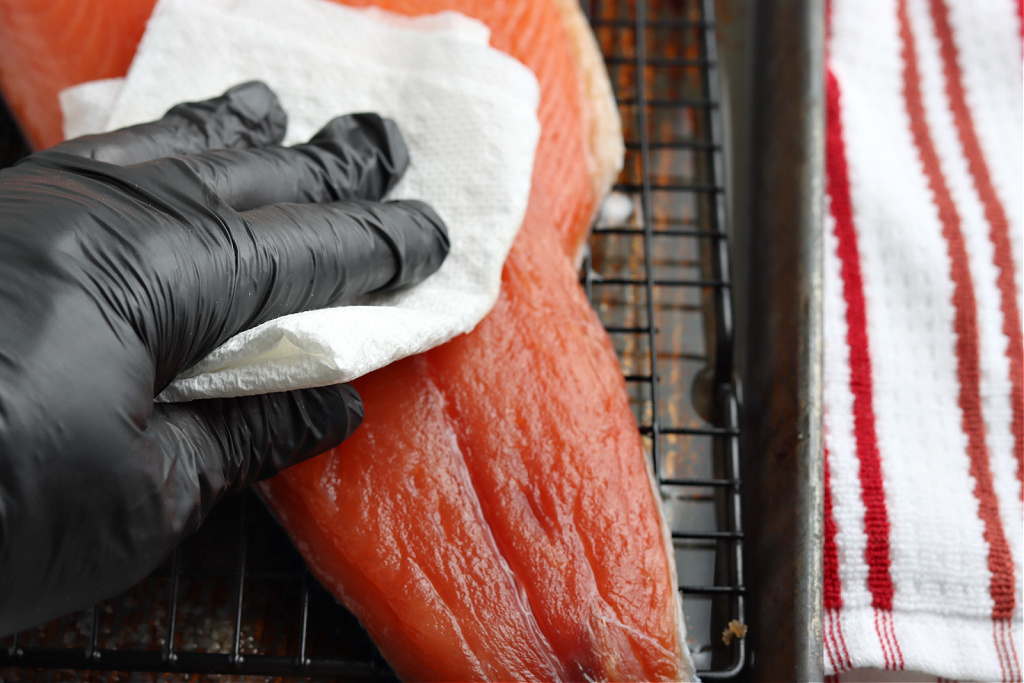 Rinse the salmon so you remove the excess brine — although you want a good crispy outside layer, you don't want all the extra salt. Make sure to pat the salmon dry after rinsing. If you have the time, let the salmon sit for a few minutes to dry a bit more.
How To Smoke Salmon
The rest of the process goes relatively quickly — which also might be why my household loves this recipe so much.
I recommend applewood for this recipe, but cherrywood, oak, and pecan all give this dry-smoked salmon great flavor.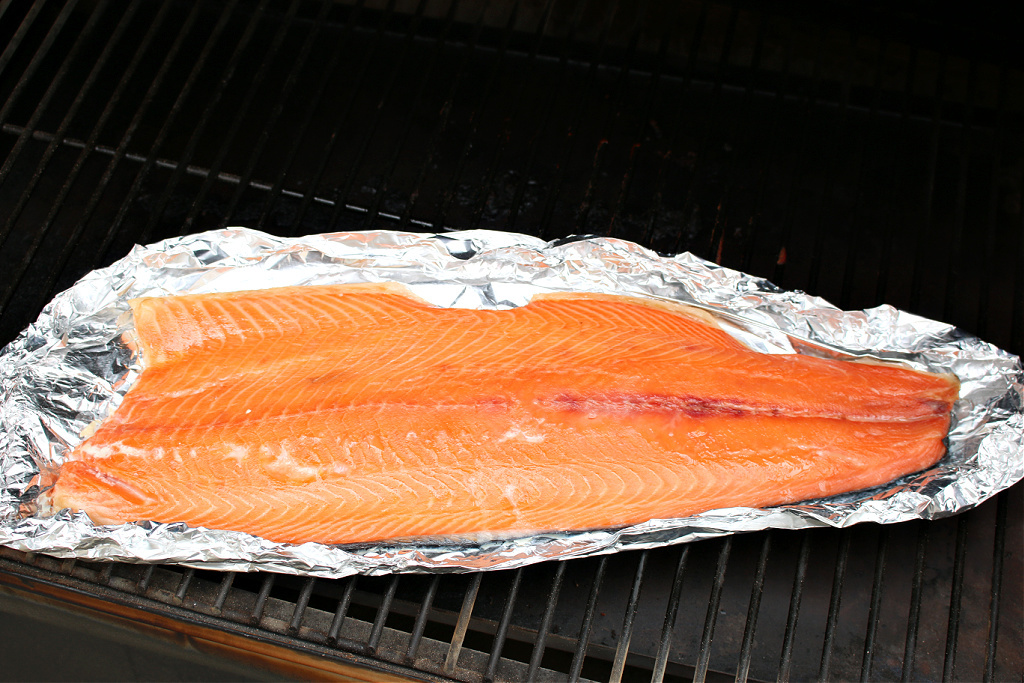 Heat your smoker to 225°F.
Place the salmon skin-side down on a sheet of foil and place it in your smoker.
Let the salmon smoke until it reaches an internal temperature of 140°F — typically around 30 minutes. Once cooked, let the salmon rest off of the smoker for five minutes before serving.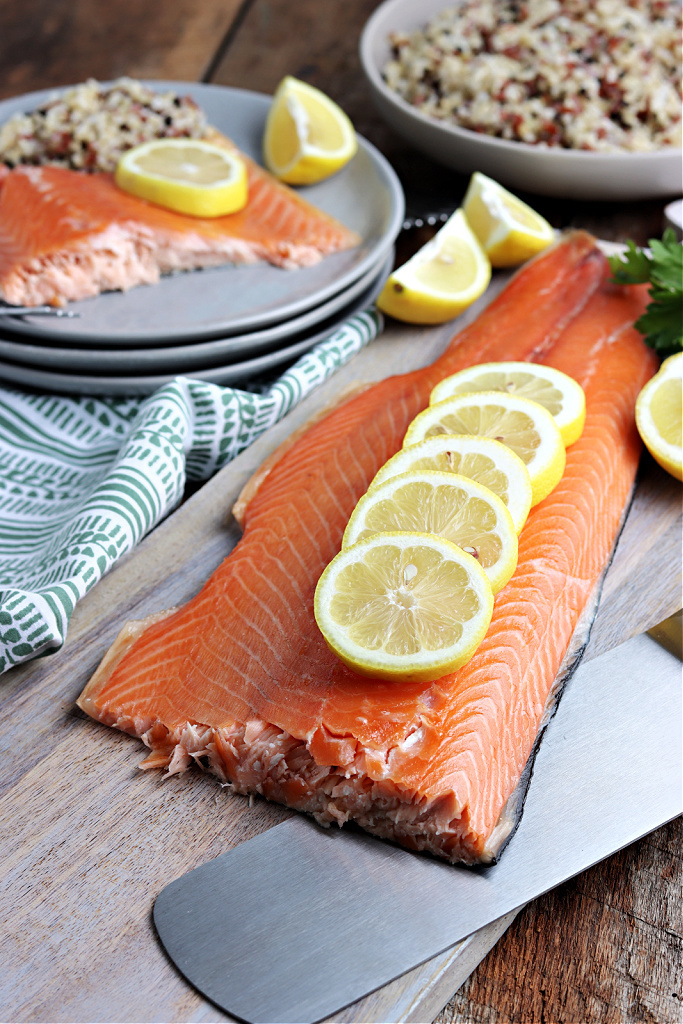 If you have a Weber Smokey Mountain Smoker, you may want to check out my other Smoked Salmon recipe here.
What To Serve With Smoked Salmon
This recipe is super versatile, so you can dress it up or dress it down.
Feeling a light meal? Throw a spinach salad together for a side. Wanting a mix of flavorful and comfort foods? Try pairing this smoked salmon with our smoked asparagus.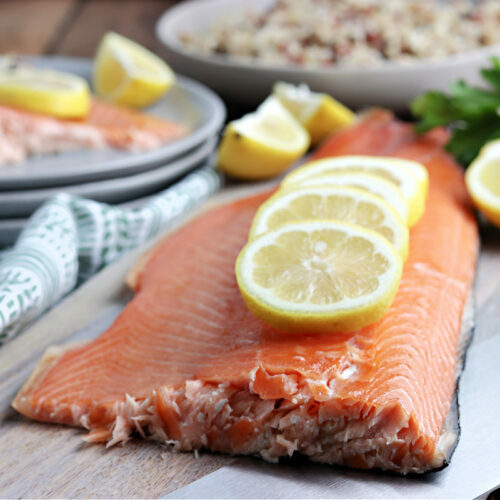 Traeger Smoked Dry Brined Salmon
The idea of smoked salmon intimidated me at one time, but as I began smoking more and more dishes, I decided to give Trager smoked salmon a try — and now, it's one of my favorite foods to smoke.
Print
Pin
Rate
Ingredients
2-4

pounds

Salmon filet

1/2

cup

Kosher salt

1/4

cup

Brown sugar

1/4

cup

White granulated sugar
Instructions
Remove any pin bones in the filet.

Mix together in a medium bowl the salt, brown sugar, and white sugar.

Place a wire baking rack on a rimmed baking sheet. Place the filet skin side down on the wire rack. Coat the filet surface with the sugar dry brine mixture.

Place in the refrigerator for 2 hours uncovered, up to 8 hours.

Heat your smoker to 225 F degrees

Rinse salmon to remove any excess brine and place on a baking sheet, pat dry with a paper towel.  

Place the salmon skin-side down on a sheet of foil and transfer it to the smoker.

The salmon is finished smoking when the internal temperature reaches 140 F degrees. Begin checking for doneness after 30 minutes using an instant-read thermometer.

Remove from the smoker and rest for 5 minutes before serving, or cover and chill in the refrigerator until ready to serve.

Salmon should be eaten no more than 3-4 days after cooking
Nutrition
Calories:
282
kcal
|
Carbohydrates:
17
g
|
Protein:
30
g
|
Fat:
10
g
|
Saturated Fat:
1
g
|
Polyunsaturated Fat:
4
g
|
Monounsaturated Fat:
3
g
|
Cholesterol:
83
mg
|
Sodium:
9500
mg
|
Potassium:
755
mg
|
Sugar:
17
g
|
Vitamin A:
60
IU
|
Calcium:
32
mg
|
Iron:
1
mg