This post contains Affiliate Links. Read my full disclosure for more info.
What Thanksgiving would be complete without the gravy? This Homemade Turkey Gravy Recipe is not only simple, it is the best compliment to your moist and delicious turkey, and probably all the sides, too!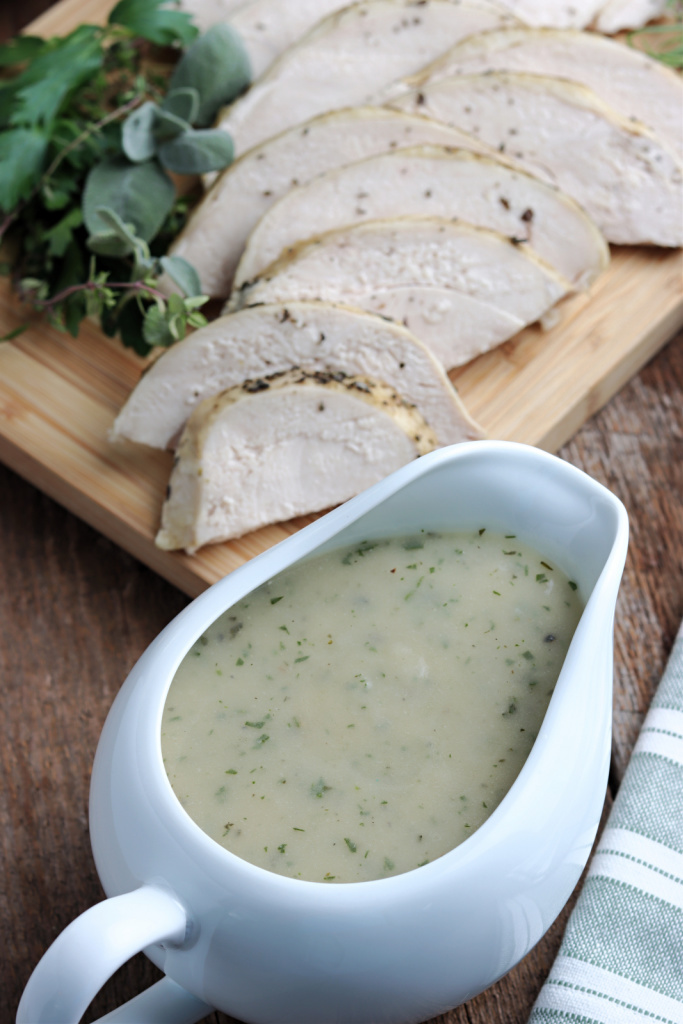 Sometimes simple isn't always better. This isn't the case with this Turkey Gravy recipe. Easy enough to whip up in less than 30 minutes while the turkey rests, all you need are some drippings, flour, butter, and a few seasonings and you're good to go. Whether you love the creamy, flavorful addition of gravy to your turkey and mashed potatoes or if you prefer to smother your entire plate in it, save this Turkey Gravy recipe for Thanksgiving or any meal, and thank me later.
Turkey Gravy Ingredients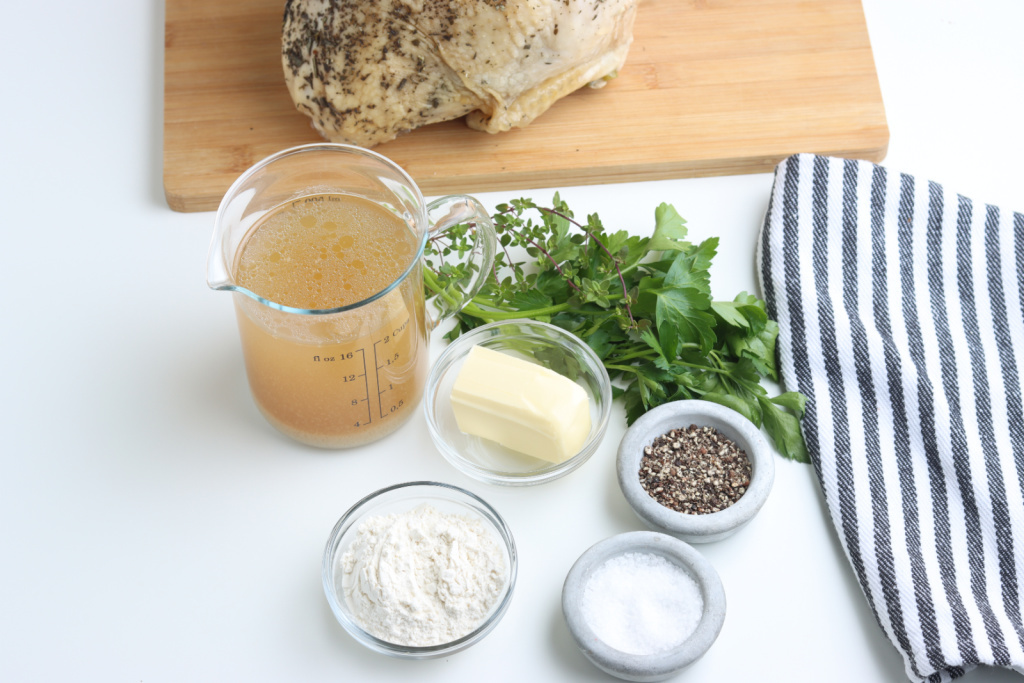 Be sure to check the recipe card for a complete list of ingredients and how much you need. This is just an overview.
You can use fresh or dried spices, depending on your preference or what you have on-hand, and you might want to grab some stock to make sure you have enough liquid.
Turkey Drippings – while you can use stock, your gravy will be so much more flavorful if you use at least some of the drippings.
Unsalted Butter – definitely use unsalted so you can control the flavors.
All-purpose Flour – combined with the butter, the flour helps form the roux that will thicken the gravy.
Seasonings
Thyme – Be sure to measure properly as thyme is a pungent herb. If you use fresh thyme, be sure to fish out the stems before serving the gravy.
Parsley – You may think that parsley doesn't have any flavor. You'd be mostly right. The point of parsley isn't to add a ton of flavor, but to brighten and add balance to savory dishes. So don't skip the parsley!
Salt and Pepper – Less is more…to start. Remember, once you oversalt a dish, it is very difficult to UNsalt it. Pepper, however, especially fresh ground pepper, can add a kick to your gravy, so be sure to taste as you add.
How To Make Turkey Gravy
To make this Turkey Gravy from drippings, you'll start by straining the drippings from the pan. Probably a good idea to strain it directly into a measuring cup so you know immediately if you need to add any stock so you have enough liquid.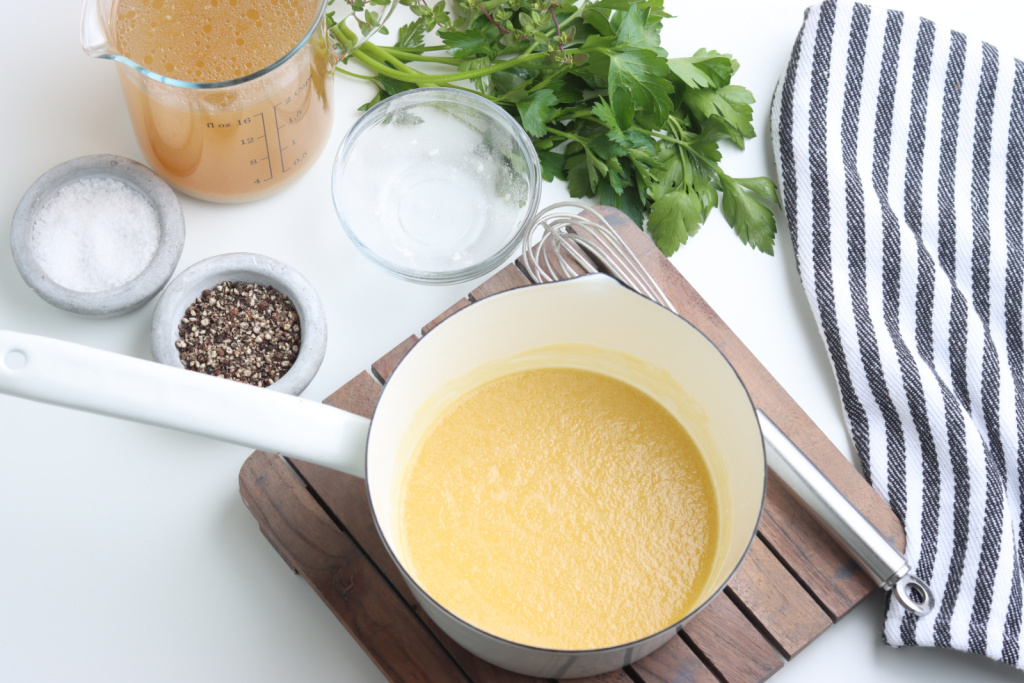 Melt the butter then add the flour and whisk it all to combine it. Slowly add about ½ cup of the drippings/stock and whisk to make a paste. While continually whisking, gently pour the rest of the liquid into the saucepan.
Simmer this until the gravy thickens then add all the seasonings and stir it well. Serve the gravy immediately alongside your turkey and mashed potatoes. If there are any leftovers, you can store them in the refrigerator.
Yes, it really is that simple to make the best turkey gravy recipe you've ever had.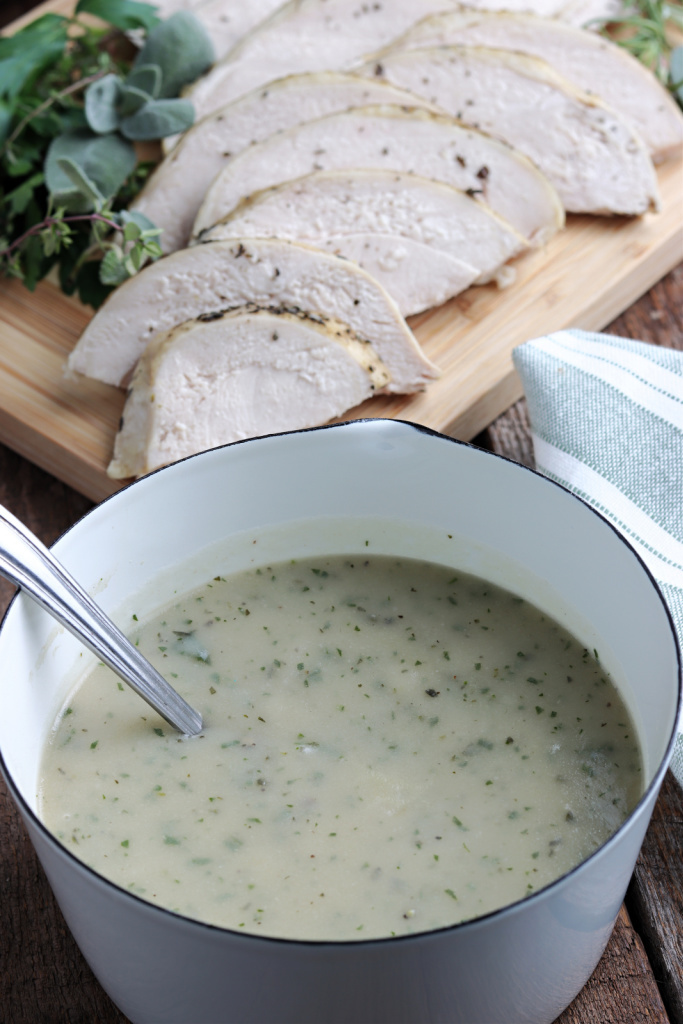 What are drippings?
After cooking the turkey, take a gander in the bottom of the roasting pan. All that liquid in there is the drippings. It includes the melted fat and small chunks of meat that fell off. While you don't HAVE to use the drippings to make Turkey Gravy, the flavor it adds is worth the effort.
You'll have to strain the drippings and get those meat chunks and whatnot out before using it in your Turkey Gravy. If there aren't a lot of drippings leftover, you can add stock to get the necessary amount for the recipe.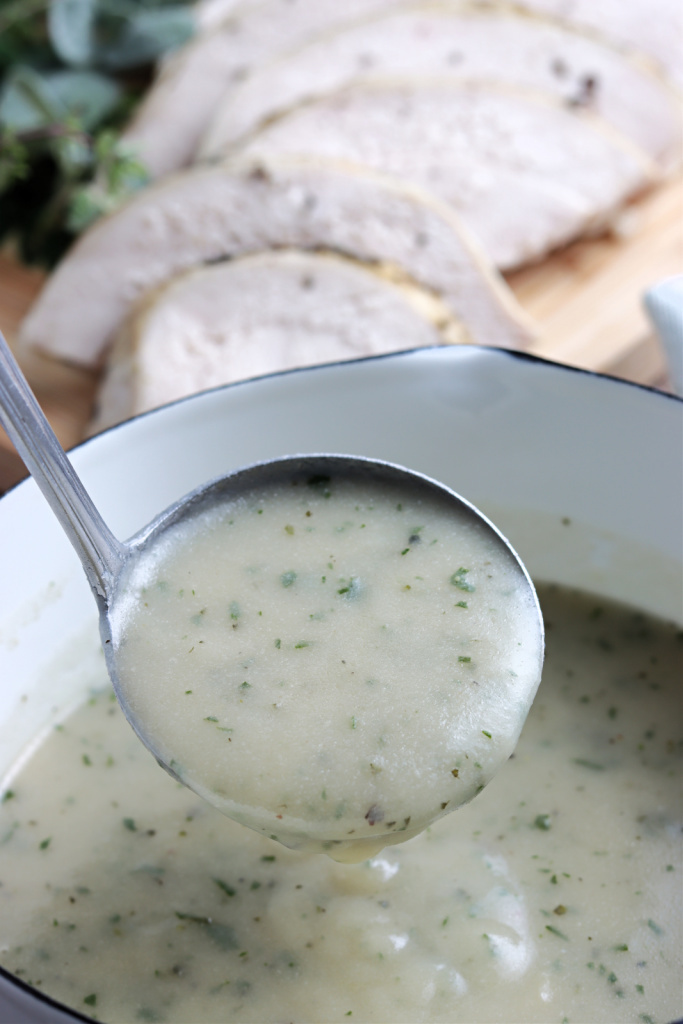 Is it Possible to Make Turkey Gravy Ahead of Time?
Why not? If you don't have access to the drippings or there's just too much going on to add gravy to the mix the day-of, go ahead and make the gravy, just use stock and no drippings. After it cools down, you can store it for 2-3 days in a sealed container in the refrigerator.
When you're ready to reheat it, pour the premade stock into a saucepan, add a splash or two of chicken broth or water in order to thin it (totally up to your opinion of how thick gravy should be), and heat it on medium/low heat for about 15 minutes or until warmed through.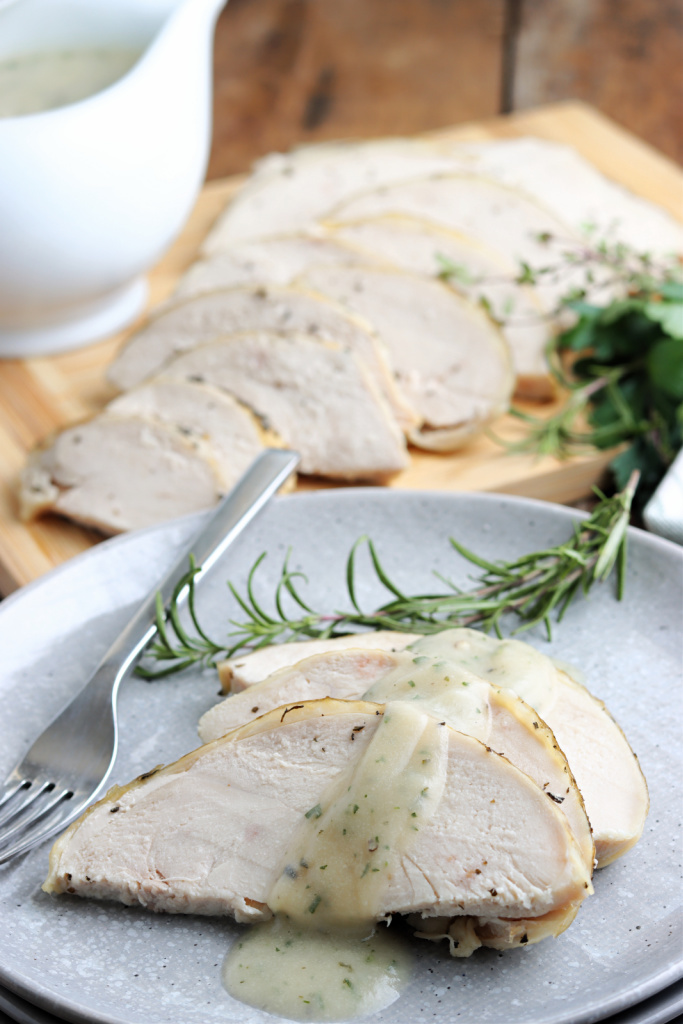 Do you need more recipe ideas? We have you covered!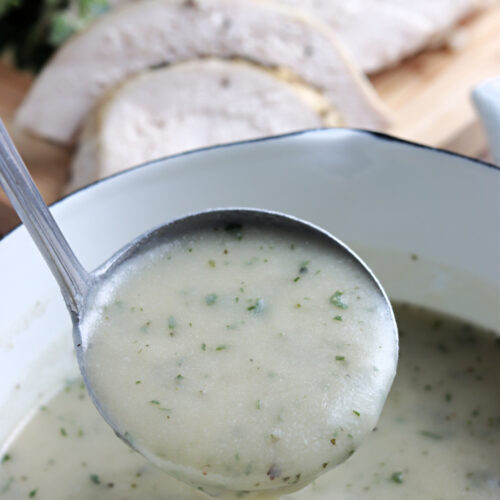 Ingredients
2 1/4

cups

turkey drippings

from pan or stock

1/4

cup

unsalted butter

(1/2 stick)

1/4

cup

all-purpose flour

2

teaspoons

fresh thyme, chopped finely or 1 teaspoon dried thyme

3

teaspoons

fresh parsley, chopped finely or 1 teaspoon dried parsley flakes

salt and pepper to taste
Instructions
Strain drippings from pan or CrockPot

Measure drippings and add enough stock or broth to make 2 ¼ cups

In a medium saucepan, melt butter

Add flour and whisk to combine completely

Slowly pour about ½ cup liquid and whisk briskly to form a paste

Slowly pour remaining liquid into saucepan, whisking constantly

Simmer until the gravy is thickened. Gravy will continue to thicken after removing from the heat

Add seasonings and stir to combine well

Serve immediately with turkey

Store leftovers in refrigerator