This post contains Affiliate Links. Read my full disclosure for more info.
Searching for the perfect, fall-off-the-bone smoked baby back ribs (using the 3-2-1 method)? Look no further. My 3-2-1-Smoked Ribs are easy to make and even easier to eat. Your BBQ guests will be raving for months about your skills. 
How to Make 3 2 1 Smoked Ribs
In my family, summer isn't summer without smoked baby back ribs on the menu regularly.
The hardest part of the recipe is the patience it takes to let the smoker do its job.
I decided I want your summers to be as tasteful as mine, so I'm sharing my top tips and tricks with you.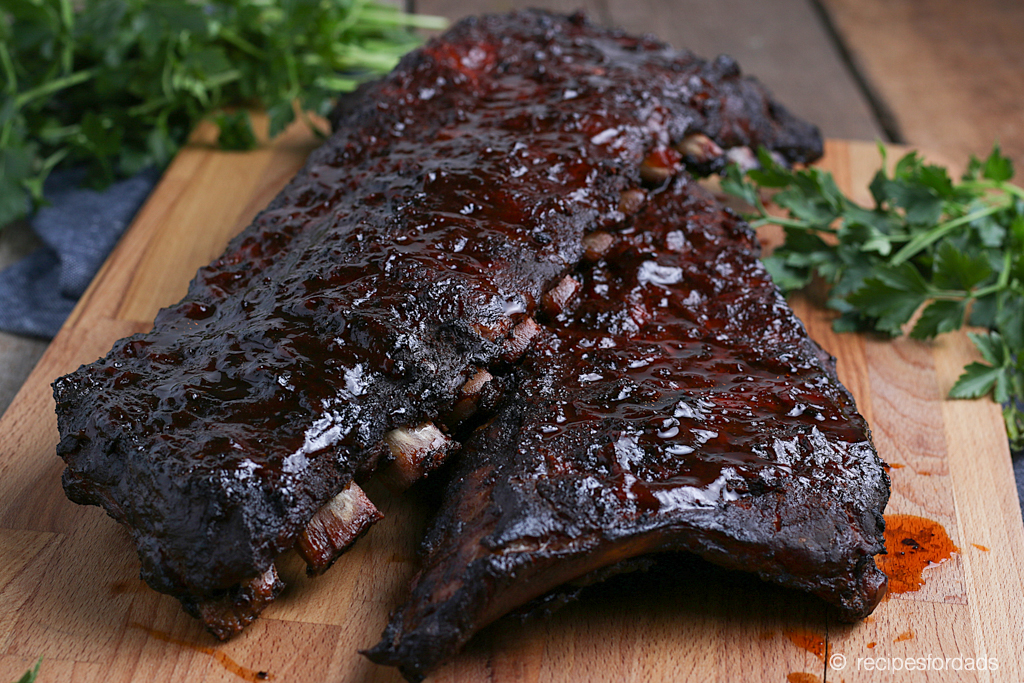 Start by removing the membrane from the back of the ribs.
How do you remove the membrane from ribs? I'm glad you asked.
To do this, slide a knife under the silverskin — a table knife should be sufficient. Loosen and lift the membrane until you can pull it off the ribs with a paper towel.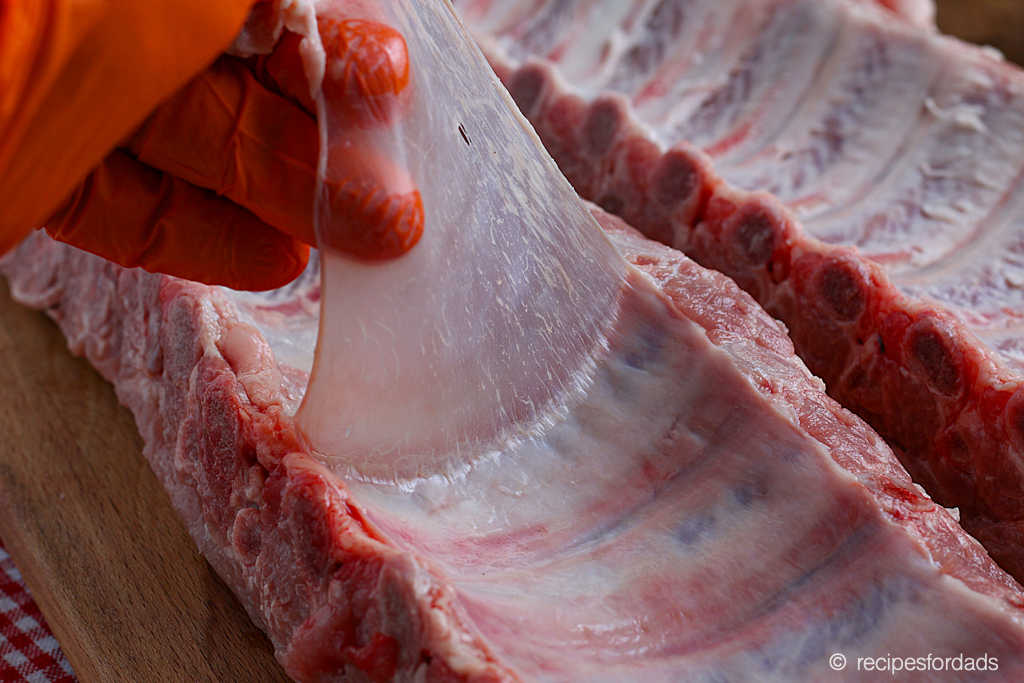 Ribs need a good rub.
A good rub will enhance the flavor of the meat and add a bit of a crust to the ribs.
My rub for 3 2 1 Ribs include the following spices: 
Ground pepper
Chili powder
Garlic powder
Cayenne
Dry mustard
If you've been following me for some time, you likely already have each of these seasonings on hand.
You can leave this rub on your smoked baby back ribs for up to two days before smoking — or you can throw them on the smoker the same day.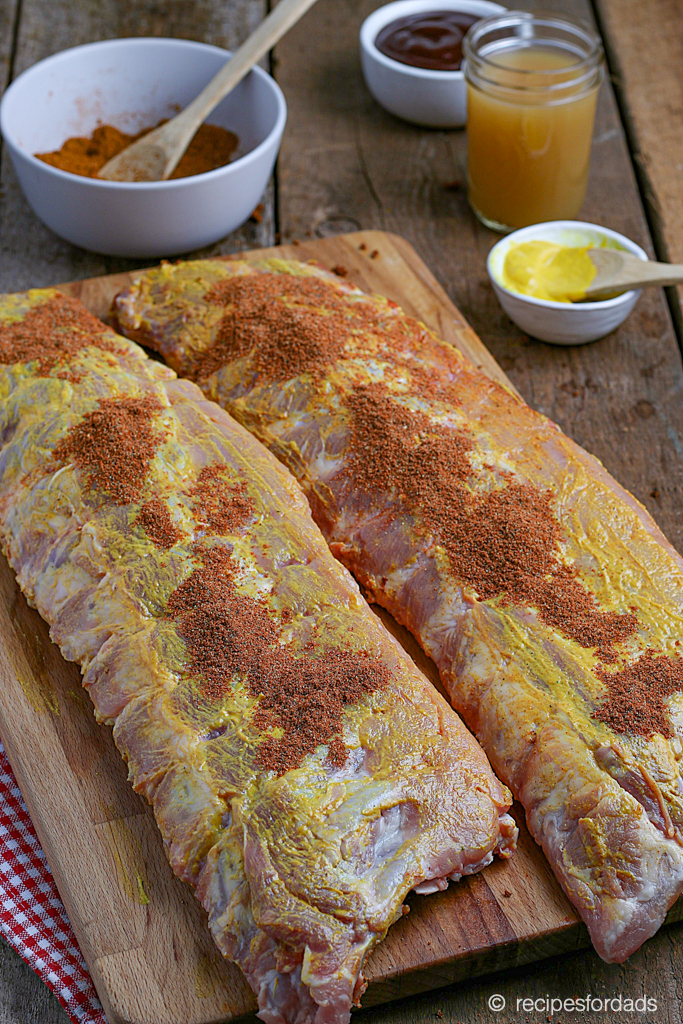 What Temperature Should I Smoke Baby Back Ribs At?
Preheat your smoker to 225°F. Let your ribs smoke for three hours at 225°F.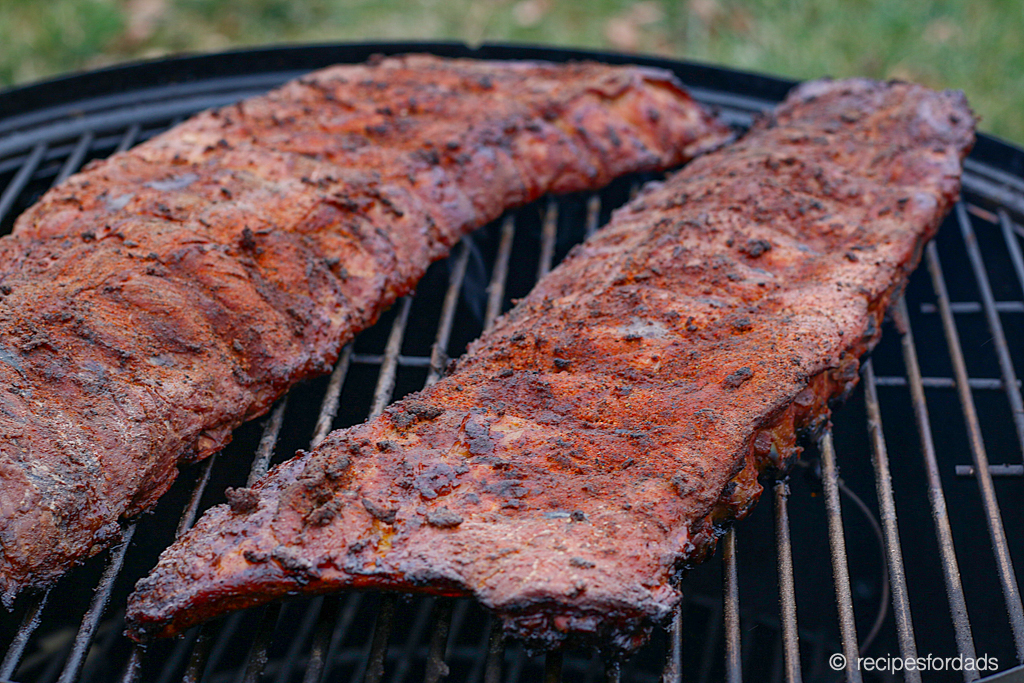 3 2 1 Smoked Ribs Method
After three hours, pull them off, wrap each rack in foil and pour ¼ cup pop (soda), apple cider, or beer, onto the ribs.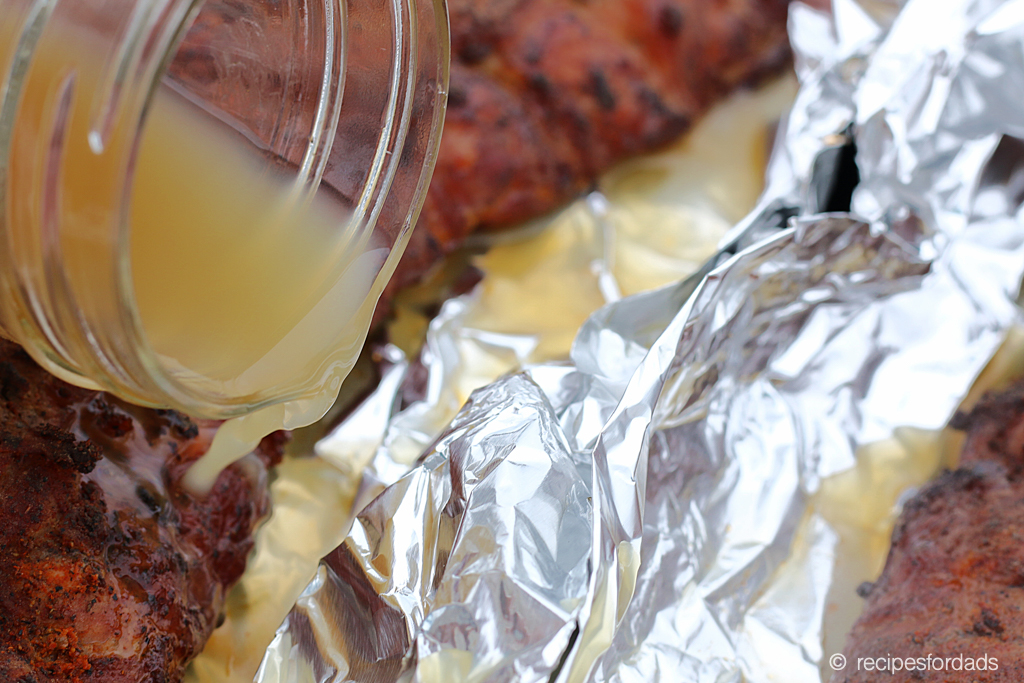 Be sure to seal the foil packs before placing them back on the smoker for another 2 hours.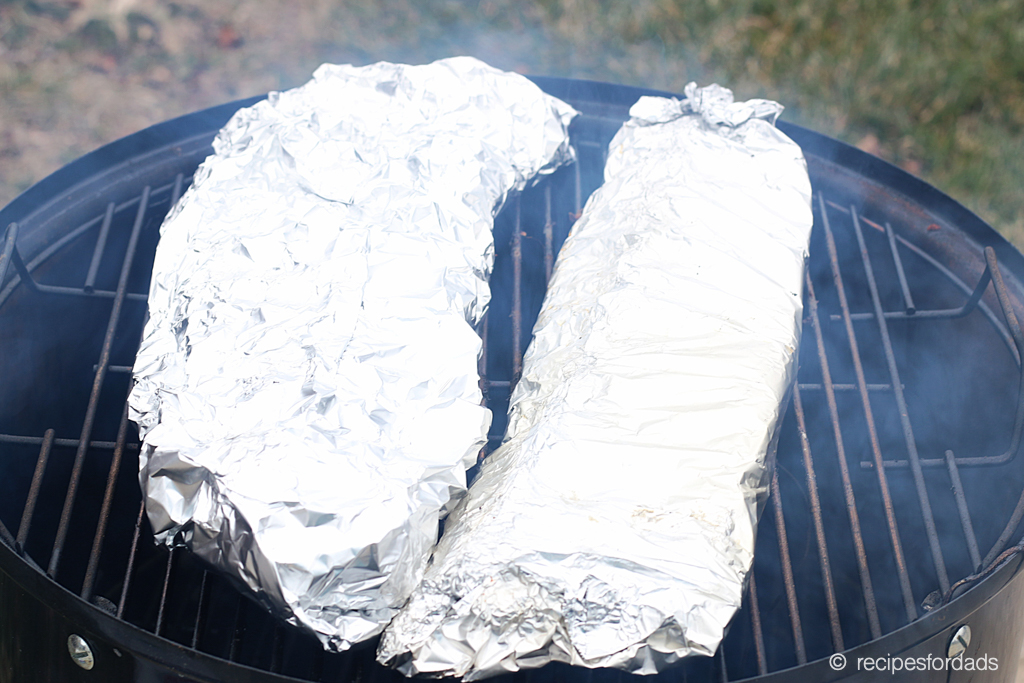 Don't go with cheap foil when it comes to smoking — get the good, heavy-duty grilling foil, you want the foil to remain intact. 
But we're not done yet.
Remove the ribs from the smoker and smother those babies in as much or as little — these are full of flavor from the rub — barbeque sauce as you'd like.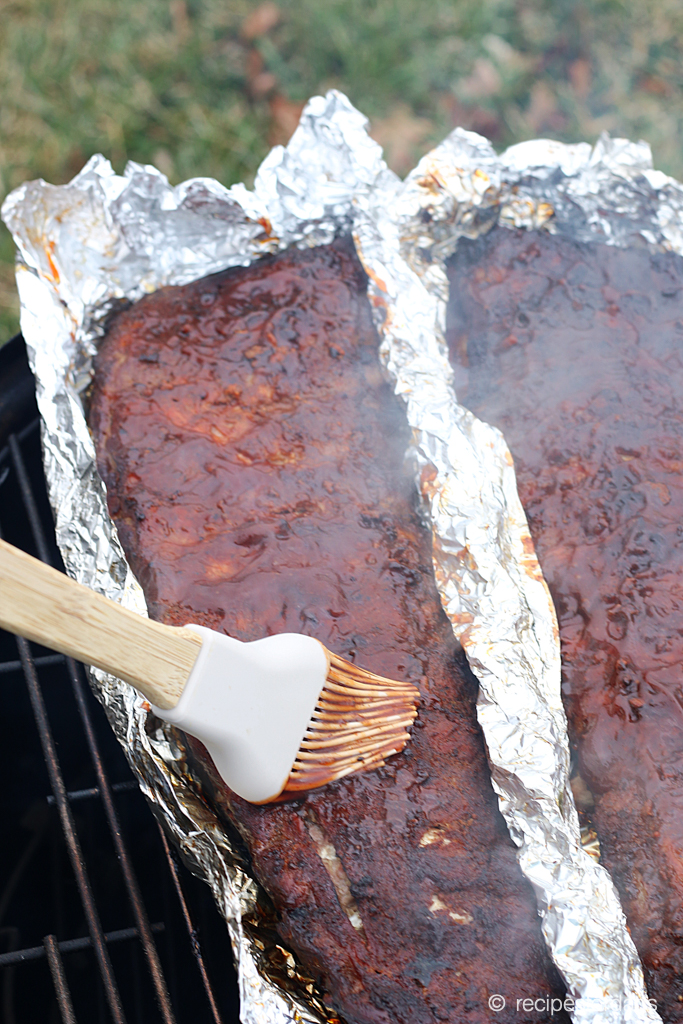 Pop your baby back ribs back on the smoker until the barbeque sauce has set and the ribs are fall-off-the-bone tender about an hour.
What is the difference between Baby Back Ribs and regular ribs?
Many people think that they're the same but there is a difference. Baby back ribs tend to be a meatier piece of meat that is located around the point part of the pig. This means that they're smaller in size which is where the term "baby" comes from.
Related: Beef Ribs Vs. Pork Ribs – How Do These Two Ribs Compare
How many pork ribs is 4 oz?
If you're trying to guess how many ribs you're going to get for 4 ounces, a good rule of thumb is to know that this is going to be about 1/2 rack of ribs.
How much is a serving of baby back ribs?
A person might be able to eat a lot more than what a serving size suggests. For a true serving size per person, anyone from 2-4 ribs is what you should plan on making.
It's always better to have more ribs than not enough so to be on the safe side, assume that each person that you're trying to feed can eat between 4-5 ribs. This will give you the flexibility to have enough or even leftovers to enjoy.
How do I choose ribs?
Make certain to take time and look at the ribs. To choose the best ribs, you are going to want ribs that have a lot of meat that is visible. There will always be fat within the ribs that will cook and keep it moist so if you see huge amounts of fat and fewer amounts of meat, you need to choose a different rack that shows more meat than fat.
What Do I Serve With Baby Back Ribs
Your options are endless when it comes to good sides, corn, potato salad, you name it — but one of my favorite, quick-and-easy sides, is this smoked mac and cheese recipe.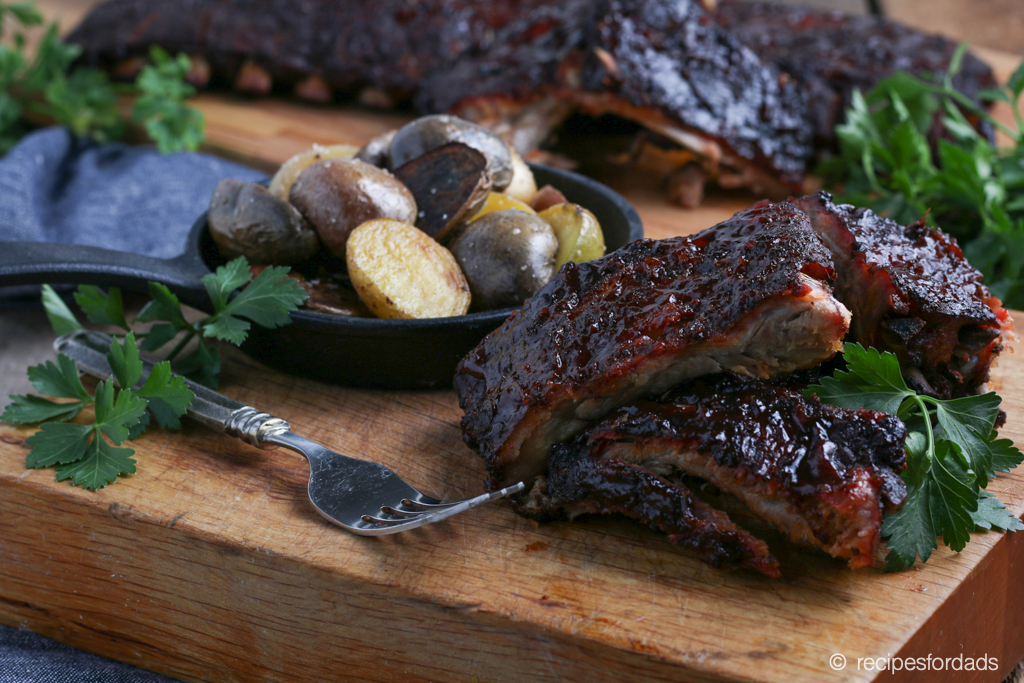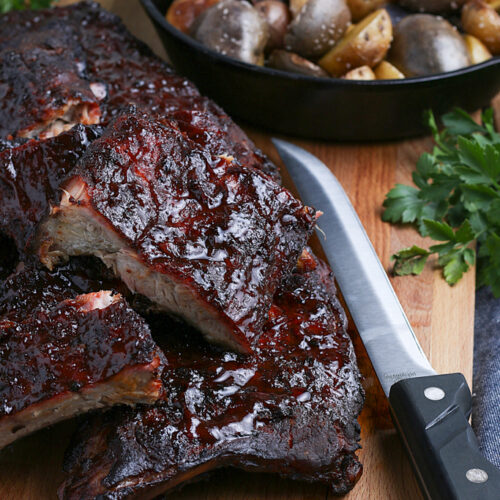 321 Smoked Baby Back Ribs
Searching for the perfect, smoked baby back ribs recipe? Look no further. My smoked baby back ribs are easy to make and even easier to eat. Your BBQ guests will be raving for months about your skills.
Print
Pin
Rate
Ingredients
2

racks

baby back ribs

1/2 – 1

cup

yellow mustard

1

cup

apple cider or pop or beer

1-2

cup

BBQ Sauce
Pork Rub
1/4

cup

sweet paprika

2

Tablespoons

ground black pepper

2

Tablespoons

dry mustard

1/2

teaspoon

chili powder

1/2

teaspoon

garlic powder

1/2

teaspoon

cayenne pepper
Instructions
Preheat the smoker to 225F degrees and use the wood of choice. Hickory for a bold smoke or apple for a subtle flavor.

Remove the silver skin membrane from the back of the rib racks.

Brush on a layer of yellow mustard and sprinkle the pork rub on all sides of the ribs.

Place ribs on the smoker, after 3 hours take them off the smoker.

Wrap each rack in foil with ¼ cup of apple cider, pop, or beer. Seal seams and edges of foil to allow steaming. Cook for 2 hours.

Remove from foil and coat with your choice of BBQ sauce and place back on the smoker and cook for 1 hour or until the ribs are tender and the sauce has set.
Notes
This is an estimated nutritional calculation and is provided as a courtesy and is not guaranteed to be accurate. This nutritional information comes from online calculators. 
Nutrition
Calories:
3373
kcal
|
Carbohydrates:
127
g
|
Protein:
255
g
|
Fat:
209
g
|
Saturated Fat:
68
g
|
Trans Fat:
2
g
|
Cholesterol:
782
mg
|
Sodium:
9735
mg
|
Potassium:
4384
mg
|
Fiber:
27
g
|
Sugar:
73
g
|
Vitamin A:
14596
IU
|
Vitamin C:
8
mg
|
Calcium:
726
mg
|
Iron:
23
mg
All you pitmaster dads need to check out my other recipes: