This post contains Affiliate Links. Read my full disclosure for more info.
Does your favorite barbeque joint have "BBQ burnt ends"(also known as Poor Man's Burnt Ends) on the menu? If you've ever tried them, you know that smoked pork belly burnt ends are some of the most mouth-watering pieces of a pork belly.
They'll melt in your mouth and provide tons of smoky flavor. Luckily for my family and me, we make these pork belly burnt ends at home, adding my unique touches to them — we like subtle flavors and a little bit of heat!
This smoked pork belly recipe I make specifically for the burnt ends. The key to making burnt
ends is to smoke the pork belly low and slow, just like most smoked meats we've made.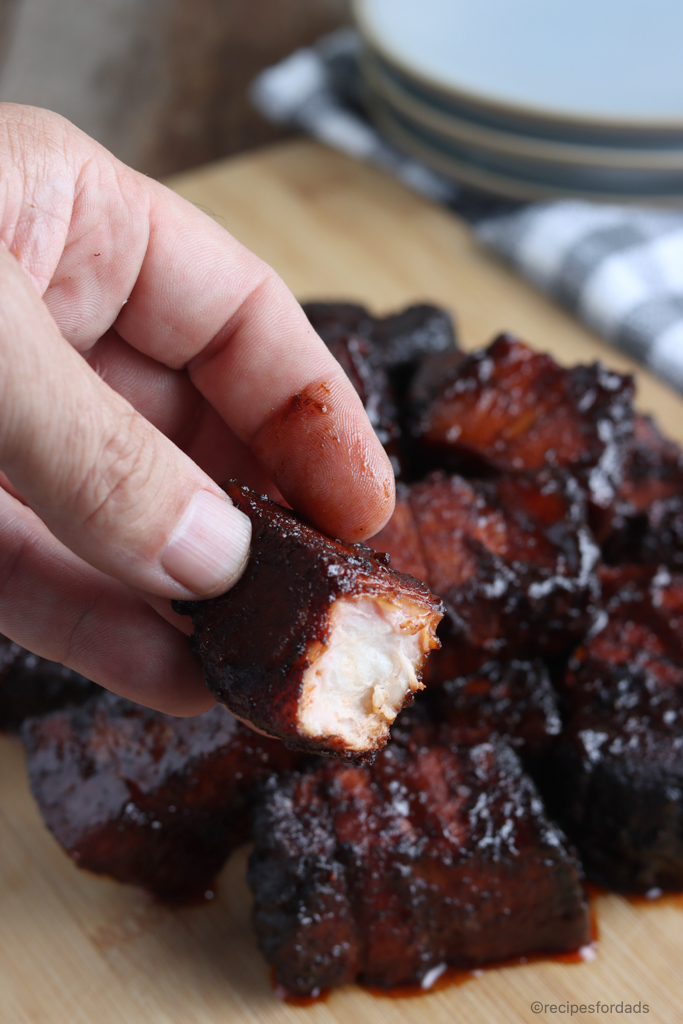 For this Poor Man's burnt ends recipe, you'll need:
Rub for burnt ends:
5-6 pounds of pork belly — sliced into 1 ½ cubes
Ground black pepper
Dry mustard
Chili powder
Cayenne powder
Garlic powder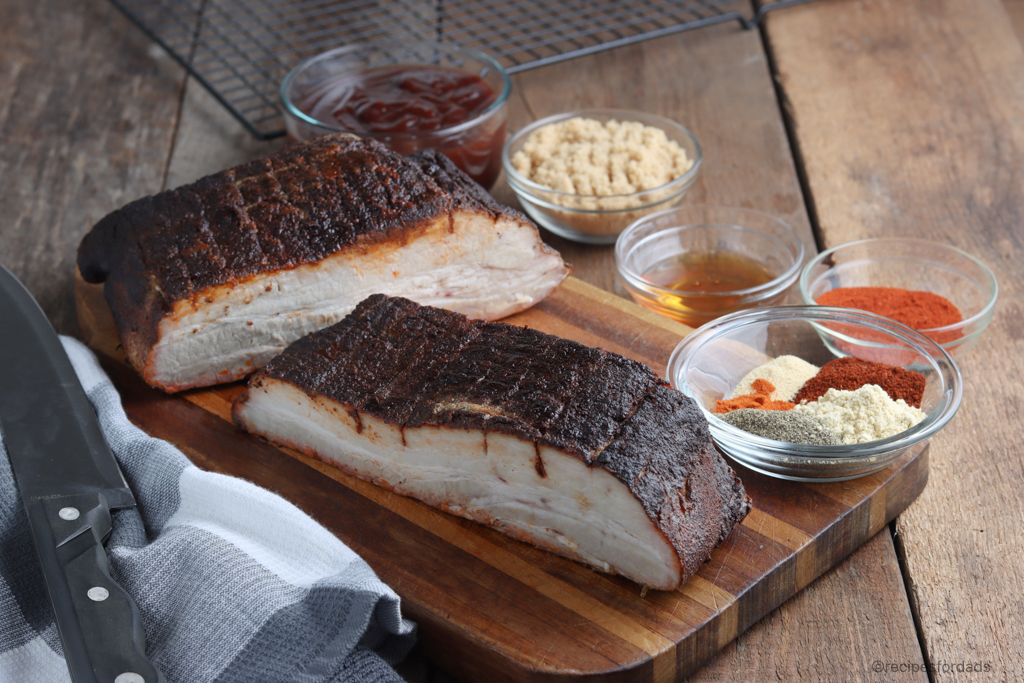 When shopping for a pork belly, if possible, ask your butcher for a skinless pork belly to save you some time and hassle in the kitchen.
Sticky sauce for burnt ends:
Brown sugar — dark or light, simply depends on your preference
Honey
Your favorite BBQ sauce
Butter — a decent amount of it, too.
This recipe uses ingredients we constantly keep in the pantry, which makes my life even easier when my kids request burnt ends on a Saturday!
How to Make Burnt Ends
Bring your smoker temperature to 225°F.
While the smoker heats up, skin and cut your pork belly into cubes, the easiest way to do this, in my opinion, is to cut the pork belly into strips and then into 1 ½ inch cubes.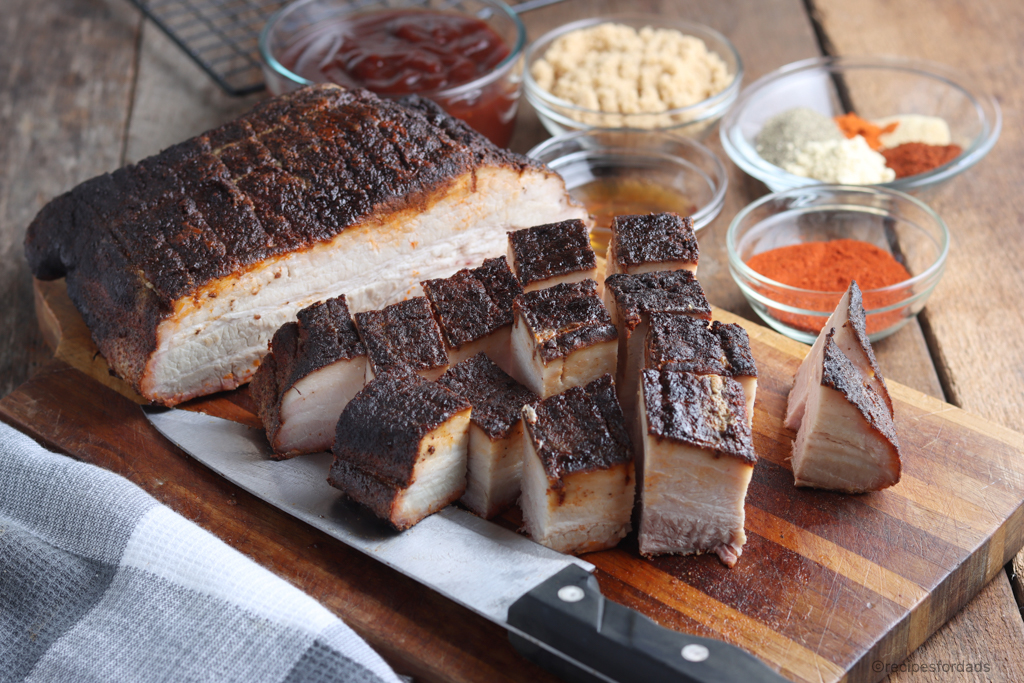 Whisk the dry ingredients for the pork rub, toss the cubed pork belly in the mixture until it's coated evenly.
Place the cubed pork onto the sheet.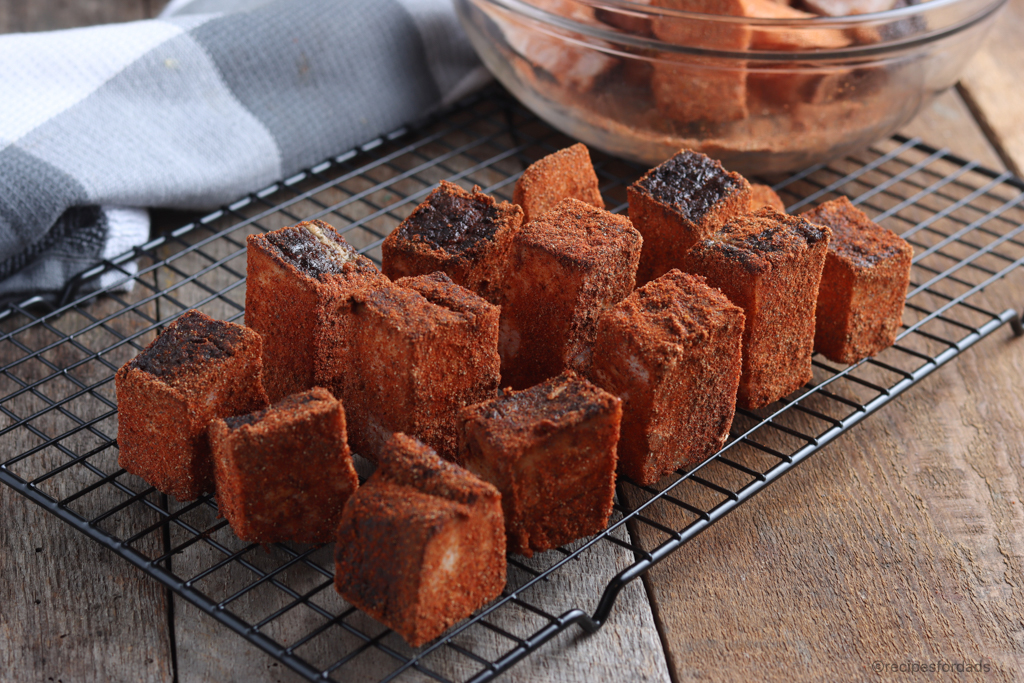 Once the smoker is preheated, place your wood chips in to get the smoke started. The best wood to smoke pork belly burnt ends in my opinion is cherry or applewood — They are ideal for pork belly because they offer a subtly mild fruity flavor, with hints of sweetness.

I always recommend placing a drip pan (which can be as simple as an aluminum pan) with some water in it under the grates to catch the drippings from the pork belly.
Next, place the pork belly, fat side up, on the grates of the smoker for roughly 2 hours. You want the internal temperature to reach 165°F.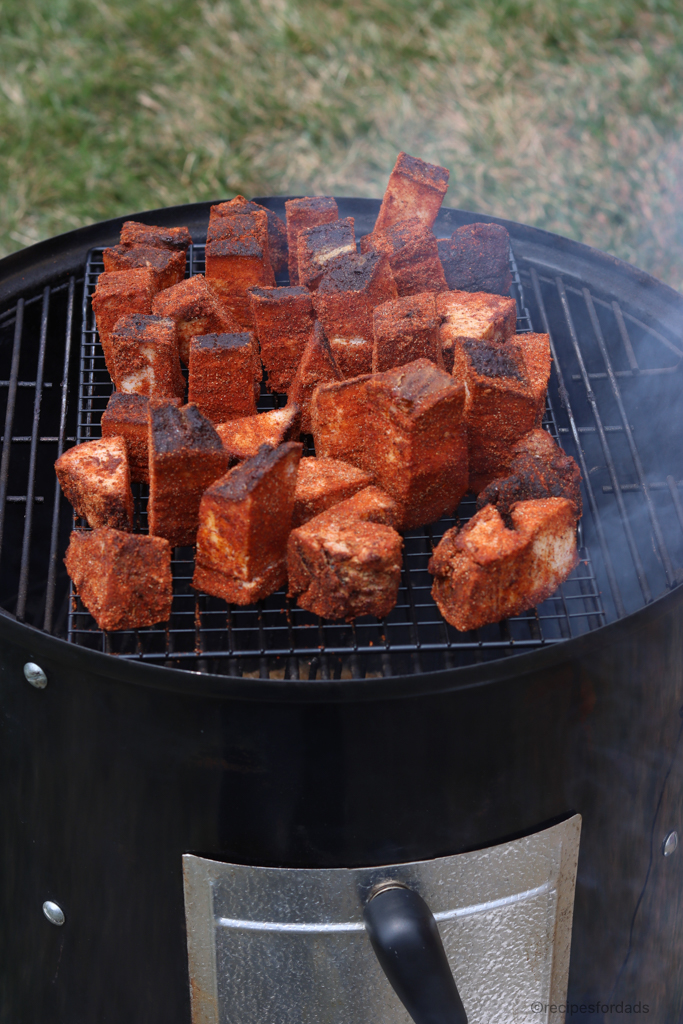 Why fat side up? When the fat is facing up, the liquids act as a natural baster as it comes out of the pork. Basically, it helps the meat retain moisture.
Sticky, Smokey Burnt Ends Recipe Sauce
Once the internal temperature has reached 165°F you're ready to top the pork belly pieces with the sauce.
The easiest, least messy way is to transfer the pork belly cubes into an aluminum pan, top with all the sauce ingredients — I cube the butter and evenly distribute the ingredients throughout the pan — and cover it with aluminum foil.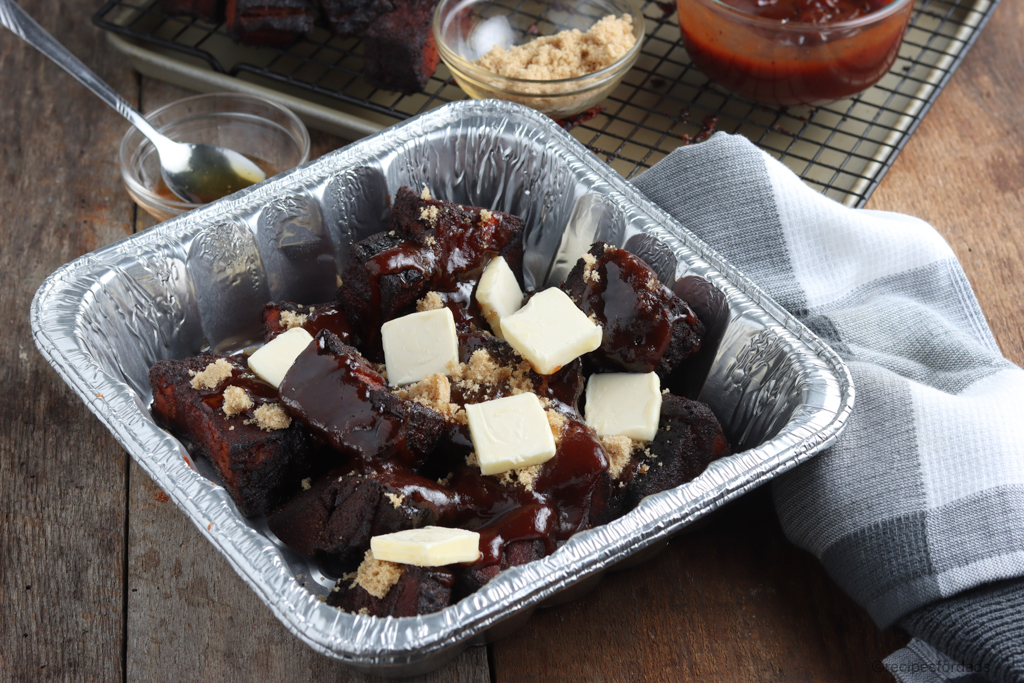 Continue smoking for two hours, or until the burnt ends reach an internal temperature reaches 190-205°F. Be sure to toss the cubes in the sauce every 30 minutes.
What To Serve With Pork Belly Burnt Ends
Enjoy these burnt ends immediately after smoking. It isn't necessary to let them rest. They taste great right out of the smoker.
Are you serving these up at a family BBQ? Consider serving them with this smoked mac and cheese recipe, these grilled potato wedges, Instant Pot Baked Beans, or my delicious homemade coleslaw recipe for a sweet and savory meal.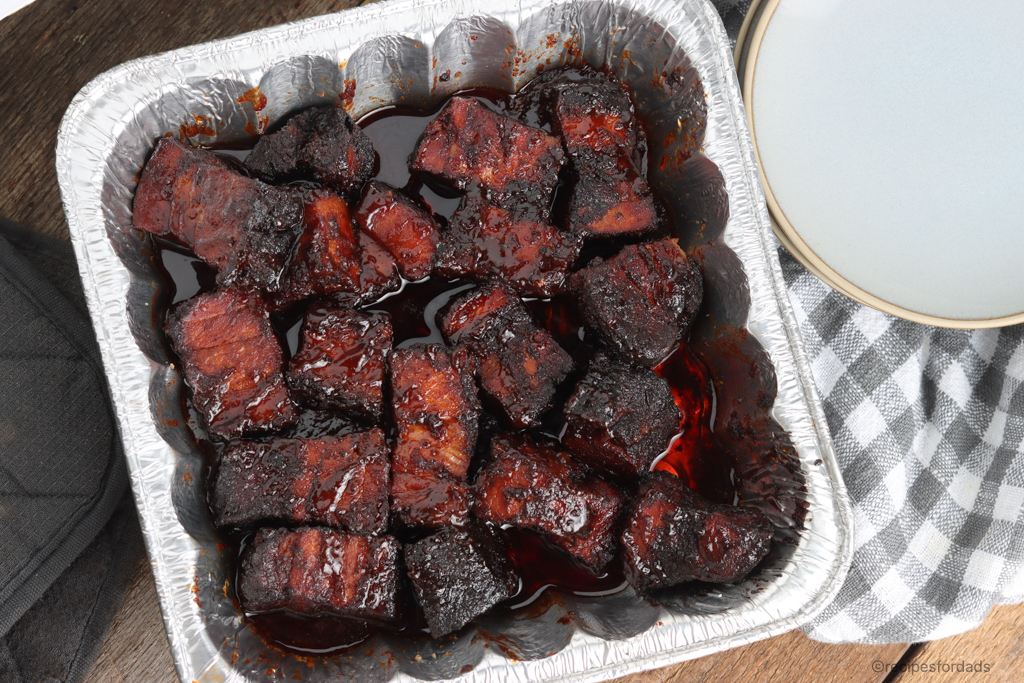 Leftover poor man's smoked burnt ends — if there are any — taste great reheated or straight out of the refrigerator. They even make the perfect breakfast meat with some eggs the next day.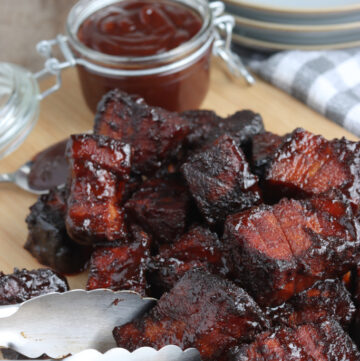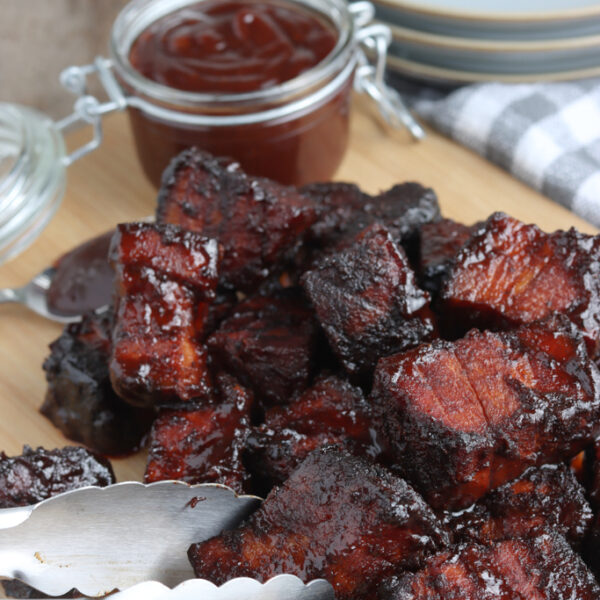 Smoked Pork Belly Burnt Ends
Does your favorite barbeque joint have "BBQ burnt ends" on the menu? Smoked pork belly burnt ends are some of the most mouth-watering pieces of a pork belly. They'll melt in your mouth and provide tons of smoky flavor.
Print
Pin
Ingredients
5-6

lbs

pork belly

Seasoning Rub

1/4

cup

Sweet Paprika

2

tbsp

Ground Black Pepper

2

tbsp

Dry Mustard

1

tbsp

Chili Powder

1/2

tsp

Garlic Powder

1/2

tsp

Cayenne Powder

Sauce

1/2

cup

brown sugar

2

tbsp

honey

1 1/2

cup

BBQ sauce

1

stick

butter
Instructions
Mix all ingredients of the dry rub together in a large bowl using a fork or a whisk.

Slice refrigerated pork belly into 1 ½ inch cubes.

Toss the pork belly cubes together with the seasoning rub and transfer to cooking sheet

Bring the temperature of your smoker up to 225 F. Add your wood chips to start the smoke and place an aluminum drip pan with a few inches of water under the grates to catch drippings.

Place the pork belly fat side up on the grates and smoke until it reaches an internal temperature of 165 degrees F, which will take 1-2 hours.

Transfer Pork Belly cubes to an aluminum pan and top with sauce ingredients and cover with aluminum foil and place back on smoker at 225 F.

Toss Pork Belly cubes in sauce every 30 minutes for 2 hours or until the Burnt Ends internal temperature reaches at least 190F to 205F.

Serve immediately.
Nutrition
Calories:
2304
kcal
|
Carbohydrates:
50
g
|
Protein:
38
g
|
Fat:
218
g
|
Saturated Fat:
76
g
|
Polyunsaturated Fat:
26
g
|
Monounsaturated Fat:
101
g
|
Cholesterol:
272
mg
|
Sodium:
820
mg
|
Potassium:
1042
mg
|
Fiber:
4
g
|
Sugar:
40
g
|
Vitamin A:
3518
IU
|
Vitamin C:
2
mg
|
Calcium:
92
mg
|
Iron:
4
mg