This post contains Affiliate Links. Read my full disclosure for more info.
Brats are a summertime staple in our home. Actually, I'm lying, we eat brats all year long — especially since I discovered how quick, easy, and delicious smoked brats are. And this juicy beer brats recipe is too good not to share.
By smoking brats at low temperature and not over direct heat, your brat's casing won't burst — all those flavors and juices stay locked into the meat.
Smoked Bratwurst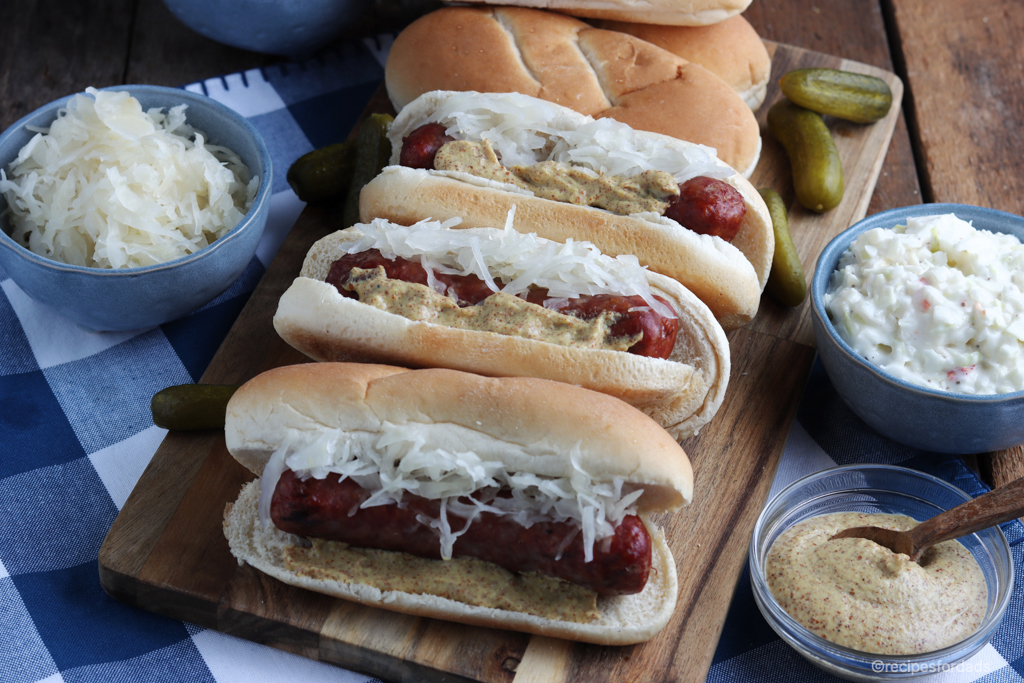 I love a good grilled brat — or pan-fried, air fried, etc. — but smoked brats are my top choice.
Instead of searing the brats, I use a smoker to heat the brats with a "low and slow" method. Although "slow" for smoking brats, it still isn't very long.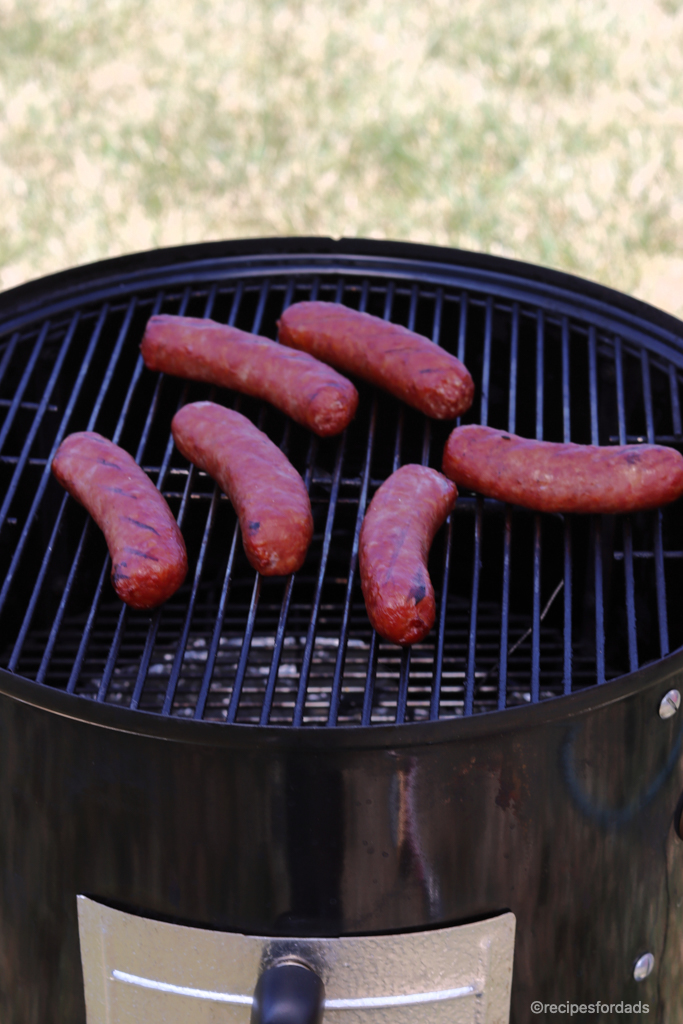 Best wood to use when smoking brats?
Smoking brats with apple or cherry wood takes the flavor of the brats to the next level by absorbing some of the smoke.
How to Make Smoked Brats
Making smoked brats is easy, but there are a few things you should note about the recipe:
You always want to cook your brats to reach an internal temperature of 165°F. If you overcook the brats, the casing will split, and all the juices mentioned above will be gone.
If you're worried about keeping the brats warm but don't want to overcook them, you can keep them warm in the beer brat bath .
When checking the temperature of the brats, insert your thermometer at the end of the brat to avoid letting all those juices escape.
For the best flavor, soak your apple/cherry wood chunks in water. This ensures that the woodchips have enough moisture not to burn.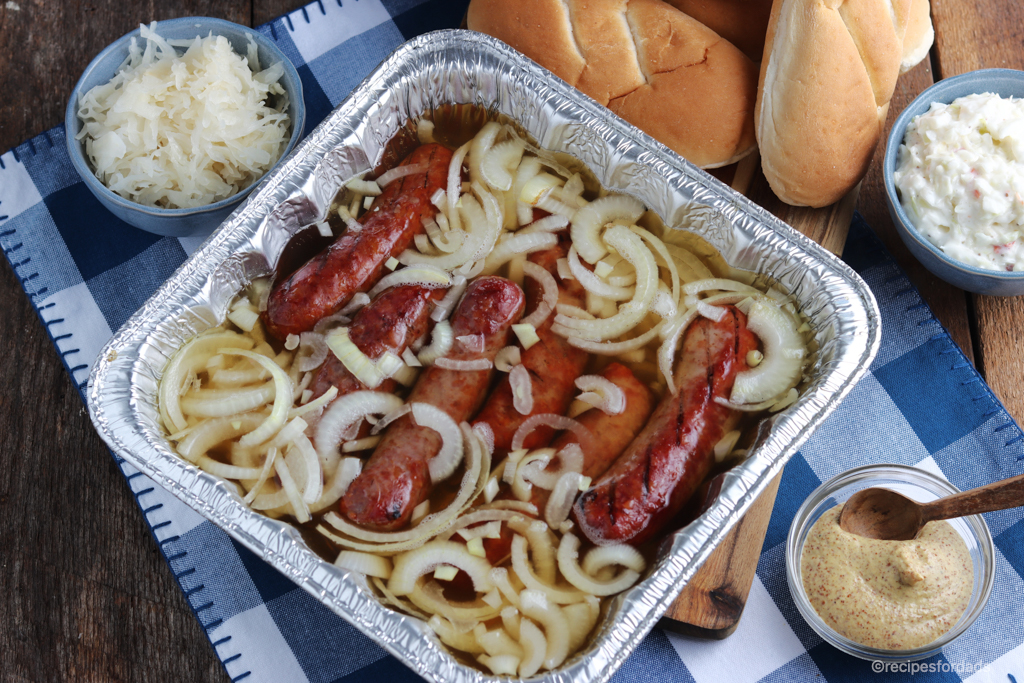 Smoked Brats Recipe
While you're at the grocery store for your next BBQ, grab the following:
Six Bratwurst
Whole-grain mustard
Cans of beer — any kind of ale will do 2
Two onions; and
An aluminum pan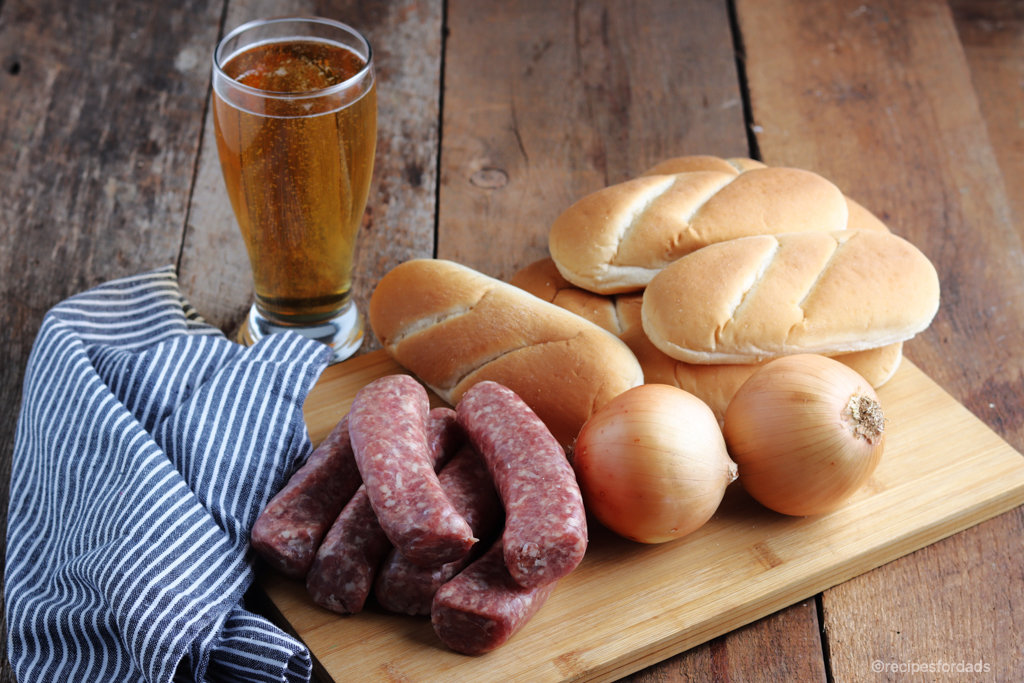 If you are using a charcoal smoker – preheat your smoker (and the coals) to 225°F. Peel and slice your onions.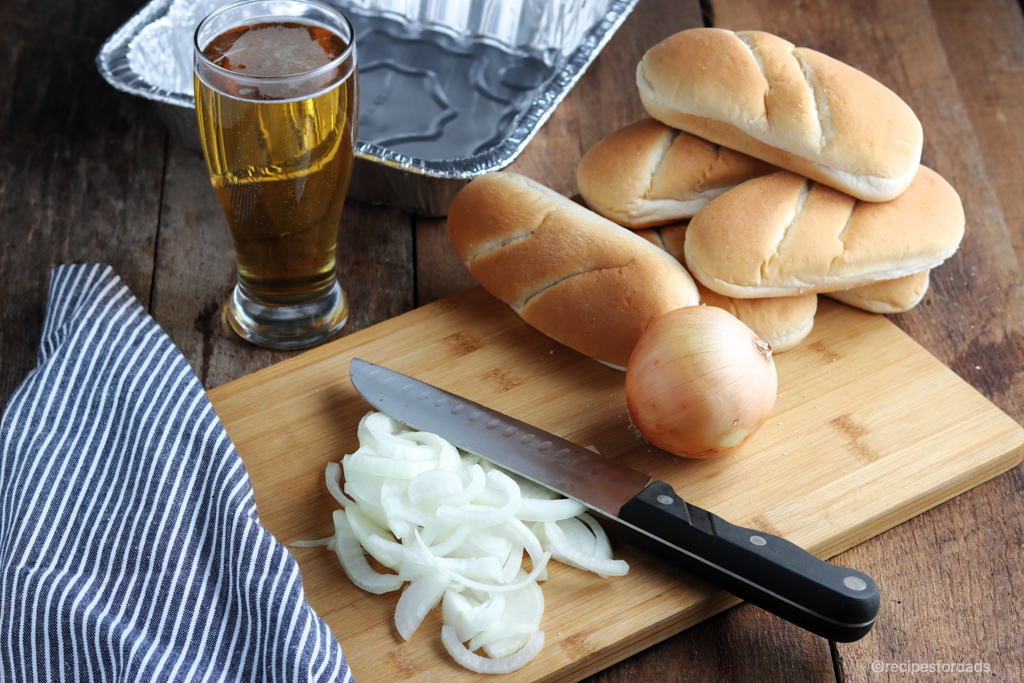 How long does it take to smoke brats?
Place your brats onto the smoker, as well as the water-soaked wood chunks. You'll want to smoke the brats until they reach an internal temperature of 165°F. Brats usually only take 45-60 minutes in the smoker.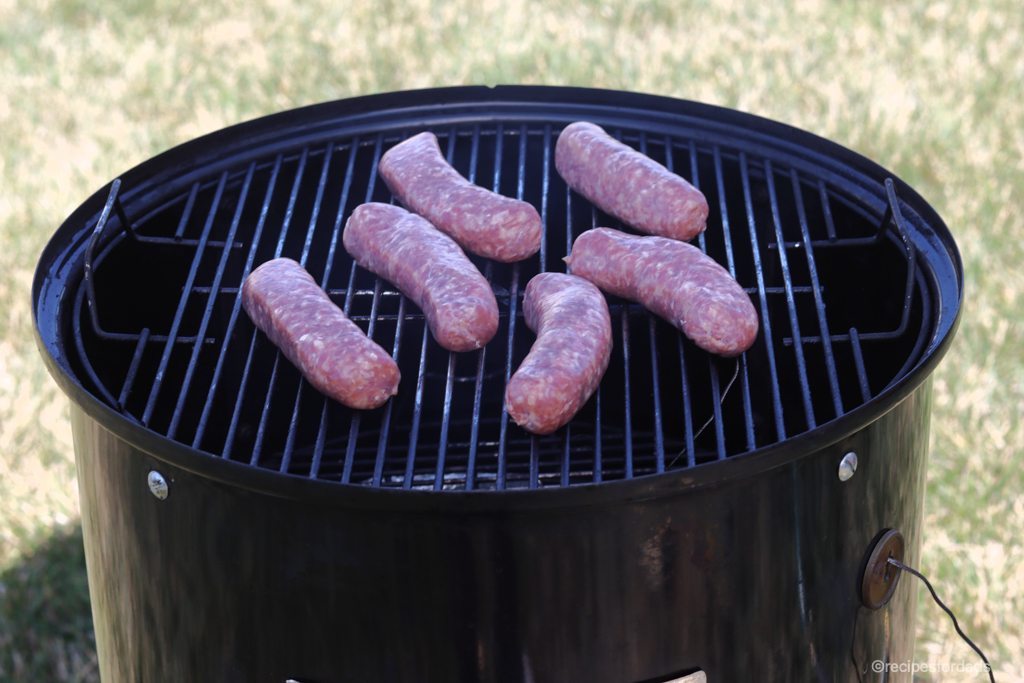 While your brats are on the smoker, combine the beer and onions in the aluminum pan.
Once your brats have reached the correct internal temperature, remove them from the smoker grates and add them to the beer bath. Place the aluminum pan back on the grates and let the brats soak for 20-30 minutes before serving.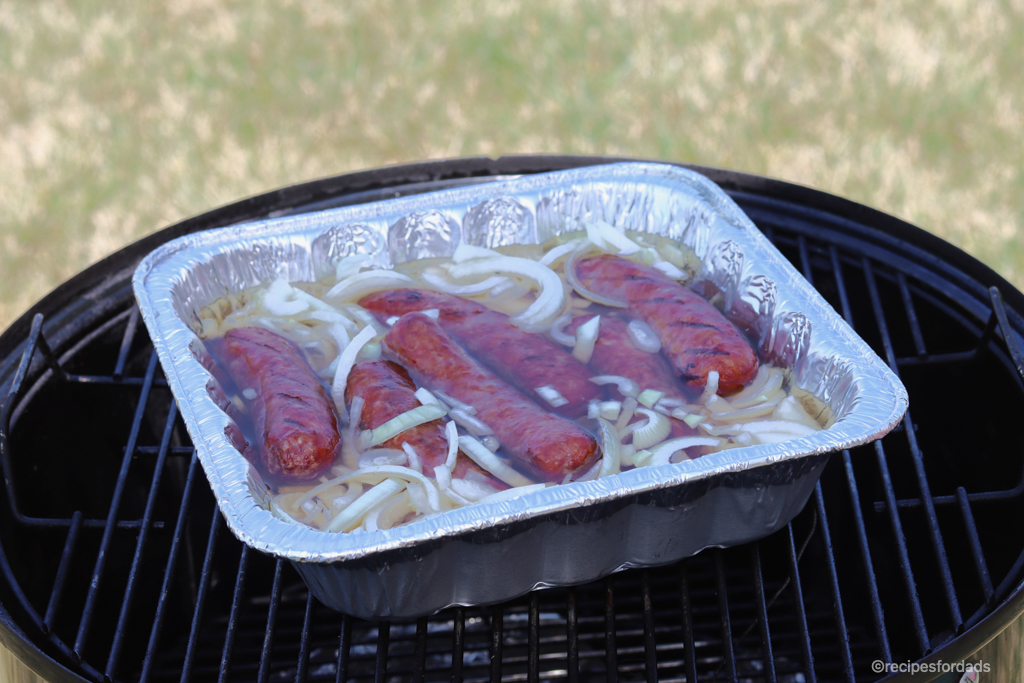 I warned you this recipe couldn't be easier.
Serving Smoked Brats
Traditionally, bratwursts are served with mustard (whole grain mustard is ideal, but yellow mustard or spicy brown work, too)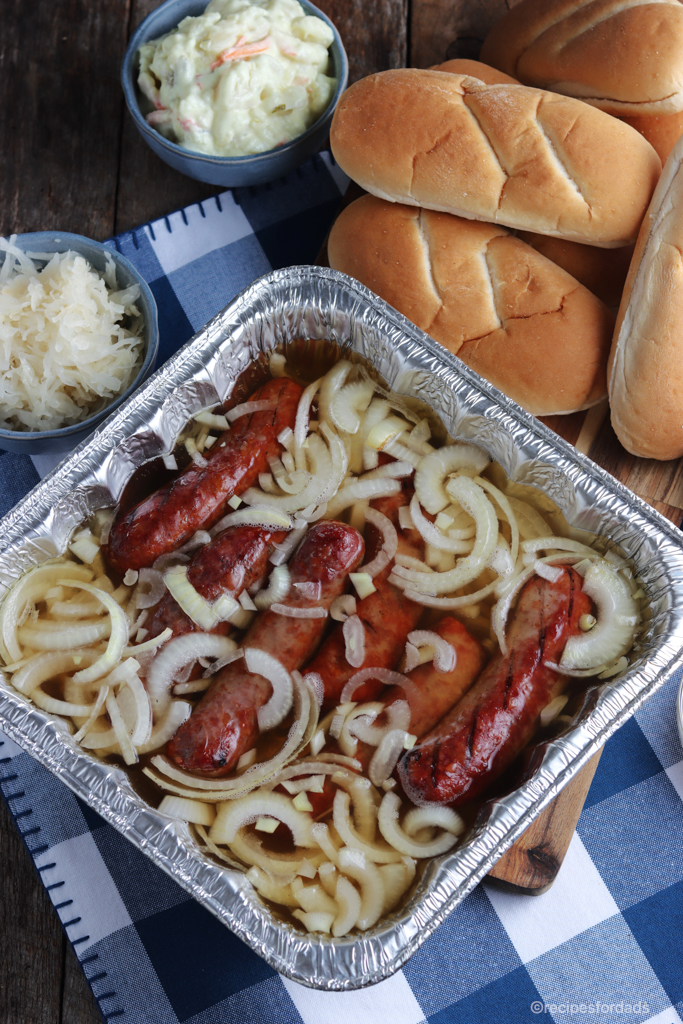 We like options in our house. I love to enjoy my brats hot dog style with some beer cheese and mustard — but occasionally, some sauerkraut is an excellent topping, too.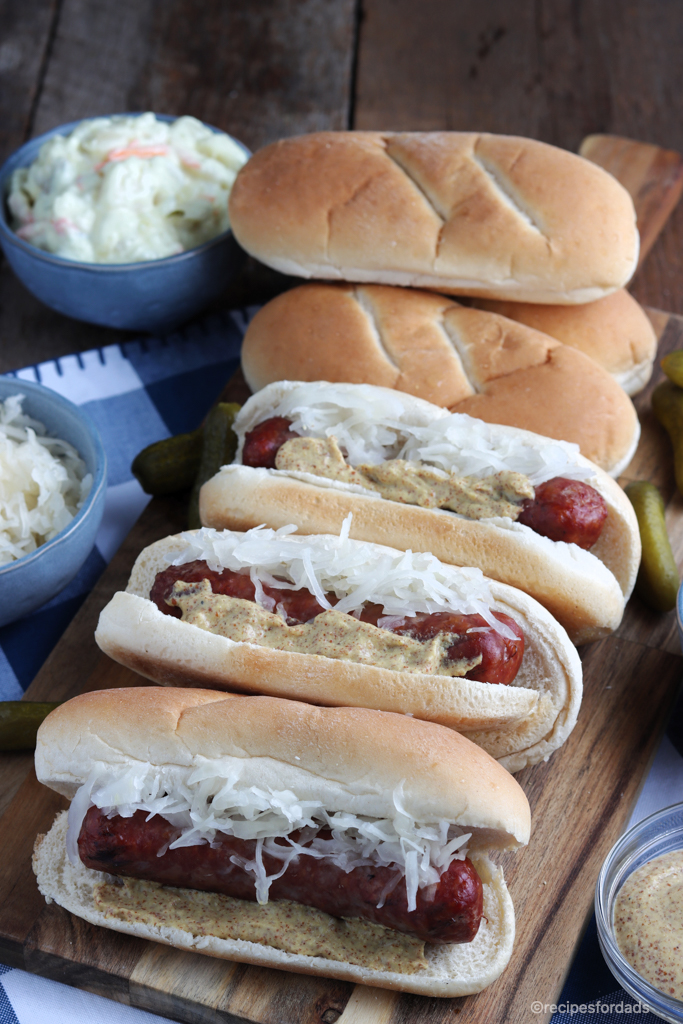 Curious about what sides pair well with these beer-soaked brats? You can't go wrong with this smoked mac and cheese recipe or these easy Instant Pot baked beans!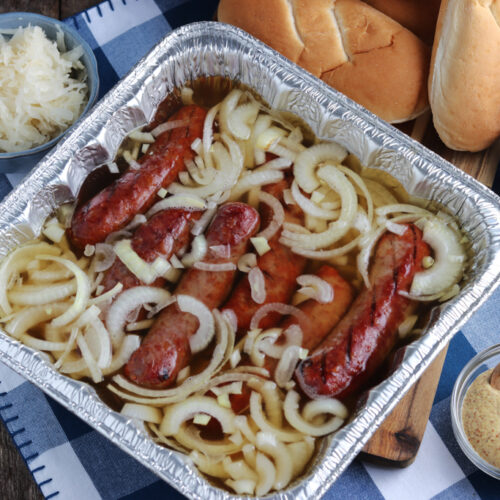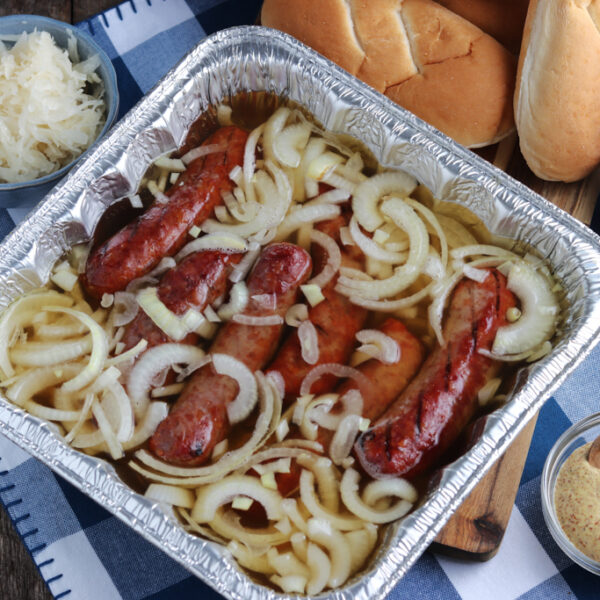 Smoked Brats with Beer Bath
Smoked brats at low temperature and not over direct heat will allow those flavors and juices to stay locked into the meat.
Print
Pin
Ingredients
6 Bratwurst

Brat buns

Whole-grain mustard

Sauerkraut

2 cans beer

ale

2 onions

peeled and sliced
Instructions
Preheat smoker to 225 degrees F.

Place brats on your smoker and add water-soaked apple or cherry wood chunks on top of hot coals.

While brats are smoking combine beer and onions to an aluminum pan and set aside.

Smoke the brats until an internal temperature of 165 degrees F is reach, normally takes 45-60 minutes.

Remove brats from smoker grates and add to the beer bath. Place beer bath back on grates and allow brats to soak for 20-30 minutes before serving.
Notes
Brats can be kept warm soaking in the beer bath.
Nutrition
Serving:
6
people
|
Calories:
494
kcal
|
Carbohydrates:
47
g
|
Protein:
18
g
|
Fat:
22
g
|
Saturated Fat:
7
g
|
Polyunsaturated Fat:
3
g
|
Monounsaturated Fat:
10
g
|
Cholesterol:
49
mg
|
Sodium:
1261
mg
|
Potassium:
489
mg
|
Fiber:
4
g
|
Sugar:
7
g
|
Vitamin A:
16
IU
|
Vitamin C:
11
mg
|
Calcium:
170
mg
|
Iron:
4
mg