This post contains Affiliate Links. Read my full disclosure for more info.
Say so long to dry, lack-luster chicken and hello to this juicy, smoked chicken thighs. These chicken thighs are smothered in an easy homemade rub and smoked to perfection, you'll never go back to baked chicken thighs again. In my opinion, this recipe is almost too good for competition BBQ.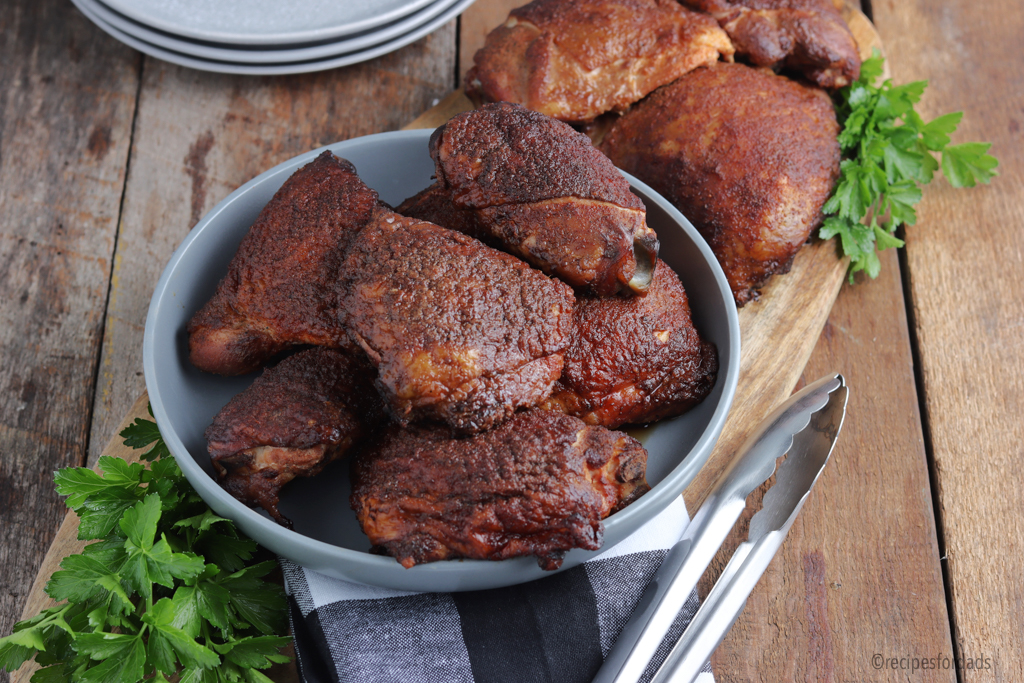 I am a fan (and have been for a very long time) of chicken thigh recipes for several reasons:
They are more flavorful than chicken breasts
They are much cheaper than chicken breasts.
While you could get skinless thighs, I'm a firm believer that the skin plays a major role in the flavor of this chicken thighs recipe, so, while shopping at the grocery store, I highly recommend purchasing thighs with the skin on.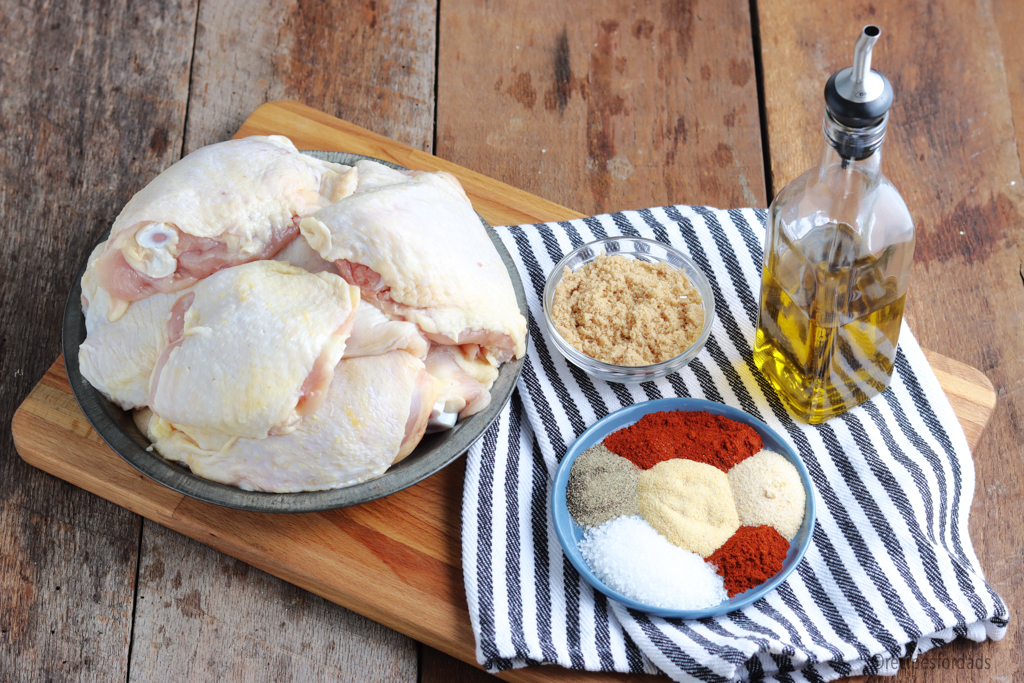 Because thighs absorb flavors so well, they are ideal for smoking. For this smoked chicken thighs recipe to go to the next level, you'll need the following:
8-10 chicken thighs
Olive oil
Kosher Salt
Ground black pepper
Cayenne pepper
Smoked paprika
Garlic powder; and
Onion powder
How to Smoke Chicken Thighs Step by Step
Getting started with this chicken thighs recipe is simple.
Preheat your smoker to 225°F, add your wood chips, and begin trimming the fat off the chicken thighs. Once all of the thighs have been trimmed, drizzle olive oil over the thighs — you want your thighs to be coated well with the olive oil.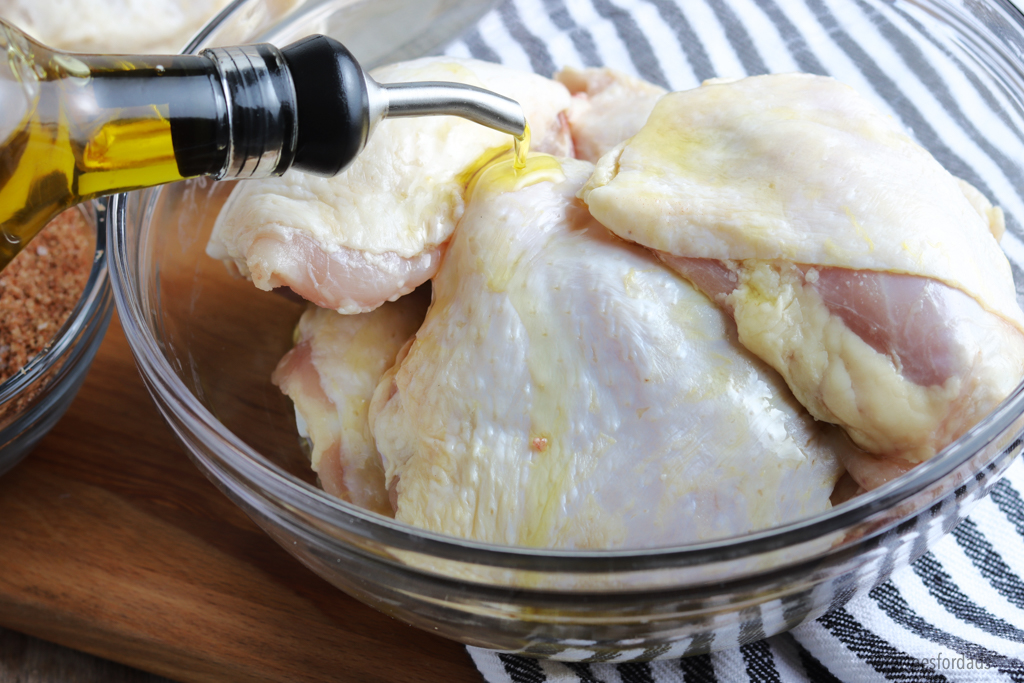 Mix all of the dry ingredients and seasonings in a bowl and sprinkle the seasoning on each of the thighs and rub the seasonings into the meat thoroughly. This is one of the best ways to ensure the best flavor.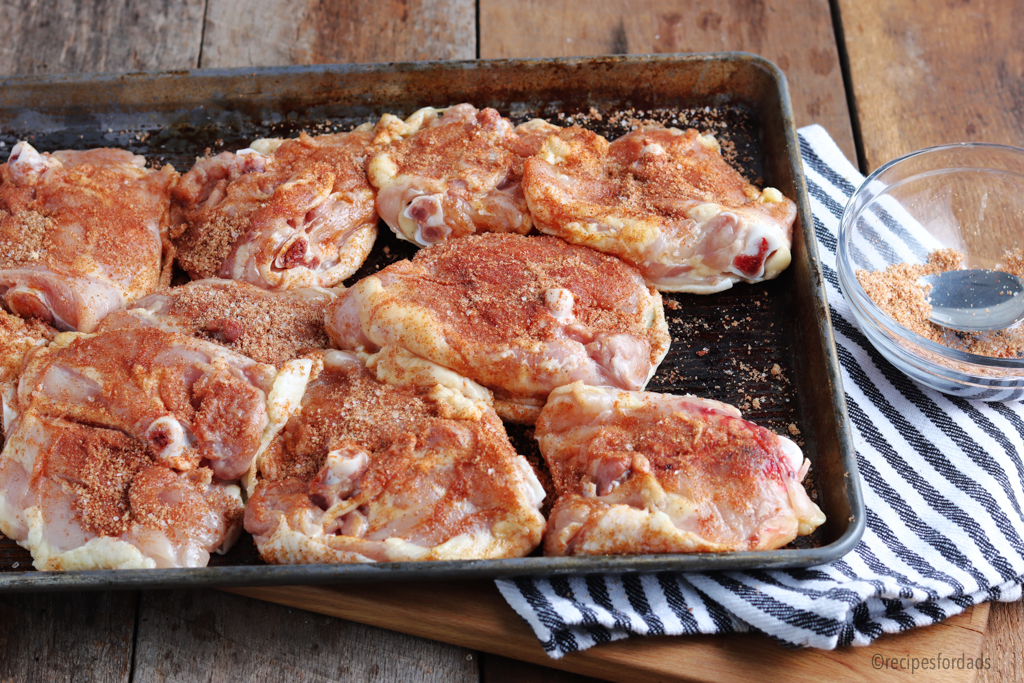 Once your smoker is preheated, place the thighs directly on the racks of the smoker. Smoke the chicken thighs until they reach an internal temperature of 165°F — this usually takes an hour and a half to two hours.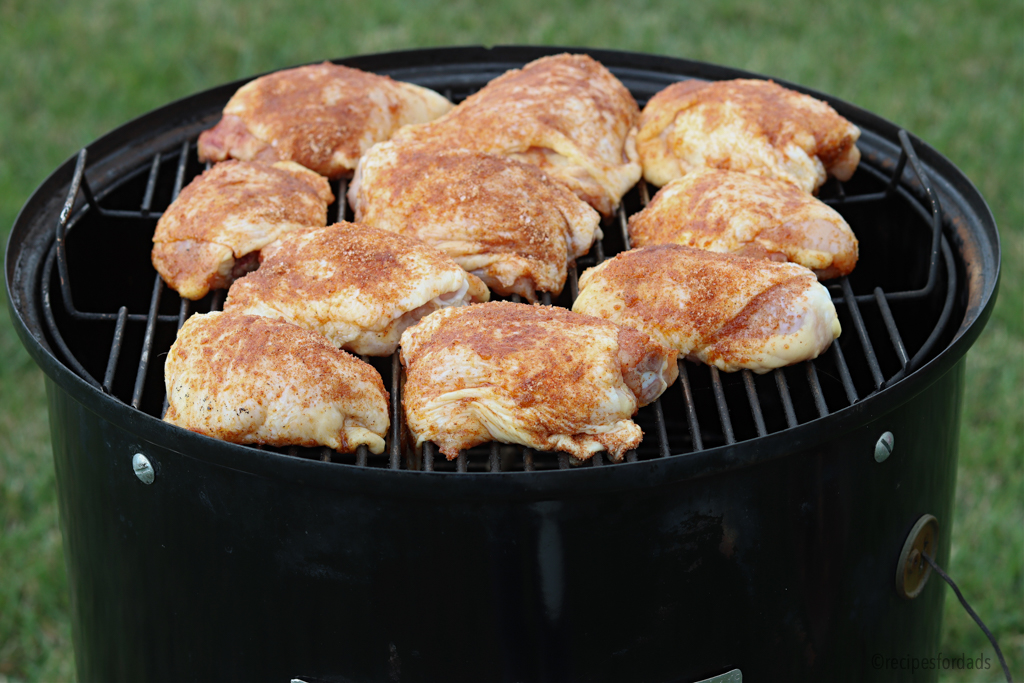 Once the chicken thighs are done, remove them from the smoker and allow them to rest for 10-15 minutes before serving. Trust me, you want the chicken to reabsorb all the juices before cutting into them.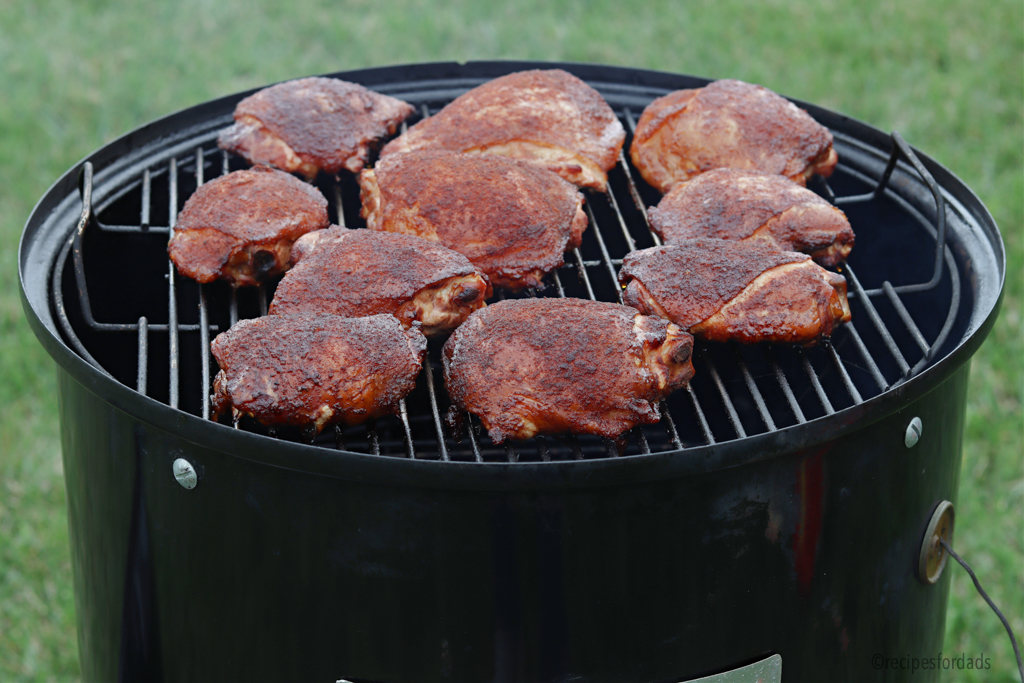 Tips for Making the Best Smoked Chicken Thighs
When smoking any type of chicken, ensuring the internal temperature reaches 165°F is vital to reduce the risk of food poisoning. Purchasing a meat thermometer is the easiest way to ensure your chicken reaches the correct temperature.
Bone-in, skin-on, chicken thighs are going to provide you with the most flavor. If you choose to use boneless chicken thighs, be sure to adjust your smoking time as they will not take as long to cook. Boneless thighs often only take 45 minutes to one hour and fifteen minutes to smoke.
Looking to switch things up a bit? Consider adding your favorite homemade barbeque sauce (Like this one) during the last 10 minutes of smoking your chicken thighs. However, I can assure you that this rub provides so much flavor, this step isn't necessary — but picky eaters, like the kids, may find a barbeque sauce more appealing.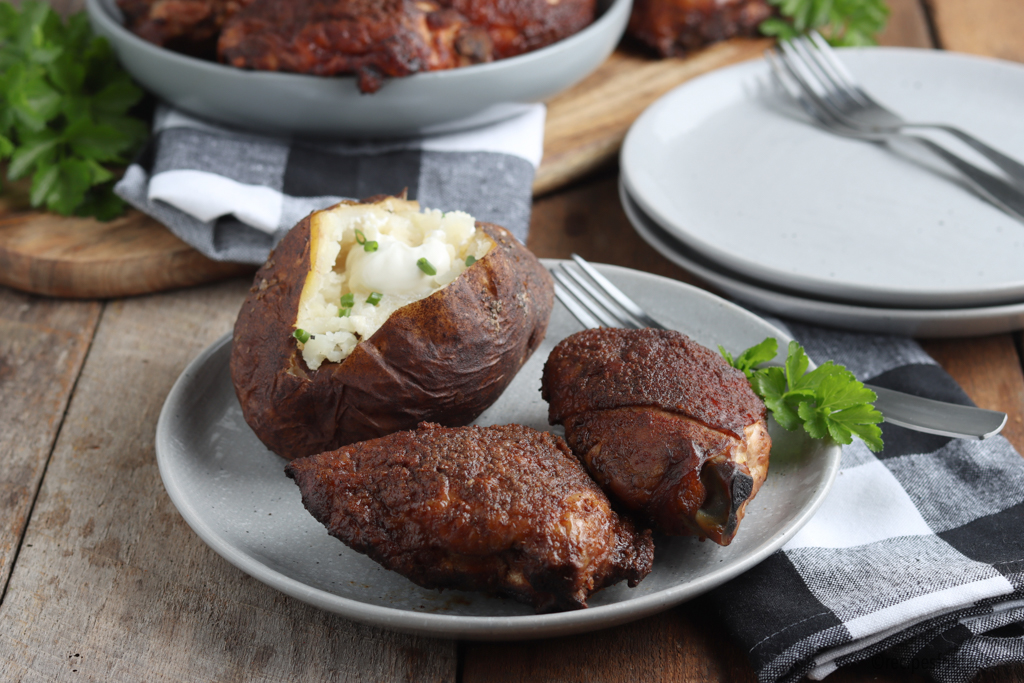 What To Serve With Smoked Chicken Thighs
These smoked chicken thighs pair nicely with just about any grilled vegetable or side salad, but some of our family favorites are this coleslaw recipe, grilled potato wedges, smoked baked potatoes, grilled asparagus, or Instant Pot BBQ Baked Beans.
Low on time during the week? To save time (and sanity) consider doubling this chicken thighs recipe and using the chicken for salads and other meals throughout the week.
Chicken thighs retain moisture much better than breasts, making them ideal for leftovers and meal preps.
Smoked chicken thighs can be stored in the refrigerator for up to five days.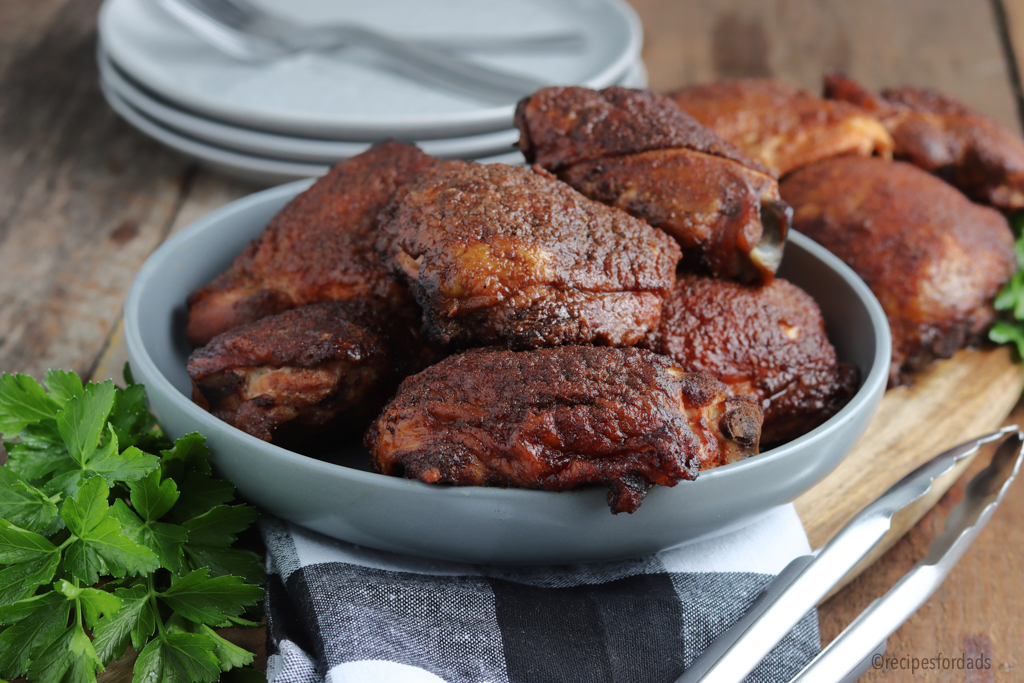 Other related chicken recipes you may like:
Smoked Chicken Thighs
Say so long to dry, lack-luster chicken and hello to this juicy, smoked chicken thighs. Smothered in a homemade rub & smoked to perfection.
Print
Pin
Ingredients
Seasoning Rub
Dry Ingredients

¼

cup

light brown sugar

1

Tbsp

kosher salt

1

tsp

ground black pepper

1

tsp

cayenne pepper

2

tsp

smoked paprika

2

tsp

garlic powder

2

tsp

onion powder

Olive oil
Instructions
Preheat smoker to 225 degrees F, add Cherry or Applewood to the smoker.

Combine all the dry ingredients together in a mixing bowl.

Trim off any excess fat from chicken thighs. Drizzle the thighs with olive oil and coat both sides of the thighs very well. Sprinkle the seasoning rub on each thigh pressing the rub into the chicken to evenly coat the outside.

Place the chicken thighs directly on the smoker.

Smoke until an instant-read thermometer placed near the thigh bone reads 165 degrees F. Usually takes 90-120 minutes.

Remove from the smoker and cover loosely with aluminum foil and allow to rest 10-15 minutes before serving.
Nutrition
Calories:
374
kcal
|
Carbohydrates:
11
g
|
Protein:
25
g
|
Fat:
25
g
|
Saturated Fat:
7
g
|
Polyunsaturated Fat:
5
g
|
Monounsaturated Fat:
10
g
|
Trans Fat:
1
g
|
Cholesterol:
148
mg
|
Sodium:
1283
mg
|
Potassium:
366
mg
|
Fiber:
1
g
|
Sugar:
9
g
|
Vitamin A:
586
IU
|
Vitamin C:
1
mg
|
Calcium:
27
mg
|
Iron:
1
mg