This post contains Affiliate Links. Read my full disclosure for more info.
Smoked Ham Recipe
Even if you're new to smoking meats, this easy double smoked ham recipe will leave you questioning how you've eaten ham any other way.
While there's nothing wrong with a traditional ham basted and baked for your holiday or Sunday dinner, you're here because you're looking for a twist on a classic meal. 
Our favorite sides that go well with smoked ham is smoked macaroni & cheese, sweet homemade cornbread, and my easy-to-make creamy coleslaw.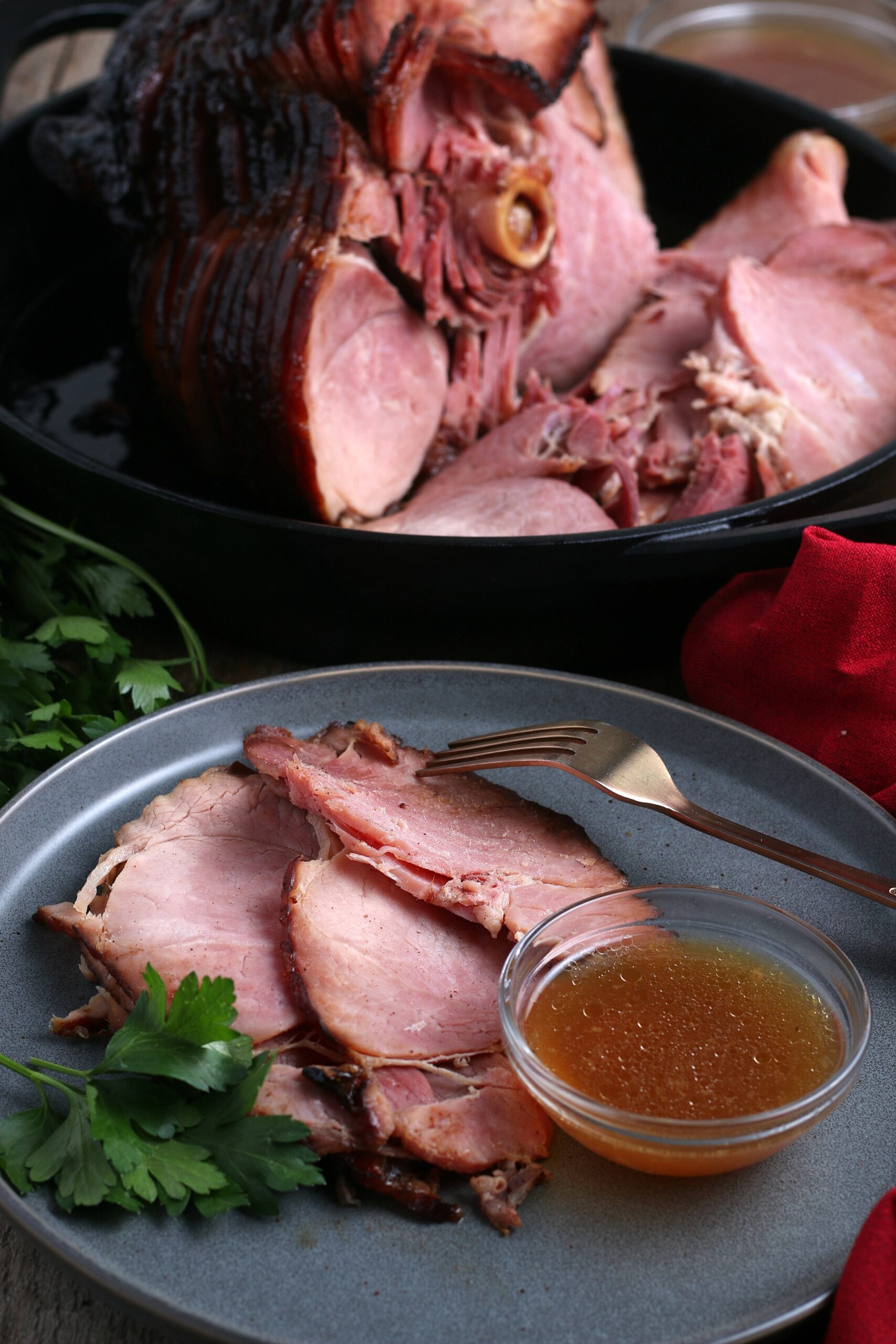 Is a smoked ham a fully cooked ham?
You have to really read on the label to find out. If the words smoked, baked, or cured are on the label, then yes, it's going to already be cooked. You'll still need to heat it for the best flavor and taste.
Best Type of Ham To Smoke
First things first, the type of ham you choose is important. For this recipe, you'll want a cured ham like a holiday ham (also known as a spiral ham).
I recommend shopping for a ham that has "fully cooked" or "ready to serve" on the label.
That's where the name of the recipe—a double-smoked spiral ham—comes from, you're going to smoke it again.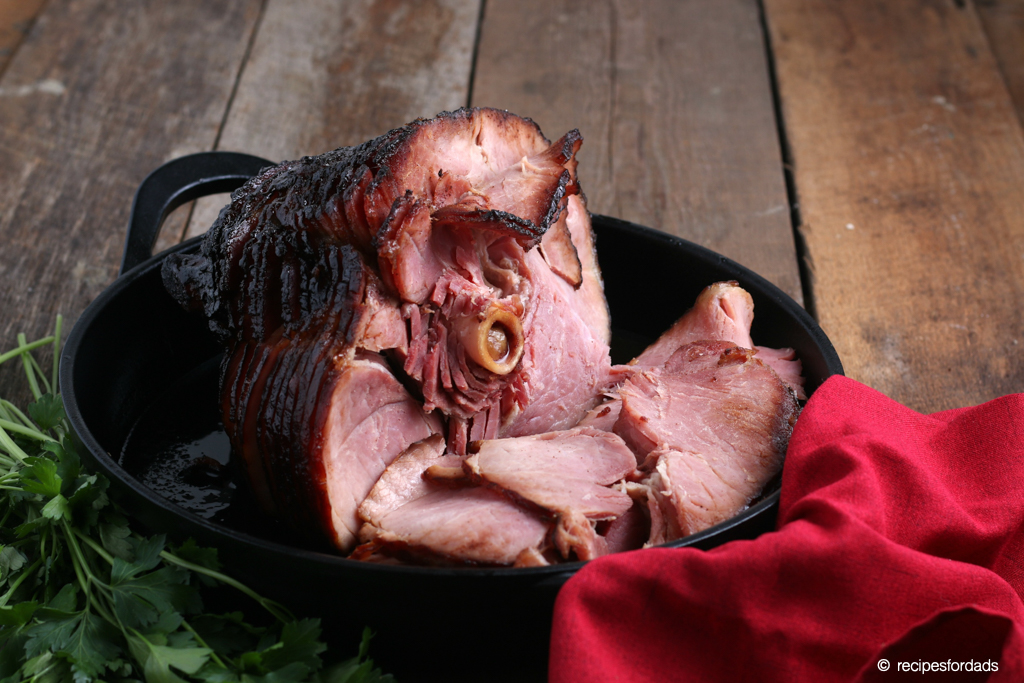 Ingredients
To make this double smoked ham you'll need the following ingredients (most can be purchased on Amazon):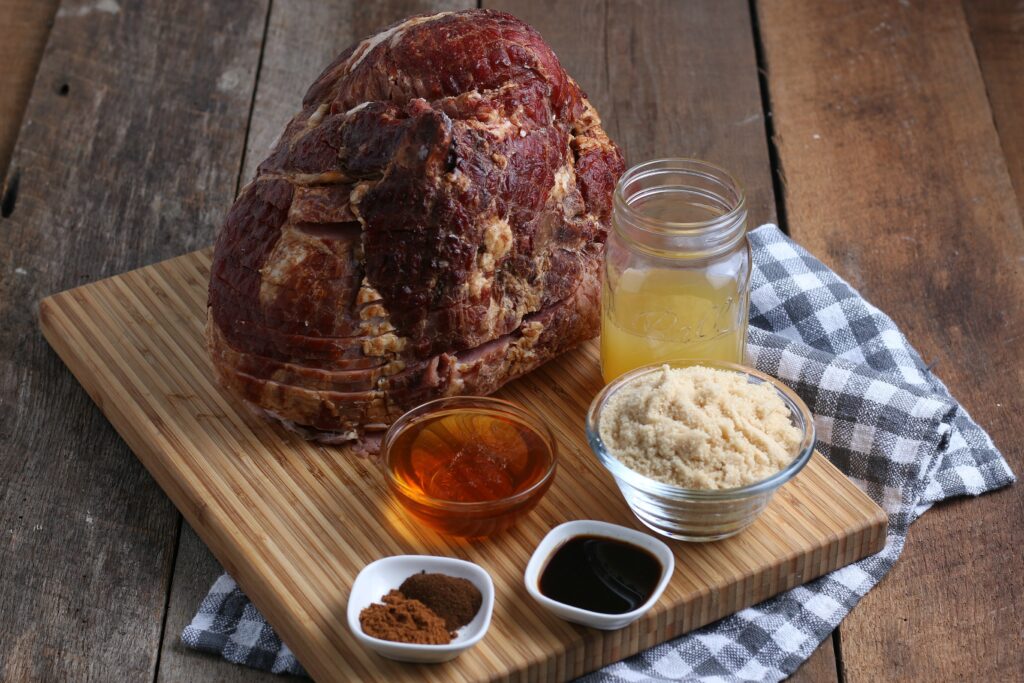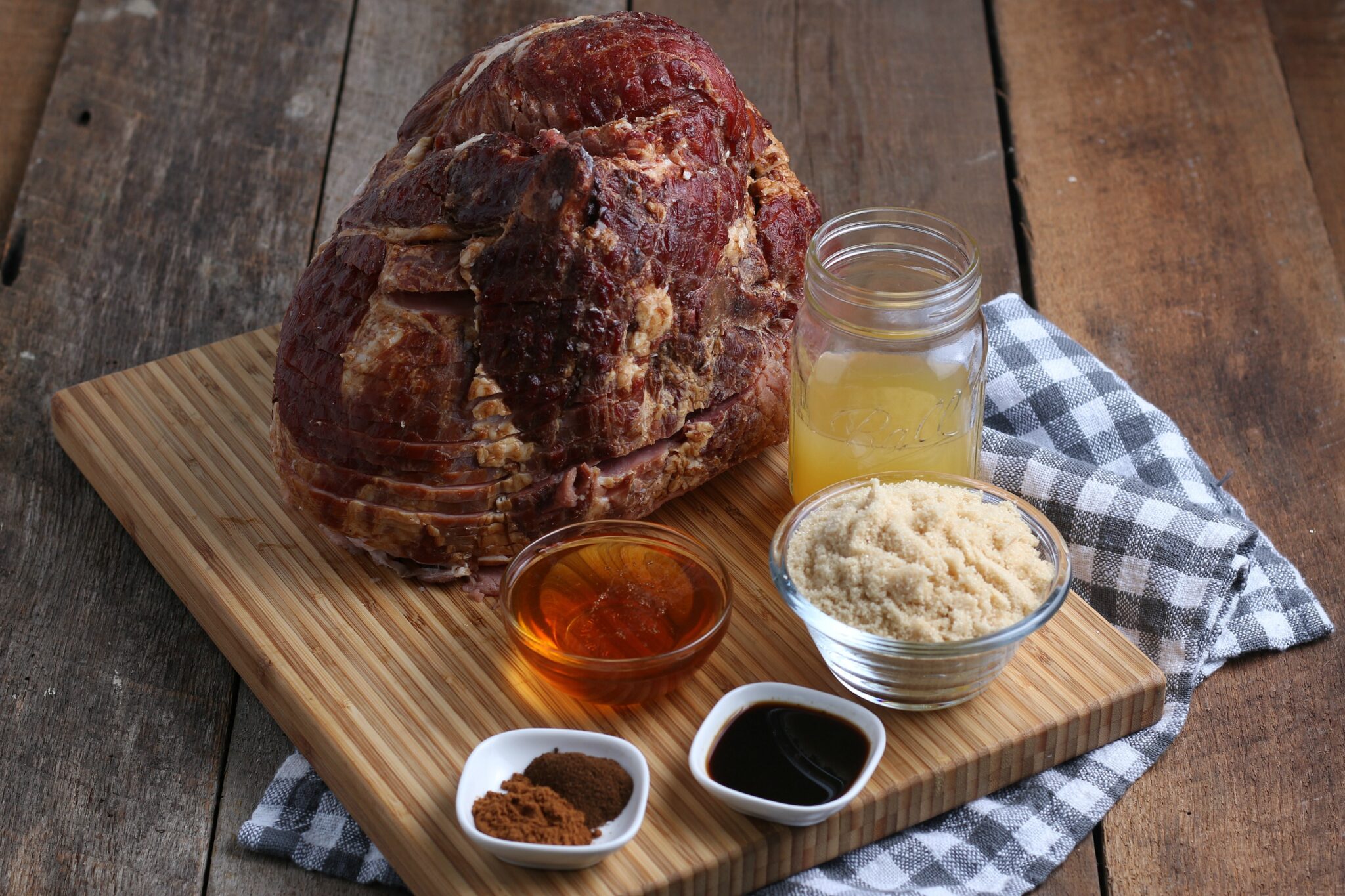 How To Smoke a Double Smoked Ham
When smoking a ham, you want to keep your heat low. Low and slow is the key to a tender, flavorful ham. Preheat your smoker to 225°F. Remember, this ham is already fully cooked, so it doesn't need high heat.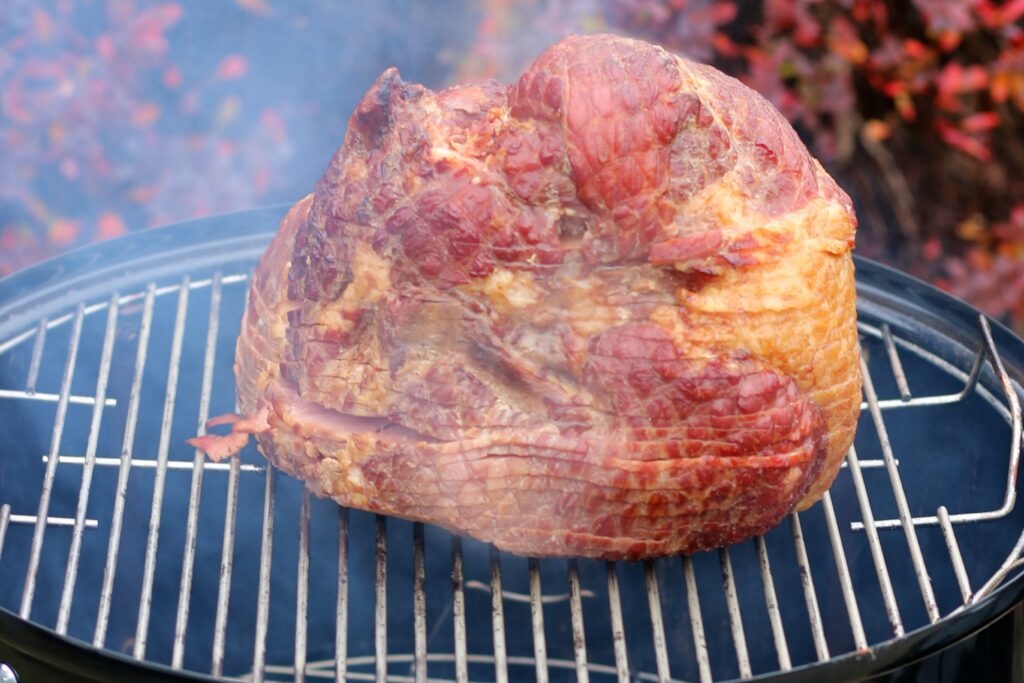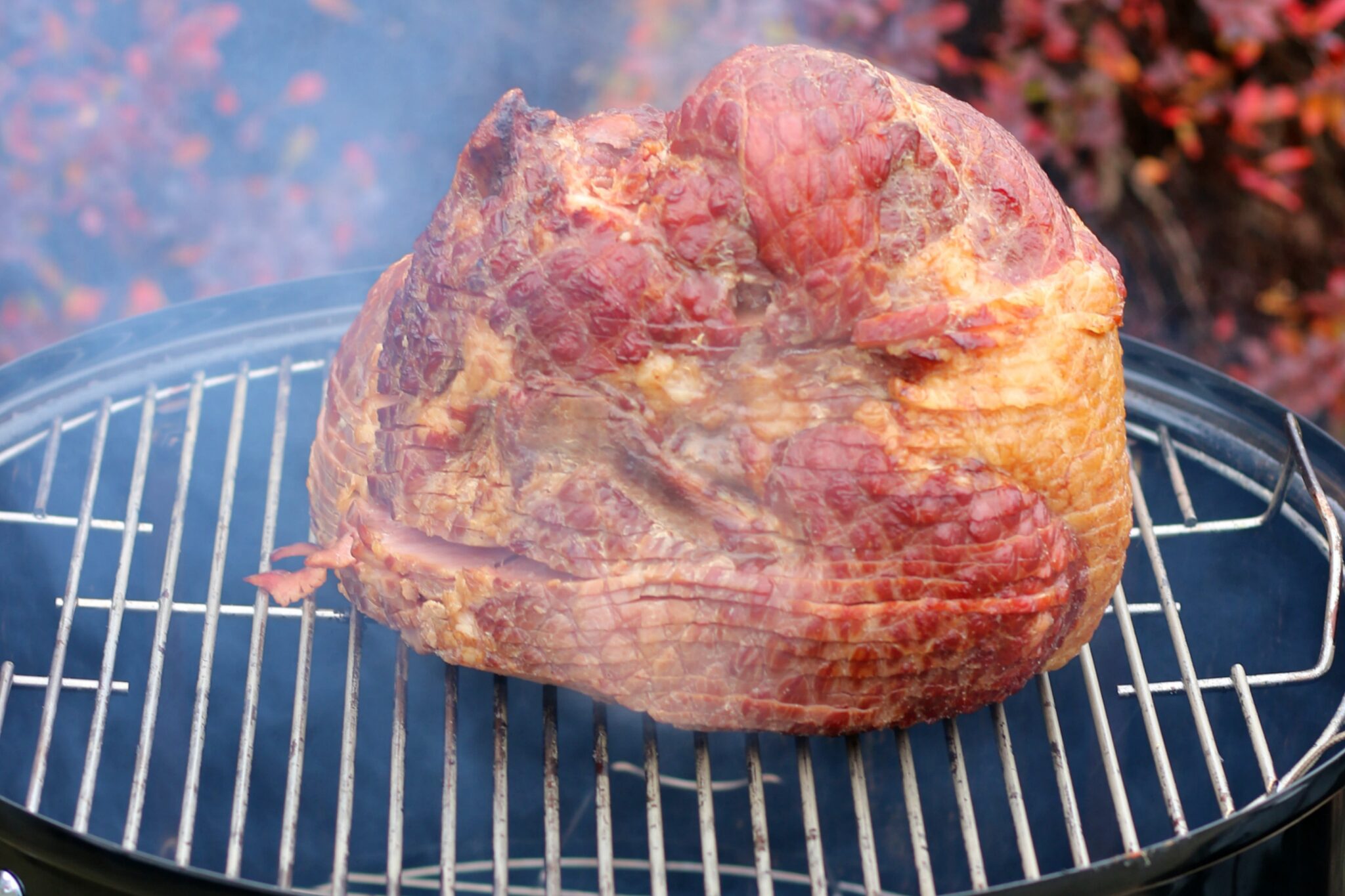 How Long To Smoke A Ham
Size matters when it comes to cooking your ham. Typically, your safest plan is twenty minutes per pound of ham. You want the ham to reach 140°F. The smaller the ham, the faster it will cook.
Remember to account for the time the ham will need to rest. After the ham is removed from the smoker it should rest uncut for thirty minutes.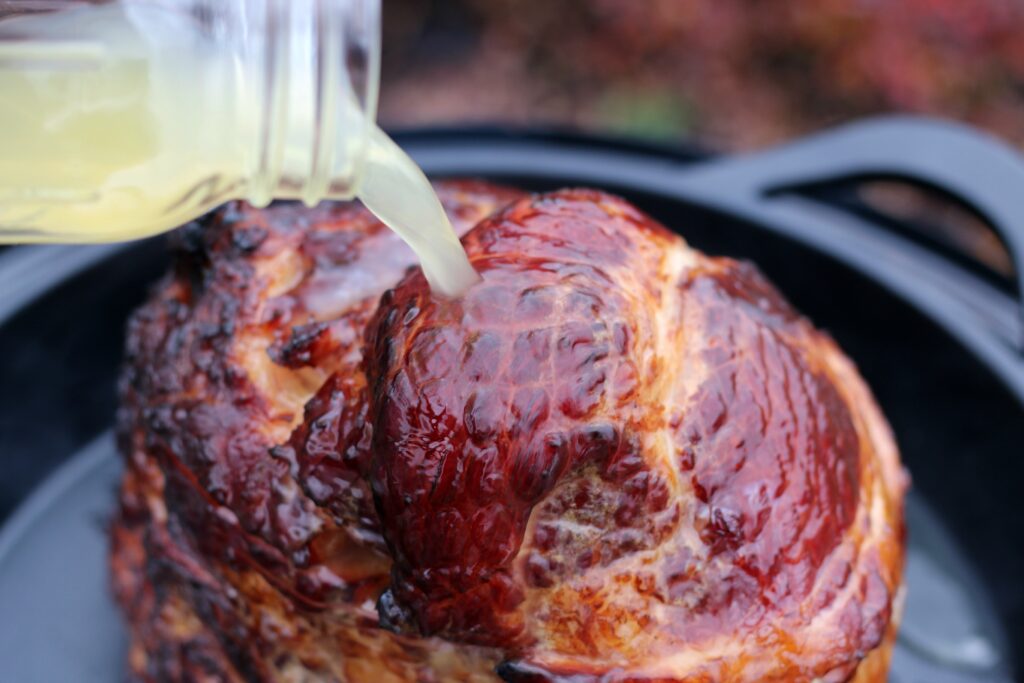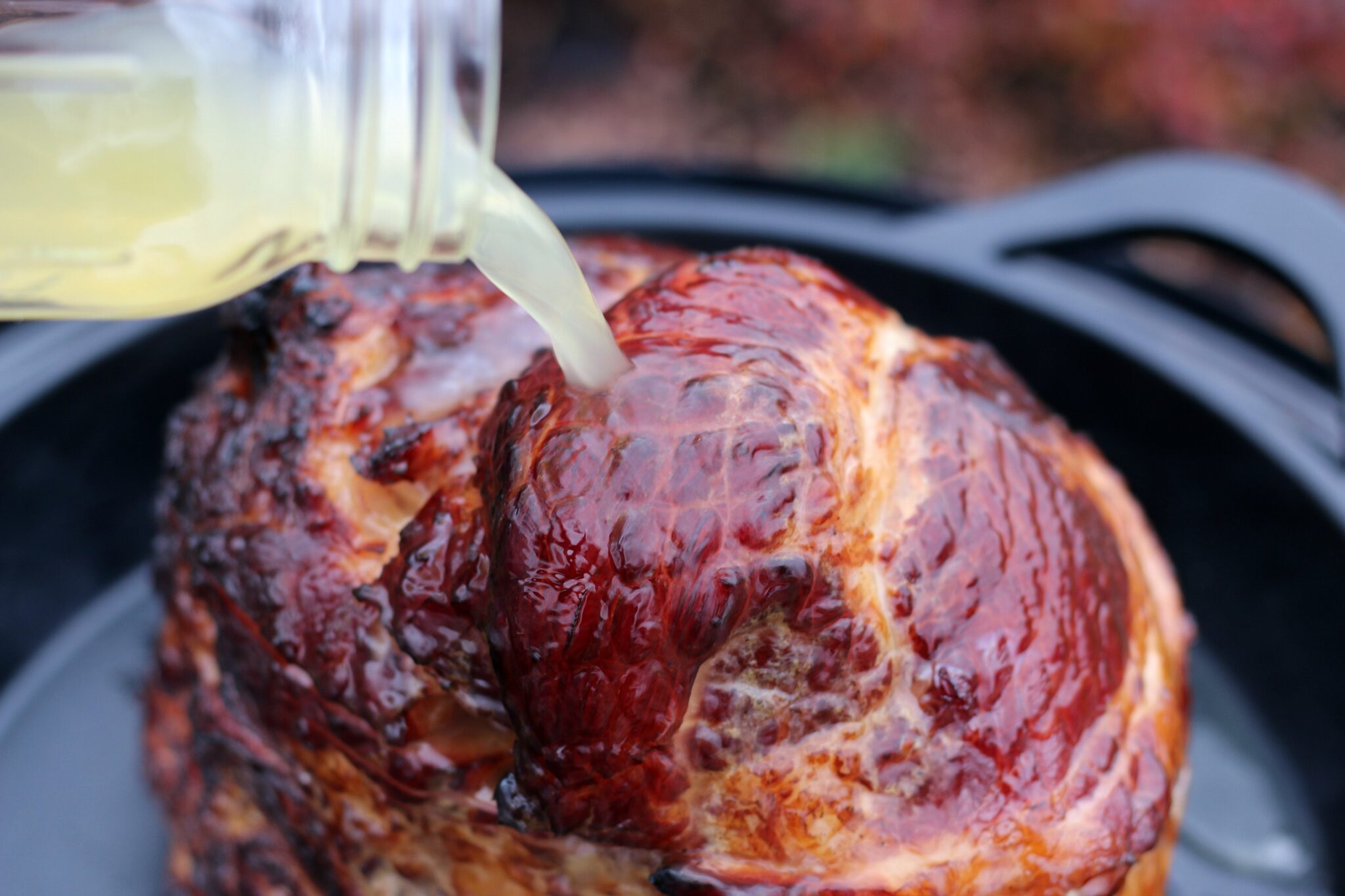 My Glaze for my Smoked Ham Got Too Hard, What Do I Do Now?
I make my ham glaze while my ham is almost done cooking. Timing is key. If you've removed your glaze from the heat for too long and it has hardened, simply return it to the heat to loosen it up just enough to be able to pour it on the ham.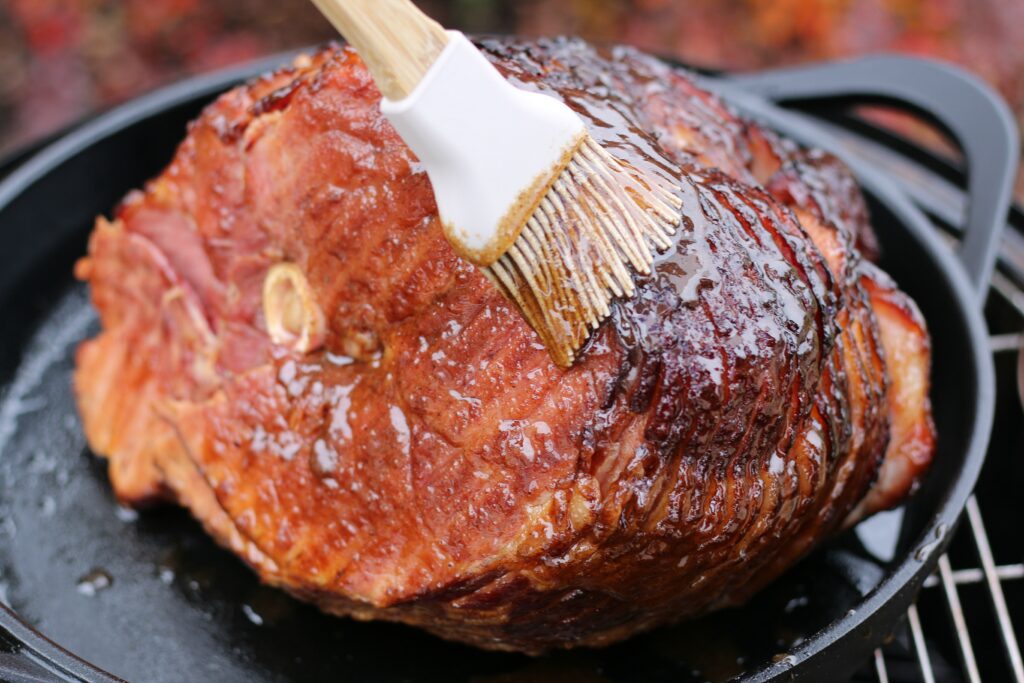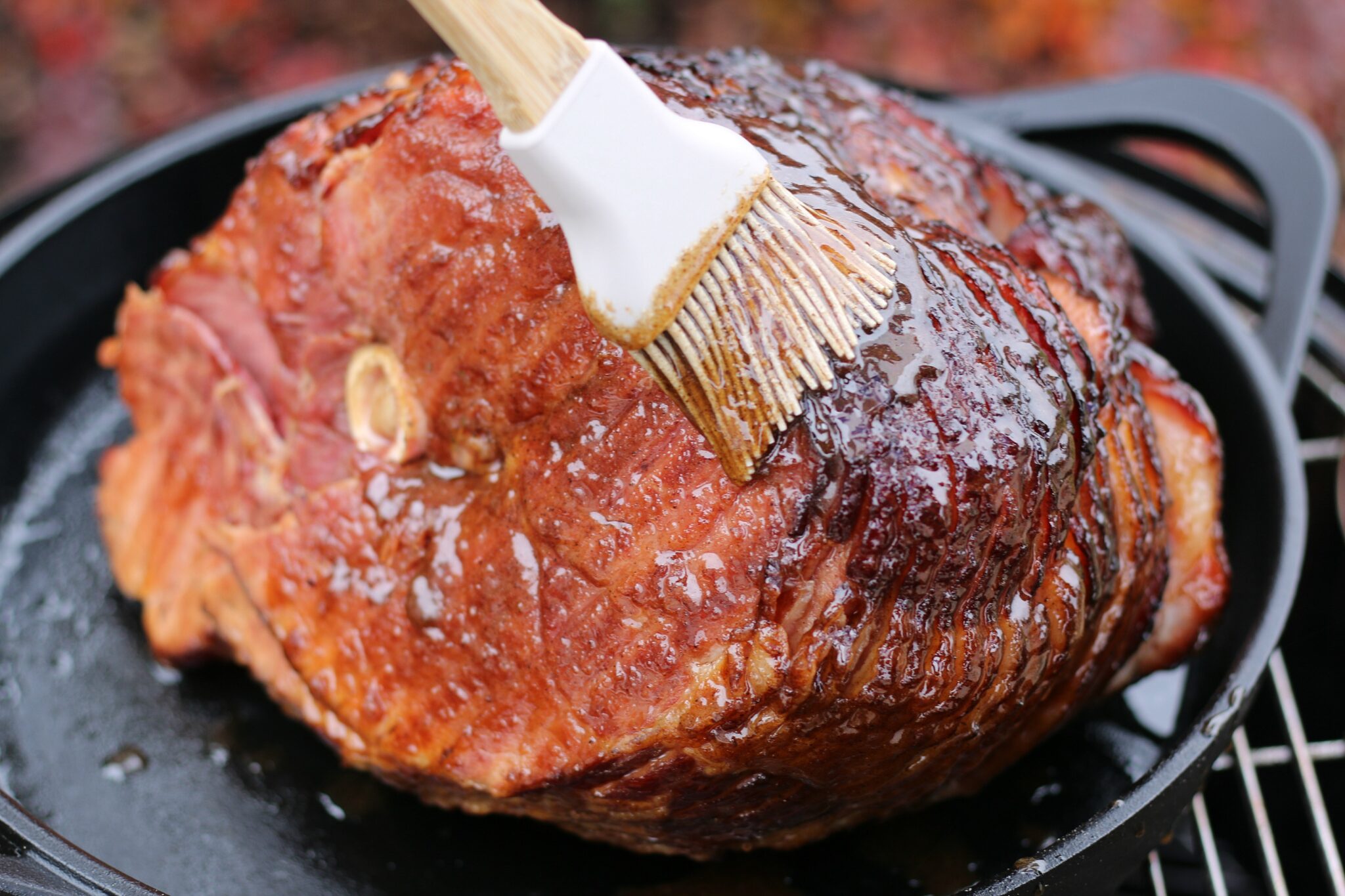 How do you heat up a pre-cooked ham without drying it out?
You do have to be really careful when you're reheating your ham so you don't dry it out. The easiest way to do this is to cover it with foil and heat it low and slow in the oven.
Putting your oven to about 275 degrees and heating is a great temperature. You should count on 10 minutes or so per pound to reheat.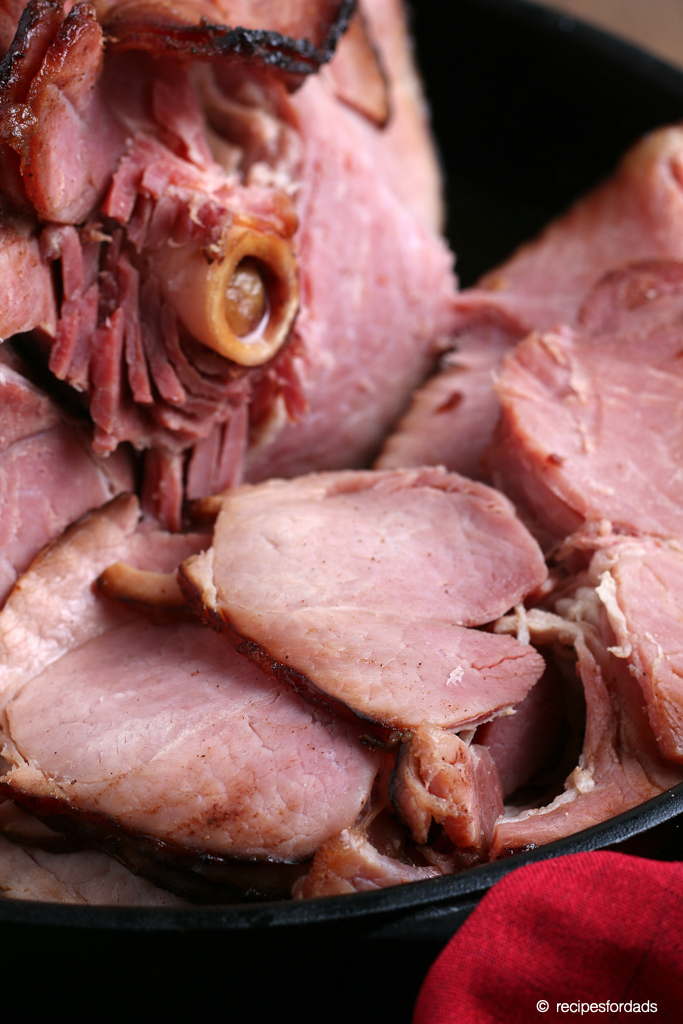 How do you moisten a dry ham?
If you notice that your ham is dry, there are things that you can do to help add a little moisture. Just add in some water or other liquid to the pan to help put a bit of moisture back into the meat.
Is the glaze on ham supposed to be sticky?
Most times, yes. This all depends on what ingredients are in it. If you use a brown sugar glaze, the brown sugar will start to caramelize as it gets hot and will create a tacky glaze on top of the ham.
You will find my easy ham glaze recipe here.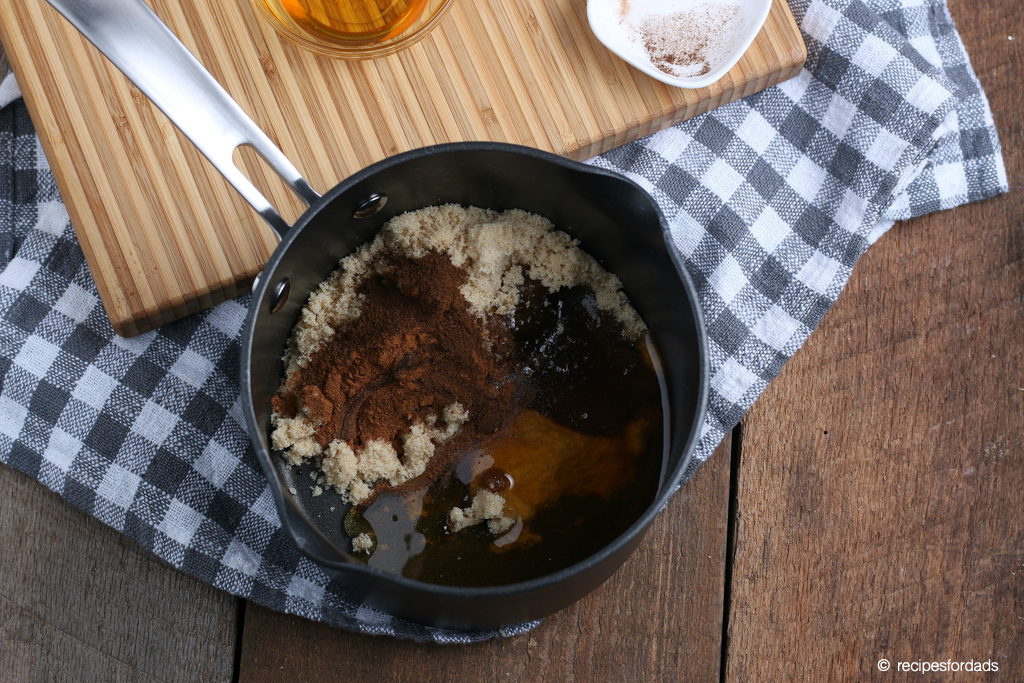 Should I remove skin from ham?
Not necessarily. When you're smoking the ham on the grill, the rind of the ham can be a great barrier from the elements as well as a good way to keep in the smoke and other flavors.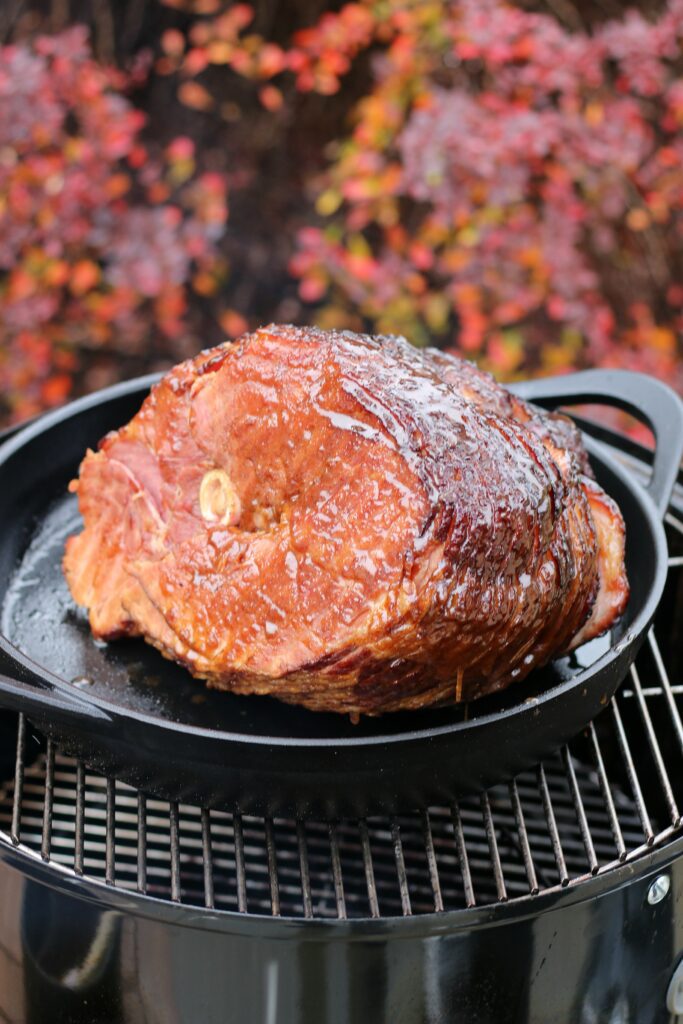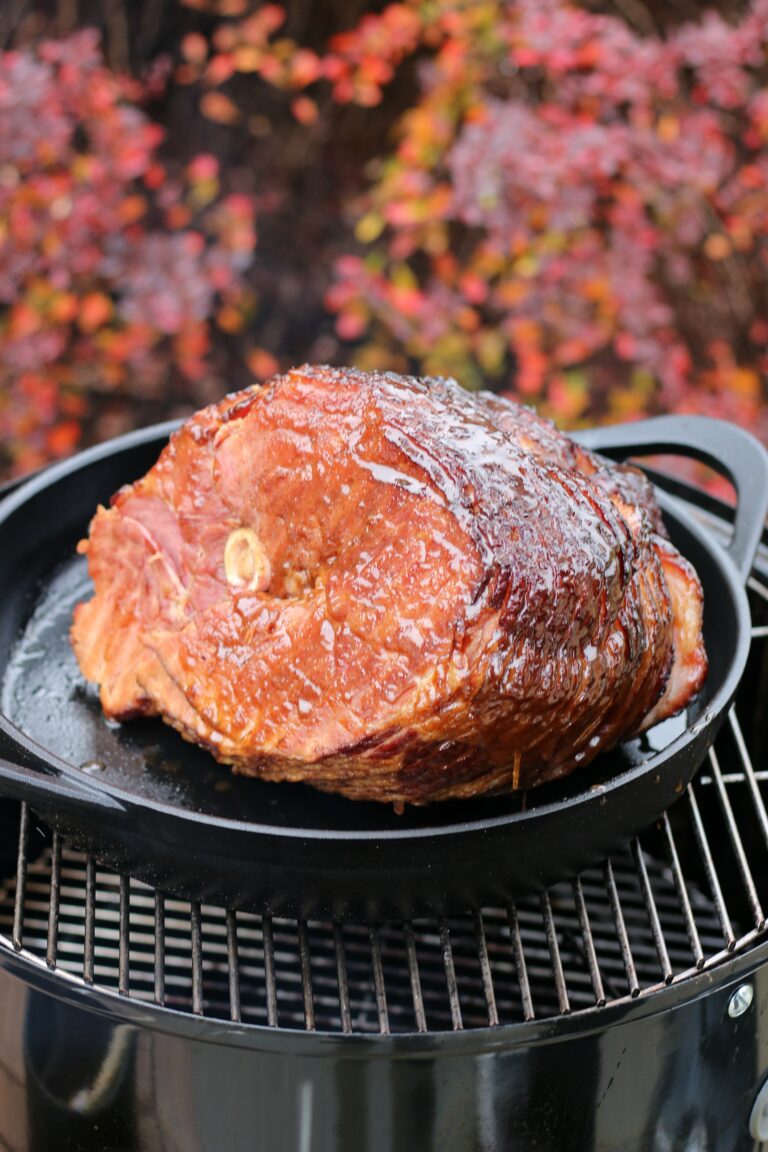 Plus, if you like pork rinds, you can even keep the skin from the ham and cook it up and make your very own pork rinds at home.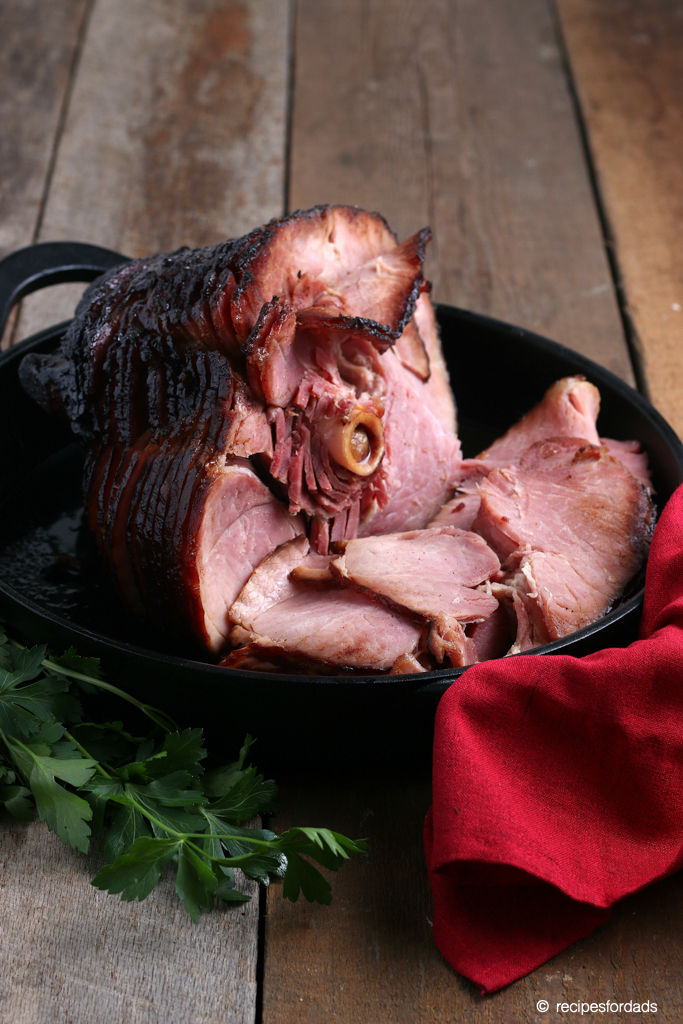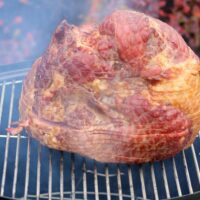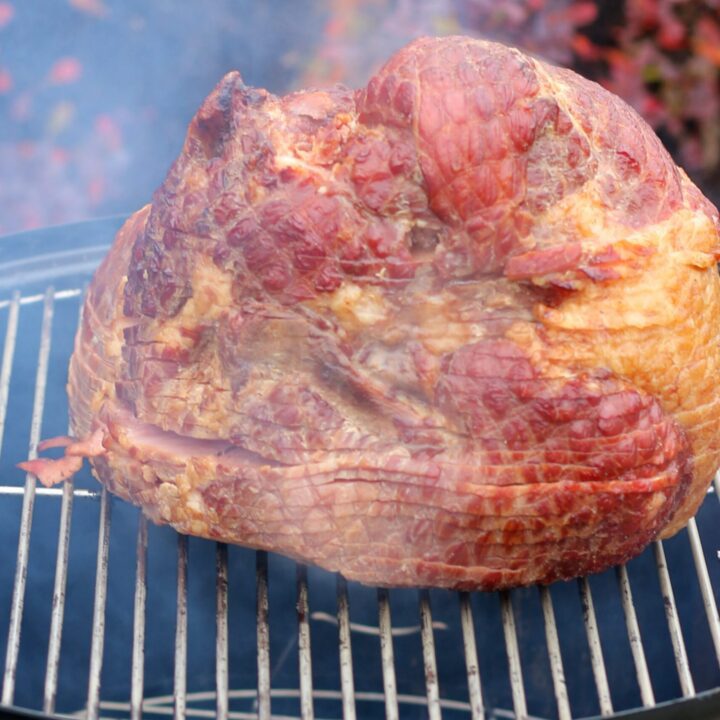 Smoked Ham Recipe With a Brown Sugar and Honey Glaze
Even if you're new to smoking meats, this easy double smoked ham recipe will leave you questioning how you've eaten ham any other way. 
Print
Pin
Rate
Ingredients
8-10

pound

spiral ham

1

cup

light brown sugar

packed

½

cup

honey

2

teaspoons

Worcestershire sauce

1

teaspoon

ground cinnamon

1

teaspoon

ground cloves
Instructions
Preheat your smoker to 225 degrees f.

Place the ham, cut side down, directly on the grill grates.

Close the lid and smoke the ham for 1.5 hours.

Place the ham in a large 12 inch cast iron skillet. Pour 1 cup of chicken stock over the ham and then cover the ham and the top of the pan tightly with aluminum foil. Close the lid, increase the temperature on your smoker to 300 degrees F and continue cooking for an additional 2 hours, or until the internal temperature reads 140 degrees F.

When the ham is almost done cooking, prepare the glaze. In a small saucepan, combine all of the glaze ingredients. Cook over medium heat, stirring frequently with a whisk, just until the glaze comes to a boil. Remove from the heat immediately.

Remove the ham from the smoker and open up the foil. Drain off any excess cooking liquid and set aside for serving. Turn the ham over onto it's side and brush liberally with the brown sugar honey glaze.

Remove from smoker and tent with aluminum foil and allow to rest for 30 minutes.

Serve immediately with the drippings from the cast iron skillet on the side, if desired. 
Notes
If glaze hardens, return to heat to loosen
Nutrition
Serving:
1
g
|
Calories:
942
kcal
|
Carbohydrates:
47
g
|
Protein:
126
g
|
Fat:
29
g
|
Saturated Fat:
5
g
|
Polyunsaturated Fat:
14
g
|
Cholesterol:
363
mg
|
Sodium:
5561
mg
|
Sugar:
46
g