This post contains Affiliate Links. Read my full disclosure for more info.
There are few things more Southern than cornbread. Homemade cornbread is something that's expected at most family get-togethers in the South and one member of the family always has the best recipe. If you're fixing up a big ol' mess of barbecue with baked beans, homemade cornbread is a must.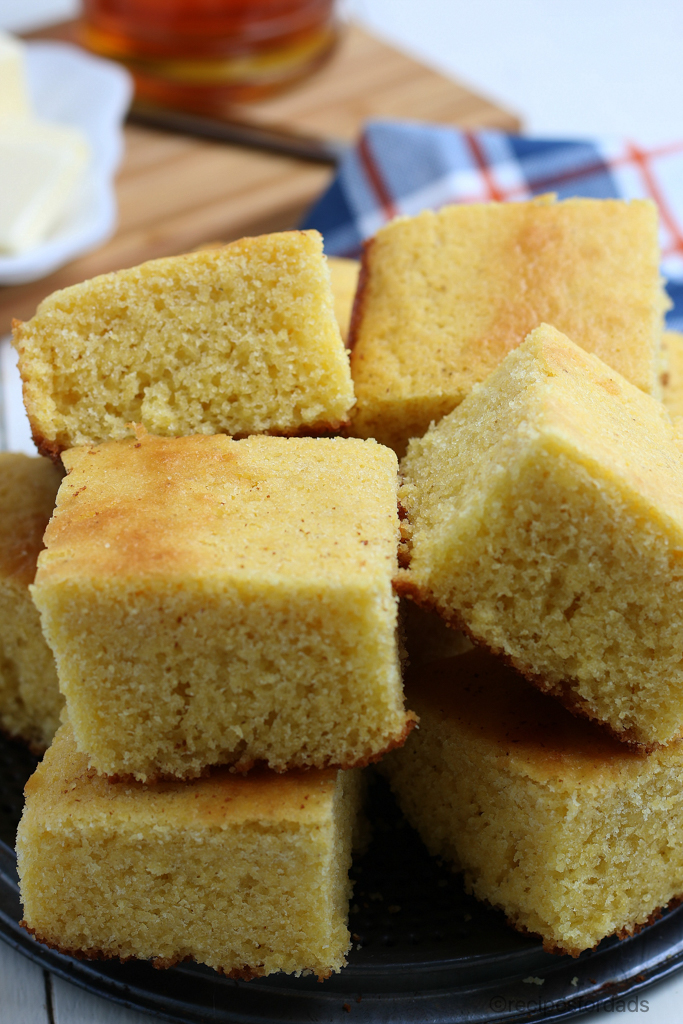 If you've never had cornbread, especially homemade cornbread, you're in for a real treat. It can be a savory bread or it can be sweet and cakey.
Whether or not to put sugar in cornbread is a heated debate. If you thought putting sugar in iced tea was heavily debated, bring up this topic and see how heated the conversation becomes.
What is the difference between Northern and Southern cornbread?
Most all Northern cornbread is sweet. The North prefers a sweeter, cake-like cornbread. If you've grown up on savory cornbread, it may be a shock to your tastebuds to try sweet cornbread for the first time. Explore it with an open mind and you might find that you like it.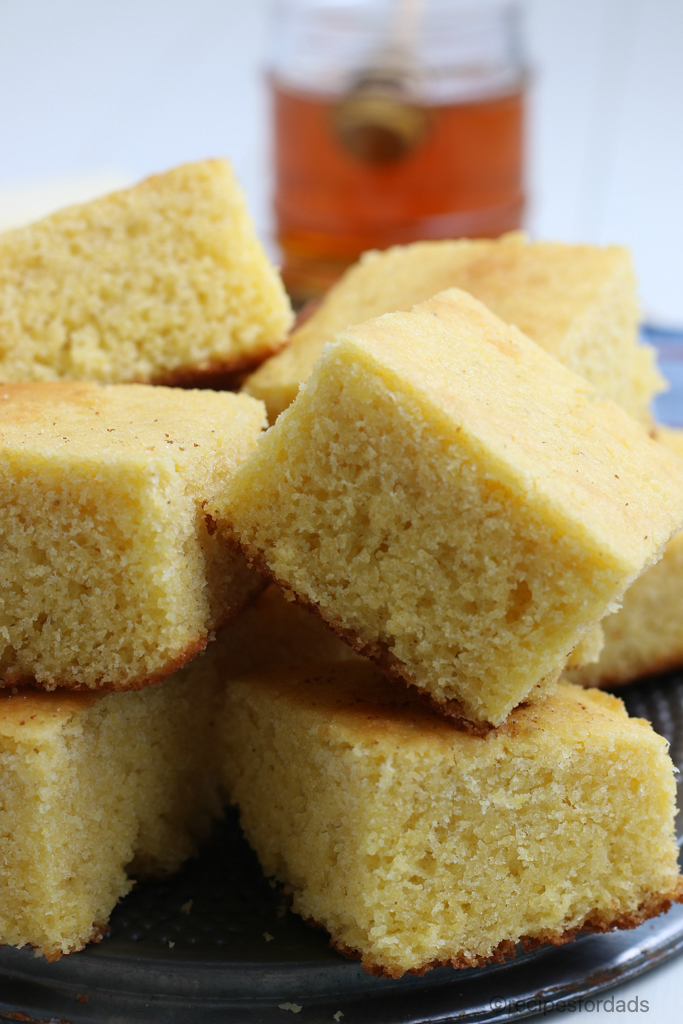 Why does cornbread fall apart?
If you find that your cornbread falls apart when you slice it, you may have added too much flour or too much cornmeal. Remember that baking is precise. You need to measure your ingredients carefully in order for the recipe to turn out the way you want it to.
What's the connection between cornbread and barbecue?
Cornbread has become heavily regarded as one of the most popular side dishes to have with barbecue, especially pork-based barbecue.
The combination of the flavors works well together. Cornbread can also easily be cooked on the grill while you're preparing the rest of the meal.
What can you eat cornbread with besides barbecue?
Homemade cornbread is good with so many things. Heck, just eating it with a smear of butter straight from the pan is heaven. In the South, cornbread is often served with pinto beans.
It can also be enjoyed with chili, stews, fried chicken, or even country-fried steak. The Cracker Barrel serves up biscuits or cornbread with all their meals. Of course, a little secret is you can always ask for both.
What are the ingredients to make homemade cornbread?
The ingredients to make homemade cornbread are really very simple. You'll need cornmeal, all-purpose flour, sugar, baking powder, salt, milk, eggs, and butter.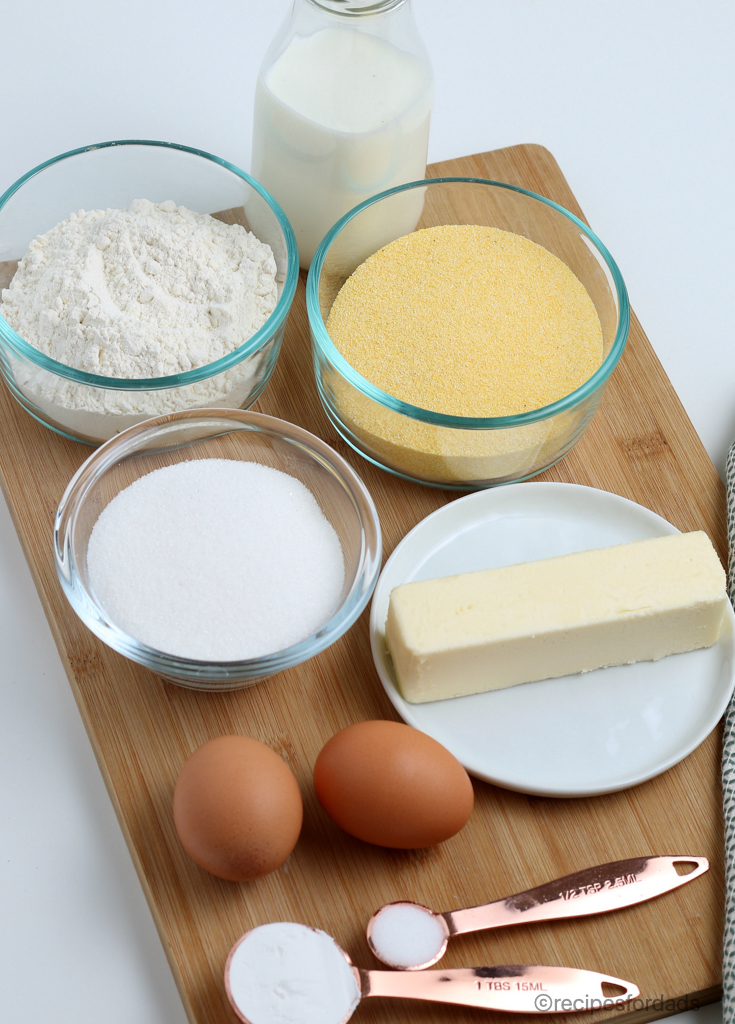 There's nothing fancy you're going to have trouble finding at the grocery store. You can substitute the all-purpose flour for self-rising, just make sure to omit the baking powder and salt from the recipe because these ingredients are already in self-rising flour.
How do you make homemade cornbread?
Homemade cornbread is easy to make. It's like most any other quick bread recipe. You'll mix together your dry ingredients and then add your wet ingredients.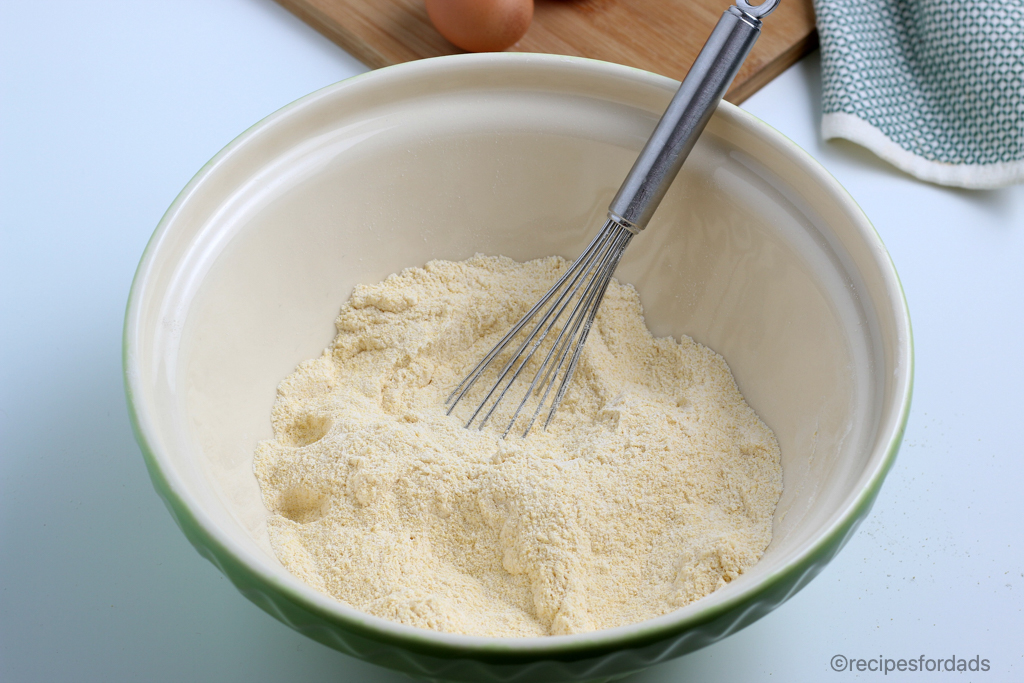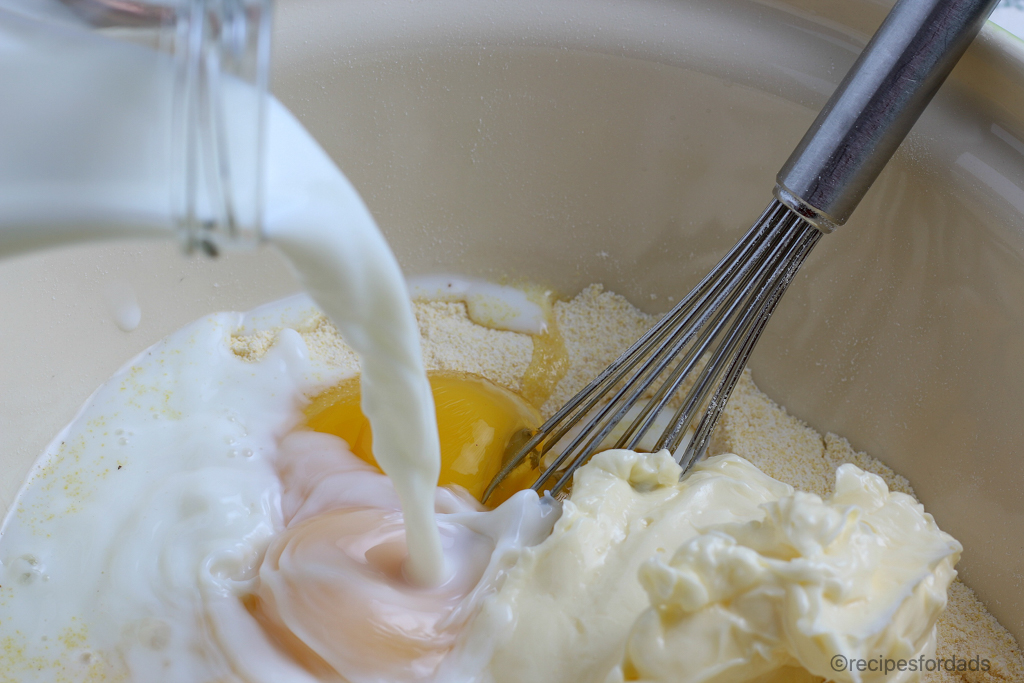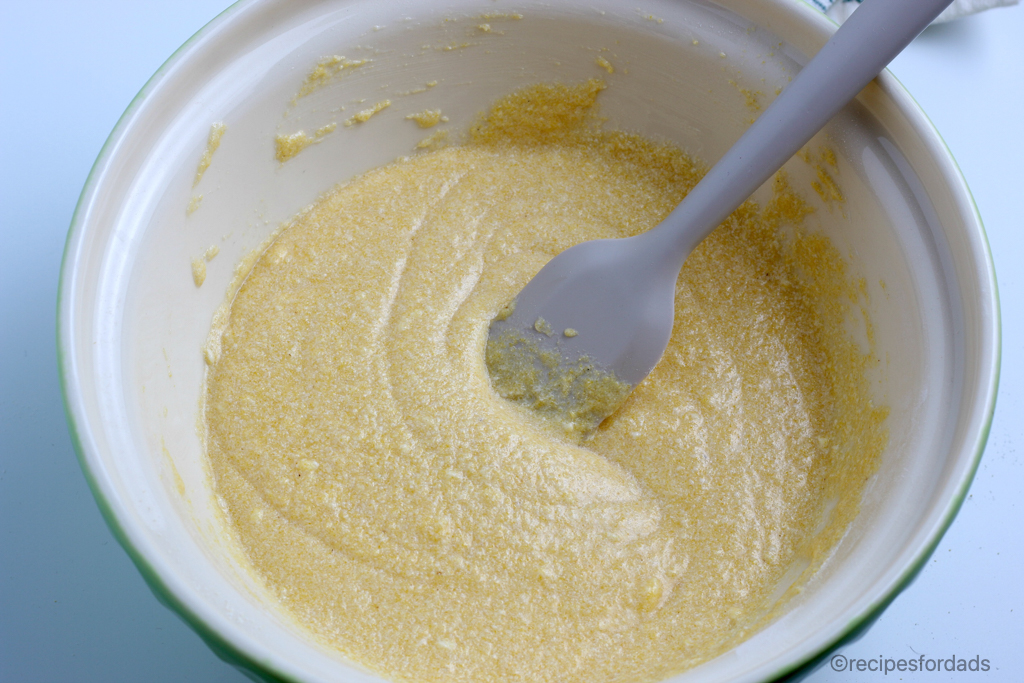 Stir until smooth and then pour into a greased pan. Bake at 400 degrees until cooked through, about 20 – 30 minutes.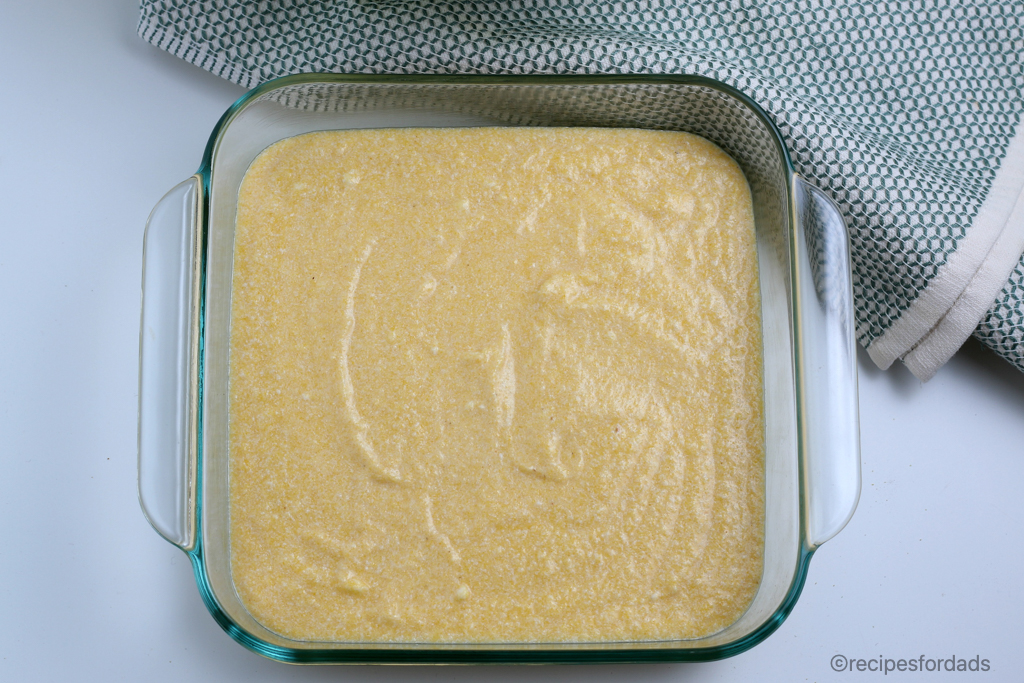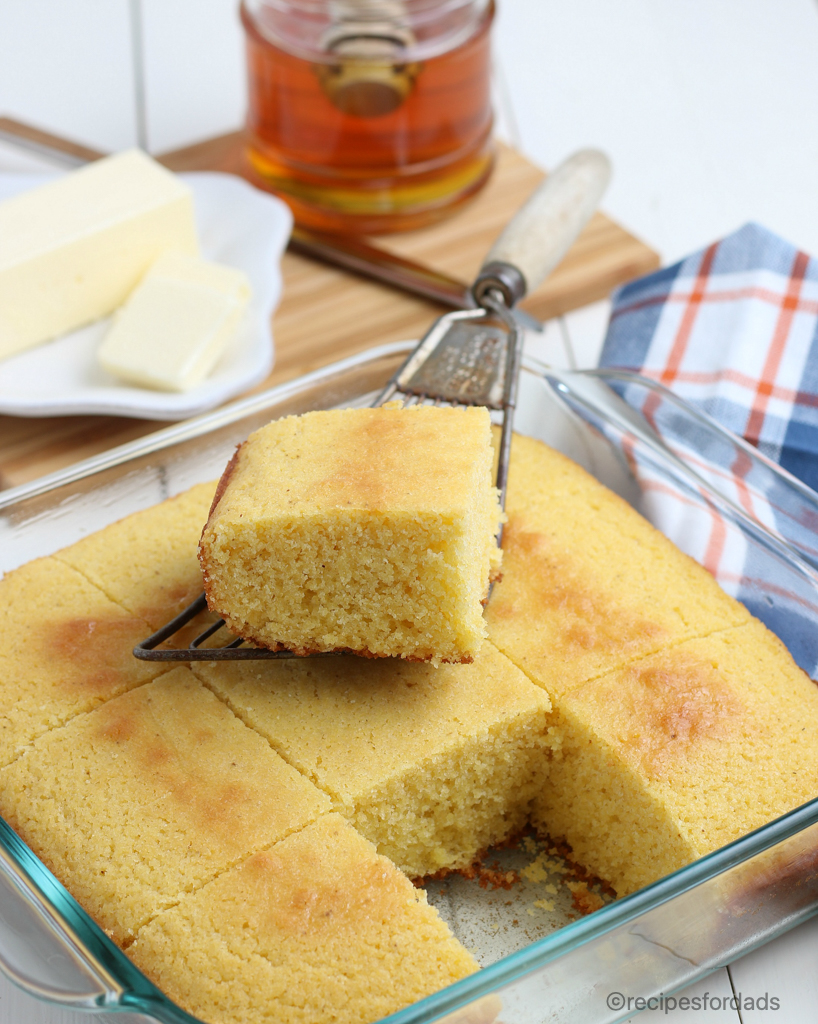 What to serve with homemade cornbread?
Cornbread is a great side that pairs well with any main Barbecue, Grilled or Smoked Meat.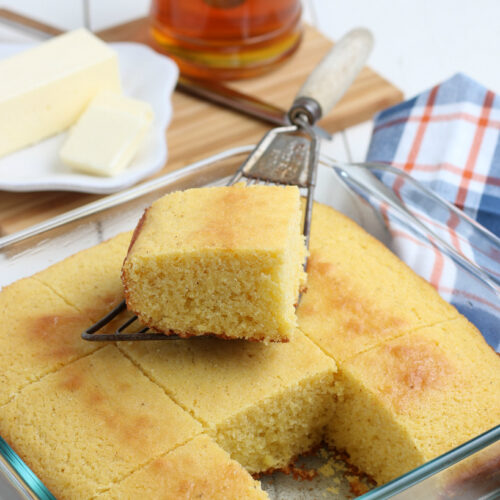 Homemade Cornbread
If you're fixing up a big ol' mess of barbecue with baked beans, homemade cornbread is a great side that pairs well with any main Barbecue
Print
Pin
Ingredients
1

cup

cornmeal

1

cup

all-purpose flour

⅔

cup

granulated sugar

1

tablespoon

baking powder

½

teaspoon

salt

1

cup

milk

2

large eggs

½

cup

1 stick unsalted butter, softened
Instructions
Preheat oven to 400 degrees F

Coat a square 8×8 baking pan with cooking spray

In a large bowl, whisk together cornmeal, flour, sugar, baking powder and salt

Add milk, eggs and butter

Beat until smooth

Pour into prepared pan

Bake for 20-30 or until toothpick inserted in the center comes out clean
Nutrition
Calories:
268
kcal
|
Carbohydrates:
36
g
|
Protein:
5
g
|
Fat:
12
g
|
Saturated Fat:
3
g
|
Polyunsaturated Fat:
3
g
|
Monounsaturated Fat:
5
g
|
Trans Fat:
1
g
|
Cholesterol:
35
mg
|
Sodium:
375
mg
|
Potassium:
114
mg
|
Fiber:
2
g
|
Sugar:
15
g
|
Vitamin A:
493
IU
|
Vitamin C:
1
mg
|
Calcium:
109
mg
|
Iron:
1
mg