This post contains Affiliate Links. Read my full disclosure for more info.
If your Traeger is calling to you, it may be time to cook up some Smoked Chicken Quarters. Chicken quarters are a great source of protein and dark meat also has iron. With over 37 grams of protein per chicken leg quarter, this is an inexpensive protein option. With the cost of meat going up and up, it's great to have some inexpensive recipes on hand. Let's take a closer look at these smoked chicken quarters.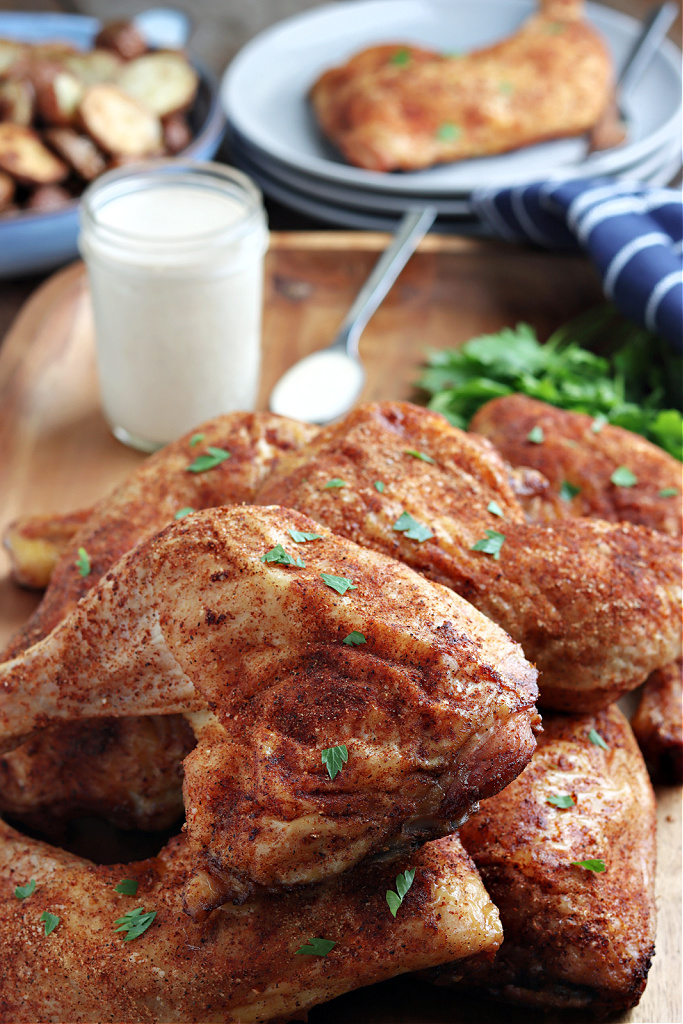 What are the ingredients to make smoked chicken quarters?
To smoke chicken quarters in the Traeger, you'll need the following ingredients:
● Chicken Leg Quarters
● Kosher salt
● Freshly ground black pepper
● Smoked paprika
● Garlic powder
● Onion powder
● Ground cumin
● Cayenne pepper
How do you make smoked chicken quarters?
Smoked chicken quarters are easy to make on the Traeger. The first step is to preheat the smoker to 225 degrees Fahrenheit. Next, you want to mix all the seasonings together and sprinkle on the chicken quarters. Rub the seasoning into the skin to evenly coat.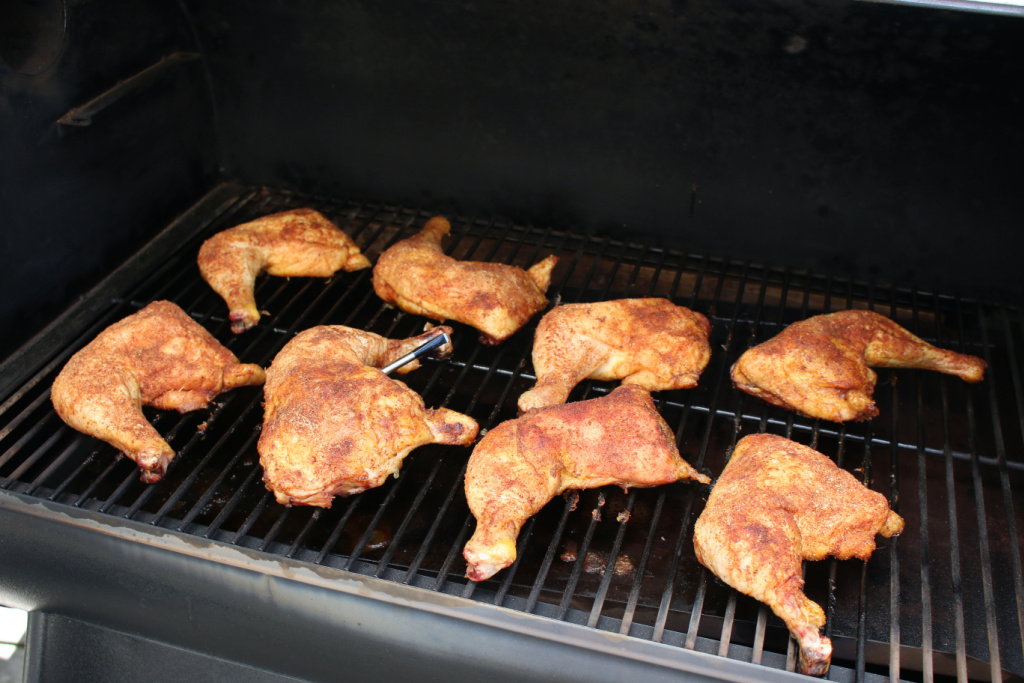 Why should you leave the skin on chicken when smoking?
It's so important that you leave the skin on the chicken to not only add flavor, but the skin will also keep the meat moist as it smokes. You can always remove the skin after the chicken cooks, but you're going to be removing all those great flavors the seasoning adds.
Why is dark meat better for smoking?
Dark meat is better for smoking because it is less likely to dry out. Dark meat has a higher fat content than white meat, which will help keep the meat moist. You should also know that dark meat isn't as bad for you as we were once led to believe. In fact, dark meat is more nutrient rich than white meat. Dark meat also holds up to different types of smoke, seasonings, etc.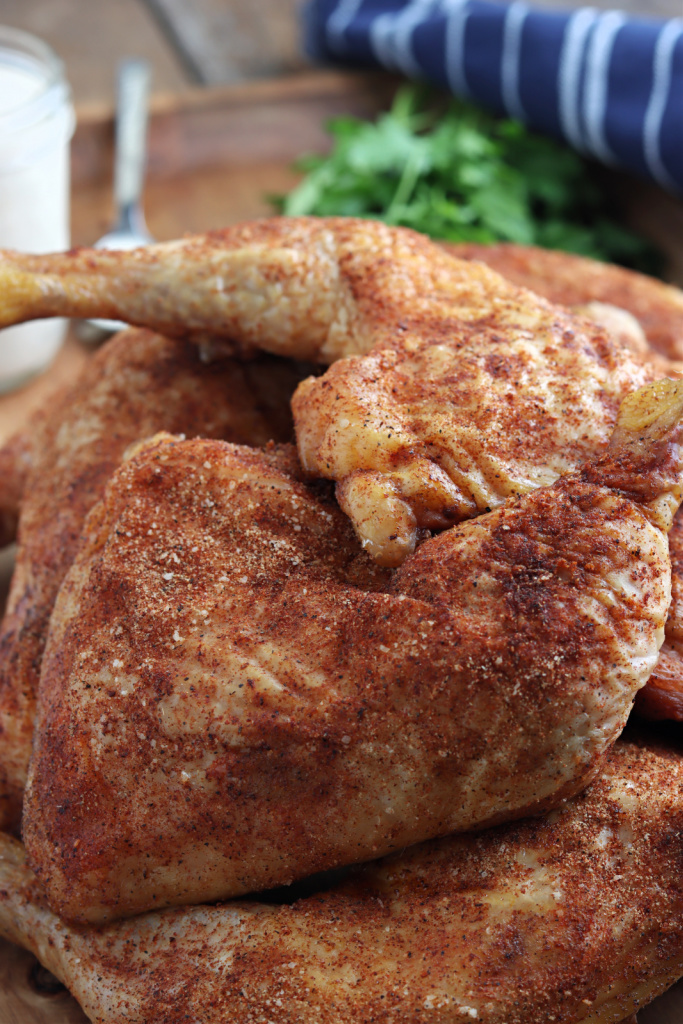 Can you smoke chicken breasts instead?
Of course. Just be aware that it's easier for white meat to dry out in the smoker. You will also need to adjust the time that you smoke the breasts. Chicken breasts should smoke for around 1 hour at 225 degrees. Because chicken breasts have a lighter flavor, you may also want to choose the lightest flavored wood to smoke with. This will ensure that the smoky flavor isn't overwhelming. Smoking chicken breasts on the bone with the skin on will ensure more flavorful, juicy chicken. With all this said, don't be afraid to eat chicken quarters. Dark meat isn't as unhealthy as we were led to believe years ago. Chicken quarters are also extremely affordable. You can sometimes find a 10 pound bag for less than five-dollars while chicken breast costs many times more.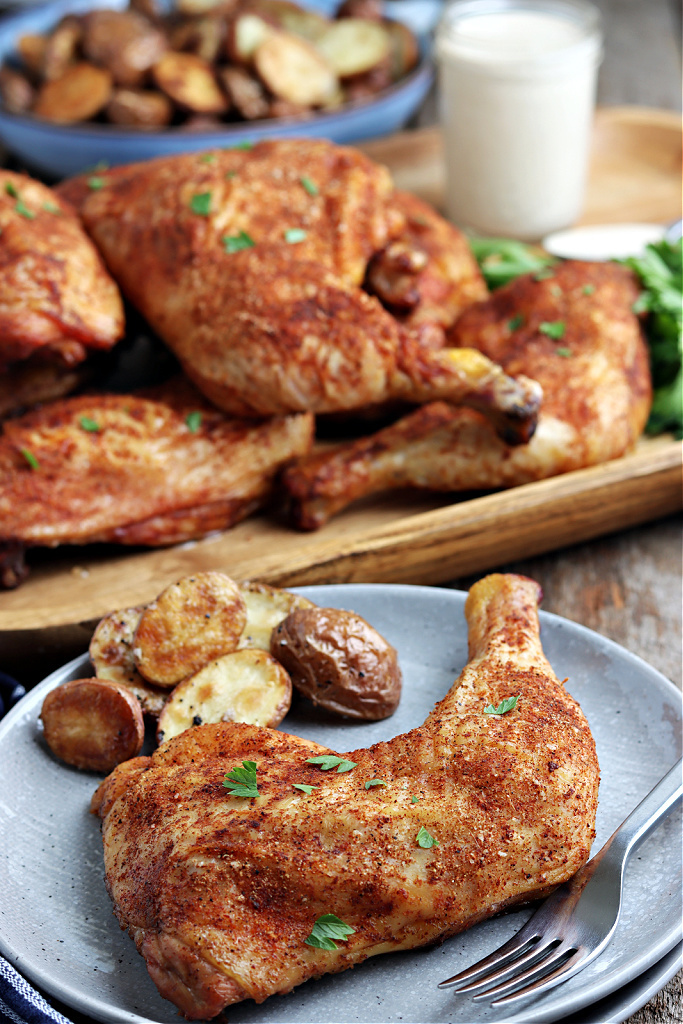 What wood should you use for smoking chicken?
For this recipe, it is recommended that you use cherry or apple wood. Both woods have a mild, fruity flavor that will work well with the chicken and the seasoning. Because chicken quarters smoke for such a long time, you want to make sure the flavor of your wood isn't too strong. This means that you'll want to avoid woods such as hickory and oak.
Place in the Traeger and smoke for 2-3 hours or until an instant-read thermometer reaches 165 degrees when inserted near the thigh bone. Once cooked, remove from the smoker and allow to rest for 10-15 minutes before serving.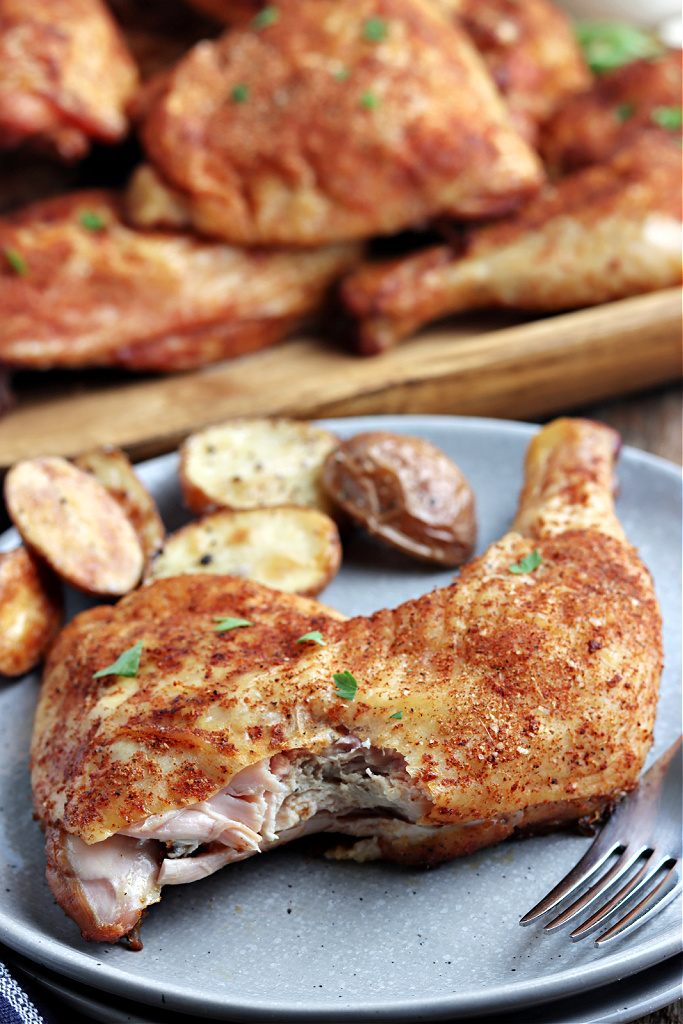 What do smoked chicken quarters go well with?
Smoked chicken quarters are great with everything from baked beans to potato salad. They are also great with macaroni and cheese. Almost anything served with smoked pork would be great served with smoked chicken. If you have leftovers, you can also pull the chicken off the bone and toss with barbecue sauce to create pulled chicken sandwiches.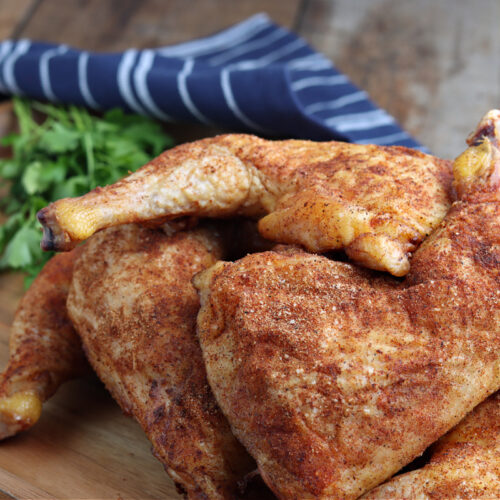 Smoked Chicken Quarters
If your Traeger or Weber Smoker is calling to you, it may be time to cook up some Smoked Chicken Quarters.
Print
Pin
Equipment
Wood Pellet Choices

Cherry or Apple
Ingredients
8

Chicken Leg Quarters

about 10 pound package
Seasoning Rub
2

tablespoons

kosher salt

2

teaspoons

freshly ground black pepper

4

teaspoons

smoked paprika

4

teaspoons

garlic powder

4

teaspoons

onion powder

1

teaspoon

ground cumin

½

teaspoon

cayenne pepper
Instructions
Preheat the smoker to 225 degrees F

Combine all the dry ingredients together in a small bowl

Sprinkle the seasoning rub on each leg quarter pressing the rub into the chicken to evenly coat the outside

Place the chicken directly on the smoker

Smoke until an instant-read thermometer placed near the thigh bone reads 165 degrees F. Usually takes 2-3 hours.

Remove from the smoker and allow to rest 10-15 minutes before serving

Store leftovers in refrigerator
Nutrition
Calories:
440
kcal
|
Carbohydrates:
4
g
|
Protein:
32
g
|
Fat:
32
g
|
Saturated Fat:
9
g
|
Polyunsaturated Fat:
7
g
|
Monounsaturated Fat:
13
g
|
Trans Fat:
0.2
g
|
Cholesterol:
189
mg
|
Sodium:
2478
mg
|
Potassium:
481
mg
|
Fiber:
1
g
|
Sugar:
0.3
g
|
Vitamin A:
884
IU
|
Vitamin C:
0.5
mg
|
Calcium:
33
mg
|
Iron:
2
mg